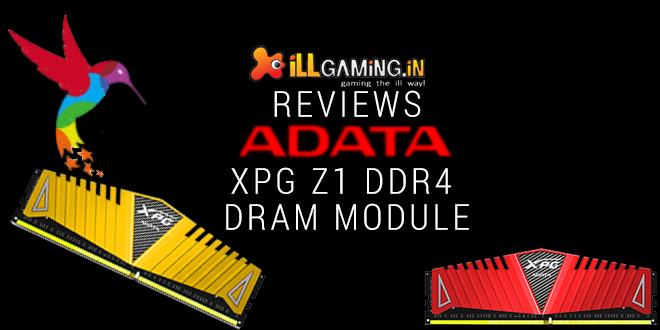 The iLL Fact Sheet
Item Reviewed
ADATA XPG Z1 DDR4 RAM 4x4GB 2400MHz CL16
December 20, 2014
Release Date
August 20, 2014
Price
₹7,400 (4GB Kit)
₹14,900 (8GB Kit)
₹19,980 (16GB Kit) [MOP]
Awards
iLLGaming Gold Award
DDR4 is the next step for RAM and with the launch of Intel's X99 platforms, it's finally making its way to the mainstream consumer markets after being confined to the enterprise space for long. Its initial foray is targeted at Enthusiasts and it is quite costly to assemble an X99 based system. ADATA sent us a sample of their new XPG Z1 DDR4 RAM in the form of a 4x4GB (Total 16GB) kit of 2400MHz with timings of 16-16-16. Let's see if this is something we should be hyped about, especially as gamers.
Specification
DDR4 outperforms DDR3 memory by a significant amount operating at a higher frequency range of 1600MHz-3200MHz, even though it suffers from higher latencies. It comes with the added bonus of greater power efficiency, meaning the operating voltage can be dropped to 1.2V, though one could push it to 1.5V if supported by the XMP specifications.
As per ADATA's press release, the modules will be available through authorized distributors and channel partners across India at a price of ₹7,400 and ₹14,900 for a 4GB and 8GB kit respectively with a lifetime warranty. A 16GB kit has a MOP of ₹19,980 as ADATA was kind enough to update us.
Build Quality and Design
ADATA uses high quality components for its RAMs right from the chips to the PCB (Printed Circuit Board) itself. The finish on the heatsinks was impressive with carbon fibre detailing for the logo. All this quality could be seen during our tests with overclocking performance. The metal heatsink does not deform easily under pressure so on needn't worry about bending it while installing the DIMMs.
The DDR4 RAMs come with 288 pins in the same length as a standard DIMM socket which means the pins are thinner than DDR3. The PCB is thicker and taller than DDR3 modules as well. ADATA has gone with a black PCB covered by Red Heatsink for this RAM which is accentuated by carbon fibre finish under the logo and moulded stripes along the heatsink for a Racy look. The top of the Heatsink tapers to form a wing like shape, though this reduces the available clearance for custom CPU coolers to mount fans. With X99 boards allowing for mounting DIMMs on both sides of the CPU, this can affect both the push and the pull fan in a tower cooler.
Testing Methodology
Our approach to testing any hardware product is from a practical and everyday usage scenario with emphasis on gaming. In that sense, we focussed more on the gaming performance of the system than its performance in other applications. We also looked at other gaming related features offered by the board. We used Fraps 3.5.9 for benchmarking.
Test System:
CPU: Intel i7-5820k @ 3.3GHz (3.6GHz Boost)
Motherboard: Gigabyte GA-X99-UD4
GPU: Gigabyte G1 Gaming GTX 980 (Top End Settings)
PSU: Corsair TX650 650W
HDD: 2xSeagate Barracuda 7200.12 1TB, 1xWesten Digital Red 3TB
OS: Windows 8.1 x64
NVIDIA Driver: 344.09
We had to test this kit twice due to an error on our part and we were supplied with Motherboards and CPUs by Asus and Gigabyte to whom we are deeply grateful. All HDDs were thoroughly defragmented prior to usage. Due to lack of equipment we were unable to conduct power testing. All game tests conducted at 1920×1080
AIDA64 Extreme
Finalwire's AIDA64 Extreme is a system monitoring tool that also has the ability to stress test the system and benchmark the Memory and Cache performance. We used version 4.70.3200 for our testing.
Compared to a DDR3 module, the DDR4 modules easily give about thrice the Read, Write and Copy performance at a marginally lower latency. Note that the DDR3 modules we tested were clocked at 1600MHz, while the DDR4 units were doing 2400 MHz using the XMP profile.
PC Mark 8
PC Mark is a comprehensive benchmarking solution for the testing of the entire system. We used the Creative Conventional Test that benchmarks performance in web browsing, video playback, video editing, video conversion, music conversion, image editing, video chatting and mainstream gaming. These are similar applications to what one might expect of a gaming PC. The benchmark runs these tests in three passes for each and most tests run in windowed mode.
As we can see from the graphs, the GPU isn't really stressed by these tests while the CPU is stressed periodically and made to perform at the boost clock. CPU power consumption also spikes from time to time as measured by the benchmark. The tests rate the package as one of the top results in the world for its configuration type (Single CPU, Single GPU).
3D Mark
3D Mark is a graphics focused benchmark that also tests the physics performance of the CPU. It is more relevant to evaluate the game performance of the system as a whole. We ran the benchmark with both a top end card and a mid-range card to better get an idea of CPU performance.
One should pay close attention to the total score for both the cards. It's indicative of the package's power and how well the motherboard enables the components to work together. The contribution of the RAM to this score is noticeable in the Physics and combined score.
Game Benchmarks
Game performance is of utmost interest to us and for this purpose we ran our entire battery of GPU tests to gauge the impact of the CPU. We tested Battlefield 4, Bioshock Infinite, Company of Heroes 2, Crysis 3, Far Cry 3, Grid 2, Sleeping Dogs, Thief (2014), Tomb Raider (2013) and Total War: Rome II using a top end GPU with corresponding maxed out settings. We also tested some of our 2015 Benchmark suite games such as Far Cry 4, Middle-earth: Shadow of Mordor and Ryse – Son of Rome.
When we compared the results to our review benchmarks using the ageing AMD Phenom II x4 system, we found improvements in all criteria for all the games tested except Cryengine 3 games like Crysis 3 and Ryse. It seems performance in Cryengine 3 is highly dependent on the GPU when using the highest settings, making it a reliable benchmark for GPU capabilities. Curiously, Crysis 3 did suffer from quite a bit of periodic microstuttering. One should note that most mainstream games are more dependent on the GPU but there is a minimum difference of about 5 FPS to be found between a DDR3 based setup and a DDR4 based setup with improvements to be seen in 99th percentile frame times as well.
Thermal Performance of the XPG Z1
While RAM temperatures aren't easily monitored, one can trust in effectiveness of the heatsink design as well as the lower voltage requirement, as we didn't get any BSODs due to overheating in our stress testing. Also the RAMs were only mildly warm to the touch after such a stress test.
Overclocking the XPG Z1
There are two approaches to overclocking a RAM, one could try raising its operating frequency using either the multiplier or the Base clock frequency, or one can try tightening the timings to reduce latencies. One can do both operations for maximum performance, but will fall short of the peak possibilities on each approach.
Trying to overclock the RAM for frequency, we found that we just couldn't bump the multiplier past the XMP setting which might be a problem with the motherboard rather than the RAM. ADATA markets the XPG Z1 as extremely overclockable memory. We found that claim to be very true as we clocked the DIMMs to 3000MHz at 16-18-18-49 with 1.4V. This is a 600MHz gain over the stock setting which is mighty impressive. The benchmark saw performance improve by about 6-10% across all tests.
We next set about tightening the timings and ended up with 13-16-15-39 which even worked without raising the voltage to 1.4V though they weren't quite as stable on the default 1.2 V. The tighter timings saw a performance gain of about 3-4% over the XMP settings. This is also quite impressive given that even 2133MHz DDR4 RAM has a latency of 15-15-15-36.
Conclusion
ADATA are certainly bringing a high quality product with the XPG Z1 series of DDR4 RAMs. The only real barrier to building a gaming PC around these is the rather high price barrier for entry. DDR4 kits are quite expensive and also require a similarly expensive investment in an X99 chipset motherboard and a Haswell-E CPU. The basic cost of an X99 based setup costs about as much as the price for Intel's top CPU, the i7-5960X. However, one can expect DDR4 kits to get cheaper as they become more mainstream in a year or two, which is when enthusiast kits like this will stand out from the rest.
When it comes to value for money, one must understand that the target enthusiast market segment isn't looking at the actual product cost, but rather the peak performance possibilities on offer. Thus our rating is based on pure performance alone rather than the cost factor, which would easily halve the value for money score. Gamers on a budget, should look elsewhere. These RAMs will only interest you after a year or two. Right now, let the enthusiasts indulge in them and lower the costs for the rest of us.
The phenomenal overclocking performance of the ADATA XPG Z1 RAM certainly was a pleasant surprise. It does make for a nice bonus when the hardware is quite expensive. The Marketing for this product is certainly not Hype, but rather the naked truth.
Considering its awesome overclocking performance, we award the ADATA XPG Z1 our iLL Gaming Gold award.
We are grateful to ADATA, Asus and Gigabyte for providing us the RAM, CPU and Motherboard for review. We are also grateful to Gigabyte for the GPU.
What's iLL
+Power Efficient
+Brilliant Overclocker
+Lovely Heatsink Design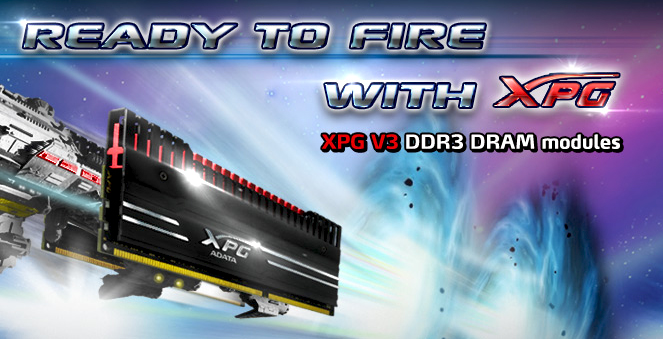 Well what do we have here, a DDR3 RAM thats been launched when the fuss around the PC building space is about those uber DDR4 RAM sticks. Sounds lame no? Well, it isn't. If you look past [...]