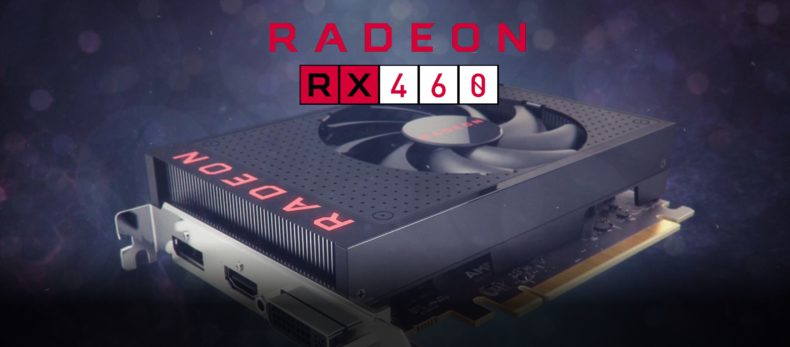 A few days back, AMD launched the Radeon RX 470 worldwide, at an attractive price. Yesterday, the 8th of August was the official launch date of AMD's budget "Polaris" GPU, the AMD Radeon RX 460.
The Radeon RX 460, as claimed by AMD, is engineered from the ground up for eSports gamers who demand "pristine HD gaming, extraordinary smooth beyond-HD streaming capabilities, distinguished future-proof gaming technologies." The Radeon RX 460 works on a sub-75W power footprint, which is way lower than the power draw of other graphics cards like RX 470, RX 480 and GeForce GTX 1070. AMD is marketing this GPU for people who want cool and quiet systems, with playable settings at 1080p and an affordable price.
The Radeon RX 460 supports DirectX 12 and Vulkan APIs. The main differing aspect between the RX 470/480 and the RX 460 is that the former uses the Polaris 10 chipset, while the later uses a stripped down Polaris 11 chipset. Polaris 11 doesn't support VR (virtual reality) gaming.
Pricing of the AMD Radeon RX 460
Official India price for the Radeon RX 460 is INR 11,990/- for the 2GB variant and INR 13,490/- for the 4GB variant.
Considering how the RX 470 and RX 480 are priced for India, we will say that the RX 460 pricing is a win. We'll have to wait and see how the card performs against Nvidia's GTX 960. The GTX 960 is priced around INR 18,000/- at the moment, so it will be interesting to compare the results.
Availability
The Radeon RX 460 has been launched officially, but it is yet to hit local shelves. AMD has promised that RX 460 2GB variant will be available on shelves in the week commencing 15th August, 2016. The 4GB variant will be available by early September.
We have received an XFX Radeon RX 460 2GB, which we are currently testing at the moment. We shall be sharing the performance of the newly launched GPU soon.

AMD India today announced the official pricing for Radeon RX 470. The RX 470 is second in the line of AMD's recently launched "Polaris" GPUs. The first in the line is the RX [...]

Fury. A rather interesting choice of name by AMD for its new flagship GPU series. Wonder if the fury is for the fact that they have been caught napping by NVIDIA with their Maxwell architecture [...]

To all the fellow PC gamers out there, we finally have our own E3 Press conference, The PC Gaming Show. It was organised by enthusiasts at PC Gamer and was backed by AMD along with a handful of [...]