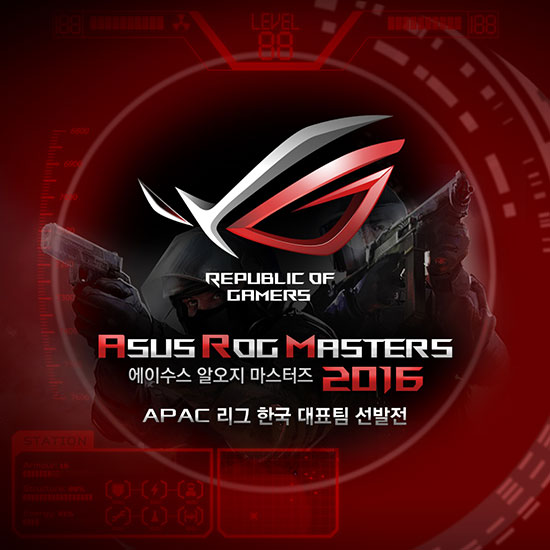 Lately, we've had a strew of big gaming tournaments taking place in India. The situation has certainly changed for the better, with big brands beginning to get involved with the gaming population in India. To add to the list, ASUS has announced the ROG Masters APAC tournament for India. This is a big announcement, as it literally puts India on the e-sports gaming map.
e-Sports and India
The ROG Masters tournament consists of five regions: i.e. Oceania (OCE) (Australia, New Zealand), East Asia (EA)(Japan, Taiwan, Korea, Hong Kong & Macau), South East Asia (SEA)( Indonesia, Thailand, Vietnam, Malaysia, Singapore, Philippines, Myanmar, Cambodia), China(CN) and lastly Rest of Asia (ROA)( India, Bangladesh, Nepal, Srilanka, Maldives). Its good to see India being included in a gaming tournament that spans throughout Asia. With a prize pool of USD $200,000 (INR 1,40,00,000 approx), this is certainly one of the biggest tournaments Indian gamers will witness.
The tournament will host the games Counter Strike GO and Dota 2. There will two regional online India Qualifiers playoffs, India Qualifiers 1 and India Qualifiers 2. Registrations for India Qualifiers 1 has already begun. Details of registration are available at the bottom of this article. The winners of both the tournaments will enter the second stage single elimination round of ROG Masters Rest of Asia. Winners of this round will travel to Kuala Lumpur, Malaysia for the grand finale on 12th and 13th of November.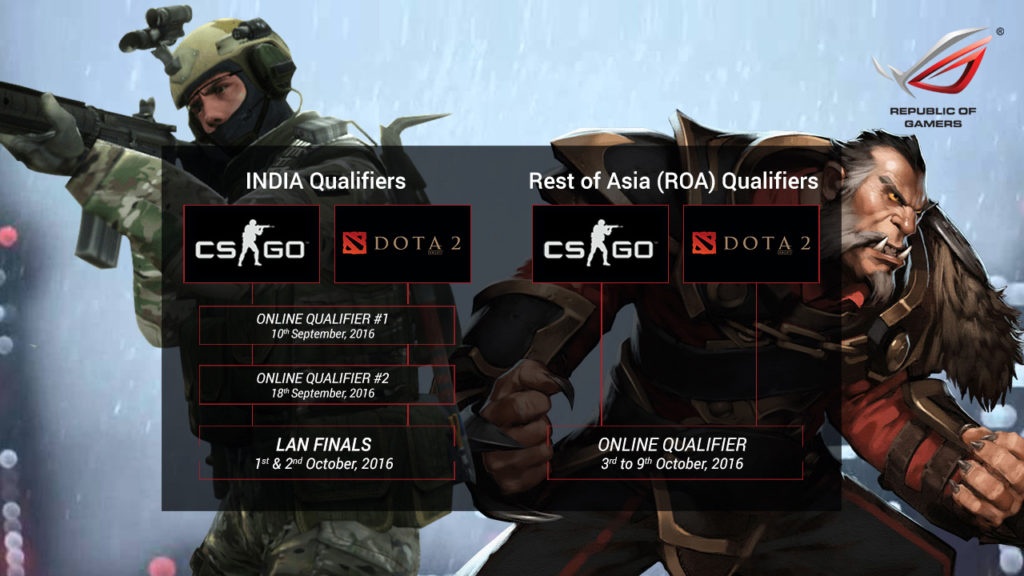 ROG Masters India Qualifiers
Registrations for India Qualifiers 1 have already begun. This bracket of the tournament will kick off from September 10, 2016. After the first bracket concludes, India Qualifiers 2, the second bracket will take place between 18th and 24th September 2016.
For teams that could not win in the qualifiers for the ROG Master APAC tournament, there is yet another chance to qualify for the mega tournament. Another tournament, the India LAN Finals will take place in Bangalore, the winners (4 teams) of which will directly represent India at the second stage of the Rest of Asia Qualifiers for the ROG Masters APAC tournament.
To register for the ROG Master India Qualifiers 1, visit this link.
Here's what Peter Chang, the Head of Asia for ASUS had to say:
India is full of gaming talent and with such platforms, each and every gamer holds a chance to make it big in the international arena. We also have two India Qualifiers which will ensure that not only the top professional teams, but also the upcoming talented teams get a chance to compete against the best. This way, one team gets a total of three chances to proceed ahead in the tournament. Moreover we are confident that ROG Masters will be one of the top gaming events in Asia in the next three years which will boost the Indian PC gaming industry and take it to the next level.

The Asus ROG Strix XG27VQ is the latest monitor launched by Asus in its ROG line of products. This monitor was unveiled at CES 2017, along with two other Strix monitors, XG32V and the XG32GV This [...]

Introduction Last week, we reviewed the ROG Cerberus V2 headset. It was a product iLL loved, and we gave it an award too! This week, we have another product from ASUS' ROG Cerberus line, [...]

In the dusky Bengaluru weather, the stage was set at The Lalit for an enticing Finale of the ASUS ROG Masters South Asia tournament, for Dota 2 and Counter Strike: GO. The teams were in, so were [...]