The iLL Fact Sheet
Item Reviewed
ASUS ROG Maximus IX Hero Z270
January 6, 2017
ASUS ROG Maximus IX Hero Z270 Motherboard Review
Whenever Intel announces a new generation of processors, chipset manufacturers galore the market with motherboard announcements. This time, Intel has released the Kaby Lake CPU product family, and numerous supporting 200-series chipsets have been debuted from all major motherboard players. Talking about major motherboard players, ASUS is one of the first, if not the first, brands to come into picture.
ASUS has unveiled a sleuth of Z270 motherboards, which is going to be the company's main selling line for the new year 2017. The new range includes the next-generation of Republic of Gamers (ROG) gaming motherboards: the ROG Maximus IX range, the ROG Strix range, ASUS Z270 TUF motherboards, workstation motherboards and an entire new series of motherboards, the ASUS Prime. ASUS' "Strix" series, used in the company's graphics cards, is now making its debut in motherboards as well.
ASUS Corporate Vice President, speaking about their 2017 motherboard lineup, said:
"For our Z270 generation, we've taken innovation and customisation to the max, with personalisation features such as Aura Sync RGB lighting and support for 3D-printed components. We've also co-operated with Shapeways to launch a dedicated ASUS shop where users are able to purchase, download and customize and 3D-printable accessories worldwide — so they'll never again have to stare into a drab, unexciting computer cases."
Intel's 7th-Generation "Kaby Lake" Processors
Announced last year by Intel, the new 14nm+ manufacturing technology was touted to improve efficiency, cooling and performance over the existing 14nm process. The chips manufactured from this technology were braced in notebooks and mobile platforms first, till eventually making their way to desktops.
With Kaby Lake processors, you get support for Intel Optane technology which essentially allows systems to utilise high-density memory over NAND memory. Intel's "3D Xpoint" framework allows for usage for 10 times the DRAM capacity in the same surface area, made possible by slicing submicroscopic layers of materials into columns containing memory cells. The Optane technology also offers superior low latency, and is capable of retrieving data in a power outage.
Intel has also upgraded their integrated graphics processors, making them faster at native encoding/decoding of 4K content (4K HEVC 10-bit).
ASUS Z270 Features
The Z270 chipset adds a bunch of new functionality over the Z170, along with maturing existing features. There is added focus on overclocking to exploit Kaby Lake's juicy overclocking-friendly framework. ASUS have themselves unveiled updates of their existing motherboard technologies. They claim their Z270 motherboards have the potential to overlock to "5.0 Ghz and beyond." ASUS' famous 5-Way Optimization dynamically optimises essentials aspects of the system based on real-time use, including an all new Stress Test Distribution feature that allows users to adjust the proportion of CPU and DRAM stress for optimal overclocking performance.
Fan Xpert has received an update too, which is a tool that allows users to monitor GPU temperatures and adjust fan speed. ASUS Pro Clock now has a dedicated BCLK generator specifically designed for Intel's new  Kaby Lake processors. Base frequencies can now be overclocked to 425Mhz and beyond. Pro Clock works together with ASUS TPU (TurboV Processing Unit) to give more control over voltage and base-clock. ASUS T-Topology, a tool specifically for DDR4 memory overclocking, has received its third generation update. RAM frequencies can now be overclocked up to 4133Mhz. This is roughly 15% higher from what Z170 chipsets allowed.
As expected, all major motherboard brands are heavily focusing on LED lighting and customisation, and ASUS has added a bunch of features to support these aspects. ASUS Aura Sync makes a bold appearance in their Z270 2017 lineup. Aura Sync supporting motherboards come with 4-pin/12V Aura RGB headers and an extension cable.
ASUS is betting big on the use of 3D-printed components in custom built PCs. Their 2017 lineup is the first one to support the use of 3D-printed components, and provides 3D printing mounts in the package of their respective motherboards. ASUS has gone to the lengths of providing original CAD files available from download on their server. ASUS has teamed up with Shapeways, and users can directly customise and order 3D printed components using the service.
Specifications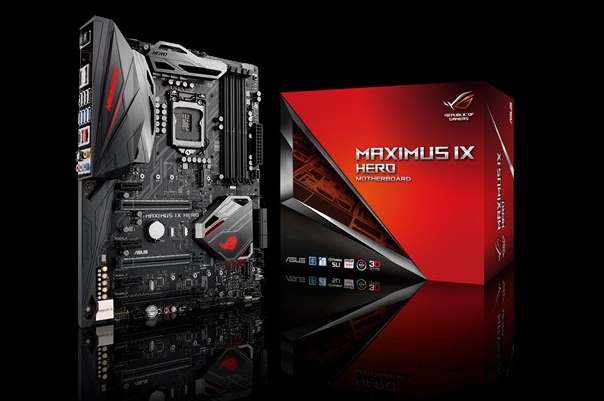 Here are the official specifications of the ROG Maximus IX Hero, taken from the product page on ASUS' website.
CPU

Intel® Socket 1151 for 7th/6th Generation Core™ i7/Core™ i5/Core™ i3/Pentium®/Celeron® Processors
Supports Intel® 14 nm CPU
Supports Intel® Turbo Boost Technology 2.0
* The Intel® Turbo Boost Technology 2.0 support depends on the CPU types.

Chipset

Intel® Z270

Memory

4 x DIMM, Max. 64GB, DDR4 4133(O.C.)/4000(O.C.)/3866(O.C.)/3733(O.C.)/3600(O.C.)/3466(O.C.)/3400(O.C.)/3333(O.C.)/3300(O.C.)/3200(O.C.)/3000(O.C.)/2800(O.C.)/2666(O.C.)/2400(O.C.)/2133(O.C.) MHz Non-ECC, Un-buffered Memory

Dual Channel Memory Architecture

Supports Intel® Extreme Memory Profile (XMP)

* Hyper DIMM support is subject to the physical characteristics of individual CPUs.

* Refer to

www.asus.com

for the Memory QVL (Qualified Vendors Lists).

Graphic

Integrated Graphics Processor
Multi-VGA output support : HDMI/DisplayPort ports
– Supports HDMI with max. resolution 4096 x 2160 @ 24 Hz
– Supports DisplayPort with max. resolution 4096 x 2304 @ 60 Hz
Maximum shared memory of 1024 MB

Multi-GPU Support

Supports NVIDIA® 2-Way SLI™ Technology
Supports AMD 3-Way CrossFireX™ Technology

Expansion Slots

2 x PCIe 3.0/2.0 x16
1 x PCIe 3.0/2.0 x16
3 x PCIe 3.0/2.0 x1

Storage

Intel® Z270 Chipset :
1 x M.2 Socket 3, with M key, type 2242/2260/2280 storage devices support (SATA & PCIE 3.0 x 4 mode)
1 x M.2 Socket 3, with M key, type 2242/2260/2280/22110 storage devices support (PCIE 3.0 x 4 mode)
6 x SATA 6Gb/s port(s)
Support Raid 0, 1, 5, 10
Intel® Rapid Storage Technology supports
Supports Intel® Smart Response Technology
Intel® Optane™ Memory Ready

LAN

Intel® I219V
Anti-surge LANGuard
ROG GameFirst Technology

Audio

ROG SupremeFX 8-Channel High Definition Audio CODEC S1220
– Supports : Jack-detection, Multi-streaming, Front Panel Jack-retasking
– High quality 120 dB SNR stereo playback output and 113 dB SNR recording input
– SupremeFX Shielding Technology
– ESS® ES9023P
– Supports up to 32-Bit/192kHz playback
Audio Feature :
– Gold-plated jacks
– Optical S/PDIF out port(s) at back panel
– Sonic Radar III
– Sonic Studio III

USB Ports

ASMedia® USB 3.1 controller :
1 x USB 3.1 front panel connector port(s)
ASMedia® USB 3.1 controller :
2 x USB 3.1 port(s) (2 at back panel, , Type-A + Type-C)
Intel® Z270 Chipset :
6 x USB 3.0 port(s) (4 at back panel, blue, 2 at mid-board)
Intel® Z270 Chipset :
6 x USB 2.0 port(s) (4 at back panel, black, 2 at mid-board)

ROG Exclusive Features

ROG RAMCache II
ROG CPU-Z
ROG CloneDrive
MemOK! Button
Overwolf
ReTry Button
Safe Boot Button
Start Button
Reset Button
LN2 Mode
GameFirst IV
ROG Aura
– Aura Lighting Control
– Aura RGB Strip Headers
Extreme Engine Digi+ :
– MicroFine Alloy Chokes
– NexFET™ Power Block MOSFET
– 10K Black Metallic Capacitors
Mem TweakIt
KeyBot II
– One-click Overclocking
– X.M.P.
– DirectKey
– ClrCMOS
– Power On
UEFI BIOS features :
– O.C. Profile
– Tweakers' Paradise
– ROG SSD Secure Erase
– Graphic Card Information Preview
ROG RAMDisk
Loadline Calibration

Special Features

ASUS Dual Intelligent Processors 5-Way Optimization by Dual Intelligent Processors 5 :
– 5-Way Optimization tuning key perfectly consolidates TPU, EPU, DIGI+ VRM, Fan Xpert 4, and Turbo Core App
TPU
– Fan Xpert 4 featuring Fan Auto Tuning function and multiple thermistors
Gamer's Guardian:
– SafeSlot
ASUS EZ DIY :
– ASUS CrashFree BIOS 3
– ASUS EZ Flash 3
ASUS Q-Design :
– ASUS Q-Shield
– ASUS Q-LED (CPU, VGA, Boot Device LED)
– ASUS Q-DIMM
– ASUS Q-Connector

Back I/O Ports

1 x DisplayPort
1 x HDMI
1 x LAN (RJ45) port(s)
1 x USB 3.1 (black)Type-C
1 x USB 3.1 (red)Type-A
4 x USB 3.0 (blue)
4 x USB 2.0 (one port can be switched to USB BIOS Flashback)
1 x Optical S/PDIF out
1 x Clear CMOS button(s)
1 x USB BIOS Flashback Button(s)

Internal I/O Ports

2 x RGB Header(s)
1 x USB 3.0 connector(s) support(s) additional 2 USB 3.0 port(s)
1 x USB 2.0 connector(s) support(s) additional 2 USB 2.0 port(s)
1 x M.2 Socket 3 with M key, type 2242/2260/2280 storage devices support (SATA & PCIE 3.0 x 4 mode)
1 x M.2 Socket 3 with M key, type 2242/2260/2280/22110 storage devices support (PCIE 3.0 x 4 mode)
1 x TPM connector(s)
6 x SATA 6Gb/s connector(s)
1 x CPU Fan connector(s)
1 x CPU OPT Fan connector(s)
3 x Chassis Fan connector(s)
1 x H_AMP fan connector
1 x W_PUMP+ connector
1 x AIO_PUMP connector
1 x Thunderbolt header(s)
1 x 8-pin EATX 12 V Power connector
1 x 24-pin EATX Power connector(s)
1 x Front panel audio connector(s) (AAFP)
1 x MemOK! button(s)
1 x Thermal sensor connector(s)
1 x Reset button(s)
1 x LN2 Mode switch(es)
1 x Clear CMOS button(s)
1 x USB BIOS Flashback button(s)
1 x ROG extension (ROG_EXT) header(s)
1 x Safe Boot button
1 x ReTry button
1 x Slow Mode jumper(s)
1 x System panel connector
3 x 3D Mount screw port(s)
1 x Start button
1 x USB 3.1 front panel connector

Accessories

User's manual
ASUS Q-Shield
4 x SATA 6Gb/s cable(s)
1 x M.2 Screw Package
1 x CPU installation tool
1 x Supporting DVD
1 x SLI HB BRIDGE(2-WAY-M)
1 x ROG big sticker
1 x Q-Connector
1 x 10-in-1 ROG cable label
1 x 3D printing mount package
1 x ROG coasters

BIOS

1 x 128 Mb Flash ROM, UEFI AMI BIOS, PnP, DMI3.0, WfM2.0, SM BIOS 3.0, ACPI 6.0, Multi-language BIOS, ASUS EZ Flash 3, CrashFree BIOS 3, F11 EZ Tuning Wizard, F6 Qfan Control, F3 My Favorites, Last Modified log, F12 PrintScreen, F3 Shortcut functions and ASUS DRAM SPD (Serial Presence Detect) memory information.

Manageability

WfM2.0, DMI3.0, WOL by PME, PXE

Operating System

Windows® 10 64-bit
Windows® 8.1 64-bit
Windows® 7 32-bit
Windows® 7 64-bit

Form Factor

ATX Form Factor
12 inch x 9.6 inch ( 30.5 cm x 24.4 cm )
Unboxing the ROG Maximus IX Hero
Here's what we get inside the box.
What you also get are ROB cable labels and an 80cm extension cable for RGB strips.
Looking closely
The ASUS Maximus IX Hero, at first glance, has a very understated and a utilitarian look. The motherboard employs a jet black and grey colour scheme, which goes hand in hand with the colour scheme of other PC components. The grey abstract lines runs across the entire motherboard, being most evident in the CPU zone. These abstract lines give the motherboard some character.
The understated-ness and minimalism is matched with complementing I/O cover and heatsinks. We're particularly fans of the I/O shield, to which ASUS has given considerable detailing. All the motherboard's components match with each other really well. In the looks department, the Maximus IX Hero will surely not disappoint.
The ASUS ROG Maximus IX Hero features three full-length x16 PCI-E slots. The top two slots run at x8 and the bottom most slot runs at x4. Clearly, this was a move to support the usage of GPUs in 2-way SLI/CrossFire configuration in mind. The x16 slots are reinforced with metal bracing, giving those massively sized graphics cards a stronger and better grip.
ASUS' SupremeFX audio solution has come a long way since it launched. It is now mature, and works well across all audio spheres. The ASUS ROG Maximus IX Hero features the new ALX S1220 audio chip which works together with the ESS ES9023P DAC. Both of these components are audiophile grade. There is also an RC4580 buffer. The headphone amplifier utilises a 2.1Vrms output which can drive headphones with impedance up to 600 Ohms. De-pop MOSFET reduces pop noises. The board is heavy on high-grade Nichicon capacitors for a warm, rich, distortion free sound.
The motherboard has two M.2 slots, both located apart from each other. One is located right below the CPU mount, and the other is located in the bottom right corner, above the case-jumper pins. In the same zone, you get an array of headers, including an RGB header.
Being an ROG motherboard, you can expect tons of fan headers. In the case of the ASUS ROG Maximus IX Hero, you get a total of eight fan headers: five chassis headers, two pump headers and a high amp header. In their new series of motherboards, ASUS has designed a new fan control IC capable of over temperature protection and over current protection, a boon if you're living in India, where electricity fluctuations are plenty. All of the fan headers have PWM/DC control, which can be tuned using Fan Xpert 4. You get two water cooling temperature sense headers and water flow sense headers too. If, for any reason, the eight fan headers aren't enough, you can always use a fan extension card, like the one we saw in the ROG X99 Rampage V Edition 10.
The ASUS ROG Maximus IX Hero has a total of 10-phases for power delivery: an Extreme Engine Digi+ 8-phase power delivery for the CPU and 2-phases for the iGPU. The DIMM slots have their own dedicated 2-phases for power. ASUS has used MicroFine Alloy chokes which are 31 percent cooler than large granules and offer a 75 percent less hysteresis reduction. Even the MOSFETs are Texas Instrument's NexFET, which are 50 percent smaller than traditional MOSFETs.
The ASUS ROG Maximus IX Hero can accept upto 64GB of memory with a maximum speed of a whopping 4133Mhz. Obviously, this speed won't be used by consumers, but the support is there if such a scenario arises. T-topology circuit is now in its third generation and reduces crosstalk electrical interference. You also get an LED post readout, like in most ROG motherboards. This is always a handy features when diagnosing problems in a PC. The MEMOK! button rescans memory frequencies incase the system fails to boot because of a mismatch.
Below the PCI-E slots you get plenty of useful buttons, like Start, Reset, Safe_Boot, Retry_Button and Slow_Mode.
ROG boards usually have 8 SATA3 ports, but the ASUS ROG Maximus IX Hero has only six. ASUS has ditched two SATA ports in favour of two M.2 ports, keeping in line with current SSD trends. You also get a USB 3.1 connector that allows transfer speeds of 10GB/s. ASUS claims to be working with Lian-Li and In-Win to launch peripherals to take advantage of this technology. ASUS also claims that there will be replaceable front-panel USB 3.1 connectors, so that people can upgrade without changing their cabinets.
The I/O panel has plenty of ports: four USB 2.0 ports, four USB 3.0 ports, Intel i219V Gigabit LAN, USB 3.1 Type-A, USB 3.1 Type-C, five audio jacks, one S/PDIF Out port, a Clear_CMOS button, USB BIOS Flashback button, and a DisplayPort and HDMI port. You get all the modern ports in this I/O panel.
Aura RGB Lighting
Let us talk about the LED lighting now. ASUS Aura RGB lighting is utilised in the "Maximus" logo near the CPU area above the power phases, and the ROG eye logo in the right-centre of the motherboard. Capturing the lighting on camera wasn't an easy task, and the pictures wont do justice to the actual visual experience. Rest assured, the RGB lighting looks great!  The lighting on the Maximus logo illuminates the I/O back panel. I found this to be very convenient, especially in scenarios when I had to take a visit to the dark and dingy back side of my desktop, and it eliminated the use of an extra torch for light. Nice touch by ASUS!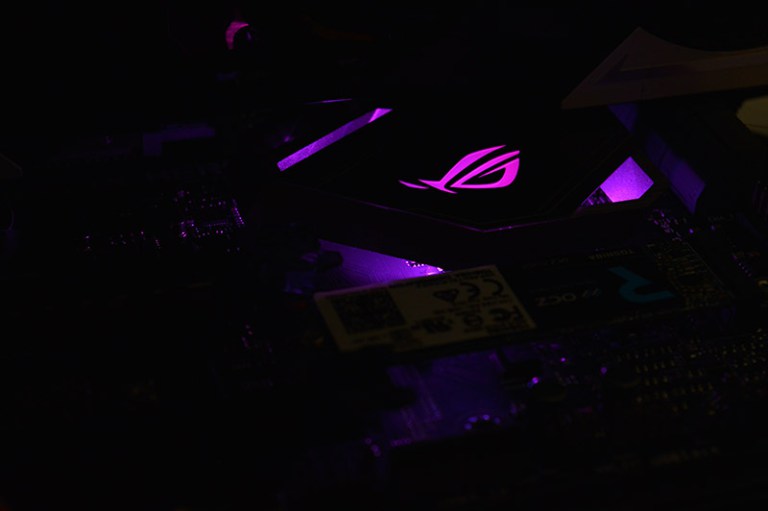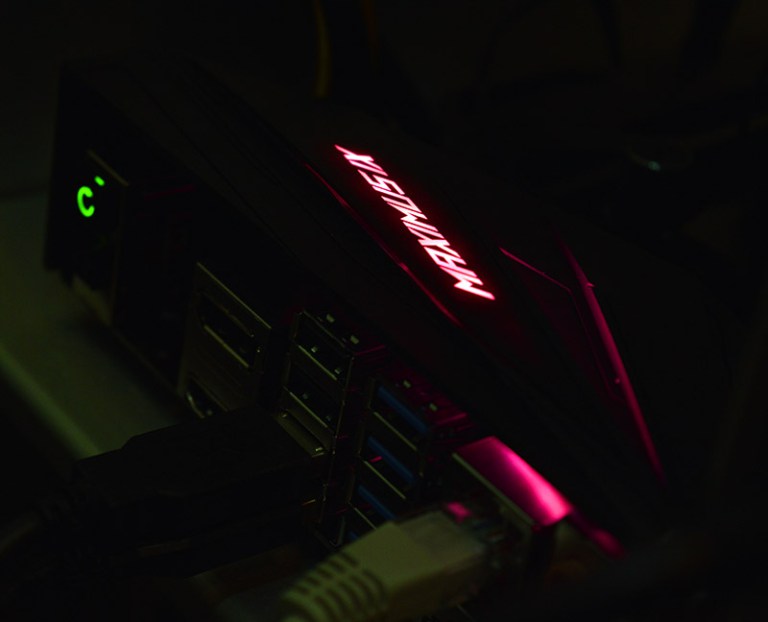 The Aura software enables use of multiple lighting effects for the RGB LEDs, including breathing, colour cycle, strobing, rainbow, comet, flash and dash. You can also synchronise the lighting with the music being played or the temperature of your CPU. Furthermore, the board includes RGB headers which can be used with 5050LED strips.
Conclusion
This is an exciting time for all PC enthusiasts, with the launch of Intel's new generation of CPUs, the "Kaby Lake" and along with it, exciting new motherboards supporting the new CPUs. While Kaby Lake doesn't do anything radical over Skylake, it features minimal optimisations along with some new features like faster usage of high density RAM.
The ASUS ROG Maximus IX Hero is the first Z270 motherboard we have tested, and we can confidently say that the experience was pleasant for us. The new platform feels like Z170, just more perfected and more detailed. Looking at the Maximus IX Hero particularly, you are offered all the modern bells and whistles, without going overboard. This motherboard will provide a solid base to build a solid mainstream Z270 PC. You get all the modern ports, support for high speed RAM, M.2 drive support, USB 3.1 support, dual X16 PCI-E slots. The icing on the cake, ASUS' excellent ROG BIOS. The BIOS give the use excellent control over the working of the systems components.
The build quality on the ROG Maximus IX Hero is top-notch. We don't have any complaints against it, but the placement of the two M.2 slots in different locations is something that baffles me. Some people might have an issue with the reduction of SATA ports from eight to six, but one can't always keep everybody happy, so this change is acceptable. The one thing I noticed about the Maximus IX Hero is how approachable it is to new builders. Even if you have a complicated water cooling setup, the Hero will be most welcoming in allowing you to install it.
The looks, if they do matter, are great again. The design on the board is fantastic and very stylish, and when the LEDs are working, it's a sheer pleasure to just watch your motherboard illuminated. If you want more lights, you can always attach an RGB strip.
The motherboard has excellent power management, cooling options, LAN circuitry, an in-build DAC that can drive the most power hungry headphones, and high quality capacitors for rich and distortion free sound. The ROG Maximus IX Hero is currently available at INR 23,350. The Hero is a good motherboard if you want all the latest features, but don't want to spend more on overkill features, a motherboard that strikes a good balance between affordability and premiumness. For the price, this board will ensure you a good experience, a good lifespan and good performance, with features that will keep you on the top of the performance curve. We like this product, and we are awarding it the iLLGaming Bronze Award.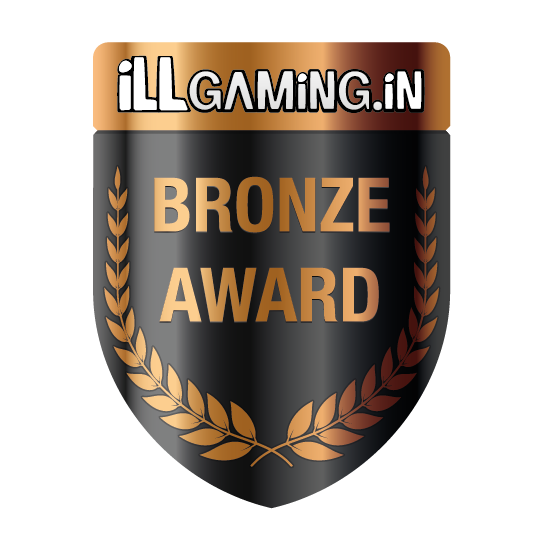 What's iLL
+Balanced set of features
+USB 3.1 Front Panel port
+Attractive price
+10-phase power delivery
+USB 3.1 Type-A and Type-C ports
+Clean, layout
+Clever placement of internal RGB LEDs
+SupremeFX audio
+Mature BIOS
What's Not
-Only 6 SATA3 ports
-M.2 ports are placed in weird positions

Introduction With the launch of Intel's 7th-Generation of CPUs, the Kaby Lake, we obviously have a plethora of new supporting motherboards. With the Z270 race is in full throttle mode, we [...]