The iLL Fact Sheet
Item Reviewed
ASUS ROG Strix Z270F Gaming
January 6, 2017
Awards
iLLGaming Editor's Choice
Introduction
With the launch of Intel's 7th-Generation of CPUs, the Kaby Lake, we obviously have a plethora of new supporting motherboards. With the Z270 race is in full throttle mode, we have a full team roster of exciting new motherboards coming our way. We started the Z270 Kaby Lake party with a review of the ASUS ROG Maximus IX Hero. To know more about the Kaby Lake architecture, the Z270 features, check out this article.
Today, we will look at the ASUS ROG Strix Z270F Gaming motherboard. The "Strix" branding was limited to graphics cards, and this is the first time ASUS has carried over the series to motherboards. The Z270F is the first motherboard in the Strix series, and we are really excited to see what this is all about. We can't help but assume that ASUS replaced the Maximus Ranger entirely with the Strix branding, and are now including only the ultra premium motherboards in the Maximus catalogue. We really liked the Maximus IX Hero Z270, and we hope that like its cousin, the Strix impresses us too. Only one way to find out…
Specifications
First things first. Here are the official specifications of the ASUS ROG Strix Z270F Gaming motherboard.
CPU

Intel® Socket 1151 for 7th/6th Generation Core™ i7/Core™ i5/Core™ i3/Pentium®/Celeron® Processors
Supports Intel® 14 nm CPU
Supports Intel® Turbo Boost Technology 2.0

Chipset

Intel® Z270

Memory

4 x DIMM, Max. 64GB, DDR4 3866(O.C.)/3733(O.C.)/3600(O.C.)/3466(O.C.)/3400(O.C.)/3333(O.C.)/3300(O.C.)/3200(O.C.)/3000(O.C.)/2800(O.C.)/2666(O.C.)/2400(O.C.)/2133 MHz Non-ECC, Un-buffered Memory
Dual Channel Memory Architecture
Supports Intel® Extreme Memory Profile (XMP)

Graphic

Integrated Graphics Processor- Intel® HD Graphics support
Multi-VGA output support : HDMI/DVI-D/DisplayPort 1.2 ports
– Supports HDMI with max. resolution 4096 x 2160 @ 24 Hz
– Supports DVI-D with max. resolution 1920 x 1200 @ 60 Hz
– Supports DisplayPort with max. resolution 4096 x 2304 @ 60 Hz
Maximum shared memory of 1024 MB
Supports Intel® InTru™ 3D, Quick Sync Video, Clear Video HD Technology, Insider™
Supports up to 3 displays simultaneously

Multi-GPU Support

Supports NVIDIA® 2-Way SLI™ Technology
Supports AMD 3-Way CrossFireX™ Technology

Expansion Slots

2 x PCIe 3.0/2.0 x16 (x16 or dual x8)
1 x PCIe 3.0/2.0 x16 (max at x4 mode)
4 x PCIe 3.0/2.0 x1

Storage

Intel® Z270 Chipset :
1 x M.2 Socket 3, with M Key, type 2242/2260/2280/22110 storage devices support (both SATA & PCIE mode)
1 x M.2 Socket 3, with M Key, type 2242/2260/2280 storage devices support (x4 PCIE mode)
6 x SATA 6Gb/s port(s)
Support Raid 0, 1, 5, 10
Supports Intel® Smart Response Technology
Intel® Optane™ Memory Ready

LAN

Intel® I219V
Anti-surge LANGuard
ROG GameFirst Technology

Audio

ROG SupremeFX 8-Channel High Definition Audio CODEC S1220A
– Dual Headphone Amplifiers
– Impedance sense for front and rear headphone outputs
– Supports : Jack-detection, Multi-streaming, Front Panel Jack-retasking
– High quality 120 dB SNR stereo playback output and 113 dB SNR recording input
– SupremeFX Shielding Technology
– Supports up to 32-Bit/192kHz playback
Audio Feature :
– SupremeFX Shielding™ Technology
– Optical S/PDIF out port(s) at back panel
– Dedicated audio PCB layers: Separate layers for left and right channels to guard the quality of the sensitive audio signals
– Premium Japanese-made audio capacitors: Provide warm, natural and immersive sound with exceptional clarity and fidelity
– Sonic Radar III
– Sonic Studio III

USB Ports

Intel® Z270 Chipset :
6 x USB 3.0 port(s) (4 at back panel, blue, 2 at mid-board)
Intel® Z270 Chipset :
6 x USB 2.0 port(s)
ASMedia® USB 3.1 controller :
2 x USB 3.1 port(s) (Type-A + Type-C, Support 3A power output)

ROG Exclusive Features

ROG RAMCache II
ROG CPU-Z
ROG CloneDrive
Overwolf
GameFirst IV
ROG Aura
– Aura Lighting Control
– Aura RGB Strip Headers

Special Features

OC Design – ASUS PRO Clock Technology
– Full BCLK range for extreme overclocking performance
5-Way Optimization by Dual Intelligent Processors 5
– Whole system optimization with a single click! 5-Way Optimization tuning key perfectly consolidates TPU, EPU, DIGI+ Power Control, Fan Xpert 4, and Turbo App together
TPU
– Auto Tuning, TurboV, GPU Boost
– Fan Xpert 4 featuring Fan Auto Tuning function and multiple thermistors
Gamer's Guardian:
– DRAM Overcurrent Protection
– Stainless Steel Back I/O
– Highly Durable Components
– DIGI+ VRM
– SafeSlot
ASUS Exclusive Features :
– AI Suite 3
– Ai Charger
– ESD Guards
– PC Cleaner
ASUS EZ DIY :
– ASUS CrashFree BIOS 3
– ASUS EZ Flash 3
– ASUS UEFI BIOS EZ Mode
ASUS Q-Design :
– ASUS Q-Shield
– ASUS Q-LED (CPU, DRAM, VGA, Boot Device LED)
– ASUS Q-Slot
– ASUS Q-DIMM
Gaming Aesthetics :
– 3D printing friendly
– AURA-RGB Lighting
Turbo APP
M.2 Onboard(The latest transfer technologies with up to 32Gb/s data transfer speeds)

Back I/O Ports

1 x PS/2 keyboard/mouse combo port(s)
1 x DVI-D
1 x DisplayPort
1 x HDMI
1 x LAN (RJ45) port(s)
2 x USB 3.1 Type-A + Type-C
4 x USB 3.0 (blue)
1 x Optical S/PDIF out
5 x Audio jack(s)

Internal I/O Ports

1 x AAFP connector
2 x RGB Header(s)
1 x USB 3.0 connector(s) support(s) additional 2 USB 3.0 port(s)
3 x USB 2.0 connector(s) support(s) additional 6 USB 2.0 port(s)
1 x M.2 Socket 3 with M Key design, type 2242/2260/2280/22110 storage devices support (Supports both SATA & PCIE SSD)
1 x M.2 Socket 3 with M Key, type 2242/2260/2280 storage devices support (PCIE mode only)
6 x SATA 6Gb/s connector(s)
1 x CPU Fan connector(s)
1 x CPU OPT Fan connector(s)
2 x Chassis Fan connector(s)
1 x 24-pin EATX Power connector(s)
1 x 8-pin ATX 12V Power connector(s)
1 x System panel(s) (Chassis intrusion header is inbuilt)
1 x DRCT header(s)
1 x CPU OV
1 x 5-pin EXT_FAN(Extension Fan) connector
1 x ROG extension (ROG_EXT) header(s)
1 x 14-1 pin TPM connector
1 x COM port header
1 x High AMP Fan Header
1 x T_Sensor Connector
1 x AIO PUMP Header
3 x 3D Mount screw port(s)

Accessories

User's manual
ASUS Q-Shield
4 x SATA 6Gb/s cable(s)
1 x M.2 Screw Package
1 x CPU installation tool
1 x Supporting DVD
1 x SLI HB BRIDGE(2-WAY-M)
1 x ROG Strix stickers
1 x 10 in 1 ROG Cable Label(s)
1 x Extension Cable for RGB strips (80 cm)
1 x 3D printing mount package
1 x ROG coasters

BIOS

128 Mb Flash ROM, UEFI AMI BIOS, PnP, WfM2.0, SM BIOS 3.0, ACPI 6.0, Multi-language BIOS, ASUS EZ Flash 3, CrashFree BIOS 3, F11 EZ Tuning Wizard, F6 Qfan Control, F3 My Favorites, Last Modified log, F12 PrintScreen, and ASUS DRAM SPD (Serial Presence Detect) memory information.

Manageability

WfM2.0, DMI3.0, WOL by PME, PXE

Form Factor

ATX Form Factor
12 inch x 9.6 inch ( 30.5 cm x 24.4 cm )
---
Unboxing the ROG Strix Z270F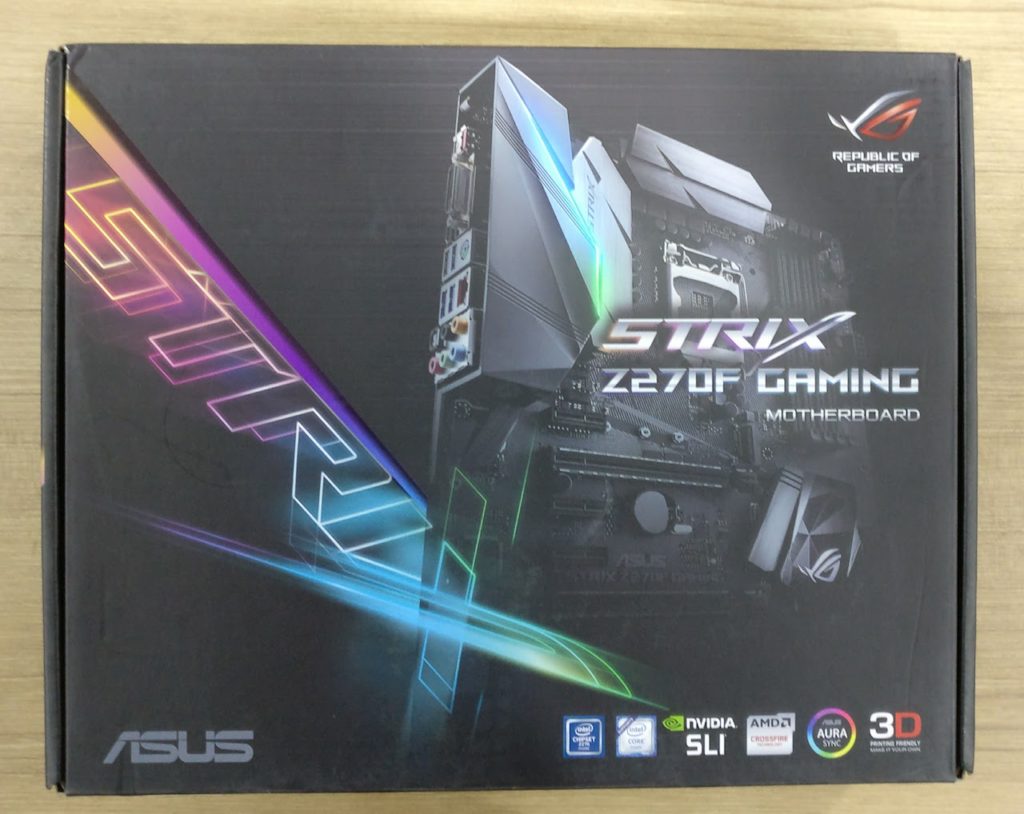 The box is built in typical mainstream motherboard packaging, with a black colour scheme and streaks of RGB colours. Opening it up, the motherboard sits on a corrugated cardboard. Below the cardboard are the board's accessories.
The accessories in the box are typical of most of ASUS' ROG motherboards. The Maximus IX Hero literally has the same number of accessories, so we can't complain. We are happy that ASUS has included most things one would expect from a Maximus board, in a Strix board. You also get a 20% Discount coupon on CableMod cables.
Here is the how the back of the box looks like. ASUS has detailed a couple of salient features in the back.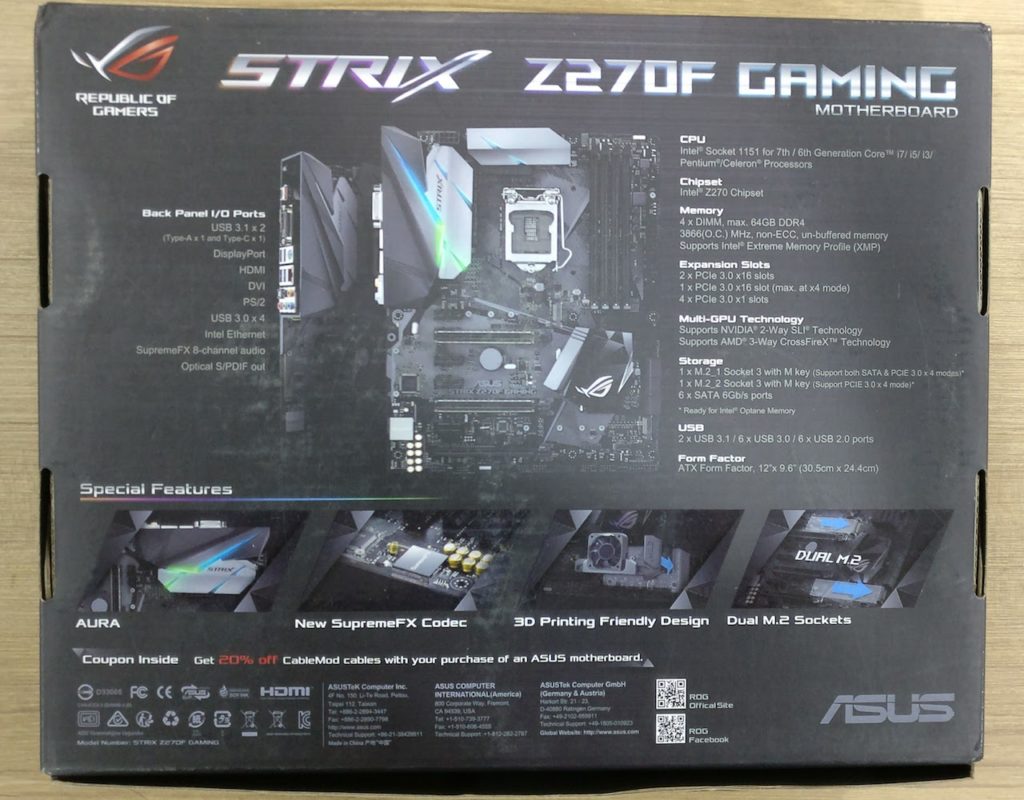 A Closer Look
Lets have a closer look at the ASUS ROG Strix Z270F Gaming motherboard. Holding the board for the first time, I couldn't help but be reminded of the Maximus IX Hero motherboard. And that obviously is a compliment to the much cheaper Strix Z270F Gaming motherboard. That's not to say that the Strix doesn't hold its own. In fact, it has pretty much of its own character. You get large brushed aluminium (like the backs of most phones) heat sinks that give it is character. Overall, the colour is on the neutral side, with a lot of straight lines and subtlety, in line with the current design trends.
Straight grey lines streak across the surface of the board, giving it relevant styling, one that is in line with the Strix branding. You can easily point out this board in a crowd, that's for sure. With RGB lighting, the board will have even more character.
The ROG Strix Z270F Gaming motherboard offers six 4-pin fan headers with PWM/DC support to adjust fan rotation speeds. Six headers ain't bad at all, but this might be a limiting factor for some power builders. One can always get a fan extension card, like we saw in the Rampage V Edition 10 motherboard. Like the Maximus Hero, the Strix Z270F also supports over current protection and over temperature protection, something that we think is mandatory for consumers in India. Losing out expensive hardware to a voltage fluctuation can be frustrating, and its good to see ASUS trying to address the issue. The high amp header can supply upto 3A to a PWM fan and 1A to a fan running in DC mode. This means that you can use high RPM fans without worrying about the side effects in the circuitry of your motherboard.
For water cooling, ASUS has gone for an all-in-one pump header which runs at 100% duty at all times. This is a limitation, however, the AIO_PUMP speed can be manipulated in the BIOS if you find the maximum rpm too loud. All fan headers support ASUS' coveted Extreme Quiet mode.
Power is delivered to the CPU via a digital semi-8 phase power design. The iGPU has its own dedicated 2-phase circuitry. For the DIMM memory, you get a 1-phase VRM for power supply. There is also a DRAM fuse for extra protection against electrical shorts. Like in the Maximus, you get ASUS' DIGI+ Power Control with Texas Instruments NexFET MOSFETs, MicroFine allow chokes which are much smaller in size and run much cooler. The Strix Z270F consists of Japanese black metallic capacitors, which have a significantly longer lifespan and more thermal tolerance. We are pretty happy with the way the Strix Z270G Gaming is built. It pretty much matches the build of the Maximus IX Hero.
The motherboard's BCLK generator works hand-in-hand with ASUS' TPU (Turbo Processor Unit) for enhanced control on overclocking frequencies and ratios. The full BCLK OC range is enabled, and you can adjust the clock amplitude and clock slew rate. The more deeply we look at the Strix Z270F Gaming, the more we are seemingly fond of it. Another great feature is ASUS' LANGuard, which cuts signal loss to 300Mhz compared to 130Khz in traditional LAN ports.

The back I/O panel offers a number of connectivity options. You get one USB 3.1 Type-A and one Type-C port, DVI-D, DisplayPort, HDMI, PS/2, four USB 3.0, Intel i219V Gigabit LAN, five audio jacks and S/PDIF Out.
The ROG Strix Z270F Gaming supports upto 64GB of DDR4 RAM, and can reach frequencies up to a maximum of 3866MHz. T-Topology has made its way to this board too, which further enhances the reduction of crosstalk electrical interference from surrounding signals, for more "pure" signals.
On this motherboard, you get six SATA ports and two M.2 connectors. There is no U.2, Thunderbolt 3 and SATA Express. We're beginning to see more and more ASUS boards without a U.2 port. The M.2 ports, are placed above the 16x PCI-E slot and the other next to the SATA ports. M.2 drives deliver a much faster performance at a more reasonable price anyway.
The ROG Strix Z270F supports 2-way SLI and 3-way CrossfireX configurations. You also get one PCI-E x1 slot. The primary x16 PCI-E slot has a added protection for the heaviest of graphics cards.
SupremeFX Sound Engine
The ROG Strix Z270F supports the latest framework of ASUS' SupremeFX audio solution. It uses the same S1220A codec in many other ASUS's boards that feature SupremeFX. First things first, SupremeFX is way superior that integrated audio solutions in most boards. It features signal-to-noise ratio of 133dB on the line-in and 120 on the line-out. The integrated DAC can drive headphones upto 600Ohm. That means, most audiophile headphones like the high-end Shures, Sennheisers HD800 etc. can be driven by the motherboard.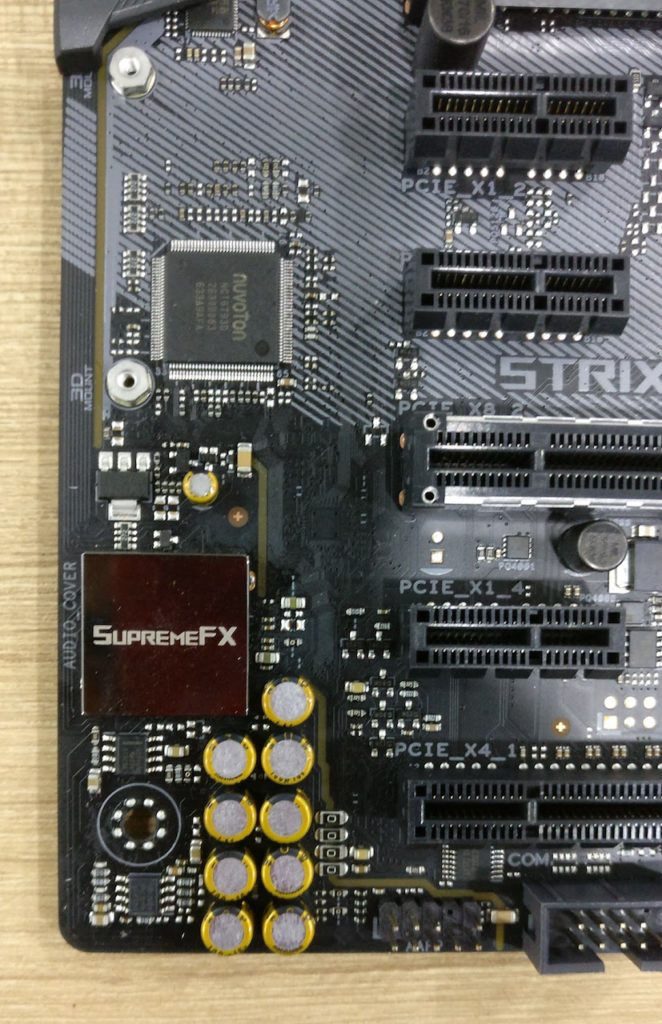 The audio circuitry features components that minimise pop noises and detect the impedance of the headphones plugged in automatically. The audio area is shielded to isolate itself from the electrical and magnetic events of the rest of the motherboard. The left and right channels are on separate tracks, to further reduce interference. This level of sophistication is equal to that of a dedicated sound card, like the ASUS Xonar DX.
Aura RGB Lighting
The ROG Strix Z270F comes with built in Aura RGB LED lights, and has two 4-pin headers where you can attach separate RGB strips. This is where it differs from the premium motherboards. There is only one area in the board, the casing over the I/O Panel, which has built in lights. The lights work well with the ASUS Aura software, showcasing all the effects just alright. The only problem is, once you close your cabinet the lights are hardly evident. And if you want to take a trip to your back panel, don't expect the in-built lights to give you enough visibility for the back ports to be visible. Below is an image illustrating this.
Nevertheless, the lighting looks superb and works fantastically. There's sheer pleasure in watching Aura's effects in action. And thanks for the RGB strips, one can further volumise the lighting experience.
Conclusion
The ASUS ROG ROG Strix Z270F does many things right. It is built well, which is something we've come to expect de-facto from ASUS. ASUS' build quality is notch above competition. It looks pretty good too. The brushed aluminium heatsinks give it character, and I'm particularly a fan of the streaks of straight lines around the motherboard. It sinks well with the two-tone black and grey colour scheme. The RGB lighting built in the motherboard looks spectacular when seen individually,  but once the cabinet is shut, loses its look. Thankfully, there are two RGB strips where you can attach LED lights and control them with the Aura software.
The motherboard use high quality gear in almost all its spheres. You can bet that you are getting the best quality components offering considerable protection against surges and outages. The components used have good tolerance for heat too. The SupremeFX audio solution's performance matches the level of dedicated sound cards. It does its job in reducing noise and distortion, and being a good enough headphone amplifier too. It can drive the most power hungry headphones.
Priced at ₹15,575, the ASUS ROG Strix Z270F Gaming costs roughly ₹2,000 more than its Z170 counterparts, which will offer the same set of features. The main question here is, is it worth to upgrade from Z170 to Z270? Kaby Lake's improvements over Skylake barely exist. However, if you're building a new system in 2017, then Z270 and Kaby Lake is the way to go. We are yet to test other similar spec'd motherboard to really compare the price. We will update this review when other Z270 motherboards start pouring in at iLLOffice. Rest assured, the money you are paying to buy this board is utilised well. The motherboard is great in almost all of its areas. The Strix Z270F Gaming has the potential to become a default choice for gamers building PCs in 2017, since it is priced in the mid-segment and offers most, if not all, modern features and expandability. For this reason, we gave giving it our Editor's Choice Award.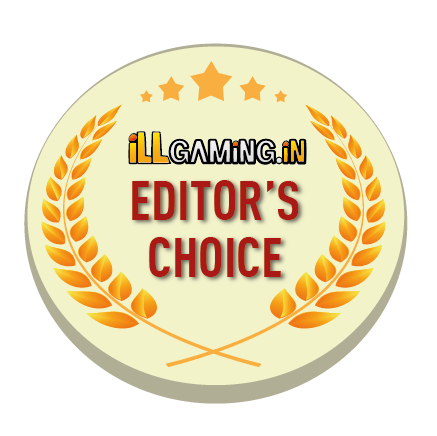 What's iLL
+Sophisticated design
+Great audio solution
+Exceptional power delivery
+Good Fail-Safe features
+ASUS' legendary BIOS and software suite
+Very overclock friendly
+Primary x16 PCI-E slot is extremely well built
What's Not
-In-built lighting is subdued

ASUS today announced wins of 18 awards at the 2018 iF Product Design Awards. The 18 awards are spanned across three product categories – Gaming Hardware/VR, Computer and [...]

In the midst of the sleuth of gaming laptops launched by ASUS lately, notably in their ROG and Strix lines; ASUS pulled in a sneaky one with the FX503, which is the laptop that we will be [...]

The Asus ROG Strix XG27VQ is the latest monitor launched by Asus in its ROG line of products. This monitor was unveiled at CES 2017, along with two other Strix monitors, XG32V and the XG32GV This [...]