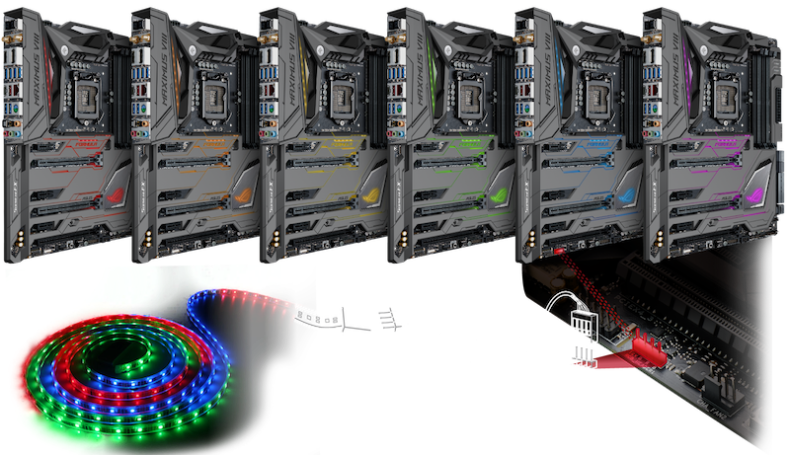 The iLL Fact Sheet
Item Reviewed
ASUS ROG Z170 Maximus VIII Formula
June 21, 2016
Awards
iLLGaming Gold Award
Introduction
The ASUS ROG Maximus VIII Formula is a big Skylake launch for the ROG series. It seems like ASUS has listened to the feedback of their consumers, about making a motherboard where you can get your desired colour lighting scheme. This is a motherboard meant for people who prefer top notch performance, along with some LED glamour. ASUS's RGB lighting system has been seen on its keyboards previously. RBG is a programmable lighting system, where you can set the lights to any colour you want, and program them in any way you want. It's some similar to the RGB system found in Corsair keyboards.
Specifications – Overview
Chipset Intel Z170
Form factor ATX
CPU support LGA1151 compatible (Skylake)
Memory support Dual-channel, 4 slots, max 64GB
Sound 8-channel ROG SupremeFX 2015
Networking Intel I219V Gigabit LAN, 802.11ac dual-band WiFi
Ports 6 x SATA 6Gbps via Intel Z170, 2 x SATA Express, 2 x SATA 6Gbps via ASMedia, 1 x M.2 PCI-E 3.0 x4 (up to 22110), 1 x USB 3.1 Type-C, 1 x USB 3.1 Type A, 10 x USB 3.0 (6 x via header), 4 x USB 2.0, 1 x LAN, audio out, line in, mic, Optical S/PDIF out, HDMI 1.4, DisplayPort
Dimensions (mm) 305 x 244
Extras Isolated audio circuitry, EK VRM waterblock, protective back plate, RGB lighting
Looking Closer
The Maximus VIII Formula houses a full blown customisable RBG lighting system. You can set the internals of your cabinet to any colour you want: Red (default), blue, white, green, yellow.
We couldn't bother less about the RGB lighting system, especially if its meant to be in the internals of our cabinet. What really excites us about the Maximus VIII Formula are its specifications and features. This motherboard carries a price tag of ₹34,000, so you can probably envision the features and specs it carries. It's no denying that the asking price is huge for a Z170 chipset based motherboard. Currently in the market you get great X99 motherboards at half the rupees.
The Chills
Another highlight feature is the CrossChill waterblock designed in collaboration with water cooling experts EKWB. This waterblock has full VRM, and is designed to give you maximum benefit from a water cooling system. Unfortunately we don't have a water cooling system to test this out with, which is a bummer! We would have certainly loved that. Having such an overclock friendly motherboard and not having the benefit of water cooling to us feels like a bottleneck. Hoping for next time!
The Ports
Besides these, there's the usual bells and whistles you would expect from a high end motherboard. You get six SATA 6 Gbps ports via Intel chipset plus two via ASM1051 controller. You also get two shared SATA Express ports. There's also a PCI-E x4 U.2 port and M.2 port for 110mm SSDs. These ports are hidden under the removable plastic shroud aka ASUS Armor.
ASMedia doesn't come with USB 3.1, so that will be missed to those who specifically need 3.1. There is no Thunderbolt support either. You get a single Type-A and Type-C port, plus four USB 3 ports from the Intel chipset. The ASMedia controller adds an additional two USB 3 ports.
UEFI BIOS
As expected, the UEFI BIOS has all the features to monitor and manipulate the fan speeds, voltages, multipliers, frequencies etc. It can all be done in a very intuitive manner. If you don't want to fall into the nitigrities of overclocking, you can let the BIOS do it for you, via EZ Tuner. We've been using ASUS' UEFI EZ Tuner since years and it has never let us down.
Everything else
Overclocking, benchmarking and testing tools are synonymous to high end ASUS boards, especially the ones of the ROG lineup, and the same story continues for the Maximus VIII Formula. Three thermal probe headers and four chassis fan headers. The two CPU fan headers are separate, which is a huge bonus for air-cooling. There's one fan header exclusively for powering all-in-one liquid cooler pumps.
One feature I really appreciated was illuminated Power and Reset buttons on the board itself. This makes overclocking and trial error running just so convenient. I hope ASUS makes this feature a mainstay in their motherboards. If you're one who's cabinet is permanently exposed and you add/remove a lot of components all the time, these buttons come in very handy. When I return the motherboard to ASUS, I will miss this feature for sure. You also get an LED POST code display.
Audio is a crucial feature for a gaming motherboard. And the Maximus VIII Formula gets it covered well. Well, just well enough. It uses the Realtek-based ROG SupremeFX 2015. This by no means is a dedicated sound card, the basic Xonar DX will top it any time, but it gets the job done. It comes with SupremeFX Shielding Technology, which keeps it insulated from electrostatic and magnetic shifts in the motherboard that are generally produced as static noise. A basic feature, but a useful one. It has a dedicated digital-to-analog chip, the ESS ES9023P. I did a Google search on the chip, and this is a rather inexpensive DAC used in small form factor budget amplifiers.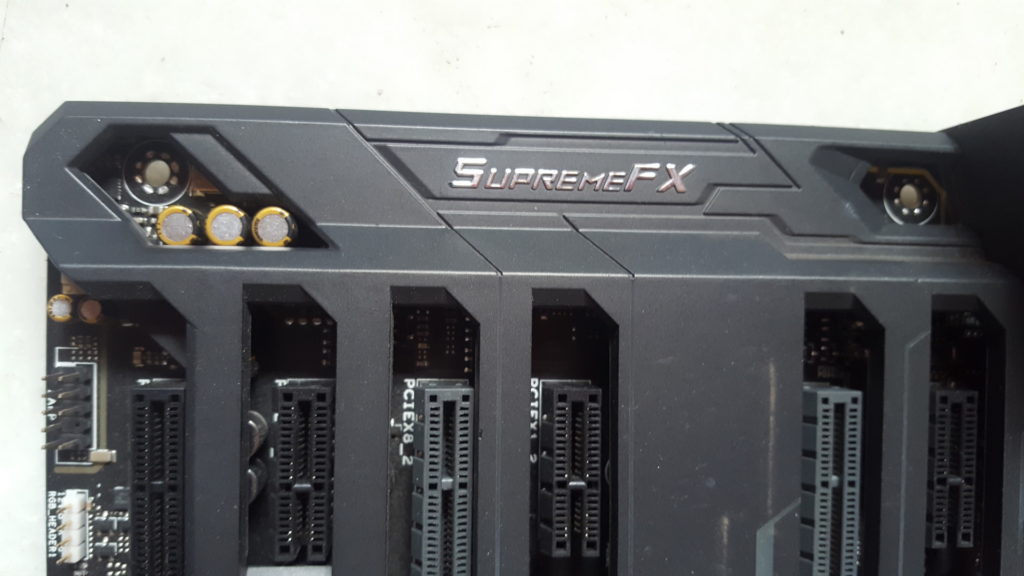 Just like you would expect, the motherboard features in-built 802.11ac WiFi. The package comes with a desktop aerial to boost signals. You also get a desk-switch for the WiFi.
The rest are the usual suspects. Quad-GPU SLI and 3-way CrossFireX support. Two of these slots are 16x PCI-E 3.0. In addition to these, there are three PCI-E 2.1 1x slot. One of these slots is located above the primary 16x slot, so that when the motherboard is loaded with components, one slot is always accessible. A very thought out addition indeed, one we appreciate. It's a pain to always remove your GPU when you have to temporarily add a PCI-E component. Two points for convenience!
Test Setup
Our test gear has been refreshed to match this motherboard. We are now using a Skylake CPU and DDR4 RAM. We still haven't got our hands on the latest GTX 1080 and GTX 1070 GPUs. Nvidia has been on short supply of review units and we got them only for a handful of days, till we had to return them. So our trusty GTX 770 it is!
CPU: Intel Core i5-6600K
Memory: 16GB (2 x 8GB) Corsair Vengeance LPX 2,133 Mhz DDR4 RAM
GPU: Nvidia Reference GeForce GTX 770
SSD: Sandisk Extreme PRO 240 GB
Cooler: Coolermaster HX100 (Air cooler)
PSU: Season X850
OS: Windows 10 64-bit
Thanks for ASUS for supplying us the CPU and RAM. Thanks to Nvidia for the GPU, and Sandisk for the SSD.
Performance
Since this test bench is a complete refresh and is our first test in the Skylake architecture, we have no comparisons to make. We will try our best to give you the reference performance details of the Maximum VIII Formula. For this reason, we do not run the usual benchmarks. And motherboard benchmarks never portray the real-world performance of the motherboard. This time, we try to take a holistic approach to reviewing this motherboard. The benchmark numbers are available all over the internet if you are interested.
Audio Performance
Let us look deeper into the SupremeFX audio solution. Audio is a massively subjective thing, and numbers don't do justice to audio performance. Although there are a couple of tangible elements that the ear can detect.
The first impression is, WOW. I have never heard of an onboard audio chip that sounds *this* good. The clarity and overall fidelity is really good. The Xonar DX still tops the SupremeFX 2015 solution, but only by a little margin. The ALC1150 CODEC does a decent job in reducing the signal-to-noise ratio. The audio section is well shielded and is free from Electro Magnetic Interference. ASUS is experienced with audio software and the one for this motherboard is as good as the Xonar software. You have the usual Game, Movie, Music, Hi-Fi and GX modes.
The ROG SupremeFX 2015 also includes a 2VRMS Headphone Amp, which can supply for impedances between 32-600Ohms. Coupled with the ESS ES9023P, the results on earphones and headphones is a solid, high-fidelity and noise free listening experience. We still felt the Xonar DX drives the Sennheiser HD650 better. It's not that the SupremeFX is lacking, it is leaps beyond other motherboard-integrated audio solutions and it will do just fine for music, movies and gaming on high end headphones/earphones. But if you're looking for a Hi-Fi audio system, then you need external additions. For that, something like the Xonar Essence STX II would suffice.
I tested the onboard Mic-in with Shure EP470 microphone. The recording was clear and free from static and noise.
Wireless Performance
Most modern consumer motherboards come with integrated WiFi, so there are many standards. The Maximus VIII Formula uses Wireless AC AKA 802.11ac. This can allow speeds of 1.5 – 1.75Gbps, theoretically. Our source router is a D-Link 8740Uac. The router does support 802.11ac networks. I transferred 4K movie files from a laptop to the PC at an average speed of 42.8 MB/s. The laptop was at a distance of about 4 meters from the router. We went a floor above and tested the Wifi signal on a Macbook Air 2015. We got four bars, and streamed 4K video effortlessly.
Normally, our D-Link router achieves speeds of 25 MB/s on 802.11n networks. So the ASUS managed a good speed bump, about 2.5 times more.
Rest assured, the Maximus VIII Formula will eliminate the need for an external WiFi booster. This WiFi system is better than many consumer grade range extenders and boosters.
iGPU Performance
This section might be irrelevant for some, but definitely one that cannot be ignored. Everybody has been through the horror of a dead GPU and that is when the iGPU comes very much in handy. The iGPU is the graphics processing unit that resides in your Intel processor.
3DMark FireStrike yielded an overall score of 943. The GPU score we got was 1008. Gaming performance was tested with Bioshock: Infinite. At a 1080p resolution and Medium settings, we could achieve 18 frame-per-second. Bumping the resolution to 720p, we got a playable 36 FPS.
Should the need arise, 4K video playback was handled effortlessly.
Overclocking Performance
Our expectations from the Maximus VIII Formula in this department were high. And the board delivered with flying colours. We were able to push up to 200 BCLK while using XMP profiles of our Corsair memory. We could easily manage to clock our Intel Core i5 6600K to 4.5Ghz at maximum Turbo speeds without needing to adjust voltages. We let OCCT run for a little above two hours to test the stability (OCCT is a tool that stresses the CPU to test how stable it is when overclocked). Our system did not crash, the temperatures were under control and the OS environment was stable. Following our OCCT run, we ran a one hour session of Rise of Tomb Raider and our experience was smooth. Rise of Tomb Raider is one of the most demanding games out there at the moment.
With a little more trial and error runs, we were able to touch 4.7Ghz but we had to increase the voltage to beyond 1.35V to keep the chip stable. 1.36V was the sweet spot.The Maximus VIII Formula handled this with ease and without any hiccups. Going to a higher voltage would mean degradation and we generally avoid that situation. Considering our results at the moment, some more fine tuning could make 4.8Ghz possible too. We will update this review after running our 4.8Ghz tests.
Conslusion
After spending a good three weeks in bed with the Maximus VIII Formula, it is difficult to point any nuance with this board. Hands down, this Z170 motherboard is exceptional and raises the bar for high end motherboards. There is particularly no area in which the motherboard doesn't excel. It's performance across all spheres: audio, overclocking, WiFi, connectivity, ports, UEFI, is simply, fantastic. If we really had to object to something, it would be the lack of a Thunderbolt port. Also, the Armour casing near the PCI express slots felt a tad little flimsy. And while assembling the board, if a screw drops into the board while you're placing it in it's slot, getting it out would be a task because of all the armour present to conceive its pinpoint location.
Being future proof isn't a problem you would face with this motherboard. Both types of USB 3.1 ports, M.2 and U.2 ports, enough PCI expansion slots, these are future proof features.
Coming to the "Formula" and ROG features, the EK liquid cooler block for the VRM area do sound cool, albeit a little overkill. The RGB lighting system is a delight when its fresh and new, but overtime we found out that we cared for it less and less. It is purely for aesthetic purposes only. But for what it does, it is exactly how it is advertised to be, and it works flawlessly. Somehow, we can't help but feel that the RGB lighting and EKWB waterblock is what the Maximus VIII Formula is all about. Is that wrong? Not necessarily. But it doesn't speak for what the motherboard can really achieve either, which is a lot to say. The ROG features like RAMDisk, Sonic Radar II etc. are also useful and work well.
If you're not going for watercooling and you buy the Maximus VIII Formula motherboard, you just spent a lot of money on a feature that is not of any use to you. But then again, getting the most out of this motherboard is feat in itself. You'll need the best of every component to do justice to this motherboard.
To really appreciate the Maximus VIII Formula, you need to look past the overclocking numbers and the proprietary features. Sure, you can get the same overclock on cheaper boards, but with an ROG board, what you get is luxury and great attention to detail across all computing aspects. ASUS have done a neat job in camouflaging the transistors and attachments on the circuit board. Just getting a peek through the protrusions shows that the ROG Maximus VII Formula is a work of art, made with fine craftsmanship. The quality of transistors, TPU and VRM capacitors is flawless
Coming to the price, retailing at roughly ₹34,000/-, the ASUS ROG Z170 Maximus VII Formula is by no means a buy for budget conscious buyers. The question is, at its price point, is it a worthy buy? We would say, hell yes! You get the best of everything, in every aspect. And the motherboard delivers in areas where you wouldn't expect a motherboard to deliver, like looks and elegance, design, great software, and future proof.
What's iLL
-The best looking motherboard we've ever tested
-Solid ASUS Armour
-The best onboard audio we've ever come across
-The best in the business - across all aspects
-RGD LED works flawlessly
What's Not
-No Thunderbolt
-Armour gets in the way of seamless assembling

The Asus ROG Strix XG27VQ is the latest monitor launched by Asus in its ROG line of products. This monitor was unveiled at CES 2017, along with two other Strix monitors, XG32V and the XG32GV This [...]

Introduction Last week, we reviewed the ROG Cerberus V2 headset. It was a product iLL loved, and we gave it an award too! This week, we have another product from ASUS' ROG Cerberus line, [...]

In the dusky Bengaluru weather, the stage was set at The Lalit for an enticing Finale of the ASUS ROG Masters South Asia tournament, for Dota 2 and Counter Strike: GO. The teams were in, so were [...]