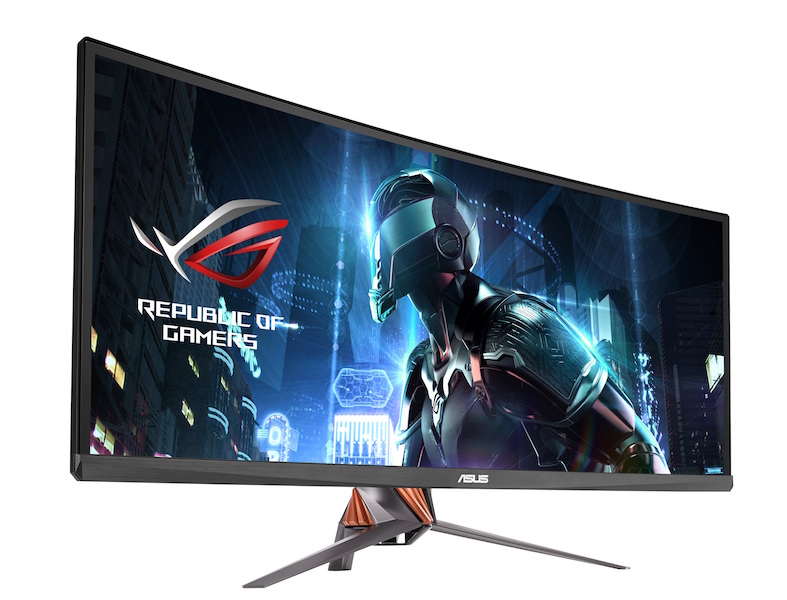 Credible sources from the upstream China supply chain have reported that Asus (namely, Asustek Computers), has a worldwide market share of 40% in "gaming monitors." Asus shipped 800,000 gaming monitor units internationally in 2015. Asus has come over the top of other gaming monitor brands like BenQ, AOC and Dell. All companies offer gaming models with features like 144Hz refresh rates, ultra-wide displays, 3D support, GSYNC/FreeSync and 1ms response time.
This new comes after Asus experienced a successful show at CES this year, winning Five CES Innovation Awards. The new ROG Swift PG348Q gaming monitor is one of the company's award winning showcase. The monitor features an ultrawide curved display, with a resolution of 3440 x 1440 pixels. The monitor supports GSYNC and refresh rates of upto 100Hz. This monitor will be available in the country at a tentative price of INR 1.2 – 1.5 lakhs.
Asus' other products at the CES were the ROG Claymore mechanical keyboard, which offers a full range of Cherry MX key switches. And like Corsair's RGB series keyboards, Asus' ROG software will feature LED customisations. The ROG Claymore also includes a left-right swappable side num-pad.
Asus also unveiled the new Maximus VII Formula motherboard. The motherboard, like the ROG Claymore keyboard comes with customizable ROG lighting. The ROG Spatha, an upcoming gaming mouse, features swappable switches and is made of premium materials.
Over this time period, we will be reviewing a bunch of Asus' newly announced products. Stay tuned.

ASUS today announced wins of 18 awards at the 2018 iF Product Design Awards. The 18 awards are spanned across three product categories – Gaming Hardware/VR, Computer and [...]

In the midst of the sleuth of gaming laptops launched by ASUS lately, notably in their ROG and Strix lines; ASUS pulled in a sneaky one with the FX503, which is the laptop that we will be [...]

The Asus ROG Strix XG27VQ is the latest monitor launched by Asus in its ROG line of products. This monitor was unveiled at CES 2017, along with two other Strix monitors, XG32V and the XG32GV This [...]