BenQ India recently held a media conference to unveil its sleek new monitors at Urban Terrain in Vasant Vihar, New Delhi.
The Model numbers are labelled XL2430T and XL2740Z. These monitors are especially targeted for gamers. The head of BenQ India, Rajeev Singh said "The monitors are quite famous among Counter Strike players". They recommend the monitors if you want to have an advantage over other brands especially with it's in depth graphics. The monitors will be a revelation among FPS gamers. The monitors were announced last month, but have been officially released in the country now.
This series is an update of the XL2411Z, a monitor we reviewed a while back
He also added that the growing number of negative effects on the vision of viewers is a growing concern. Hence the brand aims to minimize and optimise the effects
The XL2430T is of 24 inches and includes:
-144Hz Refresh Rate
-Auto Game Mode (FPS/RTS/MOBA)
-Dynamic Black equalizer
– Motion Blur Reduction
– Game Mode to go
– 20-Level colour vibrance setting to optimize gaming precision.
The XL2740Z comes with:
– Screen size of 27 inches with QHD -2550 x 1440 High Resolution
– Incredible AMD FreeSync Visual Fluidity
– 144 Hz Ultra-High refresh rate
– 1 ms GTG Ultra-fast response rate
– Motion blur reduction for extra clarity
– the black equalizer for total visibility
– adjustment scale design for effortless set up
– 20 level colour vibrance setting to optimize gaming precision.
For the sale of first hundred units of both the monitors, BenQ is offering a Steelseries Fnatic Rival mouse, Steelseries Fntic QCK and Asphalt Edition mousepads.
The brand is mainly concerned with the visual details and thrives to conquer every minute detail with the monitors and insists that the performance of its monitors will matter for professional gamers.
The moniors will be availlable in E-commerce portals like Flipkart, Snapdeal and Amazon as well as other e-tailers and retailers. For more details visit BenQ India.
Here are some pictures from the launch event.

The Asus ROG Strix XG27VQ is the latest monitor launched by Asus in its ROG line of products. This monitor was unveiled at CES 2017, along with two other Strix monitors, XG32V and the XG32GV This [...]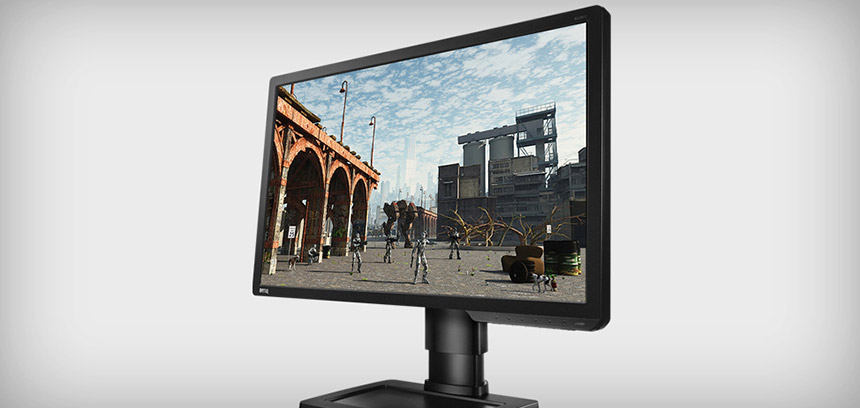 So what exactly is a "Gaming" Monitor? Sure, you've heard this term a bunch of times, but what does a gaming monitor actually mean? Isn't a monitor just a monitor? If you [...]