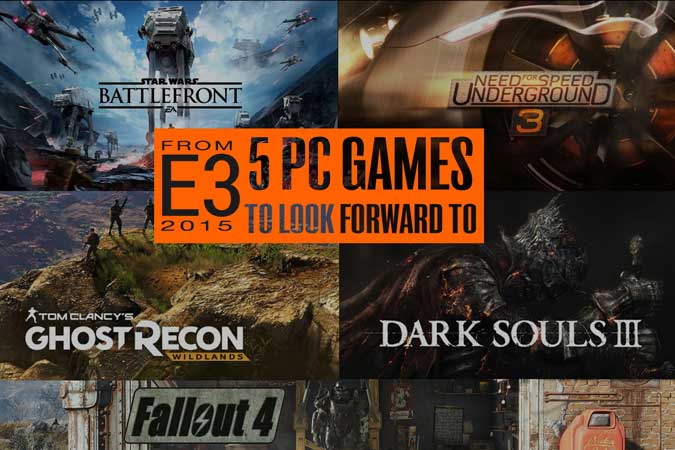 E3 may well be over. But the buzz around it is still fresh. The excitement is still there with all the upcoming games which were announced. The big event obviously surprises with the announcements and with the wide variety of spectacular games involved, no wonder it's one of the biggest gaming event of the year.
It's no big mystery that many big/small games have been announced for different platforms. Last week we did a complete roundup of all the games announced for the PC at E3 2015. This week, we look at the five PC games out of the month that we anticipate the most.
Fallout 4
Fallout 4 is a world post apocalypse role playing game. It is a genre that almost never ceases to amuse the people probably because it makes one want to contribute more to the world.
Fallout 4 is unique because of the world that was, which then got blown up, and it puts you right in the middle of that world. From a gameplay standpoint the game offers a lot of creativity. The makers have also announced that game will also be available for Playstation 4 and Xbox One, and will launching on November 10th. Here's a gameplay trailer.
Tom Clancy's Ghost Recon Wildlands
Tom Clancy's Ghost Recon Wildlands comes as a surprise mostly because this is the first open world game from the Ghost Recon series. You get to take on Drug Cartels, kill enemies with fairly new tactics and some fierce looking gameplay. You and three of your friends will come together from various vantage points of the map in Bolivia and take down enemies. It was revealed in the end of Ubisoft's E3 2015 press conference and this one sure looks promising. Wildlands will be available on Microsoft Windows, Playstation 4 and Xbox One in 2016. Here's a trailer.
Dark Souls 3
Dark Souls 3 was officially announced at this year's Microsoft E3 Xbox conference. From Software's Dark Souls 3 is already a popular name among players and needs no formal introduction. The makers say this time around, they have designed the game to be "faster" than its previous versions and is slated to be released early next year. Dark Souls 3 will be available for PC, Xbox one and Playstation 4.
Produced by Bandai Namco Entertainment Inc. The trailer exhibits the game maintaining its trademark creeps, ghouls and thrills.
Need for Speed
Now we know many of you may disagree with this one on the list but come on, you know you want it probably as much as we do. The game looks like a rebooted version with its stunning graphics and also with association with Fast and Furious 7, it seems the makers have stepped up their game of street racing. The game will be launched on November 3rd and EA has announced that it will be available on PC, Playstation 4 and Xbox One.
Star Wars: Battlefront
Undoubtedly one of the biggest games that everyone is waiting for this year. The looks of the game delivers the feel of one of the most epic battle scenes of the Starwars Saga. The game is developed by EA DICE which is a re-boot to the Battlefront series.
The game is on a huge-scale with the storm-troopers and rebel soldiers going at each other. Too much excitement for this one. Battlefront releases on November 17,2015 in North America and November 20th, 2015 in the UK.

"Praise the Sun. One Last Time." It was sometime back in August 2013 that a notorious thought struck me, what if I did accept fellow Sun-Bro Sahil's words to follow the flame and [...]

Souls till I Die. What's not so great about being thrown into a dark, murky land; full of obscure surprises and alluring traps? In order to play and understand Dark Souls, one must take [...]