The iLL Fact Sheet
April 5, 2015
Publisher
Sony Computer Entertainment
Genre
Role-Playing, Action, Hack and Slash
Release Date
March 24, 2015
Awards
iLLGaming Editor's Choice
"Grossly Incandescent."
 More than 70 hours into Bloodborne, seeing the credits flow is in itself a beautiful as well as a heart wrenching feeling. Sure there lies the New Game Plus mode of the game, with fiercer enemies and higher challenges, but a Miyazaki game is all about discovering a new area, for the first time. And the next set of lines perhaps define the incredible game that Bloodborne has been, it is the benchmark of level designing, I totally mean the next phrase, there is no other like Bloodborne. The Souls games have always been known for its sense of crafting a world that is so seamlessly interconnected, and even though Bloodborne refuses to link the centre of Yharnam to the other maps in the game, it creates a sense of discovery that is sometimes rewarding and other times punishing. If you have no idea of how Souls games are like, Bloodborne is exactly the thing for you. For years, people have regarded the Souls games as the one for the hipsters who can spend 100-200 hours simply grinding or getting f**ed over, and here is Bloodborne that gets friendly with the rest of the crowd just as easily. Bloodborne has just made you buy a PS4 if you didn't have one, it is that good.
A Dream of a Nightmare
Bloodborne's strength lies in crafting a highly imaginative, H.P. Lovecraft and Mary Shelley inspired Victorian town. A part of the world that was once the epicenter of faith, but now lives each day to die a little more. The Vicar is cursed with the incarnation of the devil – a she goat, the Father would rather see the whole world turned into beasts than instill hope to fight, and the good Martyr of a prized castle is now a lurking shadow of arcane sin. In Bloodborne, you are a Hunter who has been healed inside a clinic with the blood of the vile, and as you wake in your nightmare, you go around draping yourself in more spilt blood, that skills you up for the challenges to come. You start weak but blessed with the agility of this new hack and slash IP. Your primary arsenal ranges from a Hunter's Axe to a Whip or my favourite – the Saw Cleaver. Each weapon can now be extended to form a longer sub-weapon, giving you an immediate crowd control advantage while sacking some of its whacking speed. You also get to choose a gun to take to the fight, the revolver and the Hunter Blunderbuss being the only initial choices. But unlike all previous Souls games, Bloodborne wants you to die for the first time, in order to wake up in the Hunter's Dream – the Nexus life safe haven of this godforsaken world.
As you go from one part of the town to the other, Bloodborne makes sure you follow the trail seamlessly. There aren't any vivid transitions like in the world of Dark Souls II, instead one part of the world definitely carries on its look and texture into the other. The strength of a superbly laid out world of Yharnam dictates how each map looks like, whether it's a desolated woods infested with snake people or a forlorn castle reeking of hostile spirits. Bloodborne borrows a lot of its map features from the earlier Souls game, namely Demon's and Dark Souls I, but articulates them in its own fine way. The Forbidden Forest definitely reminded me of the Hunter's Copse from DSII and the Cainhurst Castle of the Drangleic Castle. From the broken park seats to the doomed Church sitting atop the city of Yharnam, everything shines out in your 70-80 hours of Bloodborne. As I was sprinting through the graveyard just outside the Vicar's church, I bumped into a new area, infested with crows and howling animal sounds, and I remembered that one chapter from Bram Stoker's Dracula, wherein Count Dracula sends in his undead troop to the London zoological gardens, demolishing it overnight, announcing his arrival. Moreover, the moment I made my way out of the ledges of the Abandoned Church and walked into the streets full of abducting spirits, it made me relive those days when I was finding existence in Mary Shelley's Frankenstein. Point is, if someone told you that Japanese art style cannot blend well with the Victorian English setting, you must lead him into Yharnam.
Praise the Son (of a Gun)
Now comes the main trick question of the lecturing, How tough was Bloodborne? In my opinion, it is just as easy as Dark Souls II or can be made just as hard as Demon's Souls. The hack and slash nature of Bloodborne exceeds everything that came before it, including Dark Souls. And once it starts growing in you, you become better in the game and the game becomes a b**ch to let go of. I've literally spent an entire week thinking of the weekend to come early, so that I can get back to Yharnam and beat the rest of it. The game is huge, and even with 70-80 hours plugged diligently in, there was a whole lot that I missed out in my first playthrough. The hack and slash is so sleek that never in the game you feel worn off by the punishing nature of every Souls game.
Sure it does punish you, but it tries not to catch you cheap, like the previous Souls game, and it promises not to punish you harder than just a restart. Bloodborne cuts down on the ledge death chances, and with 1080 output, you will know what's a fall from a safe landing. Bloodborne doesn't make your death a shining example, it is just as simple as losing hard earned souls until you rescue them or die trying, losing everything in the process. There is no humanity form in Bloodborne, and with your death, your game doesn't go into an offline mode, nor do you lose a portion of your potential HP. However, summoning in Bloodborne is way different from what it used to be in Souls games, and in my opinion, is not a good move to begin with.
Bloodborne replaces White Soap Stone marks left by Co-operators with a Beckoning Bell and a Co-operator bell. The former allows you to find players willing to co-operate inside your session/map (who have rung their Co-operator bell in the same time frame) and also attract some invaders willing to deprive you of your souls count. A certain Bell Ringer lady shows up in a distant location of your map, and keeps on ringing the Sinister bell unless you find her location and slay her until she drops one of her Invaders into your game. The Sinister Bell lady challenge is yet another asset to the bone crunching, nerve wrecking PVP potent of Souls games, but she seems to spawn at the same place in different maps, and becomes predictable to find. Each time you ring the bell, you lose one of your Insights, that you can gain from reaching Boss Arenas, succeeding in Co-op modes or by converting items called Madman's Knowledge inside the game. Given the many times FROM servers gave up on my PVE session find, I have to admit that the addition of an insight to engage in a PVE session has to be taken a look into. Because I lost way more than a sane count of Insights even though it wasn't my fault. The Bell also has the ability to find you a player instead of you judging a player by its silhouette (in DSI and DSII) and then summoning him. It spawns sometimes one ally, sometimes two if you are lucky. Thereby making it completely luck and chance based, and painful, especially if you have no Insights left (for another session) and you don't want to engage in a Co-Operator mode just for the sake of an extra Insight. The lack of a better PVE mode made me enjoy Bloodborne playing solo, as I studied enemy moves more carefully than I ever did in Dark Souls II.
A Marauder's Midnight
Bloodborne pitches in the same question as every Souls game before it, why am I killing them all, is it even necessary? Am I a messiah or just an outsider? Repeatedly you will hear infected peasants pointing the sharp sickle edges at you and yelling "It's all your fault!" and inmates locking their doors and windows and asking you to stay off their doorstep. Bloodborne shows how an order falls, and when it does, there lies no hope for a second order. It is the perfect story of how faith and religion is being rescued or marauded by a pack of Hunters. The madness of Lordran and the helplessness of Drangleic have blended so well at Yharnam that it leaves an open mic for post gameplay discussion. The story of the little girl who lost her mother on the night of the hunt, until you find out what exactly happened to her, is just a living example of how Miyazaki tells stories without holding your hands, and you ultimately take a break from knife fighting and look back on your decisions.
But a Hunter's gotta fight, right? So that's when I say it yet again, Bloodborne's fighting mechanics are a benchmark for the hack and slash genre, with new features that put offense before the defensive mechanics of the previous Souls games. There is only one stupid shield in the whole game, and the way it has been described made me immediately sell it off for something more valid: because Hunters prefer the swing of the blade and the stun of the gun. Bloodborne encourages you to take the first step to stab someone, while looking at the stamina bar and the environment around you. Missing either of the two will immediately lead you to trouble, but if you know how to hit and run, you will never need a shield again, even in Dark Souls. The icing on the cake is the fact that now you can challenge for a part of your lost HP by hitting an enemy immediately after receiving hits, making you go for those offensive openings more than you ever did. The Blood Vials aren't as strong and inducing as the Estus flasks and your first idea is to challenge for the lost HP instead of waiting it out, even in a boss fight.
Every new weapon in Bloodborne is based on agile moves, even a long drawn axe cum halberd. Quick swipes to nail crushing blows on an opponent, resting a second out, stunning him with a gunshot as soon as he is about to hit you, and then hitting him again in riposte. That's the rinse repeat structure of every Bloodborne fight, and yes, coupled with the Neymar like agile moves that your character can make with almost negligible stamina drain. If I were to describe the gun and blade fighting structure of Bloodborne in a word, I would rather call it an 'art-form'. No other game has put so much emphasis on its central gameplay mechanic like the hack and slash course of Bloodborne. So while there isn't a wide array of weapons unlike Dark Souls I and II, Bloodborne doesn't at all look the same for two different players with alternate mindsets of approaching a fight. Even though you can upgrade the blood tinge and attack power of your short range gun, it doesn't do more damage than to merely stun your opponent. It is still a knife's tale.
Weaknesses of Bloodborne
One of the minor shortcomings of Bloodborne is its character customization option, as some of the assets bring advantage to the fight while others don't make sense at all. Vitality increases the amounts of blow you can take before fizzing off to an opponent and Stamina increases the number of times you can swing your axe or side step/sprint before the stamina drains off completely. But stuff like Arcane, that should ideally buff you up against Magical attacks and Blood Tinge that should give you a stunning advantage are simply too simple to grind for, die for and upgrade in this heavily fast paced knife fighting game. There is a genuine lack of content in the attire variety, and apart from a few standouts, like the Charred Black Dress Set and the Cainhurst Knight's Armour, there is absolutely nothing worth putting up. And all the PVE characters tend to have similar characters and add no unique personality that's such an USP for any Souls game.
The game also has the tendency to drop framerate, even though it isn't as bad and game breaking as the Blighttown sequence from Dark Souls I. It starts slowing down and screwing up an otherwise orchestrated moves sequence every time you are in someone's game, as PVE or PVP.
No matter how glorious the boss fights may sound like in Bloodborne, some of them feel rehashed sequences from the previous Souls games, like the King/Queen Spider Rom spawning minion spiders like Duke's Dear Freja from Dark Souls II or the three Shadows of Yharnam totally relocating me to the Hunter's Copse sequence, fighting off the Skeleton Lords.
The game relies on a quick and agile moves set, and sometimes the predated camera lock on settings from the age of Dark Souls play against your will and there will be times when you will die because of the cam shifts. Rest of the times, prepare to blame yourself and your unabashed brevity.
The idea of bringing back Nexus to Bloodborne in the form of Hunter's Dream is quite an epic idea, it surrounds the player with a need to return home from the misery of the streets. However, it also makes him look at the loading screen two times especially when he is navigating from Point A to just Point B. It is still a more user friendly way to travel, given how obnoxious Dark Souls 1's backtracking system was, unless you defeated Orn and Smough and retained the Lordvessel.
And last but not the least, the You've Died screen followed by the Bloodborne loading screen is so long that it makes your death look like a crime that needs a li'l spanking on. If only there was a patch to resolve the game's loading screen and fix the framerate, maybe upgrade it to 60 FPS (Dark Souls II: Scholar is doing fine, ain't it?), it would be such a marvel to the series.
Strengths of Bloodborne
Every Miyazaki game is prone to some bit of criticism, and I honour the fact that a great game is always the one that inspires criticism alongside applause. And when we are done with all the criticism that may help the game fetch a better sequel, let's look at the classier side of Bloodborne.
Bloodborne has reintroduced the iconic FROM level designing in my opinion. When you unlock a new map, you go through the width of it, dying, redeeming your blood echoes and finally understanding that the world goes round. You unlock closed doors, you surprass vents and kick down ladders and make your own shortcuts to travel up to the boss of the area. It's not just Undead Burg or Firelink Shrine that you are linking to your main bonfire, but also crafting shorter routes to travel to the Boss Fog, escaping the tons of times that may cost you your full pack of Blood Vials or Bullets required for the boss fights.
Bloodborne understands how cheap map designs have now become, be it with First Person Shooters trying to be Rail Shooters or Cover Shooters going back in time, and therefore features terrain as one of the key assets of every battle. Some areas are simply meant for PVP, while others, like the Gascoigne battle arena (full of tombstones) is ideal for hit and run. If only you'd realize how to use the terrain to its fullest. Lock on to a target, hit him a crushing one, unlock the target and run behind a fallen tree, rinse and repeat, rinse and repeat.
Bloodborne extends its narrative designing to an epic pedestal in the unofficial fourth installment in the Souls trilogy. You will bump into intricate lore and tragic tales of the past more often than you'd ever do in a Souls game. You will bump into tales of a boss you are yet to meet in earlier parts of the game, as I became well acquainted with the past of Rom or the One Reborn even before I met them. There is a certain section within the game wherein you revisit a blueprint of the Hunter's Dream, an abandoned haven called the Old Workshop, the feels when you get inside that level is just too much to articulate.
While I do criticize some of the boss sequences of Bloodborne but there are a majority of them that blew me away. Firstly, the character models of these bosses justify why this game is to be heralded as one of the greatest games of our generation. The Wet Nurse, the Vicar Amelia or even the Grudge looking Blood Starved Beast excel in their move set, posing new combat challenges and still endorses your win with a sense of achievement that knows no parallel. The whole arena feel of every boss fight has been retouched and righteously considered in Bloodborne and fills you up with an epic moment even when you are losing the fight by quite a margin. The Forbidden Forest is opposite to what Cathedral Ward feels like, and every new map seems to tell a new lore by just the imagery of it. The music of the boss fights is partly responsible for filling up with a hope that can turn into a false one if you come unprepared. And last but not the least, the enemy AI of Bloodborne doesn't wait for your blows anymore like in DSI or DSII and will fight you to its death in case you misjudge the times.
For all you must need to know, this is by far the longest review I have ever composed and I still managed to miss or skip some of my favourite parts. There are so many of those moments or phases that are so dear to me that makes me ask myself a very humble but intriguing question – is Bloodborne the greatest Souls experience of them all? I really hope it is, despite the magnificent transition from Sen's Fortress to Anor Londo or butchering Two Maneaters. The game justifies in presenting everything true to the core Souls philosophy and yet does something new so seamlessly that at times it feels like magic. If you are still puzzled about Bloodborne, you might as well call me up so that I can convince you to buy a Playstation 4 for this title only. Bloodborne is your pilgrimage if you are a Souls lover, Bloodborne is your starting gun if you want to taste the so called hipster life of being a Souls boy.
What's iLL
+ Level Designing and Narrative
+ Fighting Mechanics
+ Character Models and Environment Art
+ Immersion
+ Souls like Sense of Achievement
What's Not
- FROM Server Issues resulting in Insight Deduction
- Framerate dips
- A few rehashed boss fights
- WTF is Arcane?

"When the Soul meets the Body." The second day in Central Yharnam didn't start well. To start off, I was lost yet again, farming off enemies, revisiting the Hunter's Dream and [...]

If Dark Souls and Demon's Souls is poetry, Bloodborne is opera. After waiting for more than 4 days since launch for my retail copy to reach me, I welcomed this brand new chapter from FROM [...]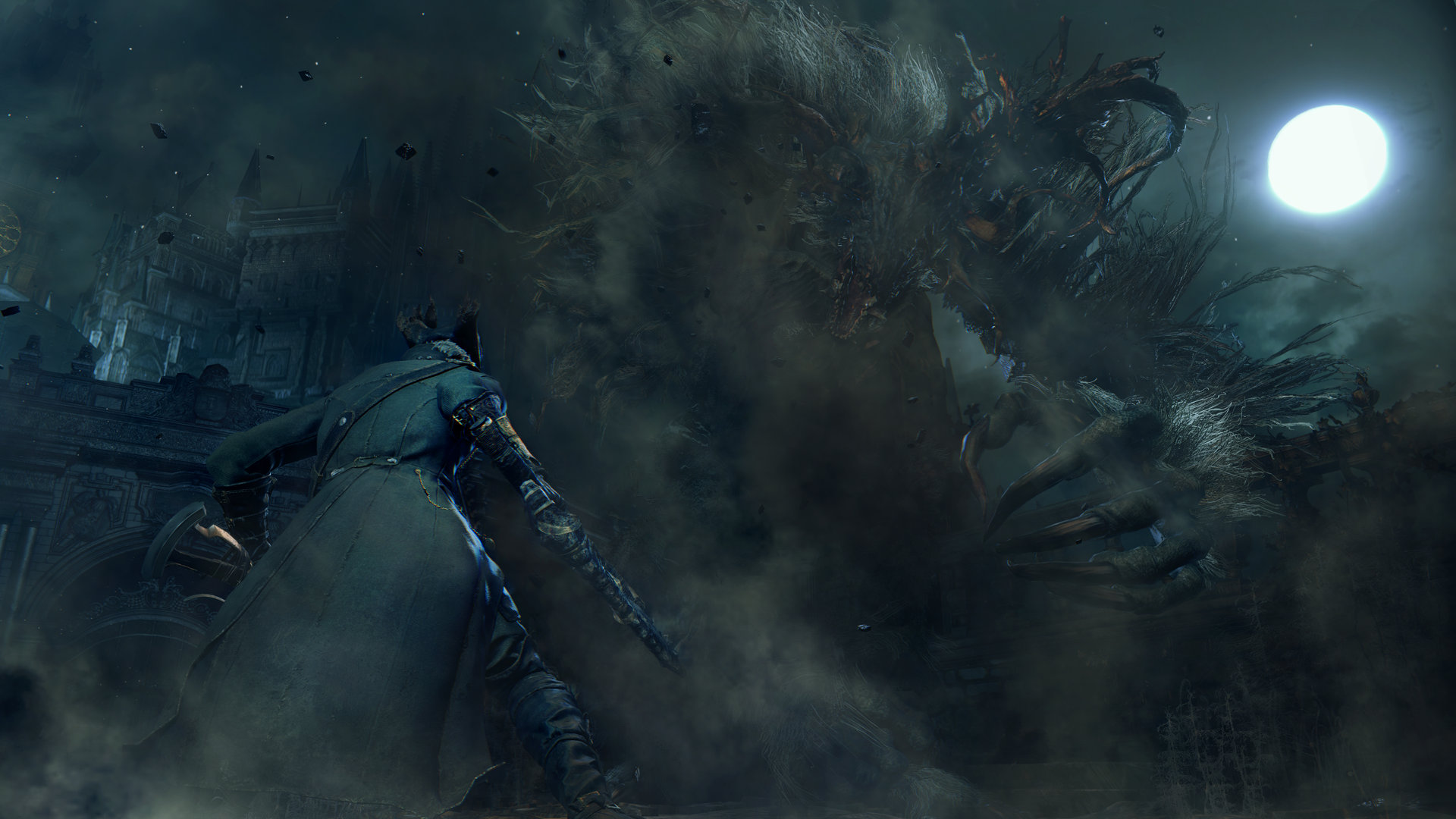 "Say hello to nightlife!" By now the word, tattoo, and the Twitter handle inspiration is out, I feed on Souls, I mean Dark Souls. A recent Bloodborne tutorial and gameplay video [...]