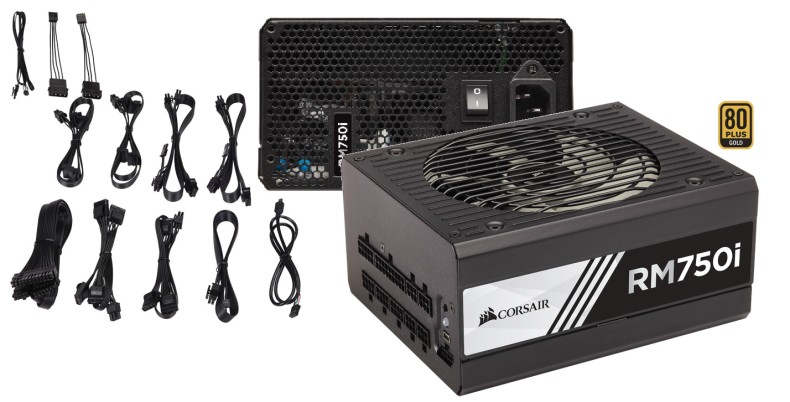 Corsair, one of the biggerst PC component manufacturers have announced the launch of RMi Series PC power supply units at Computex, Taiwan. Corsair New RMi Series PC Power Supplies bring 80 Plus Gold efficiency, silent operation, and Customization to PC Enthusiasts. The new RMi Series PSUs will be available in 650, 750, 850, and 1000-watt capacities. The power supply along with the host of features listed below come with a Seven year warranty through Corsair's customer support.
Technically the PSU boasts of strict voltage regulation and minimal ripple noise. The PSU is fitted with a 140mm fluid-dynamic-bearing cooling fan that runs in Zero RPM fan mode, only spinning up when the PSU needs to and operating virtually silently at low and medium loads. RMi is also designed with a fully modular cable system which allows users to use the bare minimum number of cables needed to for a cleaner look and improved airflow.
While no price for India has been listed, converting the retail price in USD to INR can give use some estimate of what it would cost here. Looking at the price it is easy to see that the PSU is marketed towards the high end gaming and PC builds.
650W – $129.99 (₹8,300) / 750W – $139.99 (₹9,000) / 850W – $159.99 (₹10,000) / 1000W – $189.99 (₹12,000). (Prices are close approximation)
Features:
80 PLUS Gold certified: Energy efficiency, reducing operating costs and excess heat.
100% all Japanese 105°C capacitors: Premium internal components ensure solid power delivery and long-term reliability.
Zero RPM Fan Mode: Allows for virtually silent operation at low and medium loads.
Configurable +12V rail options:  Can be run in the default multi-rail +12V mode, or toggled to single-rail operation.
Corsair Link Digital:  Desktop application that lets users monitor and log fan speed, voltages and power consumption, as well as control fan speed and toggle the +12V rail from multi-rail to a single +12V rail.
Fully modular cables: Which allows for neat pc built with only the use of minimal cables. Also reduces downtime in case a wire goes faulty.
For more information on the RMi Series PSUs, you can visit the official Corsair website.

Introduction – LED LED Everywhere LED lights inside your computer was a privilege only the rich kids had. From there on, LED lighting became an almost-fad like phenomenon. They don't [...]

The Corsair Carbide 400C is advertised as a "compact" mid-tower case, aimed at builders looking to save space while providing all the performance and expandability of a full-tower [...]

The ATX Mid-Tower has always been a favourite of PC builders, which is no surprise considering its 'sweet-spot' size. It can be transported with relative ease, while still managing to [...]