If Dark Souls and Demon's Souls is poetry, Bloodborne is opera. After waiting for more than 4 days since launch for my retail copy to reach me, I welcomed this brand new chapter from FROM Software this morning. And since then, I've been hooked; let me frame it this way, I've been enslaved in Yharnam. Months ago, maybe days ago, I was double-checking my decision to opt for a console way too sooner than I should've. And FROM just put some bullets in my empty arsenal with B'borne. It is a quintessential title for those who refer to video games for all their cumulative IQ regeneration. It is quintessential for those who have etched out 'Rise. Fall. Repeat." Or "Praise the Sun" on their arms. For those who think dying over and over again is boring, Yharnam says "You don't belong here!" very clearly, with sickles and torches pointed at you. This is no first impressions article; this is defining the opera that awaits you on your Day 1 at Yharnam.
There is no intro cutscene as such in Bloodborne, nothing like a tour over Boletaria or how Gwyn raised his army of Cinder warriors. You simply start inside a medical ward, with the words blood and transfusion resonating from your broken dream. This is Miyazaki's purest manifestation of a nightmare, wherein you literally walk into your first death, bare hands. Walk through the ward corridors, clicking on the messages FROM left for you on the ground, revisiting the days of Souls. At the end of the ward surprises a lycan, feasting on a human body. There is literally nothing you can do but surrender to the superior beast in the fight. After you die, as Miyazaki scripted for your decision to go for the title, you are quickly teleported to the Nexus/Firelink Shrine/Majula of Bloodborne – The Hunter's Dream. A dreamlike area wherein you can purchase, upgrade and assemble your weapons and projectiles. But most importantly, if you stand close to the edge of this area in Bloodborne, you can see similar world to yours, standing tall, fading into the clouds above.
It is said that an Opera is the perfect blend of a scripted story and improvised ways to tell the same on different days. It is also said that an Opera is one of those few places where even a depressing plot sets you off with a sense of conviction and optimism in your life. You don't chance upon an Opera, it isn't a movie getaway, you need to have the art to observe and articulate the potent of an operatic play. Bloodborne is loosely based on the same lines of that human necessity. While Dark Souls forces you to strengthen up, Bloodborne naturally makes you the hero of the tale, and this not by decreasing the difficulty of the game. The game is difficult for the newcomers, and even more difficult for those who are used to the simple block and attack style of the Souls series. Dark Souls is more of observation, Bloodborne is more about taking the first right step. As the hero of an Opera, you take the first step in the right direction, and the choir and the lighting crew joins you, to raise your character to a heroic stature, the one that fills the audience with hope and aspiration. That is what Miyazaki attempts when he brings out the pure evil genius of Yharnam.
Bloodborne is more dance, less talking, the world and progression is richly alive. It is like standing in front of an audience of thousands, glancing at that script and performing the way it fits you the best. Knives for knives, molotovs for flaming torches, you dash through crowded streets and close alleys with your heart beating out of your chest as you cut through the madness. Yharnam knows how to reward you, frequently. Since the entire game is based on an all offensive play, Bloodborne rewards you Blood Vials for health regen and Silver Bullets for staggering arsenal aplenty. When you make a mistake in Bloodborne, you are likely forgetting the basics of the script or venturing into a gutsy territory. B'borne is a sinister game in parallel lines to its predecessors, it deceives you to believing that you can make it through. However, B'borne refuses to punish you needlessly, but like an act of god shows you your place if you forget that you are a mortal after all. You don't hide behind tower shields any longer, you take the initiative to unravel an enemy's offensive move with a counter attack of your own, by firing the blunderbuss or the starting pistol. It staggers the enemy for some seconds, allowing you to riposte and draw the life out of the challenger. Miyazaki knows how to use a combination of guns and blades, and of all the games that have used the combo, Bloodborne stands at the highest level. Guns are not video games' primary weapon any longer, instead it is a last resort during an imminent defeat or a closure to an epic finale. If you were a skillful rogue from the universe of Souls, Bloodborne will make you believe that guns and blades are the new form of parry and riposte.
Bloodborne is not just about attack and death counts, it is as much about sending a chilling air that shakes you up from your comfort zone. The infamous 'You're Dead' loading screen, that takes nearly 30 seconds to go, is probably your only breather in this high octane, nerve wrecking game. Kudos to FROM for going not guns blazing, but hush about the way they set out depicting Yharnam. The chill of hearing the distant cry of the Cleric Beast while you are climbing the ladders of Central Yharnam or the resounding sound of the bells at Yharnam alerts you even if you've got the situation under control. The residents of Yharnam have locked themselves up in their houses during the night of the hunt, and will chide at you if you even dare near them. The hostile atmosphere acts otherwise and will make you fall in love with the new universe of pain.
So, while others allow you to walk on a straight line, not touch anything, Bloodborne will practically lay down no rules whatsoever. Make peace with the surrounding, make peace with the newfound agility, and whip that cleaver and shoot that blunderbuss to escape the treachery of the night and rise as an example to your audience. For all you need to know, I have never attended a single Opera night, but I know how it must feel like, Bloodborne showed me all. And I have a lot to witness next. For everything leading to blood transfusion, make sure to follow our page as we take the evil of Yharnam down.

"Grossly Incandescent."  More than 70 hours into Bloodborne, seeing the credits flow is in itself a beautiful as well as a heart wrenching feeling. Sure there lies the New Game Plus [...]

"When the Soul meets the Body." The second day in Central Yharnam didn't start well. To start off, I was lost yet again, farming off enemies, revisiting the Hunter's Dream and [...]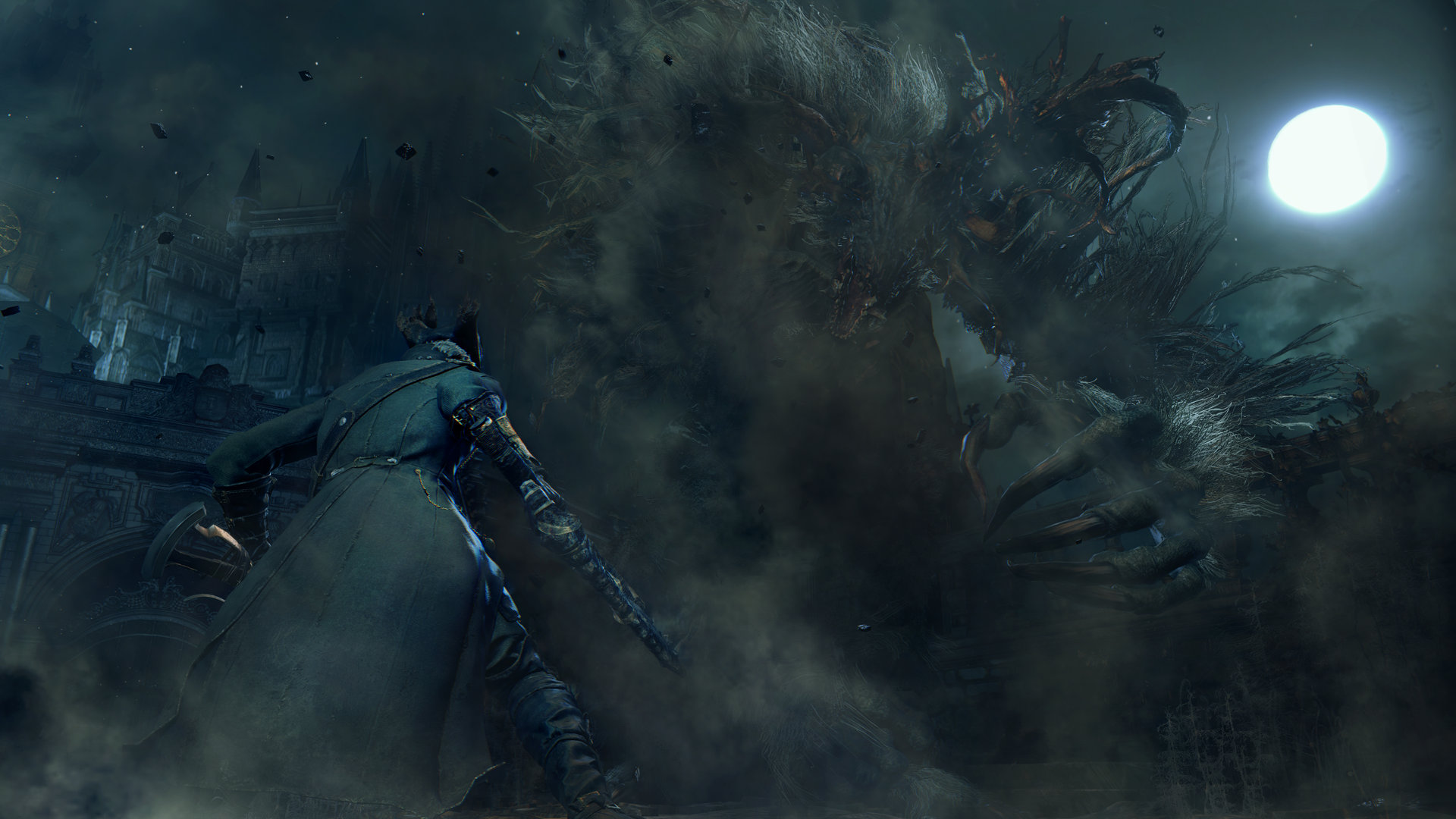 "Say hello to nightlife!" By now the word, tattoo, and the Twitter handle inspiration is out, I feed on Souls, I mean Dark Souls. A recent Bloodborne tutorial and gameplay video [...]