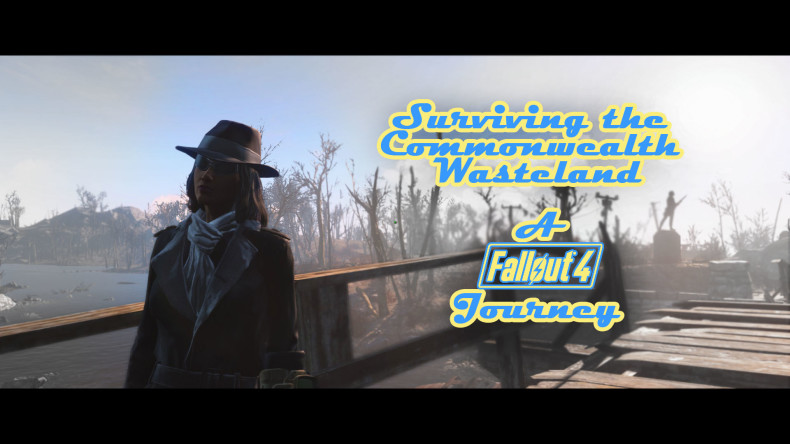 (This article may contain spoilers. You have been warned.)

The Fallout universe is alternate reality done right – as bizarre as it is fascinating. It could have happened, it was palpable for the first decade of the Cold War, post World War II. The Atomic Age was real and several 1950s artifacts from our timeline's history would fit in rather well in Fallout's universe. Reality didn't take that path, of course; our world came to be dominated by transistors. Fallout's – it continued to be all about the atom, for over a century. The result is a fascinating set of design philosophies that make for a stunning game world.
Fallout 4 beings in 2077, the very day mutually-assured destruction comes to pass as nuclear bombs are dropped across the world. CD Projekt Red's next game is Cyberpunk 2077, is that a coincidence? I don't just mention CDPR as a curiosity, it's very clear Fallout 4 has taken ample inspiration from The Witcher 2. The dynamic narrative, ambiguous characters, choosing between political factions with conflicting goals, the dark humour – it's all new to the Fallout world. (Though the faction dynamics take inspiration from Fallout 2 as well) At the same time, CDPR introduces some of Skyrim's best features into The Witcher 3 – most prominently, the open world and a sense of immersion through would building.
Anyway, back to Fallout 4. It begins minutes before the bombs fall. Somehow the pre-wasteland Commonwealth is stranger the irradiated wasteland it becomes in a couple of centuries. I have played every Bethesda game and DLC – and New Vegas – since Morrowind, some of them multiple times. The formula was already established then, and every game is just another interpretation and enhancement of it. With every game, I try a different type of character. With Fallout 4, I went with an extreme build – high intelligence, charisma and luck at the detriment of pretty much everything else.
The Fallout 4 story starts with the "search-for-a-long-lost-loved-one" formula in its familiar post-apocalyptic setting. There has been some pretty great fiction in this genre, Paris Texas being one of my favourite movies. It is intriguing enough and Fallout 4 does add a nice twist to the formula, but the same formula it is. Of course, I was more concerned with sheer survival to worry much about finding my son, Shaun. I deeply regretted my character build at times, and often considered starting over.
Fallout 4 boldly boils down the entire RPG system into a single chart. It seems simplistic at first, but it is deceptively dynamic and complex, with perks shaping completely different play styles, or really, hybrids thereof. It's always useful to have multiple tricks up your sleeve in the unforgiving wasteland. I started building up perks and SPECIAL to focus more on stealth, ranged and VATS, as I figured it was too late to go for a melee or combat oriented build. Soon enough, my high intelligence, charisma and luck started paying off. Leveling up was  brisk; about a level every hour of game time in the early stages. Charisma helped me dodge a fair few situations, and the Intimidate perk saved a few combat opportunities which I would struggle to survive. By the twenty hour mark, I had finally settled in, and found my character. It was still tough, the southern wasteland was still out of reach, but I was confident it would turn out well.
Around this time, I was frustrated by the outdated engine. The loading times, NPCs with atrocious sense of direction, often hilarious visual glitches, low-res textures for interiors; it's 2011 all over again! The exteriors look pretty good, till you look close. But of course, the real reason why we still have the old engine is probably more nuanced.
Exploration is what clinched Fallout 4 for me. There's an amazing density and diversity of locations, each having their own stories, characters, sometimes quests, and sometimes even skeletons with events frozen 200 years in time. While Fallout 3 and NV often looked bleak and desolate due to the setting, the Fallout 4 world has a quality of character and individuality which I have not seen in a game besides GTA V. And even then, Los Santos is only such at a visual level, and not nearly as interactive.
Bethesda may have focused completely on substance over style; on content over tech. Developers do have limited schedules, budget and resources. It still feels like Bethesda could have struck a better balance, but if it really required these compromises to get us to the unprecedentedly dense and vivid Commonwealth wasteland, it's a trade-off I shall begrudgingly accept.
The gunplay has seen major upgrades, however. To begin with, the weapon design is quite incredible. Railway rifles, alien guns, portable cannons, insane weapons, or even ideas for weapons! Everything starts out as a jugaad (DIY hackjob), but always ends up looking interesting. There's incredible variety that keeps rewarding you with cool new shit even a hundred hours in. The combat mechanics are top notch and the weapons all have their individual feel and sound. The mods have endless permutations and you can really customise one to precisely suit your play style. Armours are not as interesting and while power armours are a great idea, their diversity and customisability feels very limited relative to the weapons.
For the first half of the game, it was all about exploration, sidequests, companions and character development for me. Fallout 4 is a bit of a mixed bag when it comes to companions. Some are standard fare, while some have extremely enticing stories. My favourite companion, of course, is Nick Valentine. He's not just a cool guy – I won't discriminate between humans and synths – to hang out with, but has a really neat story thread. I spent time finishing the stories of all major companions, which do come with a useful perk at their end.
Several sidequests are pretty mundane, but they are held together nicely, as every quest, every location has an interesting story to tell. However, every once in a while, there are some interesting series of side quests revolving around a single story. The radiant quests appear in the same category as regular quests, which is confusing. The biggest offender are the Minutemen quests, of course, though it took me about five missions too long to realise that they were radiant and procedural. Completing these quests did allow me to experiment with the settlement simulator. I can see how this will be addictive to many gamers, but for me it was a mere curiosity. I did enjoy messing around, but quickly moved on. I found The Railroad early on, through exploration. Road to Freedom turned out to be a memorable quest, but I was most interested in the faction itself. More on this later.
Fifty hours in, I was completely immersed into the world and lore of the Commonwealth Wasteland. Any quibbles about the engine were long forgiven, though it continued to be a minor irritation. The story started getting real interesting with a look into Kellogg's head – A quintessential Fallout mission. The voice acting and writing was solid throughout, but from here on, everything goes into overdrive in the search for Shaun.
And then you find Shaun. It's one of the finest moments in gaming, or indeed, all of fiction. To find out why, read part 2 here.

Fallout Shelter ended up being my most played game of 2016 in terms of playtime. As per the game's stats, I have clocked 154 hours over the course of a year. The game recently received its [...]

(This article may contain spoilers. You have been warned.) I left off Part 1 with "And then you find Shaun. It's one of the finest moments in gaming, or indeed, all of fiction." [...]

Fallout Shelter is perhaps one of the best video games to ever grace the mobile platform and at its core, it is a test of your management and planning skills. It is also a game of your failures [...]