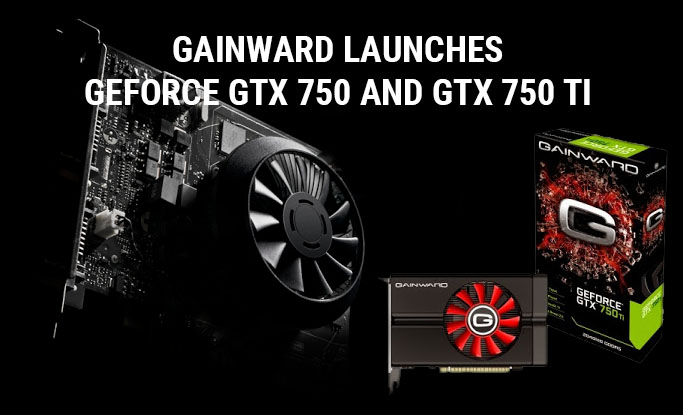 Gainward, a global graphic card manufacturer, have tied up with Savera Marketing Agency, an Indian IT company engaged in marketing and distribution of various IT products, have launched the Gainward GeForce GTX 750Ti and GTX 750 series in India.
The main USP of the card is its use of the first generation MAXWELL architecture which has 35% more performance per cores than previous generation (Kepler architecture) and offers 2 times performance per Watt. The Gainward GeForce GTX 750Ti and 750 series require no external power connectors.
We reviewed ASUS' GTX 750Ti OC and Nvidia's reference GTX 750Ti. We think the GTX 750Ti offers great value to the midrange buyer.
Gainward GeForce GTX 750 Ti 2 GB GDDR5 Graphics Card is priced at Rs.13,600 on major e-retailers. The card is aimed at those who wish to upgrade their basic personal computers with limited budget. Gainward GTX 750Ti and GTX 750 are all factory over-clocked, with 65MHz more than NVidia's reference clock. GTX 750 Ti "Golden Sample", is factory over-clocked at 1202MHz base clock (1281MHz boost clock) and 3004MHz memory clock speed. Gainward claims that with 180MHz over-clocking speed, Gainward GTX 750Ti "GS" performs up 15% more than NV's GTX 750 Ti reference clock speed under games and benchmark score.
The whole Gainward GTX 750Ti and 750 series follows Gainward hardware design that aims to lower temprature and running noise using Solid capacitors, Super low RDS (on) MOSFET and High quality Ferrite core chokes. The card also comes with EXPERTool utility new fan control feature which allows users to change fan curve by their requirement.
Mr Gopal Pansari, MD and CEO at Savera Marketing said "We are very much encouraged to launch Gainward GTX series. It is one of the fast moving graphic cards brand with high performance delivered and now, it's 35% more performance promised. It is optimum for all young enthusiasts who prefer performance and value for money product."

Introduction We have reached a time where running games in full settings are native 1080p and 1440p resolutions isn't a problem. The GeForce GTX 1080 and GTX 1070 are pretty well equipped [...]

Introduction – Low Cost Pascal Goodness When NVIDIA announced the Pascal, its latest GPU architecture, it was lauded as the company's biggest feat in the past ten years. First came [...]

Introduction – The New Budget Flagship When NVIDIA announced the Pascal, its latest GPU architecture, it was lauded as the company's biggest feat in the past ten years. First came the [...]