The iLL Fact Sheet
Item Reviewed
GIGABYTE Auros Z270X Gaming 7 Motherboard
March 12, 2017
Introduction
Gaming peripheral manufacturers, one by one, are being bitten by the "Gaming Brand" bug and Gigabyte is no short of following the trend. Gigabyte is introducing a new brand "AORUS" as its gaming oriented lineup for desktop components like motherboards and graphics cards. We have spotted a handful of AORUS mousepads and keyboards too. One can say the Gigabyte's birth of AORUS is something parallel to the lines of what ROG is to ASUS.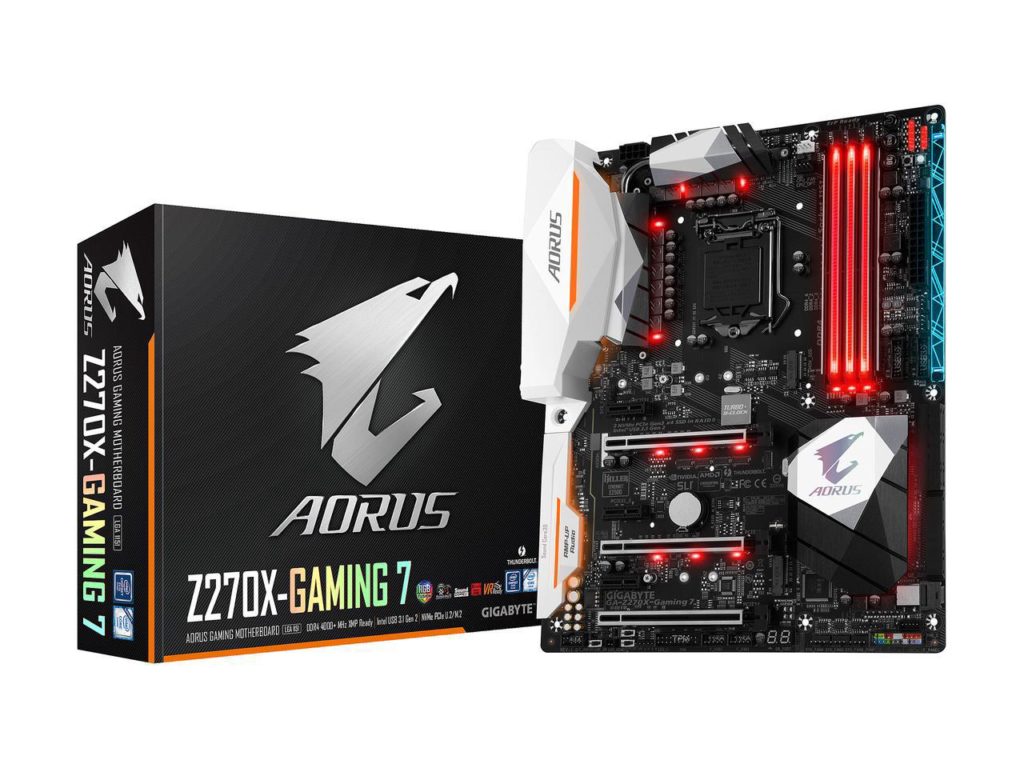 The Aorus Z270X Gaming is among Gigabyte's first line up of Z270 motherboards that support Intel's latest generation of chipsets, the Kaby Lake. To know more about the Kaby Lake architecture, the Z270 features, check out this article. This motherboard is a high end board, featuring all the high end features one could expect from a top of the line current generation motherboards.
Specifications
First things first, here are the official specifications of the Gigabyte AORUS Z270X Gaming 7, taken from t
CPU

Support for 7th and 6th generation Intel® Core™ i7 processors/ Intel® Core™ i5 processors/Intel® Core™ i3 processors/ Intel® Pentium® processors/Intel® Celeron®processors in the LGA1151 package

Chipset

Intel® Z270 Express Chipset

Memory

4 x DDR4 DIMM sockets supporting up to 64 GB of system memory
Dual channel memory architecture
Support for DDR4 4133(O.C.) / 4000(O.C.) / 3866(O.C.) / 3800(O.C.) / 3733(O.C.) / 3666(O.C.) / 3600(O.C.) / 3466(O.C.) / 3400(O.C.) / 3333(O.C.) / 3300(O.C.) / 3200(O.C.) / 3000(O.C.) / 2800(O.C.) / 2666(O.C.) / 2400 / 2133 MHz memory modules
Support for ECC Un-buffered DIMM 1Rx8/2Rx8 memory modules (operate in non-ECC mode)
Support for non-ECC Un-buffered DIMM 1Rx8/2Rx8/1Rx16 memory modules
Support for Extreme Memory Profile (XMP) memory modules

Onboard Graphics
Integrated Graphics Processor+Intel® Thunderbolt™ 3 Controller:

1 x Intel® Thunderbolt™ 3 connector, supporting DisplayPort and Thunderbolt™ video outputs and a maximum resolution of 4096×2304@60 Hz

Integrated Graphics Processor-Intel® HD Graphics support:

1 x DisplayPort, supporting a maximum resolution of 4096×2304@60 Hz
* Support for DisplayPort 1.2 version.
1 x HDMI port, supporting a maximum resolution of 4096×2160@24 Hz
* Support for HDMI 1.4 version.

Maximum shared memory of 1 GB

Audio

Creative® Sound Core 3D chip
Support for Sound Blaster Recon3Di
TI Burr Brown® OPA2134 operational amplifier
High Definition Audio
2/5.1-channel
Support for S/PDIF Out

LAN

1 x Intel® GbE LAN chip (10/100/1000 Mbit)(LAN1)
1 x Killer E2500 LAN chip (10/100/1000 Mbit) (LAN2)
* Teaming is not supported.

Expansion Slots

1 x PCI Express x16 slot, running at x16 (PCIEX16)
* For optimum performance, if only one PCI Expres
1 x PCI Express x16 slot, running at x8 (PCIEX8)
1 x PCI Express x16 slot, running at x4 (PCIEX4)
3 x PCI Express x1 slots
(All of the PCI Express slots conform to PCI Express 3.0 standard.)

Storage Interface

Chipset:

1 x M.2 connector (Socket 3, M key, type 2242/2260/2280/22110 SATA and PCIe x4/x2 SSD support) (M2M_32G)
1 x M.2 connector (Socket 3, M key, type 2242/2260/2280 SATA and PCIe x4/x2 SSD support) (M2P_32G)
1 x U.2 connector
3 x SATA Express connectors
6 x SATA 6Gb/s connectors
Support for RAID 0, RAID 1, RAID 5, and RAID 10

Multi-Graphics Technology

Support for NVIDIA® Quad-GPU SLI™ and 2-Way NVIDIA® SLI™ technologies
Support for AMD Quad-GPU CrossFireX™ and 3-Way/2-Way AMD CrossFire™ technologies

USB

Chipset+Intel® Thunderbolt™ 3 Controller:

1 x USB Type-C™ port on the back panel, with USB 3.1 Gen 2 support
1 x USB 3.1 Gen 2 Type-A port (red) on the back panel

Chipset+Realtek® USB 3.1 Gen 1 Hub:

4 x USB 3.1 Gen 1 ports (available through the internal USB headers)

Š Chipset:

5 x USB 3.1 Gen 1 ports on the back panel
4 x USB 2.0/1.1 ports (available through the internal USB headers)

Internal I/O Connectors

1 x 24-pin ATX main power connector
1 x 8-pin ATX 12V power connector
1 x U.2 connector
2 x M.2 Socket 3 connectors
3 x SATA Express connectors
6 x SATA 6Gb/s connectors
1 x CPU fan header
1 x water cooling CPU fan header
4 x system fan headers
2 x system fan/water cooling pump headers
1 x front panel header
1 x front panel audio header
2 x USB 3.1 Gen 1 headers
2 x USB 2.0/1.1 headers
1 x Trusted Platform Module (TPM) header
1 x RGB (RGBW) LED strip extension cable header
1 x Thunderbolt™ add-in card connector
1 x Clear CMOS jumper
2 x temperature sensor headers
1 x power button
1 x reset button
1 x Clear CMOS button
1 x ECO button
1 x OC button
1 x audio gain control switch
Voltage Measurement Points
2 x BIOS switches

Back Panel Connectors

1 x PS/2 keyboard/mouse port
1 x DisplayPort
1 x HDMI port
1 x Thunderbolt™3 port (USB Type-C™ port, with USB 3.1 Gen 2 support)
1 x USB 3.1 Gen 2 Type-A port (red)
5 x USB 3.1 Gen 1 ports
2 x RJ-45 ports
1 x optical S/PDIF Out connector
5 x audio jacks (Center/Subwoofer Speaker Out, Rear Speaker Out, Line In/Mic In, Line Out, Headphone)

I/O Controller

H/W Monitoring

Voltage detection
Temperature detection
Fan speed detection
Overheating warning
Fan fail warning
Fan speed control
* Whether the fan speed control function is supported will depend on the cooler you install.

BIOS

2 x 128 Mbit flash
Use of licensed AMI UEFI BIOS
Support for DualBIOS™
PnP 1.0a, DMI 2.7, WfM 2.0, SM BIOS 2.7, ACPI 5.0

Form Factor

ATX Form Factor; 30.5cm x 24.4cm
Unboxing the Gigabyte AORUS Z270X-Gaming 7
The box of the Aorus Z270X Gaming 7 is in matte-black finish, smooth to touch and sleek to look at. I always use my motherboard box to store all computer related invoices, warranty cards etc., and this box is pretty well suited for that. Opening the box up, you are greeting with the chipset itself. Lifting it up, you see the other included goodies. Here is a complete list.
Box Contents
GA-Z270X-Gaming 7 motherboard
Motherboard driver disk
User's Manual
Quick Installation Guide
Four SATA cables
I/O Shield
One GC-SLI2P bridge connector
One G Connector
One pack of back I/O dust cover
One RGB (RGBW) LED strip extension cable
Two velcro cable ties
Two thermistors cables
Its good to see that Gigabyte has included not two, but four SATA 6GB/s cables. You also get an RGBW strip, two external temperature sensor cables, iGPU output dust protectors, AORUS Velcro cable ties, an AORUS case badge and an SLI HB bridge. When buying a high end motherboard, there is nothing more you could ask for. The Z270X AORUS Gaming 7 will serve its owner well, atleast with the included goodies. It is worthy to mention that the I/O panel has Intel and Killer NIC markings.
A closer look at the AORUS Z270X – Gaming 7
The first time I held the AORUS Z270X Gaming 7 in my hands, I noticed its white and black colour scheme. Gigabyte motherboards usually come in red, green, orange and blue colour schemes so white is something new for the company, and something we are not typically used to. That doesn't mean its not good, I like the colour scheme, a lot. It is a little on the aggressive side, but that only means that it will open up more possibilities of matching with RGB lighting. An added bonus is how this board would perfectly match with Nvidia's Founder Edition graphics cards. Not to mention, we're seeing more and more motherboards using white lately, it is the in-trend currently.
The IO panel on the Z270X-Gaming 7 has chosen to not include USB 2.0 ports altogether. So far, this is the first motherboard we have tested that literally doesn't have a single USB 2.0 port. The future is here, and yes, USB 2.0 is finally a thing of the past. What you get is two yellow DAC-UP 2 USB 3.0 ports with adjustable voltage compensation levels, gold plated HDMI 1.4a and DisplayPort, three USB 3.0 ports, one USB 3.1 Type-C (ThunderBolt 3) port that supports fast charging, and a type-A, Intel LAN, Killer LAN, 7.1 gold plated audio ports with S/PDIF optical port.
The area with the PCI-E slots are simple and straight forward, yet built with high precision using high quality materials. The build quality is a step up from Gigabyte's Z170 motherboards. The first and second x16 slots use the CPU's x16 PCI-E 3.0 lanes. Configurations can be set up either x16/x0 or x8/x8. The third x16 slot is connected to the PCH and shares its bandwidth with the nearest M.2 slot.
It is worthy to point out that triply PCIe 3.0 x4 SSDs can be used simultaneously on the Z270X – Gaming 7. The upper M.2 slot, U.2 connector, and lower PCIe x4 slot or M.2 connector do not interfere with each other's bandwidth, and can work will full efficiency simultaneously. Users who want to RAID 0 three Intel 750 SSDs will love this, as they will experience uninterrupted bandwidth.
The U.2 slot has its own dedicated bandwidth. The Z270X-Gaming 7 has six SATA 6GB/s ports, all of them connected to the Intel Z270 PCH. Some of the SATA ports share bandwidth with the M.2 slots. There is a second M.2 port below the CPU area that supports longer M.2 drives like Intel's NVME drives.
You get two internal USB 3.0 headers, powered by the Realtek hub. These headers support AORUS's DAC-UP 2 technology, which offers different voltage compensation levels to make up for loss of voltage that happens with long cables. It is worthy to mention that each port has its own dedicated power controller. This is a boon feature for a country like India where power outages are common, and this helps in protecting your components.
The Gigabyte AORUS Z270X-Gaming 7 comes with an overwhelming number of overclocking and tweaking features. You get voltage read points, power, reset and clear CMOS buttons. The OC and ECO mode buttons, that you can simply hit to overdrive your motherboard without any adjustments in the BIOS, are located on the top right corner of the motherboard. There is a POST code display at the bottom of the motherboard.
The Z270X-Gaming 7 features two BIOS ROMs. The reason for this is, if during overclocking you somehow manage to mess up the BIOS settings and your system fails to boot, instead of gold old resetting, you can simply switch over to the other BIOS ROM. How this is implemented is, you get a Single BIOS mode switch and a Dual BIOS switch. When on the Dual BIOS switch, you can choose between either of the two onboard BIOS ROMs. When on the single BIOS mode switch, inter-BIOS communication is disabled and so is automatic BIOS recovery. There is a CAP switch that allows you to choose between the x6 and x2.5 gain for the amplifier.
Moving over to the CPU and iGPU area, the VRM over here is in an 8+3 phase configuration. This is a true 4+3 VRM, no compromises here, and the CPU VCore section is double to 8+3. This VRM should be enough to overclock high end Kaby Lake processors. The 4+3 phase controller uses a "Green hybrid digital R3 modulator", something they say that provides the best of analog and digital PWM technology.
There are four dual-latch DIMM slots that support upto 64DM of dual-channel DDR4 memory. These DIMM slots are reinforced with steel to minimise EMI and prevent the PCB from bending when adding or removing the DDR4 modules. There are three RGB LED strips that occupy this space. Gigabyte says that the AORUS Z270X can support more 4000Mhz of memory frequency. This ofcourse, depends on the CPU you are using. We were able to run our RAM at 3600Mhz with the XMP profile without any issues.
Let us move to the area I am generally the most excited about when testing high end motherboards, i.e., the audio. Hidden below the plastic should is a quad-core Creative Sound Core3D CA0132 chip. Gigabyte has partnered the Creative chip with a Texas Instruments DRV632 driver. This driver features an adjustable gain switch, 2.5x and 6x, for the rear panel speaker outlet. There's also a Burr Brown OPA2134 operational amplifier for added clarity. On top of that, you Nichicon Fine Gold capacitors, the ones only seen in high end amplifiers. I am really impressed with the audio circuitry here, this should ensure that you get the most clean, distortion free sound and not miss any subtle details in music. The Burr Brown amplifier is user upgradeable. This would be a boon for audiophiles who have very specific audio preferences.
Gigabyte has given a special focus to the fan header system on the AORUS Z270X – Gaming 7. There are a total of eight 4-pin Hybrid fan headers on this motherboard. That is a ridiculous amount of fan headers, and it eliminated the uses of a fan header extension card for users who use a lot of fans. All these fan headers placed all over the board. Each fan header has the capability to operate in PWM or DC mode. They can also deliver 2A power to fully drive a watercooling pump at full speed. This is a great motherboard if you want to just connect your fans and forget about them. The motherboard manages their speeds well. Gigabyte uses ITW IT8686E and IT87292E chipsets for fan and system monitoring.
UEFI Summary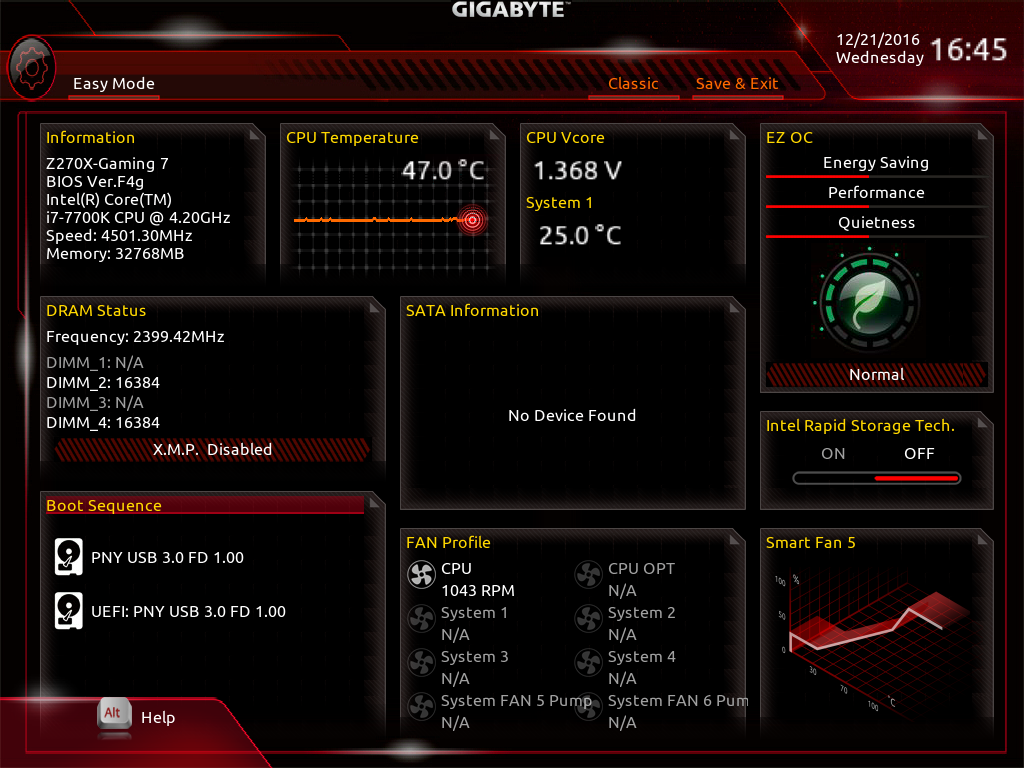 The UEFI provided by Gigabyte is definitely more mature than it did so before. You get good fan control options through Smart Fan 5, and also an ability to control RGB LED settings. The interface is stable, but more towards the basic side. We didn't find any options missing that would limit overclocking though, it is worthy to point.
ASUS, MSI and ASRock UEFIs have much more features. There are no UEFI features in the AORUS like SSD Secure Erase, System Browser and Board Explorer. While the Z270X's UEFI is a major improvement over Gigabyte's Z170 and X99 boards, it still falls short when compared to the competition. There are no specific complaints I have here, its just that the UEFI experience isn't as intuitive as the ones on the ASUS and ASRock boards. There are tons of overclocking presets in the UEFI that many users would love.
Conclusion
The Gigabyte AORUS Z270X – Gaming 7 is a motherboard that is rich of modern day features. It maintains a good balance in being a high-end gaming motherboard and being intended for system enthusiasts. You get great overclocking presets that beginners specifically would enjoy, as it would completely eliminate the need to dig deep into VCore and Multiplier settings.
The motherboard's layout in the Gaming 7 is nothing less than superb. PCIe lane routing is excellent, and shows good decision making by Gigabyte. You can use three PCIe NVM SSDs in RAID exclusively, which is something enthusiasts would drool over. We loved the inclusion on onboard buttons and voltage measurement points.
The inbuilt RGB lighting on the Gaming 7 is excellent again. The LEDs are not subdued and have really great colour accuracy. All the lighting zones can be controlled individually via the UEFI or the OS software. The included RGB LEDs is a bonus addition that we huge fans of, and something that sets the AORUS apart from the competition.
Gigabyte's special focus on fan control system has done the motherboard great service. Eight fan headers, all PWM and DC enabled, is something even flagship motherboards don't have. Then, the fan controlling chips which do a great job in managing fan speeds, comfortable enough for the user to leave on auto-pilot. If not, the UEFI is equipped well enough to control the fans in any way one wants.
Last, but not the least, is the excellent audio system in the Gaming 7. This is a hands down great audio circuitry that will please audiophiles. The ability to put in your own capacitors is a boon for audiophiles with specific tastes. You don't need an extra sound card over here, period. The motherboard is equipped well enough to give even high end sound cards a run for their money.
The Gigabyte AORUS Z270X – Gaming 7 is priced officially at ₹28,500. This puts it in the high-end price range, even among Z270 motherboards. Having said that, we still find the motherboard to be worth every penny, even in a marketplace that is filled with cut-throat competition.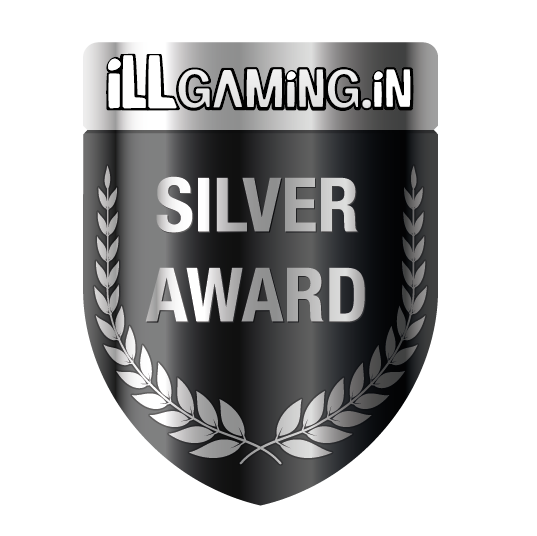 What's iLL
+Great set of features
+Great audio circuitry, which is customisable
+USB 3.1 Gen 2 Type-C and Thunderbolt 3
+The best fan configurations we have ever seen
+Excellent RGB performance
+Intelligent motherboard layout
What's Not
-UEFI is definitely behind competition. We hope for updates
-M.2 SSD cooling is ignored
-Shared bandwidth in some of the SATA ports

Gigabyte India organised their annual overclocking event and power user meet called the Gigabyte OC Blast 2015 on December 19, 2015 at the Mirador in Andheri, Mumbai. Coolermaster was also [...]

Participate in the Gigabyte VGA India contest and stand a chance to win a Gigabyte G1 Gaming GTX 960 4GB Graphics Card. This contest is exclusive to India and any Indian residing in the country [...]

Gigabyte entered India with their line-up of NVIDIA GPUs following the launch of the GTX 980 by NVIDIA in September 2014. The G1 Gaming series is their take on the chip with its Windforce custom [...]