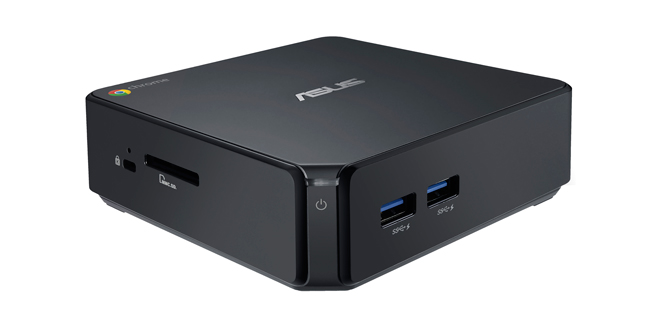 After taking the Indian mobile phone market by storm with the launch of their Zenfone line, Asus India launched their Chromebox on August 6, 2014 in Mumbai. The Chromebox is aimed at a new market segment of ultra compact PC boxes running on Google's Chrome OS, bringing the Chromebook experience to the desktop. Some models are capable of 4k video playback thanks to Intel's Haswell processors powering them.
The Asus Chromebox was launched by Mr. Levis Su, Asus's regional director for India, South Asia and the Middle East, Mr. Vinay Shetty, Asus India's Component Business country head, along with representatives from Intel India and Google India. Initial plans include three variants with a Celeron, a 4th generation Core i3 and a 4th generation Core i7 processor, with a Chromebox for Meetings variant to follow. The prices for these are quite high at ₹21,000, ₹36,500 and ₹58,000 respectively but these are expected to reduce in the coming months.
The Asus Chromebox features dual display support with a HDMI and Display port socket, 802.11 b/g/n dual band Wi-Fi adapter, a gigabit Ethernet port, 4 USB 3.0 ports, of which one will be occupied by the bundled wireless Keyboard and mouse, and an SD card reader. It supports the VESA mount and is quite compact at 12.4cmx12.4cmx4.2cm. On the storage side, you get a rather speedy but small 16GB NGFF SSD with 2years of 100GB Google Drive storage. Given the device's reliance on the internet and the Internet in India, one would soon be considering adding external hard drives to the Chromebox. Full specifications can be found on the Asus website.
Asus is testing the waters with this product launch for a new segment of compact cloud reliant desktop boxes with a relatively high degree of portability. This could very well become your future home pc if all you do is document editing, multimedia consumption and web browsing.
You might be wondering what a lifestyle product like this is doing on a gaming website, but the Chromebox can run Casual and browser games too. We spotted Bastion and Angry Birds on the demo boxes at the launch. Pictures follow.
This slideshow requires JavaScript.

The Asus ROG Strix XG27VQ is the latest monitor launched by Asus in its ROG line of products. This monitor was unveiled at CES 2017, along with two other Strix monitors, XG32V and the XG32GV This [...]

Introduction Last week, we reviewed the ROG Cerberus V2 headset. It was a product iLL loved, and we gave it an award too! This week, we have another product from ASUS' ROG Cerberus line, [...]

In the dusky Bengaluru weather, the stage was set at The Lalit for an enticing Finale of the ASUS ROG Masters South Asia tournament, for Dota 2 and Counter Strike: GO. The teams were in, so were [...]