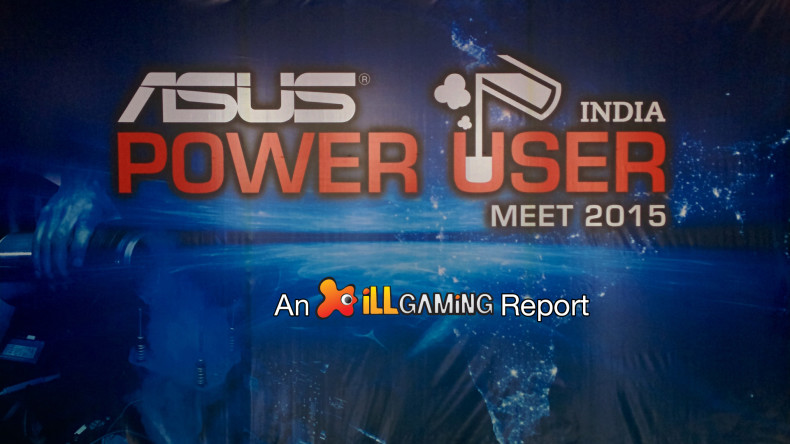 Asus India invited a select number of PC enthusiasts from the country to their Power User Meet 2015 held on October 17, 2015 and the OC Showdown held on October 18, 2015. iLLGaming was also invited and here is our coverage of the same. This year's event was much bigger than last year and Asus had flown in one of the legends of overclocking in the world, Hazzan Jadid.
The first day of the meet was marked by Asus giving presentations of its product line-up, which has now expanded to include a health monitoring watch, and taking feedback from the enthusiasts on the same. Mr. Vinay Shetty, the Country Head of Asus India's Components division, outlined his vision to increase the community of Indian enthusiasts so as to really make a mark on the global scene. He also requested any budding overclocking enthusiasts to get in touch with Asus India for any assistance they might require.
The presentations were followed by lunch and a Product tour of Asus' latest offerings. These included not just Motherboards and GPUs, but also peripherals, Monitors, Sound cards, mini PCs and routers. Some interesting new products were the Chromebit, which is a PC on a stick that can be plugged in to your TV using HDMI and has a clever flexible mount to deal with space constraints. Asus also showcased a palm sized portable projector.
The second day was reserved for overclocking and it was a lot of fun. Hazzan and Shatul Durlabhji overclocked a Skylake chip to 6GHz with LN2 (Liquid Nitrogen) and scored 2035 in the XTU benchmark. There was also an overclocking contest for the other enthusiasts, where Gaurav Bharadwaj and Rakesh Sharma emerged victorious winning an Asus X99 Deluxe motherboard. There was also a workshop explaining how to safely handle LN2 and participants were given a certificate for the same.
Following are the pictures from the event.
This slideshow requires JavaScript.

The Asus ROG Strix XG27VQ is the latest monitor launched by Asus in its ROG line of products. This monitor was unveiled at CES 2017, along with two other Strix monitors, XG32V and the XG32GV This [...]

Introduction Last week, we reviewed the ROG Cerberus V2 headset. It was a product iLL loved, and we gave it an award too! This week, we have another product from ASUS' ROG Cerberus line, [...]

In the dusky Bengaluru weather, the stage was set at The Lalit for an enticing Finale of the ASUS ROG Masters South Asia tournament, for Dota 2 and Counter Strike: GO. The teams were in, so were [...]