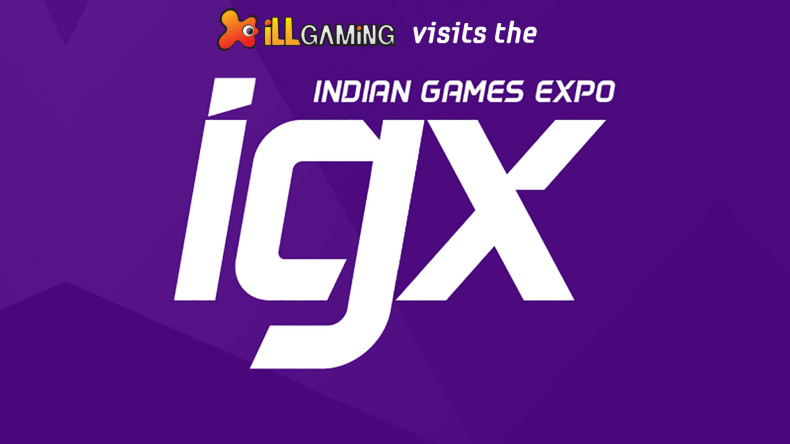 The first ever Indian Games Expo was held in Mumbai on November 14 and 15, 2015. iLLGaming's Chirantan Raut and Subhadip Sen visited it on the 15th and we must say it was quite a humble beginning to what aspires to be India's largest consumer games expo.
While entry to the event was free, there was some tight security and all visitors had to be registered on the spot or had to verify their registration if they had already registered online. This meant that there was a slight holdup in the entry process as people were let in in batches. Two huge stalls greeted us at the entrance, one belonging to e-xpress Interactive Pvt. Ltd., India's largest distributor of video games and the other belonging to Sony showcasing its PlayStation exclusives.
Inside were smaller stalls of Acro Engineering and Zotac that showcased and sold PC parts and Gaming Laptops from brands such as MSI, Steelseries, Coolermaster, G.Skill, Zotac among others, with an IGX special discount for interested buyers. The Zotac stall also showcased some custom built PCs, including a Star Wars themed box with a Darth Vader Bobble-head mounted on top. Posters and t-shirts with a gaming theme also had their stalls as did gaming statuettes. There were also a few dealers in games and game hardware who were offering IGX special discounts at their stalls too.
An Indian Virtual Reality kit by a start-up called Absentia attracted quite the queue. It is still in prototype stage and the developers promised us they were looking for feedback to improve it before launch. They were taking preorders for the kit which came either in a 1080p or a 1440p resolution.
Red Bull had setup a stall where one could drive the brand's F1 car for a lap around Australia's Albert Park Circuit in a wheel and chair setup very similar to the real thing. The Straydog booth celebrated cosplayers and there was a contest for best cosplay on both days. It also attracted quite a few cosplayers as you can find in the images that follow. A stage and a big screen were set up for the same, though this area bordered the small food court leading to a bit of unnecessary crowding. Genesys had also set up a Counter Strike 1.6 tournament at it's booth to showcase its peripherals.
We also tried out a couple of unreleased games from Indian developers Apar Games and Vanishing Point Game Studios. One was Scribbled Arena, a multiplayer 2D top-down arena shooter with support for up to 10 players that was scheduled for release on steam early access in 2016. Apar Games also promised us that there would be a single player campaign in place when the game comes out of early access. We were interested by the pen on paper art style of the game's environment. Apar Games also showed us a couple of mobile/tablet games for Android and iOS of which one was a puzzle and the other was a hidden object game. Vanishing Point showcased a hack and slash game based on the Unreal Development Kit (using Unreal Engine 3) called Third Eye, which showed quite some promise, but needed some polish ahead of its April release.
Gamers were in for a treat at the e-xpress and Sony stalls as they featured a lot of playable systems (mostly PS4s, but there were a few PCs, PS3s and Xbox 360s) loaded with some of the newest releases. e-xpress were also hosting tournaments for Mortal Kombat X and WWE 2k16 with a prize pool of ₹1.5 lakh each. They even had a Triumph Bonneville on display from the Metal Gear Solid V game. There was also a solitary statuette of Jacob Frye from the latest Assassin's Creed Syndicate overlooking the other end of the stall.
The playable games included Assassin's Creed unity, Call of Duty Black Ops 3, Remasters of Uncharted and God of War, Until Dawn, Bloodborne, Driveclub, Batman Arkham Knight, PES 2016, Mortal Kombat X, The Witcher 3 Wild Hunt, WWE2k16, NBA 2k16, Assassin's Creed Syndicate and Metal Gear Solid V among others.
Looking at the response from the crowd, we must say that the expo was quite a success despite the rather small size of the entire exhibit. The free entry might also have helped. We can only hope next year's event will be bigger and IGX will continue to grow until it establishes itself as one of the eminent consumer game shows around the world. The Indian Gaming Industry really needs such initiatives to tap into the huge potential market in the country. Until next time, iLL out.
This slideshow requires JavaScript.

Comic Con India held its Mumbai iteration on the weekend of 19-20 December 2015. The event was in its 5th year and this was the biggest Comic Con Mumbai so far. The venue for the event was the [...]

The first annual MomoCon Indie Game Awards is all set to take place from May 28 – 31, 2015 at the Georgia World Congress Center in Atlanta. For the gamers who want to see the action, but [...]

In anticipation of the launch of The Witcher 3: The Wild Hunt we would like to engage you into the world of the Witcher. Here we bring you a collection of some of the best cosplay from [...]