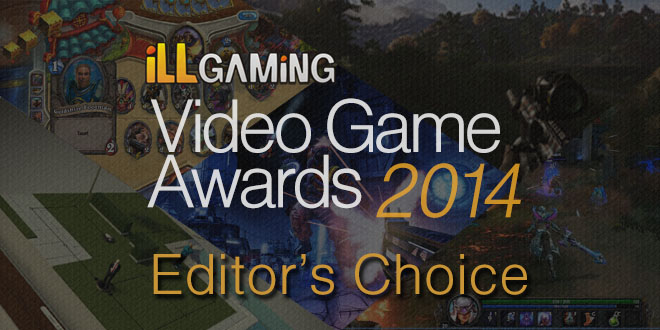 2014 marked the first year of the next gen of consoles, and this meant the beginning of a new era of gameplay experiences unlike anything we had seen before. And it did not disappoint. iLL Gaming looks back on the past year  to pick our winners for the iLL Gaming Awards 2014.
This year we decided to have a different approach to our choice for Game of the Year. Instead of having multiple categories for each platform, we decided to let our editors pick their top five games from among the new games they had played in 2014 on any platform. Each was also asked to pick their own personal Game of the Year. We then listed these along with any games common to our lists and voted on them to pick iLL Gaming's Game of the Year.
You can read about which games our editors picked below, some of which link to our reviews.
Shovel Knight
It was a surprise no one was expecting. In the year of 8 bit and voxel games with the remastered Duck Tales included, who would expect a game about a knight with a shovel that mixes platforming and combat to surpass every other sidescrolling platformer in the way that this did. As a game that recreates the old styled platformers it had to differentiate itself from the masses of other similar titles on kickstarter but eventually due to its strong personality and timeless gameplay that hits right on all the nostalgia from a good nes game it succeeded in its goal. To create something so fun, fast paced with an amazing soundtrack, in such an overpopulated genre elevates this above other games for me.
Games have always been a great medium for storytelling. Brothers: A Tale of Two Sons made it clear last year and this year we had Valiant Hearts, a story that brings in the human element so well to the war with the use of its real life snippets of information. With a solid fun gameplay that features different perspectives, this is a game built on emotions and takes you along with on an emotional roller coaster. With a great art style and music, this was one that I will remember for a long time.
Well the subtext of the game, deceptively simple and insanely fun, kind of describes the game best. You start off simple and slowly build your deck only to be brought to your knees by one online strategy after another. The game always gives you enough food for thought to make you think with some adjustments and a few cards, you can do better and next thing you know it the end of the year and you are still playing Heartstone in your bed under your blanket at 12 at night. One of the only games that I enjoyed more on a cheap tablet than my PC.
The Grimrock series bring back the old school dungeon crawling experience with updates and modernization in all the right places. The original was a nostalgic escape sequence but the sequel brings with it an immense open world with updated visuals and a whole new set of challenges and refinements. There have been others who have tried to recreate the same experience but none have been able to match the polish and accessibility like Almost Human Games. The game expands on almost every aspect of the original and offers an ordeal unmatched.
Smite
Well it finally launched this year, after being in beta for years, to display expertise in a genre that they carved for themselves. With constant content addition and high player interaction this is one game that looks to grow more with years to come. With prize pools even surpassing those of the most popular in the genre (League of legends) at near $2.5m it is easy to say that this unique idea went really big.
Call of Duty: Advanced Warfare
Lack of any improvement in Call of Duty games have successfully kept me away from the franchise, but 2014's release by SledgeHammer games powered by the exo suit does enough to bring me back on board. The cinematic approach of the campaign of previous titles has been retained with higher production qualities. The efficacious delivery of speech by Kevin Spacey will keep you hooked for sure. The real meat comes in the multiplayer where the exo suit comes into play and opens up brand new horizons for engaging in combat.
I have already expressed my love for PvZ:Garden Warfare through my review. The excellent combination of third person shooting and strategy elements shines in motion. While the lack of a campaign mode might disappoint some players, its competitive and class-based nature of combat will amaze others. In the absence of any good third person shooters in 2014, Popcap games have successfully managed to craft one of the most colourful and competitive shooters which will stay with me for a fairly long time. Adding content and updating the game constantly has kept the game fresh.
The excellence of the Nemesis system made Shadow of Mordor one of the biggest surprises of 2014. The option to approach a combat scenario in the desired way creates a very freeform nature for the combat. Its sinful act of making the boss fight a QTE fest spoils a well narrated story, however the Orcs will do enough to captivate you in its well detailed world and riding Graugs is a experience on its own.
Titanfall can be held guilty of not releasing with enough content, however its crucial balancing act between Pilots and Titans has led me to clock in more than 80 hours in the game. My very first Titan drop is an unforgettable moment. Even though it has its shortcomings like the poor uninteresting campaign mode, overall it is a well packaged product which has been supported with new paid and free content every now and then. Not to mention, it was one of the few games to not have a broken launch.
Tentacles: ETM takes a brand new 3D approach and brings some twists and turns to a well established formula. This exclusive game developed by Press Play for Windows PCs and Mobiles really made this a good year for games on Windows Mobile. It has challenging and punishing gameplay, but constantly rewards you for accepting and completing those challenges. It's an eye popping adventure for sure which you should not miss.
Divinity Original Sin has a brilliant system of interaction between your protagonists that can potentially give you a split personality disorder unless you can find someone to co-op it for about 100 or so hours. The game's turn based combat allows for interesting strategies and there are lots of secrets to be found by exploring the game's large areas with only the level of enemies being the barrier to progress.
The brilliance of Middle-earth: Shadow of Mordor lies in the implementation of it's gameplay mechanics in the open world. The amazing transition between the first half of the game and the second wherein he game forces you to change tactics to execute the same same gameplay action is laudable as is the Nemesis system. What really ruins this great experience is the weak story and the awful QTE based final fight that ruins your memories of the fun you had leading to it.
Far Cry 4 has an alive open world that really lets you unleash utter chaos into it. And you have the option of co-op with a friend while causing this large scale destruction. The Indian setting is icing on the cake though it does kill immersion at times when you notice the flaws in the minor details such as font rendering and voice acting, as well as the selection of songs. The most annoying part of this game is Suddenly, Eagle!
Hitman Go is brilliant for its simplicity and minimalism. The minimalistic design extends from the UI to the game world itself. It is a puzzle game based on the Hitman franchise that is represented as a virtual board game wherein you must move Agent 47 along paths in a square grid. The levels increase in difficulty but are never impossible to figure out. There are bonus objectives to add to the replayability, but what is sorely missed is an Undo function.
Wasteland 2 is a wonderful old-school RPG that does not hold your hand and forces you to live with the consequences of your actions. It is a true sequel to the classic Wasteland and the turn based combat is highly tactical. The game can be hailed as a Kickstarter success, given its humble origins and it showcases just how pretty the Unity engine can be.
I could even call this the game of the century. Blizzard have pulled of a card game with finesse, mind boggling depth, a deep challenge, and with that, have kept the free-to-play versus pay-and-play balance strikingly good. I would have never imagined my 2014 being consumed by a card game. There has to be a reason why more than 20 million people registered for Hearthstone in just 6 months after its launch. It's a great gaming story, one that shines in the dismal gaming year that was 2014 for me. And one that proves the other free-to-play games terribly wrong. Fundamentally, it is possible for a player who hasn't spent a paisa in Hearthstone cards to beat a player who has spent a ten thousand rupees. That kind of balance is so good, its scary. Kudos to the developers at Blizzard for having given us yet another game to dedicate a part of our lives to.
Don't know if its just me, but this is by far Ubisoft's most impressive game of 2014. This is the first Trails game I've been exposed to, and there has been no looking back since. RedLynx's arcade take on the bike sport is dominated by believable physics, drop down mind blowing tracks with the theme "The Future", and with that, a hint of uncanny dark atmosphere. This game bought me to my knees with frustration that ran deep, when I couldn't go through a spot on a track even after 100 attempts. Yet, when I do manage to get past the spot, the feeling is ecstatic. Trails Fusion is one game you wouldn't want to miss for any reason.
Honourable Mention: Trails Frontier: The iOS and Android version of the game. Does achieve the free-to-play model without compromising much, has great graphics, tracks and physics.
Many would call this the most uncanny game on the list. The third Borderlands game does nothing different, nothing particularly new. It sticks to a tried and tested formula and doesn't take much risks. Yet, for a guy like me who's generally not into FPS games, Borderlands The Pre Sequel managed to hold my attention, and keep it, for hours and hours. I thoroughly enjoyed playing this game, the world is immersive, the story is meh, but the erratic shooting is where the heart of the game truly lies. And being on a zero gravity moon adds verticality in combat that Bioshock: Infinite or Titanfall could never get. I love Borderlands: The Pre Sequel, for its personality, for its straightforwardness, and how it feels so comfortable with its existence.
Pro Evolution Soccer 2015
Come to think of it, why do sports games never make it to end of year lists? First reason that comes to your mind is these yearly incremental releases never try anything revolutionary, are most of the times redundant and just brushed up re-releases of the previous year. That is so not the case with Pro Evolution Soccer 2015. While its bigger brother dwells into assembling and selling teams for in-game currency, PES 2015 takes the most primal approach to the beautiful game of football. The satisfaction you get when you perfectly execute that one-two pass and make a run into an opening, THAT. PES 2015 makes the most simple footballing acts seem the most beautiful and the most satisfying. And that too, with a control scheme that gives you the closest sense of what a player is like. The foundation has been laid now, all Konami has to do, is build on it.
If speaking in movie analogy, Alien: Isolation seems like a Stanley Kubrick kinda game. It starts slowly, has dull characters, the first few hours seem like such a drag. Alien: Isolation has that ability to keep you at a distance, not allowing you to get close. It gives you the illusion that you're close, but it never really tries hard. Then, all of a sudden, you're right in the middle of the action. And by action I mean action in the most subtlest sense. And successively, it induces fear, not the Hollywood kind of fear. But a deep enduring fear of just one enemy and a lonesome spaceship. This is gaming like gaming never most. Alien: Isolation, more than just a damn good game, proves that taking risks and trying new things and NOT sticking to formulas (something games of 2014 loved doing) can pay off.
If there is something as punishing as Dark Souls, it is Alien: Isolation. The game defies everything for the sake of an intelligent enemy AI, that will hunt you down if you do not know shit about the survival/stealth genre. It abhors going Colonial Marines with guns, instead you sneak your way out of the Sevastopol station with some mere Noisemakers. The SFX, visual rendition, immersive atmosphere of the Ridley Scott Alien series have been punched in hard. The Sigourney Weaver voiced DLC is the icing on the perfect cake. The Xenomorph is beautiful, even when it spreads saliva on you and kills you instantly. Do not miss this for the mere mortals out in the market.
Dark Souls 2 investigates and aggravates the 'Prepare to Die' philosophy of the Souls franchise, emerging from a brand new team at FROM Software. The game borrows a lot of elements from Dark Souls the original, and polishes the framerate and online gameplay to deliver a stable streak of irreversible deaths. The covenants help you keep coming back, the diverse unknown world pushes you to explore, the enemies hunt you down with greater strength and the boss fights implore you to experiment. This is the true revival of one of my favourite franchises till date. I cannot wait to play it again on the PS4 this April.
When I first tried Thief back in the 90s, I was humiliated and terrified. I am glad nothing has changed within the franchise even after 2 decades. Thief (2014) is still a myth to me, because I loved the game no matter how low the general scores were, and I still believe it showed sparks within the diminishing and repetitive stealth genre. It may not hold a solid AAA story but has taken Garrett's abilities to another level. Whether it's about picking locks, silencing hounds, befriending the darkness or using the unique arrows, Thief established itself as Thief, instead of Dishonored Part 2.
NBA 2K15
I am a football fan, and each year I alternately look forward to FIFA and PES. This year, the tables were turned as sports gameplay reached an epic level in my honest opinion. I can't remember the last time that I took a Career Mode seriously. Thanks to James Harden, I found my love back in the Rockets, Aww yeah Tracy McGready! NBA 2K15 is simply not a sports game, it is an example for its competition about how Match Day presentation, gameplay physics and an interesting and rewarding Career Mode is done.
India and Nepal have enough myth to make you go mad, insert the flawless DUNIA Engine and Ubisoft's dedication to deliver a dynamic open map as vast as Kyrat's. Despite Far Cry 4's weak characters, the game takes the franchise a giant step forward since the last time we snapped up Blood Dragons. Far Cry 4 is exciting, inflammable, rewarding and above all, an addiction so hardcore to let go. The enemy and animal AI will make you clinging for a last shot, the side quests never seem to end, and with a Co Op bud, the game goes complete berserk. FC4's multiplayer is nothing like FC3's and with the Rakshasa versus Golden Path backdrop it announces proudly that story can be told even amid loud Online Lobbies.
That's it for the Editors' choices. You can discover the winner of the Game of the Year here: Page 2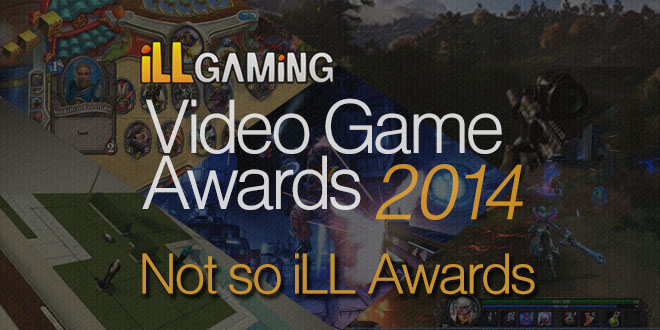 2014 was an eventful year in gaming and while it had it's highs, there were some miserable lows too. And it is the special effort that went into creating these lows that we wish to bestow [...]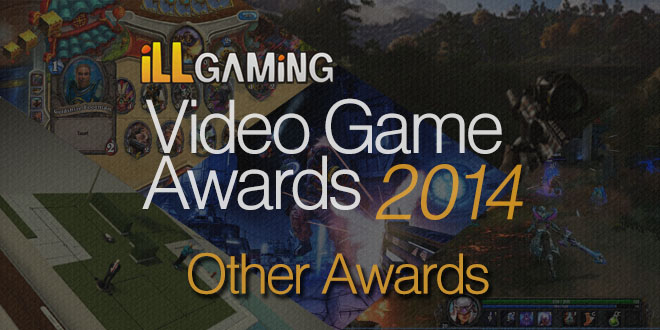 Sure it's great to win Game of the Year in the iLL Gaming Awards 2014, but there can be only one, right? We that's what our Other awards are for. Some games can just have this one [...]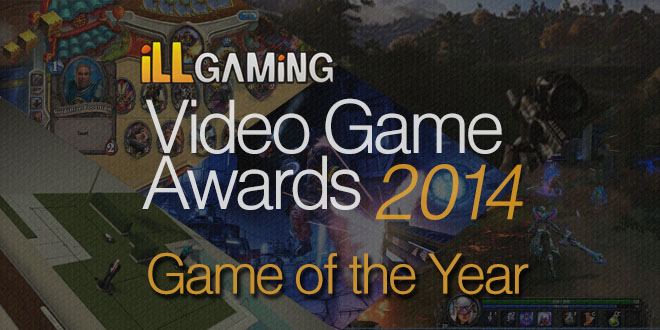 If you haven't read it yet, you can read about our Editors' Choices here: Page 1 This might sound like us repeating ourselves but we treat each editor's personal Game of the [...]