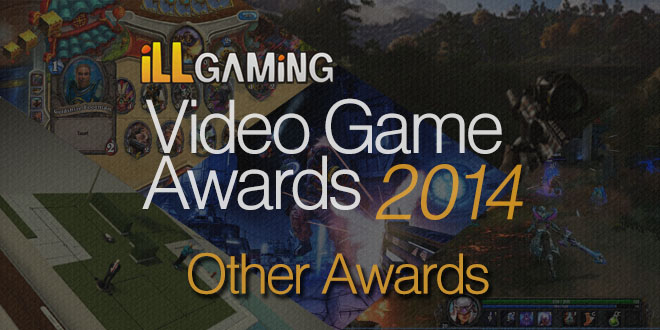 Sure it's great to win Game of the Year in the iLL Gaming Awards 2014, but there can be only one, right? We that's what our Other awards are for. Some games can just have this one element about them that's better than the rest. And we award them for that. These awards first invited nominations from our iLL Staff, who were then asked to justify each nomination. We then voted to pick our winners for each category.
If you want to look at our earlier awards use these links: Page 1 Page 2
iLLest OSTNominations:
Divinity: Original Sin
The Menu Theme was so hauntingly beautiful, it made us get the entire album in flac and we're guilty of idling a good few minutes on the menu just to hear it play. The rest of the OST is just as great. Lots of lovely Western Classical music and some folk tunes to be found here.
Transistor
From the creative minds of the creator of bastion's Music, Darren Korb, with vocals by Ashley Barrett, The music of the game had us mesmerized ever since we heard it on the trailer for the game years ago and to our pleasure it was every bit as wonderful as we imagined. While the music is a joy to hear on its own, it adds a whole new level of immersion in the game. With the use of its multi layered audio setup and a vast variety in tracks this is one of the best OSTs this year.
Destiny
Destiny may not live up to the hype that it showed in its trailers, but thanks to the soundtrack, it never leaves a dull moment, even when you are scraping for a Hex item, week in week out. Destiny outshines anything out this year in terms of the soundtrack department. The brand new IP sends shivers down the bones of one of the greatest Star Wars fanboy. Composed by Michael Salvatori, C Paul Johnson, Skye Lewin and the great Marty O'Donnell, Destiny knows how to balance out tension, redemption and bliss, thanks to its truly outstanding soundtrack that supports the intergalactic war of the Fallen and Guardians.
The Crew
Just like Destiny, there was a lot of hype about Ubisoft's promising and ambitious, socially intertwined open world CarPG – The Crew. We're still not convinced by the game, especially the driving bit of it, which is primarily the soul of a racing game. However, Joseph Trapanese, who gave soul to the sound department of Tron: Uprising and Tom Cruise's Oblivion, has nailed beyond words the pace of this racing game. The adrenaline gush, the sudden speed boost and the cross country takedowns, cop escapes, circuits and street races was graced by a soundtrack that we would call the Tron Legacy OST of video games.
Hearthstone
A collection of laid-back and upbeat low-key acoustic instruments, Hearthstone's OST is a definite mood lifter. Composed by Peter McConnell and Jason Hayes, the Hearthstone score features a woody ensemble of the acoustic guitar, flute, bassoon, english horn and bass clarinet. Each instrument trade turns to take on a solo, and when the ensemble combines, the sound produced is easy going, low key and at the same time playful and adventurous.

Winner: Transistor
iLLest ProtagonistNominations:
Ajay Ghale
The Lost son returning to the land of his birth embarks on a journey to find out what he's really made of. Seems quite a set up for a hollow shell, but Ajay reacts in quite an interesting manner to many cues throughout the game breathing life into his character. The only annoyance is how he calls himself A-J.
Delsin Rowe
The best part about Delsin is that it is easy to fit into his shoes. A Conduit by accident, voice actor Troy Baker makes Delsin a class apart from the previous Infamous protagonists. You can choose to drive him into a maniac, he can be a secret vigilante, and the decisions you take, in turn change his persona. He is the most dynamic and most absurd hero to touchdown earth since Deadpool.
Amanda Ripley
It is a huge task to be the daughter of the great Ellen Ripley, even the male actors lost their machoism sharing screen space with her. When the Xeno and Ellen fought each other in Scott's original 'Alien' I was like, This is it! Amanda, the lead character of Alien: Isolation picks up exactly where her mum left. Not only is she a replica of the Ellen we know, but the game gradually evolved her character and replaced her fears with brevity without disrupting the flow.
Gared Tuttle
Lord Forrester's squire makes up most of the same qualities as the Starks in the North. Mainly honour and an apt fighter in need. With a dire tragic tale involving his family as his efforts to save them becomes the very reason his enemies use to take advantage of the distressed house. The young warrior may be frightened of Ramsey Snow's brutality but keeps calm in an otherwise bad situation.
Aiden Pearce
Aiden Pearce starts out as a selfish 'hacker' who occasionally helps out the general public. As the story progresses, you find out a lot more about his background and his motivations become clearer. Too bad the game he starred in sucked. As a Character, Pearce is quite a good one.

Winner: Aiden Pearce
iLLest AntagonistNominations:
Ruvik, from The Evil Within
Mikami wanted The Evil Within to be a highly tensed, mind effing version of RE4. Some aspects took away the soul of the game and left us with chars of a great idea. To be inside the villain's mind and be constantly manipulated is one way of setting off a new style of storytelling. As you delve into Ruvik's character, the more in love you fall with his psychotic ways. Ruvik outshines the likes of Iraq, Shiv and Pagan to own the credits of being one of the best antagonists of 2015.
Obergruppenführer Wilhelm "Deathshead" Strasse
General Deathshead is the classic mad evil scientist of every cliched sci fi movie. Forcing you throughout the game to choose one fellow soldier over the other while he enjoys killing the one you did not choose. He is dangerous and insane, but the most frightening aspect is that he is in power. He may not be seen through most of the campaign but the few interaction and the countless propaganda posters and speeches do help to keep you focused on the enemy at hand.
Jonathan Irons
A villain with a stellar personality. What adds to that personality is his way of speech delivery and use of strong words that will keep you captivated. His desire for more power and the way he conveys that message definitely resembles his political image. Kevin Spacey as Jonathan Irons delivers in every possible way.
Your nemesis in Middle-earth: Shadow of Mordor
The Nemesis system is what makes the open world of SoM so good and every player will have ended up creating that one orc whom they love to hate, their nemesis, who has bested them in multiple encounters and has the scars to show for it. there may not be much story involved except for your painful memories of this orc defeating you.

Winner: Your Nemesis in Middle-earth: Shadow of Mordor
iLLest NPCNominations:
Riley from The Last Of Us: Left Behind
One may have read The Last Of Us comic book series published by Dark Horse and got an idea of who Riley was, and how important she was to The Last Of Us universe. Playing 'Left Behind' the story DLC of TLOU, you get an idea why this game is heralded as the greatest game of our generation. Riley is not only Ellie's guardian, but also her protector and lover. In a way, Riley is that typical post apocalyptic partner who will risk her ass to save yours.
Clara Lille from Watch_Dogs
BadBoy17, or Clara Lille is a rather interesting character who has an aura of mystery to her motives for helping out Aiden.
Torvin from Middle-Earth: Shadow of Mordor
Though you only meet him during his specific missions, the dwarf hunter has this spark about him and his daring in the face of dangerous beasts belies his inner guilt for being responsible for the death of his brother. This soft side is revealed through various collectable artefacts that tell his back story.

Winner: Torvin
iLLest StoryNominations:
The Last Of Us: Left Behind
Get this straight, The Last Of Us: Left Behind is not your usual DLC, you really get the most out of this paid expansion. It is also the first DLC to make us cry. Left Behind is not utterly necessary unless you're in love with The Last Of Us, as Creative Director Neil Druckmann puts more faith in human relationships, adds mature storytelling and shows the world how to set the tone for an already hit story. Based on Riley and Ellie's early story, Left Behind has a tendency to send you back and forth in time, revisiting an abandoned mall, while Ellie fights both her past and present.
Valiant Hearts
Valiant Hearts shines in blending reality with the fiction. With the depravity and destruction all around your effects are mainly to help others and doing such when a picture of actual soldiers is shown it is difficult not to take a moment or two just staying still. It just suddenly makes the human life look more important both in real life and in those cell shaded animated pixels. We had many stories of The great war only this one taught me more than anyone of them ever did and portrayed a story I was invested in from the first piano filled departure to the last letter of reunion. Heartbreaking and delicate, Valiant Hearts handles a touchy subject with emotion that works where it has to. War stories usually aren't portrayed this way generally. Valiant Hearts showed us a different side to life during the wars, the side where each life matters.
Divinity: Original Sin
A simple Murder investigation that ends up as a quest to save the entire Universe…well this narrative certainly leaves no holes and you are left searching for more morsels of information to complete your understanding of the magical world of Rivellon.

Winner: Valiant Hearts
iLLest Gameplay MechanicNominations:
Middle-earth: Shadow of Mordor Nemesis System
Tired of having prefabricated bad guys who are too cliche for your tastes? Make Your own then. This is the one mechanic that made me rate SoM so high despite the story having really awful antagonists.
Threat Grenade, Call of Duty: Advanced Warfare
This was the first Call of Duty for our editor in 8 years. And he was impressed. He was looking to take his take and severely enjoy the single player story, and with certain new logistics to the hit first person shooter, it was more than fun. The threat grenade is a new addition to the COD series, as it exposes enemy positions for a certain time frame within its explosion range. It provided him ample time for his tactical theatrics.
Motion Detector, Alien Isolation
The majority of the tension within Alien: Isolation comes from anticipation, thanks to the grand SFX and stunningly retro VFX, the stage was all set for the iconic motion detector to still our heartbeats. The motion detector is as iconic as the Xenomorph itself, and in Isolation it is your friend and greatest weapon against the invincible enemy.
Co-op in Divinity: Original Sin
The interactive dialogue nature of the game is built to suit co-op in a RPG, to save one from getting a split personality disorder, provided you can find a partner willing to stick with you for 100+ hours.
First Person Mode in GTA V
Games already released on consoles seldom see a good port on the pc. GTA 5 turns this notion on its head with the release of first person mode. Not only does it add to the original it makes use of its pc assets in a smart manner. All this would not have meant much if the game was not fun to play, but with unique animations and ui added to an already impressive game and mod capabilities on PC this might be the next skyrim.
Exo suit, Call of Duty: Advanced Warfare
Moving away from the traditional 'run and gun' formula of the COD, exo suits increases the pace of this twitch shooter making second to second changes more intense than ever.

Winner: Threat Grenade
iLLest VisualsNominations:
Far Cry 4
Best looking game of 2014. Period. Especially on NVIDIA GPUs. God Rays, Soft Shadows, and a picturesque setting all make for a visual treat. Far Cry 4 uses all those cool sounding graphics features. The Himalayas look great, the vegetation looks great. So does the wildlife. Try setting fire to the vegetation and witness an amazingly beautiful chain reaction. And the explosions, oh my god, the explosions.
Alien: Isolation
The retro retribution of the iconic Ridley Scott horror – Alien, is practically etched in every frame of Creative Assembly's Alien: Isolation. It may not be as astounding as Far Cry 4's Kyrat, but comforted by smokey alleys and half lit cubicles, Isolation is an example of how it is done, visually.
Ryse: Son of Rome
CryEngine is pretty and this pushes it to it's prettiest. Really taxing on your PC, though the visual returns for the performance it demands don't seem that high.
The Vanishing of Ethan Carter
The use of Photogrammetry as a detailing tool for the game makes the object and the environments come to life. the level of detail in the environment and the texture quality is unmatched even for the bigger AAA titles. The use of photographs to create a 3d model in game and to capture facial expressions add reality to the game. In most cases the artist creates tiles and textures by repeating patterns but when used this technique it creates rust. stains, wear and tear and smooth and rough geometry that tells us the object is real.

Winner: The Vanishing of Ethan Carter
Best Surprise of the yearNominations:
Alien Isolation
Games with a license usually don't take risks the way the Isolation has. The Alien franchise image was in a tarnished state and Isolation did just the thing needed to boost it. Here is a game that took the most unexpected path and yet provided one of the best experiences of 2014.
Dark Souls 2: Crown of the Ivory King, Old Iron King and Sunken King DLCs
Dark Souls 2 was criticised by critics and hardcore fans of the saga for presenting an incomplete story, a story that never explained in narrative design why you needed to ring the two bells, or what happens next. Dark Souls 2 was a linear experience with no for many, and as true fans, we waited obediently for something to cling on to. That's when the Crowns appeared. The DLCs of Dark Souls 2 captures the endgame as well as the Drangleic lore quite naturally, and extends the lore and consequence for an epic conclusion. For those who missed it, get your DS2 complete edition this April on current gen consoles.
Goat Simulator
Nobody expected Goat Simulator. It just happened. What started off as a joke of a game jam demo ended up being an interesting parody game that was improved with each free addition. There's tons of fun to be had here if you just goof off all over the place.
Middle Earth: Shadow of Mordor
A game with zero hype for our editor (Anikait) turned out to be the biggest surprise of this year, its nemesis system turned out to be one of the best mechanics of 2014 and his entry ticket into Lord of The Rings franchise.
Wolfenstein: The New Order
This was a game we were not expecting to be as fun because of the legacy of the franchise. The new order add polish to the gameplay then turning it up to 10 and crafting a beautiful world around it. With bonus resung German tracks and other collectables this was one dual assault rifle wielding Nazi killer that came out of nowhere.

Winner: Goat Simulator
Biggest DisappointmentNominations:
Watch_Dogs
This is going to change the way we game, is what Ubisoft declared on E3 2014. By summer 2014, the verdict was out, not only Watch_Dogs seemed to copy every successful Ubi idea, but it presented a hollow experience even while introducing the path-breaking hacking sessions. The game breaking bug had me in tears, and the driving of Watch_Dogs was just all over the place. I'm still sold as per the storyline goes and will try out Watch_Dogs 2, who knows it might get revealed at this year's E3! A game that was promoted the way Watch Dogs was should have been so much better. Also, Watch Dogs got delayed so many times you figured the devs were trying to make a good job out of it. The final product was stale, repetitive and unoriginal. We couldn't stand the game beyond 4 hours.
The Crew
It's got strange handling, weird rigidity in world objects and has so much wasted potential.
Civilization: Beyond Earth
Too few factions with no major differences, and inconsistent UI, offers little new to justify it' existence as a new entry in the series rather than a mod. Feels unfinished.
Sims 4 / Simcity
The Sims series this year took two steps forward and two steps back. With bad launches with hilarious bugs and surprisingly missing features. EA did implement the missing features eventually but it was more of a result of public backlash than anything else. Did EA really expect to get away with this? It is sad to see even in 2014 there was such disconnect between EA and the audience that almost ruined well loved franchises.
Destiny
Coming from Bungie the developer behind Halo it was one of our editor's (Anikait) most anticipated game of 2014 however its lacklustre story and its imbalanced multiplayer did enough to keep him away from the game and left a very strong desire to know the reasons for this poor release (Activision is to blame somewhere). What he learned from it 'Never overhype a game, since most of the time you will get disappointed.'

Winner: The Crew
There, we are done with the awards, or are we? After all there were many things that happened in 2014 that were not so great in gaming. And we decided to award some of the worst offenders too. Continue to the Not so iLL Awards: Page 4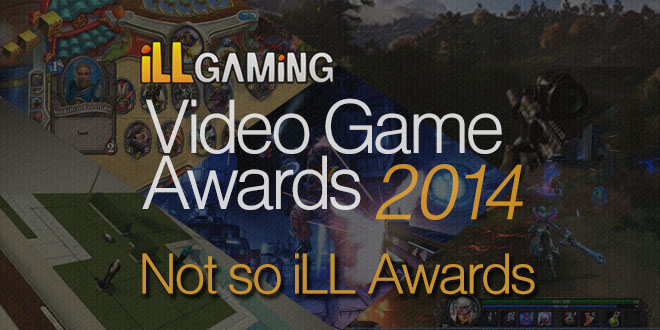 2014 was an eventful year in gaming and while it had it's highs, there were some miserable lows too. And it is the special effort that went into creating these lows that we wish to bestow [...]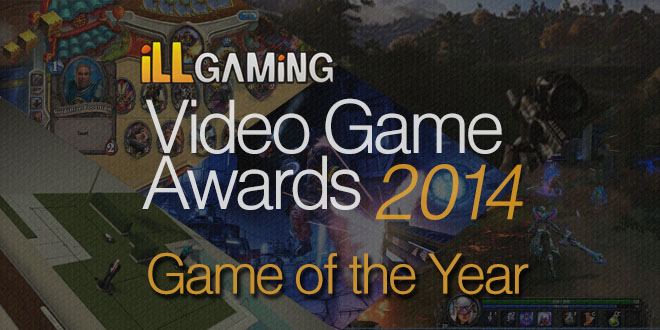 If you haven't read it yet, you can read about our Editors' Choices here: Page 1 This might sound like us repeating ourselves but we treat each editor's personal Game of the [...]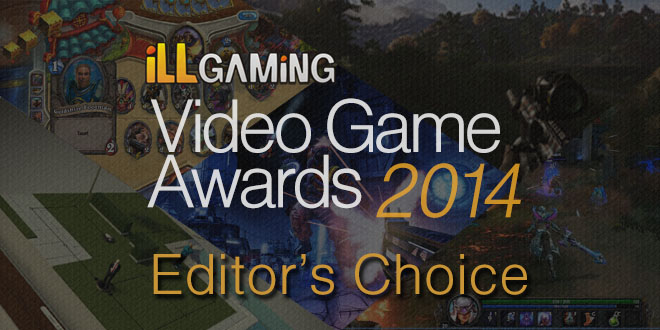 2014 marked the first year of the next gen of consoles, and this meant the beginning of a new era of gameplay experiences unlike anything we had seen before. And it did not disappoint. iLL Gaming [...]