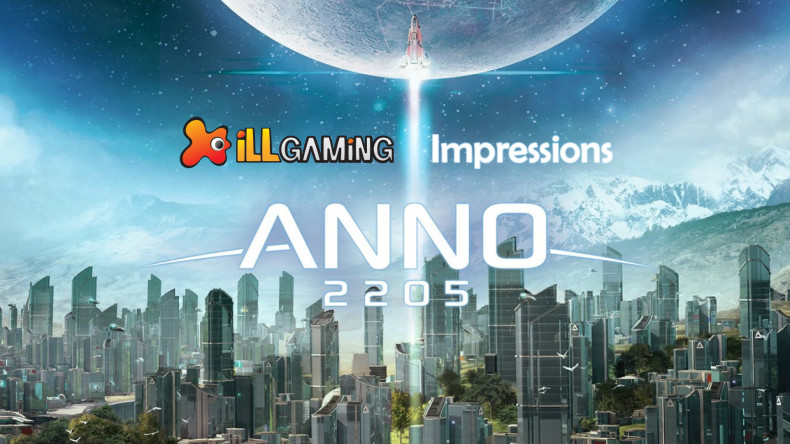 The next entry in the Anno series launches on November 3 this year and it continues with the futuristic setting of the previous game in the franchise, Anno 2070. While a beta was promised to those that preordered, it was subsequently cancelled. However, Ubisoft have been kind enough to give iLLGaming access to a Preview build for Anno 2205. Here are the iLL impressions about the same.
The Preview build wasn't quite representative of the final game in terms of UI design, features and stability. It also restricted our game progression to the final third of the game and was purely a single player experience, so the multiplayer component remains a mystery. Readers are thus advised to wait for the final release reviews before making a purchase decision.
The Good:
Anno's core gameplay boils down to fitting a bunch of rectangles and squares of different sizes within the confines of an island area and Anno 2205 provides plenty of it. While you only had a few islands to settle in earlier Anno games, in Anno 2205 you can settle multiple islands across a maximum of 9 different regions. Ubisoft aren't lying when they claim it to be the biggest Anno yet. There are three distinct zones namely, the Temperate Zone, the Arctic Zone and the Moon, each with three different regions to settle. Each Zone has its own unique tech tree and while the primary tier can be achieved within the confines of that zone, one must rely on materials from other zones for the higher tiers. Thus, the game forces you to juggle your attention between regions, rather than focusing on one region alone. While the preview restricted access to the moon, the Arctic region provided an interesting gameplay challenge. You need to rethink your structure placement completely in the Arctic thanks to the Heat mechanic. Ideally, residences should be built around the goods producing structures to benefit from the Heat generated by them. This changes your entire planning approach and keeps the gameplay fresh.
In Anno 2070, having multiple factions on the same island led to needless complication of structure placement. Thankfully, Anno 2205 goes back to the classic approach of a single tech tree per zone. It also adds a small but really useful feature of being able to move structures that was missing in previous games, and this does not cost you anything. No need to waste resources trying to reshuffle your island layout, since you can now just move the offending structures around, even when they have advanced to higher levels. The game also doesn't restrict you from building structures anywhere on a claimed island, though certain structures can only be built on specific sites.
Another interesting addition is the module system in Anno 2205. Modules can increase the output of a structure and can also improve the efficiency of its Power, Workforce or Logistics requirements. This means that you can gain more output at lower upkeep cost, though you must also plan your structure's location according to the space requirements of its modules. Modules require rare resources to build, which complicates the decision-making behind adding a module vis-à-vis building a new structure while still maintaining a healthy economy. These rare resources are procured only by trading with the regional trader or by collecting them from a Conflict Zone.
Conflict Zones are a new addition to the Anno gameplay and form an interesting game in themselves. They act as a test of your fleet control skills. You are given control of a fleet of warships and must complete objectives specific to the conflict zone. The combat can be quite tactical with the different power ups and defensive abilities. These are completely optional though, except for the first time you are introduced to them.
The Mediocre:
Separation of the colony building and the combat may not quite appeal to all Anno fans, but this does let you focus on whichever component of Anno that you like better. The Regional map does have some combat, but it's merely restricted to attaching an Attack Drone to your Command Ship and then towing it over to destroy the target ship. This removes a lot of the tension and urgency from the game and may reduce the challenge for some hardcore players. There weren't any disasters or emergencies in the Preview build, nor did we see any structures to counter them.
Every region in Anno 2205 will have a Trading Port controlled by an AI where quest givers will usually dock. These quests reward you with rare materials or credits, so they provide for an interesting distraction. They did get repetitive rather quickly though as you will either be fetching stuff or playing the role of a courier or dragging an attack drone along to a target vessel that won't even retaliate. Some quests seemed too tedious to complete such as those about finding missing persons or those involving a tracking drone to find objects with the game giving no clue whatsoever as to where the tracked object was.
Though Anno 2205 referenced Anno 2070 in some parts, it was missing the underwater colonisation of the latter. Any underwater objects you come across will only be seen if you have the proper sensor drone attached.
The game is now subject to only Uplay as the DRM instead of the TAGES that was a major hindrance with Anno 2070. While the Preview was supposedly online only, it always showed up as offline in the game and ran fine in offline mode too. There were quite a few bugs and known issues, but those will only be worth mentioning if they show up in the final release.
The Bad:
Anno 2205 Preview began by allotting a fully revealed region to my corporation. This meant that there was no exploration involved, nor would I have to bother knowing about what resources could be suitably cultivated on the islands. This simplification of gameplay may not necessarily sit well with Anno veterans. The limited map variety may also feel restrictive and boring after playing for a while.
Coastal building sites have been restricted to specific locations in Anno 2205 just like the mountain sites. In previous games one could build coastal structures anywhere on a beach, but now you are restricted to a select few redefined sites. The markings for these sites show up quite easily on the Temperate Zone maps but they are a bit hard to spot with the snowy background of the Arctic Zone Maps. Given that the construction chains require a good mix of coastal and mountain structures, it is imperative to find an island with a balanced supply of both.
On combat maps, you will need to resort to micromanagement of your fleet in order to beat the higher difficulties. However, long pressing the right click key moves the map around. This messes up any attempts at micromanagement of units and is a major annoyance. There aren't any advanced fleet management options such as the ability to set formations or stances.
Those were our observations from the Anno 2205 preview. Our conclusion is that we liked what we saw a lot and the game has immense potential. There are some warning signs however, and we are eager to get our hands on the final release to give our verdict on this promising new entry in the Anno franchise.

With Anno 2070, Blue Byte creatively used Global Warming to extend the island colonisation gameplay of Anno into the future. With Anno 2205, they have gone one step ahead and taken the same [...]