For long we have waited, anticipated, crossed fingers and expected that for once, bring the story of the Assassins (i.e. Assassin's Creed series) to India. Today is a good day to say that our prayers (?) have been answered. Yes, we are going to see an Assassin's Creed, based in India. This is no 1st April and I'm not bluffing like my earlier God Of War: India article. Assassin's Creed is indeed stepping into India, the year somewhere in the 1800s with its upcoming graphic novel.
Ubisoft has already published two Assassin's Creed based graphic novels under the titles The Fall and The Chain, with Illustrator Cameron Stewart (of Batman and Robin fame) and Karl Kerschel (Adventures of Superman fame) and writer Brendan Fletcher of DC. This new graphic novel from the trio is spun off right here in the heart of Punjab, with protagonist Arbaaz Mir serving the role of an Indian Robin Hood, during the British Empire that took his homelands. The colonialists also happen to have a powerful Piece of Eden with them. The book is called Assassin's Creed: Brahman (sounds like a cross between Brahmin and Brahma)
"I can say without reservation that this comic book is strongly inspired by the films of Stanley Kubrick," Fletcher said in a UbiWorkshop interview. "We wanted to do something different – tell a type of story never before seen in the Assassin's Creed universe – and touch on corners of the brand not yet explored by the video games. Brahman answers a lot of questions and opens a ton of new doors. Fans who want to know what the future holds for Assassin's Creed beyond Black Flag would be advised to give it a read! Hint! Hint!"
The story is based way before Desmond's as Abstergo Programmer Jot Soora tries to find his connection to his assassin ancestors. Kerschel was inspired by anime, science fiction and futuristic technology. He promises that we'll see things we'd never expect from an Assassin's Creed story. But the main point of discussion is, how is it related to Black Flag? Surely the East Indies had nothing to do with India, except for the East India Company. Characters from the comic book series have often appeared in their games (remember Daniel Cross in AC3?) Has it something to do with a character? Or the way I am looking at it is, does AC4 Black Flag end with a transition from the Caribbean to India? (Preparing for AC5?)
Even though some of the stuff might hurt hardcore Indian history lovers, I bet it won't be a bad read after all. And the sequences seem to blend perfectly with the British Raj days. Check out for the gallery below for some introductory pages of the graphic novel. In one of them, you get a nice view of the Golden Temple, Amritsar.
In case you want to preorder Brahman, hit the link: http://store.ubiworkshop.com/assassins-creed/books-and-comics/assassins-creed-brahman/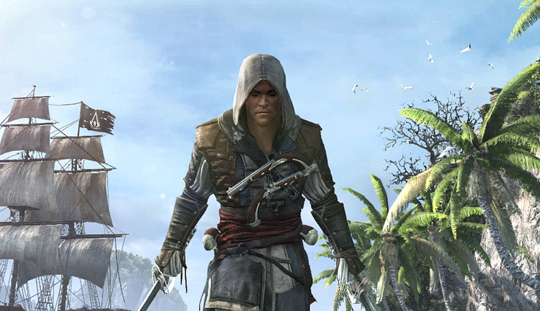 When was the last time you were NOT tempted into buying an Assassin's Creed title? I mean people try their best to ignore the title simply because of the confusing ends to the rather innovative [...]