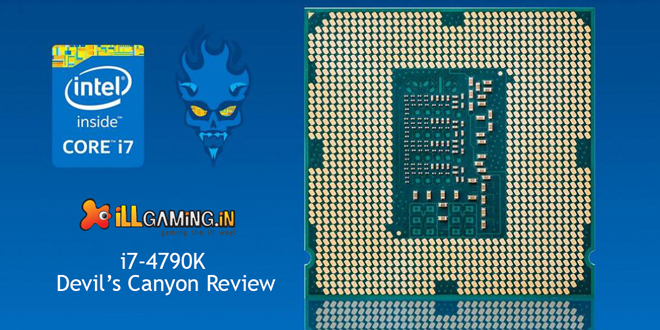 The iLL Fact Sheet
Item Reviewed
Intel i7-4790K Devil's Canyon CPU
September 27, 2014
Awards
iLLGaming Gold Award
iLLGaming Editor's Choice
Devil's Canyon sounds like the name of an action adventure game, perhaps with some role-playing elements thrown in. You might want to dispel that daydream however as this is actually the code name for Intel's new unlocked processors based on a revision of the Haswell architecture. And reviewing it was an action adventure of the silicon sort.
Specification

The i7-4790K is a socket 1150 processor which means you don't need to chuck your old Haswell board to use it. The CPU Frequency has been bumped up to an incredible 4000 MHz or 4GHz, which is a first in an Intel consumer processor. And this goes even higher to 4.4GHz with the turbo mode frequency. While the older Haswells could also hit these clocks with a little overclocking, this kind of performance out of the box is quite a feat for Intel. The performance boost also comes with a rise in the TDP to 88W, however.
The main selling point besides the high clocks of the Devil's Canyon chips is that K moniker indicating an unlocked multiplier for easy overclocking. This is a chip that's aimed squarely at enthusiasts with all its features that are meant to dispel the notion that Intel cares not about this market niche. This is reflected in the use of a new Thermal Interface Material (TIM) for better heat transfer from the core to the lid. The previous Haswells had a material that forced many an enthusiast to delid their processor and change the TIM.

The processor boasts 4 cores with 8 threads which is not ideal from a gaming viewpoint given how few games are optimised to use Hyper-Threading and Multi core processors. While this scenario is changing, for the near future, the i5 variant of the Devil's Canyon has a slight advantage in this area for the near future. The IGP that is built into the Devil's Canyon die is the new HD 4600 that goes to a turbo frequency of 1250MHz, which is an improvement of about a 100MHz over the older HD 4000 in the i7-4770K. However, performance is still comparable to an entry level discrete GPU and as such it is more suited to video rendering and transcoding tasks than gaming.
The i7-4790K launched in June 2014 with a price tag of $339 which translates to ~₹20,100 but the prices at online retailers start upwards of ₹23,500.
Build Quality
As mentioned Earlier, Intel has re-engineered the chip to have better thermal performance. This has allowed them to push the base clock to 4GHz. The new TIM is labelled as Next Generation Polymer Thermal Interface Material, which is quite a mouthful and has the rather unappealing abbreviation of NGPTIM. The Socket 1150 compatibility means that all the pins rest on the motherboard and the chip has a rather flat bottom. This socket comes with the Enthusiast Z97 chipset or the HTPC centric H97 chipset, although motherboards with older Z87 and H87 chipsets can support this chip too. The fabrication process is the 22nm one seen in earlier Ivy Bridge chips.
Testing Methodology
Our approach to testing any hardware product is from a practical and everyday usage scenario with emphasis on gaming. In that sense, we focussed more on the gaming performance of the CPU than its performance in other CPU intensive applications. We used Fraps 3.5.9 for benchmarking.
Test System:
Motherboard: Asus Maximus VII Hero
CPU Cooler: Zalman CNPS-10X Performa (Air Cooler)
Thermal Paste: Arctic Silver 5
RAM: 2x4GB G.Skill Sniper CL9 1600MHz, 2x2GB G.Skill Ripjaws CL9 1600MHz
GPU: Asus Matrix GTX 780 Ti (Top End Settings), HIS R9 270 iPower IceQ X2 (Mid-Range Settings)
PSU: Corsair TX650 650W
HDD: 2xSeagate Barracuda 7200.12 1TB, 1xWesten Digital Red 3TB
OS: Windows 8.1 x64
NVIDIA Driver: 340.43 (Beta Driver)
AMD Driver: 14.6 Beta (Beta Driver)
We were provided an engineering sample by Intel and as is the case with these things, the overclocking performance may vary from the retail samples. All HDDs were thoroughly defragmented prior to usage. Due to lack of equipment we were unable to conduct power testing. All game tests conducted at 1920×1080.
PCMark 8
PCMark is a comprehensive benchmarking solution for the testing of the entire system. We used the Creative Conventional Test that benchmarks performance in web browsing, video playback, video editing, video conversion, music conversion, image editing, video chatting and mainstream gaming. These are similar applications to what one might expect of a gaming PC. The benchmark runs these tests in three passes for each and most tests run in windowed mode.


As we can see from the graphs, the GPU isn't really stressed by these tests while the cup is stressed periodically and made to perform at the boost clock. The tests rate the package as one of the top results in the world for its configuration type (Single CPU, Single GPU).
wPrime
wPrime is a multithreaded benchmark that tests the processor's performance by calculating square roots with a recursive call of Newton's method for estimating functions. We ran both the 32M and 1024M tests. The benchmark has been developed to give consistent results across threaded processors.


The benchmark scores seem to compete with overclocked i7-4770k processors but are easily trumped by extremely overclocked i7-3xxx series processors and server chips.
Handbrake
Handbrake is a free open source video conversion utility that stresses the CPU to convert videos from one format to another. While GPU transcoding is faster, it is interesting to see how well the CPU can handle this stressful activity.
For our tests we recorded a sample video while running a Game with Fraps to get a raw video dump. The following are the details of our testing.
Sample video size – 3.66GB
Converted Size – 93.6MB
Length -1:27
Time for conversion – 2:19
This result is pretty impressive and shows just how powerful the processor is.
3DMark Firestrike
3D Mark is a graphics focused benchmark that also tests the physics performance of the CPU. It is more relevant to evaluate the game performance of the system as a whole. We ran the benchmark with both a top end card and a mid-range card to better get an idea of CPU performance.
One should pay close attention to the Physics score for both the cards. It's indicative of the processor's power and this effect can also be seen in the combined test.
Game Benchmarks
Games Tested (Links lead to our game reviews):
Battlefield 4
Bioshock: Infinite
Company of Heroes 2
Crysis 3
Far Cry 3
GRID 2
Sleeping Dogs
Thief (2014)
Tomb Raider
Total War: Rome II
Game performance is of utmost interest to us and for this purpose we ran our entire battery of GPU tests to gauge the impact of the CPU. All games were benchmarked using a top end GPU and a mid-range GPU with corresponding settings that you can find in our linked reviews of the same.
When we compared the results to our review benchmarks using the ageing AMD Phenom II x4, we found improvements in all criteria for all the games tested except Crysis 3. It seems performance in Crysis 3 is highly dependent on the GPU when using the highest settings, making it a reliable benchmark for GPU capabilities. Another observation not easily seen in the charts here was a marked improvement in frametimes especially in CPU heavy games like Company of Heroes and Total War: Rome II with a much narrower range of fluctuations in the graph. That leads us to the conclusion that when considering within the second testing that shows evidence of microstuttering one must also consider the other bottlenecks in performance such as the CPU and the storage. However when one knows the cause of repeated spikes in the graph, one can still find deviations from the norm.
CPU heavy games should benefit from the performance potential of the i7-4790k provided they can utilise its multiple cores and threads. The improvement in other games is marginal at best and might only be of importance to those that want the best possible visuals they can get.
Power Consumption

The processor has a TDP of 88W and a stock voltage of 1.4V. The TDP is higher than its predecessors to allow for the 4GHz base clock and the 4.4GHz Boost clock. Our PC Mark and 3D Mark tests report a power draw of about 7W however while the tests were running.
Temperatures
The CPU comes with a new TIM as we have mentioned previously. The idle temperatures hover around 36°C with an ambient temperature of 30°C. On heavy usage with a custom air cooler they can go as high as 75°C. Overclocking can push these above 80°C and Intel recommends a safe threshold of 90°C. Given the already higher base clock one must conclude that the new TIM is indeed performing better than the old one.
Overclocking
We are testing an Engineering Sample from Intel which has been known to overclock slightly less than the chips available in Retail. Overclocking a processor is not simply about bumping the multiplier, rather it involves making changes to multiple parameters that need support from your other PC components such as the motherboard and the RAM. Note that the processor has a boost clock that automatically bumps it up to 4.4GHz, a 10%overclock, when it can and our tests were conducted with this enabled. We allowed the motherboard to automatically overclock the chip and it suggested a stable overclock of roughly 4.5 GHz (12% overclock). In our manual overclocking we were able to push the unlocked multiplier to 4.6 GHz (15% overclock) without tweaking the voltage. There have been reports of this chip hitting 4.9 GHz (~22% overclock) on air but our engineering sample wasn't very compliant.
Conclusion
The Devil's Canyon is Intel's first consumer chip with an out of the box base clock of 4 GHz sweetened by the overclocking potential an unlocked multiplier offers. However it is not going to show huge overclocking gains without support from a good cooling arrangement and quality system components to support it.
The cost of the processor is on the higher side but its performance is well worth the upgrade. The use of the older socket 1150 for the chip means that it will not entail additional costs in the form of a new motherboard which further adds to its value.
The chip performs superbly in CPU heavy games and also shows minor gains overall. The high base clock also helps boost single threaded performance though games not supporting hyper threading will stumble to use the chip's full power.
Due to its performance we award this chip our iLL Gaming Gold and Editor's Pick Awards.
We are grateful to Intel and Asus for providing us the CPU and Motherboard respectively for review. We are also grateful to Asus and HIS for the GPUs.
What's iLL
+4 GHz clock speed for all four cores
+Fits in earlier socket 1150 boards
+Improved thermal dissipation
+Unlocked multiplier for easy overclocking
What's Not
-Higher base clock reduces margin for overclocking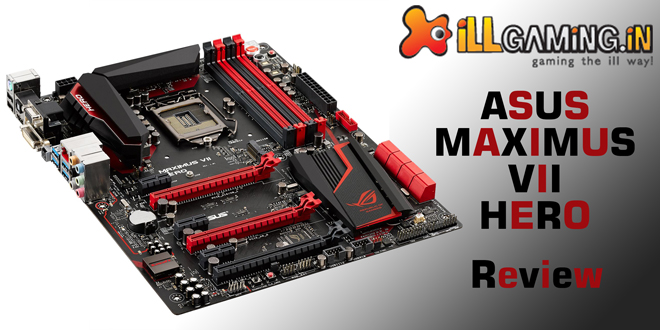 Hero. Would anyone really consider a motherboard to be one? After all it's a component that does its work in the background while the other parts it connects hog the performance limelight. Asus [...]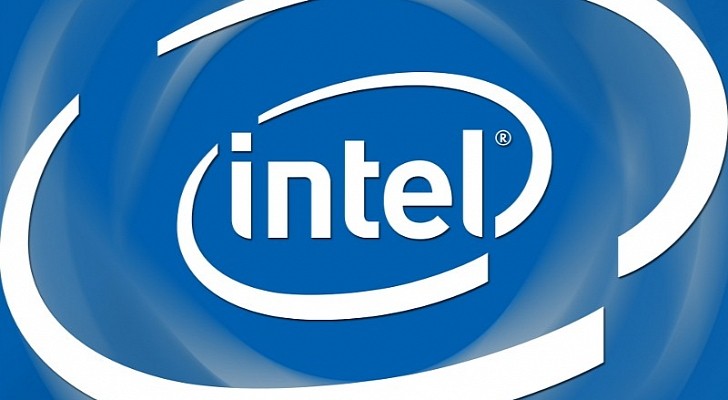 Desktop PC sales have been declining over the past few years prompting many to proclaim the death of the PC. What these people ignore is the fact that Enthusiast PC sales have been growing over [...]