There's just way too much smartphone talk going around, at all times. Everybody wants to own one. An iPhone, a Nokia Lumia, a Blackberry, a Samsung Galaxy, etc. etc. An up-market smartphone is on every, if not all youth's wishlist. Sadly though, there is just not much innovation happening in this segment, and one does tend to tire of the extra hype such smartphones create. And since that is unavoidable, you learn to live with it.
Where the 'real' innovation and creativity is happening is the in low cost mobile phone segment, which is thriving in India. Most media outlets and tech journalists tend to overlook this segment, which is overshadowed by its 10x costlier smartphone segment. The Intex Player is one such phone. No, this is not a smartphone, so don't expect to be boasting Quad-core CPUs, high resolution displays and dedicated graphics processing. Heck, even Intex's official page doesn't care to speak of the specifications, talk about understatement. And don't even bother asking about the operation system. iOS and Android are too out of fashion anyway. This is a simple, no fuss, no frills, gaming phone. That means, its a phone, so you can make calls, receive calls, texts, store numbers, and obviously, play a SH*T load of games. By loads of games, what we really mean is the preloaded 1000 (yes, a THOUSAND) games that the Intex Player carries out of the box. And this phone costs Rs. 20,000. Resonable right? Sorry, my bad. It costs only Rs. 2790/-. Read on for a full detailed review.
Specifications
2.8-inch 65K TFT touch screen display
Dual SIM (GSM +GSM)
1.3 MP camera with video recording
 Audio player (MP3 and WAV) and Video player (25FPS, AVI, 3GP, MP4)
Bluetooth, USB
FM Radio with recording
Hindi and English language support
Expandable memory up to 16GB
 Smart dial and auto call record and battery manager
1200 mAh battery with upto 4 hours and up to 200 hours standby
Our review device came in white colour, but the Intex Player is also available in Black and Silver. It comes bundled with a 4GB microSD card. A Rs. 30,000 Blackberry wont even give you that.
Built to survive
The phone's exterior is majorly plastic, but it still feels surprisingly sturdy and solid to hold in your palm. Most importantly, there are no hinges, which is a common problem in cheap plastic phones. To further describe the feeling when holding the Intex Player, the best word that comes into my mind is 'robust'. The phone sits perfectly into your palm, thanks to its extremely handy size. Speaking in general terms, this is a very 'handy' phone, that is the vibe it carries.
There are 3 buttons and 4 directional soft keys only. On the topmost side of the phone, you have the standard 3.5mm headphone jack and a micro-USB charging slot. This makes it easily compatible with chargers of Blackberry and Samsung, and vice versa.
Because high-end camera phones are so mainstream
On the rear of the Player is a 1.3-mega pixel camera. This is just a generic camera that will take pictures but don't be expecting any desirable/usable ones. The camera is of the early 2000s era, maybe even worse. I remember the Sony Walkman W800 phone which came out in 2005, had a camera 5 folds better than the one the Player has. But this phone was never really made for taking pictures in the first place. The camera is just there, and to say the least, it takes pictures, that's all.
Handheld Heaven-ness
What makes the Intex Player a gaming device is the presence of two touch sensitive buttons called "A Key" and "B Key". These buttons are located right above the screen (near the Intex logo), on the upper corners of the screen. This allows you to hold the phone in landscape orientation and play games using the the buttons and the touch sensitive keys, as if it were a handheld gaming console like the PS-Vita or a Nintendo Gameboy. This is good thinking by the designers of this phone, as this adds comfort while playing games. Innovation is always found in places where you least expect it to be found. The Intex Player is one such device.
The screen is a 2.8 inch resistive display. While the resolution (240 X 320 pixels) might be a little on the low end side, it still performs rather well. The viewing angles are wide and the daytime outdoor visibility is flawless. Be sure to be missing out on no details whatsoever if you plan on using this phone under the sun in broad daylight. The resistive display also registers your touches with precision, and unregistered touches are seldom.
We use our own
The operating system on the Player is an Intex proprietary Java based OS. So no apps to tinker with, but that's okay really, this phone is not meant to be like all those other phones out there. It's different, it's special, and it knows that pretty well.
On the operational side, the OS does everything you'd expect an OS from this generation to do. You get an Android style notification bar too, and you have a choice of widgets which you can place on your homescreen. It works fairly well, there are no problems. Tinkering around with the phone I noticed how snappy it is. There are no delays and slowdowns. Geez, even some heavy Quad-core phones have slowdowns and delays, this one doesn't. Amazing.
…And to bring out gamer in you
Now coming to the point to talk about the USP of this phone, and why I decided to review it on the first place: Gaming. As mentioned before, the Player comes bundled with a thousand preloaded games. Now what games are these, you might ask? These games are not the ones you would spot on the Android or iOS app stores, no way. If you're looking for a Temple Run on an Angry Birds, move on, you won't find them here. These games are those classic 32-bit games that you played during the 90s. That was the era when the gaming industry was making a lot of headway, and I grew up playing such games on my Media Little Master console since I was 10 years old.
You'll find all the games you loved so much before: Contra, Pac-man, Super Mario Bros. For people who are new to gaming, these games are perfect to get you inducted into the awesome world of video gaming. Testing his device was a nostalgic experience for me and was a good trip down memory lane. Games like 1942, Adventure Island, Donkey Kong, Popeye, all games I spent countless hours on, and now I can re-experience the sheer awesomeness they are, even today. And they run flawlessly on the Intex Player. Part of the good experience when playing games is owed to the 2 touch sensitive keys, which give the device a very Gameboyish feel.
The story behind how the Intex Player actually managed to get these games preloaded is simple. The phone uses a 32-bit emulator which allows it run such games. That's simple yet smart thinking.
Conclusion
Overall, we have a real winner on our hands here. This is the sort of the phone that will be appreciated by purists. Your average smartphone buyer will not move past the specifications of this phone, but we suggest you definitely consider this phone if you're on the lookout for a new gaming phone. The success of this phone depends on how Intex markets this. This phone can do wonders if marketed well. Or maybe Intex is not aware itself of what a product they've created, with so much potential. The price is hands down un-friggin-believable. At Rs. 2790, you just can't go wrong with this. Most importantly, the Intex Player delivers on its Unique Selling Proposition of a "Gaming Phone". This phone bleeds gaming, and offers classic games that are enjoyable and addictive. It is snappy, can hold 2 sim-cards, and a 4GB microSD card comes bundled in the package. There's nothing more I could have asked for. A must buy for gamers and non-gamers alike.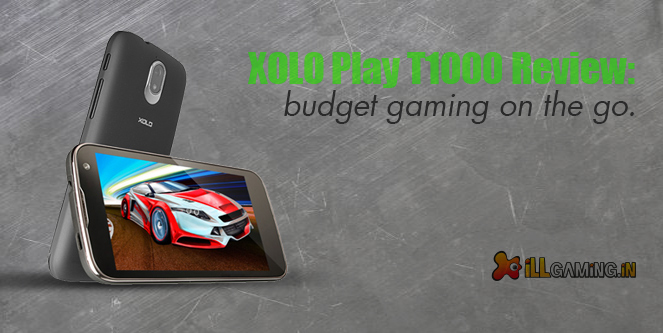 XOLO, a brand emerging as an initiative by Lava International to enter into the performance segment, shows a lot of promise. And this is in uncharted waters, as serious multimedia performance is [...]