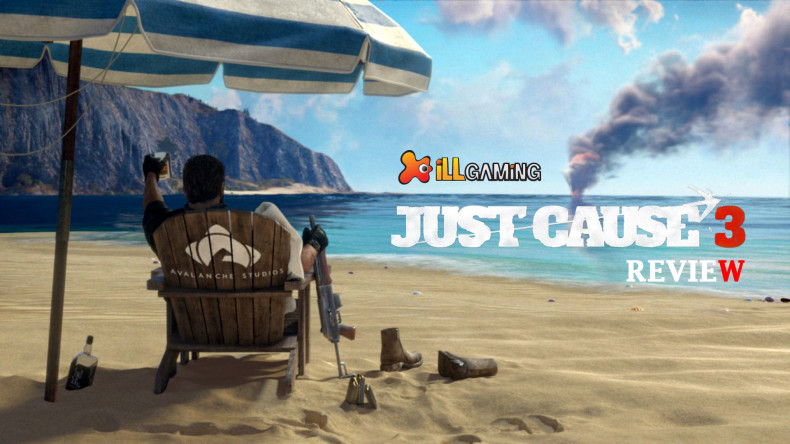 The iLL Fact Sheet
Item Reviewed
Just Cause 3
January 30, 2016
Developer
Avalanche Studios
Genre
Open World Action Adventure
Platform
PC (Reviewed), PS4, Xbox One
Release Date
December 1, 2015
Price
₹999/₹1499 (PC), ₹3599 (PS4, Xbox One)
An open world sandbox with plentiful opportunities for causing chaos does seem rather appealing as a video game. The first game that comes to mind from that description is likely one from the Just Cause franchise. However, add some restrictions to this sandbox and things suddenly start becoming more of a chore and less fun. This is precisely the problem with Just Cause 3.
Rico Rodriguez, our protagonist from the previous two games, is on a rather personal mission this time, trying to overthrow a dictator in his homeland of Medici. Medici is spread across a bunch of islands in the Mediterranean with some strong Italian influences on show in its architecture and the variety of vehicles that ply its roads. It is a more believable world map as compared to Panau from Just Cause 2 due to the limited number of biomes that can be seen across these islands, which also have consistency with their Mediterranean location.
Medici in Just Cause 3 is suffering under the rule of its ruthless dictator, General Sebastiano Di Ravello. The dictator wields the power of a new (fictional) metal called Bavarium that has enormous destructive potential and Medici is the only place where it can be found. The Agency is reluctant to dislodge the madman, but Rico is on a personal mission this time and he's making the plans. His childhood friend Mario Frigo is leading the rebellion against General Di Ravello and is assisted by the scientist Dimah al-Masri. Of course, Tom Sheldon is always around should Rico need some Agency assistance.
Just Cause 3 takes the established series formula of causing chaos through destruction of the objects marked in Red and ties it down to a bunch of areas that can be 'liberated' by destroying all the chaos objects within them. These areas can be large military bases, small military outposts or peaceful civilian settlements. Rico has an arsenal of Guns at his disposal as well as his trusty grappling hook and an unlimited supply of explosives. Adding a new twist to the gameplay are tethers, which use the power of the grappling hook to connect two objects to each other and pull them together. These enhancements can exponentially increase Rico's potential for causing simultaneous widespread chaos in Medici. By restricting the destructible objects to specific territories, the game world can get rather boring towards the mid to end game.
Rico's travel options have also increased in Just Cause 3 from road vehicles to boats and aircraft as well as his trusty grappling hook and unlimited parachute, to the new wingsuit flight mechanics. Unfortunately, the developers have decided that the wingsuit will be Rico's predominant means of travel, rather than leaving this choice to the players. This proves to be the biggest flaw in the sandbox, since Rico's land based travel options are rather drab as compared to aircraft and the wingsuit. The Wingsuit is easy to learn and hard to master, this being especially evident in the wingsuit challenge courses throughout Medici.
The gameplay in Just Cause 3 usually ends up with Rico trying to liberate an area by destroying all of its Chaos objects in whatever fashion the player likes and then trying to gain the maximum amount of gears in the events unlocked by liberating that area. Yes, it gets really repetitive if you follow that pattern. Why would you want to gain the maximum of five gears you might ask; the answer to that is the Mod system that unlocks enhancements to Rico's default abilities, some of which can block your progress in gaining gears till you unlock and activate them. Mods do bring some ease to the gameplay and can give Rico more options.
The unlocked Gear Events in Just Cause 3 vary from land, sea and air races, to destruction challenges, to wingsuit gliding skill challenges, to shooting skill challenges to something that can be described as terrorist car bombing training. There's also the physics based Bavarium gathering challenge that involves Rico driving around with a large ball tethered to the back of his vehicle that can attract rocks comprised of Bavarium that must then be deposited in a collector, all of which is compounded by the rigid body physics system of the game and the presence of immovable objects in the game world.
The main story missions are a diversion from the open world gameplay and some even comment on the repetitive nature of it. This makes you wonder if the developers saw the game's shortcomings themselves and didn't bother to alleviate them. The story takes place in three acts each of which will focus your actions to one of the game's three main regions. It is rather curious that Rico's own story mirrors the rise of the antagonist General Di Ravello himself in following this path from Insula Fonte to Insula Dracon to Insula Striate. The mission path at the end of each act feels quite similar since it is a build up to the climaxing liberation mission for the entire region. But the story does have its moments when a seemingly easy relaxing objective such as transporting a truckload of wind casks turns out to be a highly difficult challenge thanks to the Physics system and uneven terrain. And this mission comes after an action packed liberation mission where Rico rides a missile, of all things!
The three regions of Medici in Just Cause 3 are divided into smaller provinces with each region having a Centcom province that has a FOW guarding it. Disabling each FOW is a separate story mission. Each province has towns, outposts and military bases that Rico must liberate as well as various collectibles and events. Each of the regions has a unique geographical arrangement in the choice of Biomes. Insula Fonte has lush fields and dense forests with serene beaches. Insula Dracon is a rocky mass of massive cliffs and a network of caves. Insula Striate is a large landmass of alpine mountains and lakes with a rather desolated northern area bearing the scars of General Di Ravello's rise to power. Architecturally Medici's settlements comprise a contrast of multi-coloured villas from the Italian coastline to modern apartment complexes to imposingly brutish military installations. There are also Greek Ruins and spectacular medieval European Churches.
Just Cause 3 has an interesting selection of collectibles, including all civilian vehicles that Rico can fetch to one of Frigo's garages from the open world. Fetching can mean bringing a boat to an airbase of a plane to a seaport. As long as it's intact, it will be processed and available to Rico when he calls in a rebel drop. Some vehicles and weapons are only available by liberating military bases or by finishing certain story missions. Other collectibles include recorded tapes of General Di Ravello that chronicle his rise to power and offer a glimpse into the mind of the madman. There are also Daredevils Jumps that Rico can drive over and a collection of buried parts that can be completed to unlock some vintage weapons. Rico can also pay respects at ancient tombs as well as lighting a candle at shrines to fallen rebels. Note that these rebel shrines are usually located in a picturesque location of the game world and offer opportunities for a screenshot. Rico's proximity to collectibles is indicated by a sensor, though liberating a province will also display all locations therein on the game map.In order to make the world of Just Cause 3 more engaging, there are also random game world events such as assassinating military sympathisers, rescuing rebels or just helping the people out by doing mundane tasks like delivering a vehicle to another location or opening a stuck gate or towing a car to the nearest gas station. Doing these events unlocks beacon locations around the game world or sanctuary at the churches so Rico can hide and lose the heat he builds up by unleashing Chaos on Di Ravello's forces.
Besides the events that offer gears, the emphasis of Just Cause 3's movement system are the stunts that Rico can perform, and these are tracked as feats by the game. There are online leaderboards to track these though it serves more as a restrictive DRM system rather than a gameplay enhancement. The game will randomly pick your 'friends' from amongst the playerbase and show you their scores on the leaderboards. The problem with this is that there are frequent connection drops to the tracking server and the reconnection process ends up pausing the game and breaking the flow of gameplay. This is highly intrusive and asking the game to remain offline doesn't work painlessly either, as the game will try to reconnect once more when you pull up the map or start a new event. The only sure-fire way to be rid of this annoyance is to play the game completely offline, which defeats the purpose of the leaderboards system. Ironic that a game about battling the DRM (Di Ravello Militia) ends up being crippled by DRM.
The driving characteristics vary from vehicle to vehicle and also depend on the terrain. This can make driving in Just Cause 3 either really enjoyable or extremely frustrating depending on the vehicle and the terrain. It can also make for some fun gameplay on its own as you try to explore Medici in different vehicles that Rico finds. Race events usually have a predefined vehicle but Rico can choose to use one from amongst those he has collected. There is a difference between a vehicle collected from the open world and one acquired from an event or rebel drop though in that the latter have nitrous installed too.
Cutscenes are all rendered in-engine though some feel like missed gameplay opportunities. There are some stuttering issues when rendering cutscenes in Just Cause 3 on some GPUs. Some bugs are caused by the attempt at creating a living open world in that your ride for a Race Event may spawn right on top of a randomly generated civilian vehicle causing both to explode and forcing you to restart. The destruction of some chaos objects may also leave rigid skeletons and ghost lights at night time with the former causing vehicles to get trapped and the latter causing navigational confusion. The non-uniform rigidity of trees can also be confusing since some might be destructible while others will just cause a collision, either destroying the vehicle Rico is using or cutting off his wingsuit gliding.
Just Cause 3's gunplay is highly disappointing. The game has a hardcoded auto aim system that can't be turned off. It's highly annoying when firing a belt fed 'mounted' gun to have your shooting interrupted by a stray shot. Rico doesn't need any cover; the game instead advises flying around to improve survivability. Recoil on guns is cosmetic due to the auto aim and there's no bullet drop for sniper rifles. Strictly speaking, Rico is at his destructive best when flying a missile laden attack chopper whose only weakness is its low armour. Aircraft flight controls leave something to be desired, though thankfully these can be remapped.
Graphically speaking, at the highest settings Just Cause 3 looks quite beautiful. Medici's vistas can be breathtakingly gorgeous. On the lowest settings however, the game may not look all that appealing. The Soundtrack is mediocre and having the same music repeated for an event type can end up getting on your nerves. Vehicles do not have any radio which is curious given the military radio broadcasts once Rico liberates a base. Sound effects are pretty spot on though and the voice acting captures the Mediterranean accents perfectly. From a UI design perspective, a game like Just Cause 3 suffers a lot from the absence of a minimap, especially since Rico needs to constantly move from place to place and keep track of certain locations and objects in the map. This is tedious and breaks immersion to constantly have to bring up the map. It's also silly that the game will fast travel directly to the start point of an event but jettison Rico from a helicopter above a settlement, outpost or military base. The Wingsuit direction pointer also needs to be more prominent as it can get lost in the background in some areas. A speedometer would also be welcome while wingsuiting as would an altitude indicator, since both are crucial to a sustained and successful glide.
Just Cause 3 promises the freedom of widespread destruction and while it has the potential to hook you for a while, it suffers from a lot of poor development choices that end up restricting its freedoms and interrupting the fun. The repetitive nature of the game is a consequence of the size of its open world, but it is enhanced by the clubbing together of chaos objects into small areas. Fans of the franchise may not be disappointed, but newcomers won't be awed by Rico's latest adventure.
What's iLL
+Immense potential for causing chaos and destruction
+Gorgeous Explosions
+Great use of collectibles to build up backstory of antagonist
+Believable Open World
What's Not
-DRM is too annoying and breaks the flow of gameplay
-Repetitive Gameplay
-No Minimap
-Restrictive Travel options

Games the Shop had organised a midnight launch for Just Cause 3 and Rainbow Six Siege and your iLL correspondent attended to see what the hype was all about. There was palpable excitement, [...]