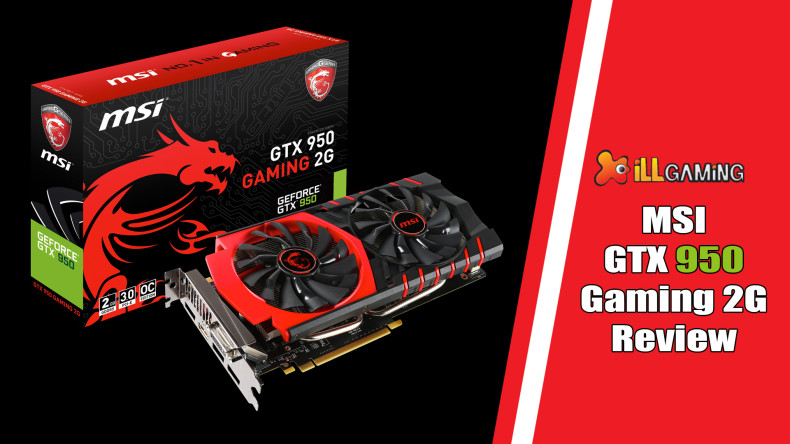 The iLL Fact Sheet
Item Reviewed
MSI GTX 950 Gaming 2G
September 11, 2015
Release Date
August 20, 2015
The NVIDIA GTX 750Ti and the GTX 750 was our first introduction to the new Maxwell architecture, despite being a midrange offering. NVIDIA then introduced all of the top end Maxwell card and has now come full circle with the second generation Maxwell Midrange offering, the GTX 950 which slots in neatly between the GTX 750Ti and the GTX 960.We looked earlier at the Asus offering and now we look at MSI's GTX 950 Gaming 2G.
Specification of the GTX 950 Gaming 2G

The card has a ROP count of 32 and comes with 2GB of Samsung GDDR5 VRAM. Core clock is set to 1127MHz (~10% over stock clocks) with boost clock at 1317MHz. The VRAM is clocked at an effective 6652MHz (~0.8% over stock).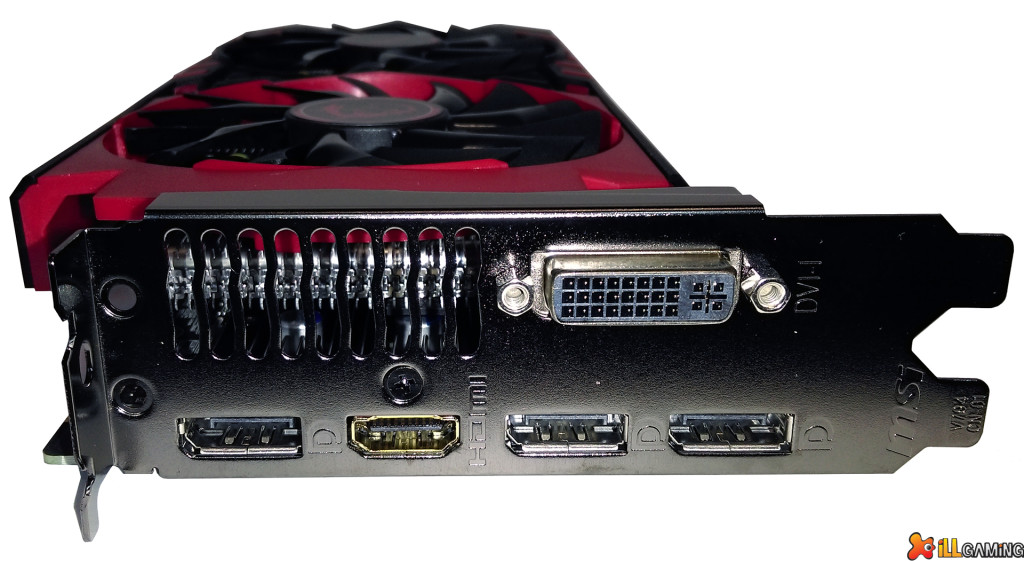 The rear panel of the card sports a DVI-D port, an HDMI port and three DisplayPort slot. There is a single SLI connector as well.
The launch price for the MSI GTX 950 Gaming 2G is ₹14,999 including taxes.
Build Quality and Packaging
The MSI GTX 960 Gaming 2G features MSI's Twin Frozr V cooling design. It has an aggressive look with its Red and Black colour scheme with a matte finish. The card is quite big with measured dimensions of 27cmx13.7cmx3.7cm, making it a chore to fit in smaller cases. The MSI proprietary TORX twin 10cm fans come with Zero Frozr technology which means they only begin operating once the GPU temperatures cross a thermal threshold of 60°C and shut down once the temperature drops below 50°C. This means the card will be silent in idle usage scenarios and the fans will have a longer life.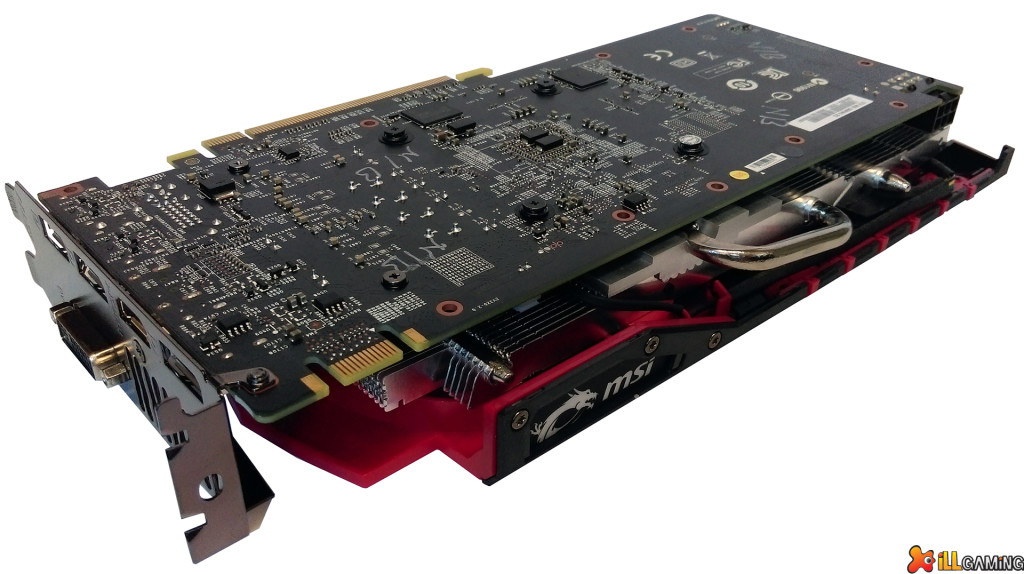 The PCB is also finished in matte black and features an anti-bending plate. The Card's height is slightly lesser than the 2 slots it occupies and is designed to reduce some of the issues with cooling in multi card SLI setups. There is no heat sheath covering the PCB though. The heatsink has a large copper base and multiple heatpipes using MSI's SuperSU pipe layout. There is a MSI Dragon LED on the side that can be turned off by just unplugging it or controlled through the GEForce Experience application. Due to the extra length of the card, there is a lot of blank space on the PCB. The cover above the heatsink feels a little flimsy when trying to insert or remove the card from the motherboard inside the case. MSI doesn't tout the quality of the components it uses on the PCB, but closer inspection reveals that they are indeed of high quality.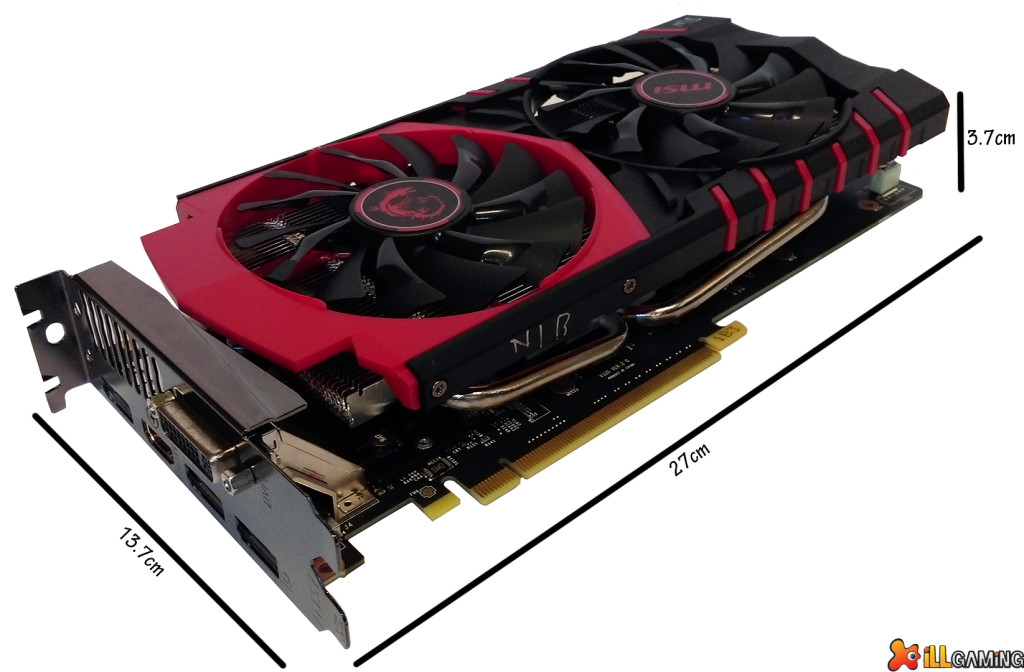 The GPU package comes with a quick start guide, a software DVD, an advertising booklet and a DVI to VGA adapter. All the Back slots get protective caps as do the pins on the PCB for the PCI-E slot and the SLI connector. The Disc does not contain the drivers though, instead asking the user to install the GeForce Experience application to download and install them. Sadly, MSI does not include a sticker to show off your purchase.
Testing Methodology
We tested the MSI GTX 950 Gaming 2G not only for the average Frames per Second(FPS) but also for the 99th Percentile Frame time which tells us about the performance of the GPU within the second. Within the Second testing is useful to understand micro-stutter which can render a game unplayable despite FPS being high. Fraps 3.5.99 allowed us to calculate both.
Since the card is a Mid-Range GPU, we decided to use medium settings in our benchmark games and compare with other Mid-Range GPUs. We tried to disable CPU dependent settings or minimise their impact where possible. VSync and frame buffering were disabled for testing. All tests were run at 1920×1080 on a single monitor configuration.
Test System:
CPU: Intel i7-4790k @4GHZ (4.4GHz Turbo)
Motherboard: Asus Maximus VII Hero
RAM: 2x8GB G.Skill TridentX 2666MHz 12-13-13-36
PSU: Corsair TX650 650W
SSD: Samsung 840 Evo 1TB (For OS and Benchmarks)
HDD: Seagate Barracuda 7200.12 1TB, Seagate Barracuda 2TB, 2xWesten Digital Red 3TB (Storage)
OS: Windows 8.1 x64
NVIDIA Driver: 355.65 Beta driver for GTX 950
AMD Driver: 15.20 custom Asus Beta driver
While this system may not look like a purpose built test rig, we decided to use a normal usage PC so as to better reflect real world scores of the card. The games were also tested with a few applications like Antivirus, Browser, VOIP tool and others running in the background to get a realistic usage scenario. All HDDs were thoroughly defragmented prior to usage and SSDs were optimised for maximum performance. Due to lack of equipment, we were unable to conduct acoustic and power testing. Since this is a new test rig, we are lacking a comparative benchmark database for it, as it will be built up as we get more cards for testing.
3DMark Firestrike
3Dmark is an artificial Benchmarking tool whose Firestrike Test is very thorough on DirectX 11cards powering High-end PCs. The full test run for Firestrike includes 2 GPU only tests, a CPU dependent Physics Test and a Combined Graphics and Physics Test. The Tool is also useful for stress testing a GPU when run on loop.

Given that we are looking for the Performance of the Card itself, one should look at the Graphics score and the FPS for Graphics tests 1 and 2. The Physics and Combined tests are CPU dependent, which is the limiting factor of our test rig. We noticed that 3DMark suffers from a bug with AMD GPUs such that it runs the test at a lower clock speed (925Mhz in this case) which leads to a lower than expected score.

Game Benchmarks
Company of Heroes 2
Relic's Company of Heroes 2 is a tough nut to crack for quite a few GPUs, though it's dependent on CPUs to a great degree as well. We used Medium Settings with Physics turned off and Low AA for the short 45s benchmark run the game offers.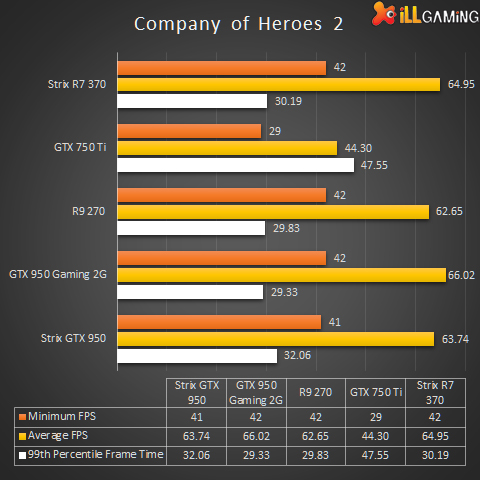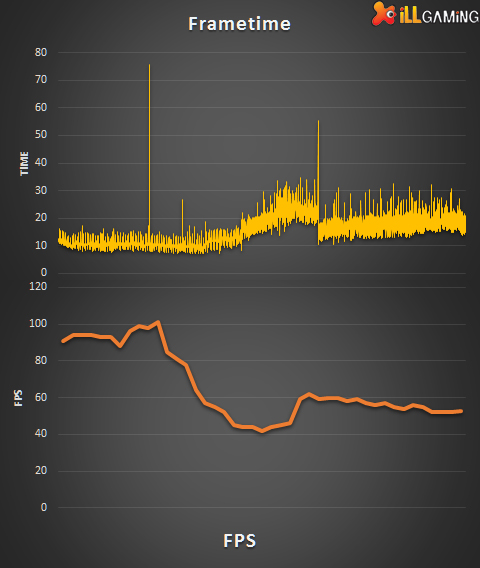 GRID Autosport
GRID Autosport is the next game in the GRID series from Codemasters that has specific effects reserved for Intel GPUs, which makes it great to judge the performance of NVIDIA and AMD cards as it provides an even playing field. We used the highest settings and used game's benchmark in a 2 minute run.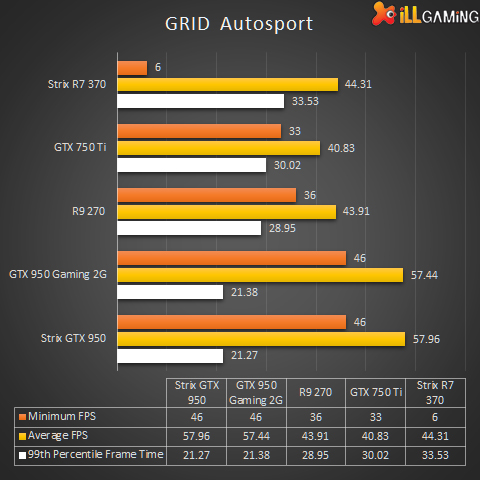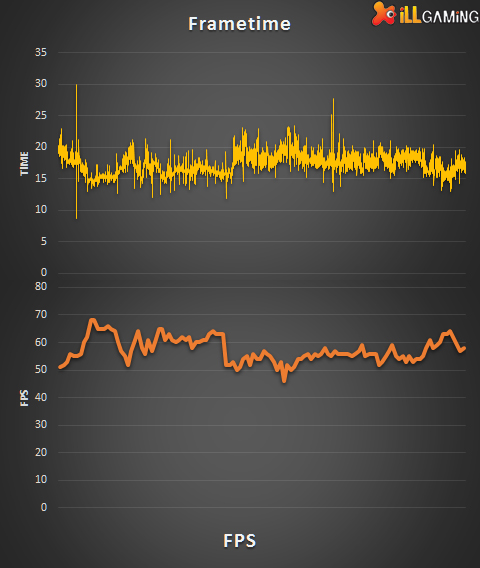 Metro Last Light Redux
4A Games have really cranked up the eye candy in Metro Last Light, and the Redux version comes with even more improvements to visuals. The game looks beautiful in its cramped corridors as well as its open outdoor environments and cranking up the settings can easily bring a GPU to its knees in the menu screen itself. We used the High settings where available except for SSAA that was turned off. The game has no inbuilt benchmark, so we chose a particular area to conduct out tests run in for a time of 2 minutes.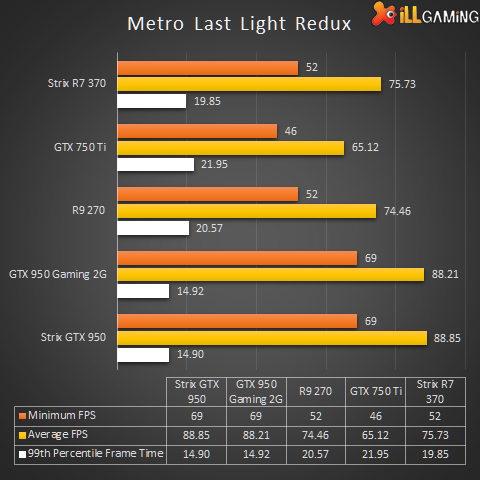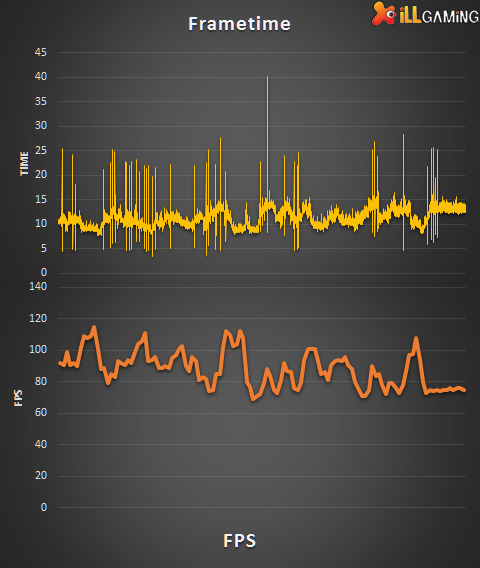 Middle-earth: Shadow of Mordor
Monolith have used some fancy effects to add some visual appeal to the dreary land of Mordor. Shadow of Mordor also uses PhysX for particle effects. The rain though doesn't quite look natural and the game requires up to 6GB VRAM for using its Ultra HD textures. Curiously, it scales the game based on the screen's natural resolution instead of offering resolution options. We used the very high settings for the inbuilt benchmark, which runs for less than the standard 2 minutes of our other benchmarks.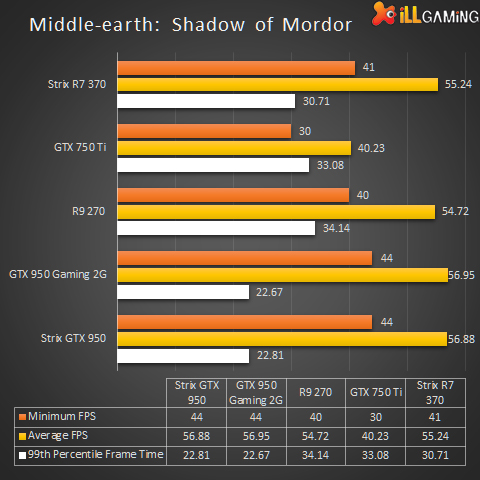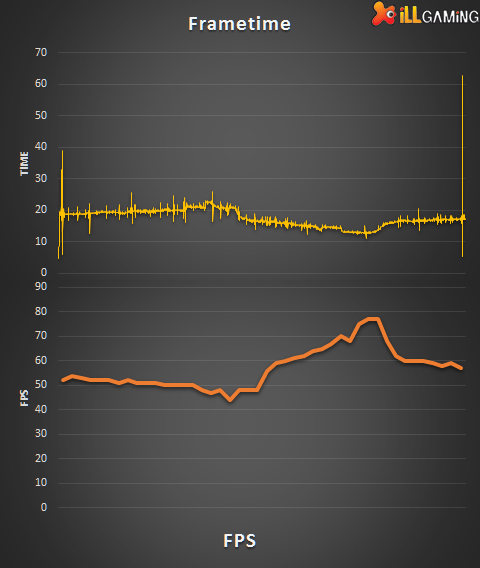 Ryse: Son of Rome
Ryse pushes the newest iteration of the CryEngine to its limits as claimed by Crytek on the PC. It doesn't have a benchmark mode, so we ran a fixed scenario for 2 minutes. The settings were set to the normal with SSAA off. This game scales the game as per the resolution of the screen instead of offering resolution options.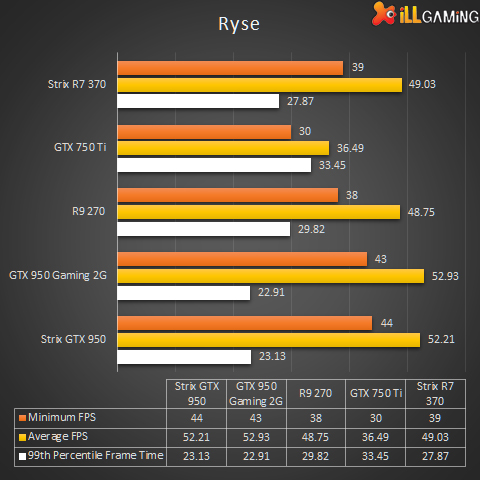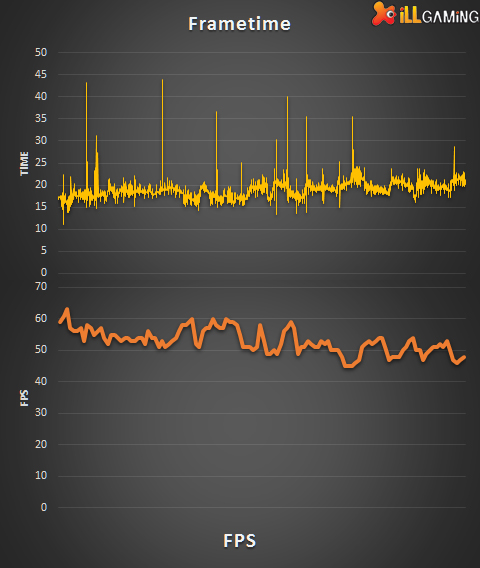 Thief (2014)
Thief (2014) is a game that boasts support for AMD's Mantle and its TrueAudio tech. It is a graphical showcase and has a built in benchmark, though the run time is less than our standard 2 minutes. We set all settings to High with AF set to 16x.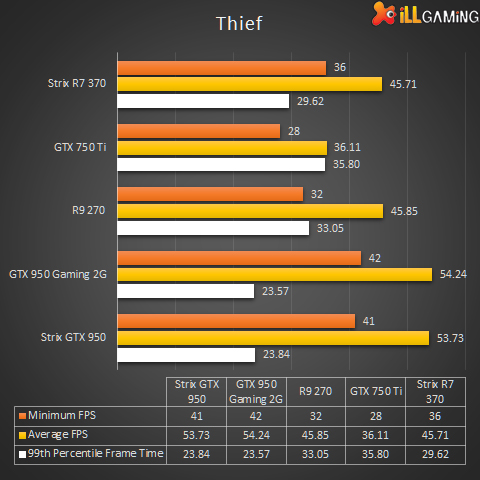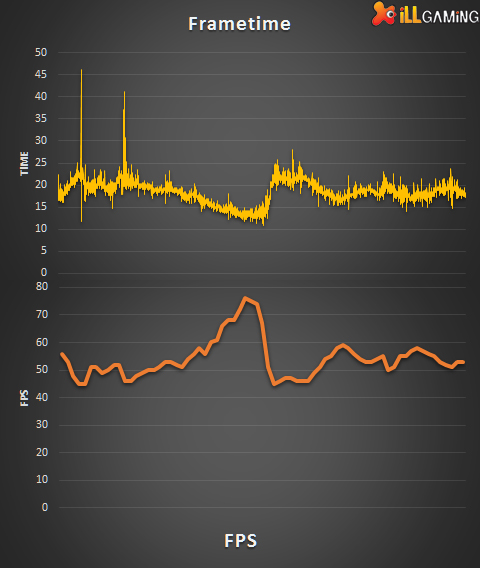 Tomb Raider (2013)
Tomb Raider (2013) introduced us to a new Lara with fabled TressFX hair that behaves a lot more realistically than the pre-rendered mop we were used to. However, the card does not seem to cope well with this technology and we had to drop it in our test run. We used Ultra settings with TressFX off. The Test run was shorter since the benchmark tool offered by the game runs for less than out 120s target time.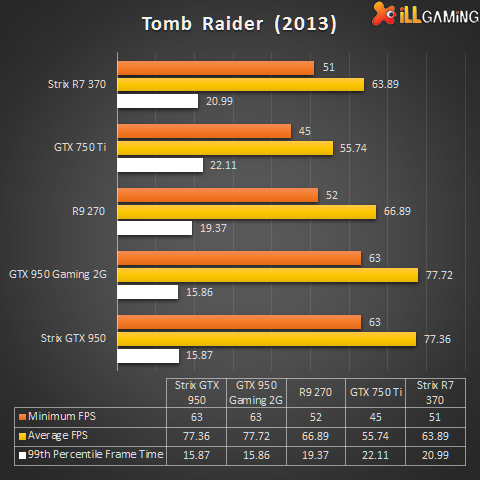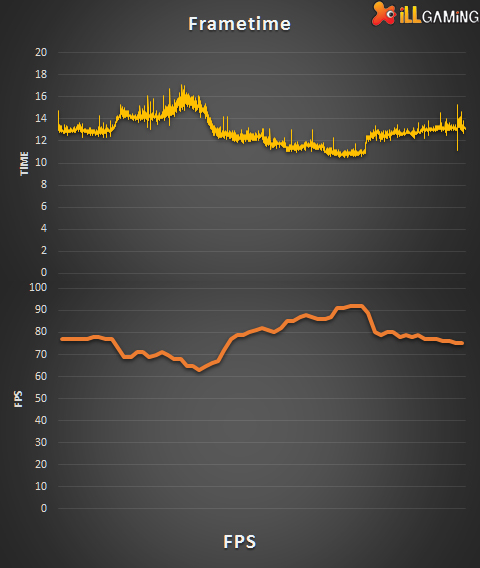 Total War: Rome II
Total War: Rome II is another CPU heavy game that offers significant visual goodness. It offers a benchmark tool that focuses more on GPU power though and that is what we used for our test run of 120s. We set the game to Ultra and Unit Size to Small so as to reduce the impact of the CPU. Unlimited Video Memory was off so the game could scale down visual settings if it reached a bottleneck.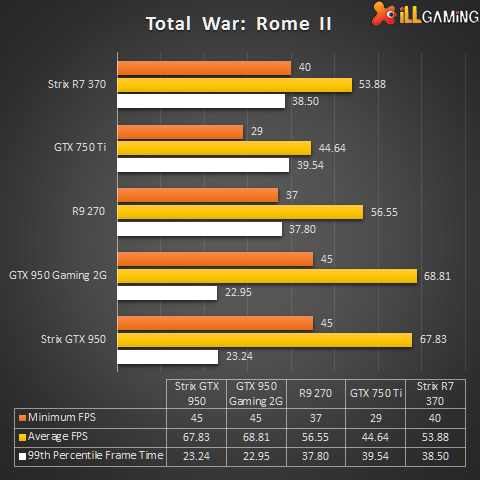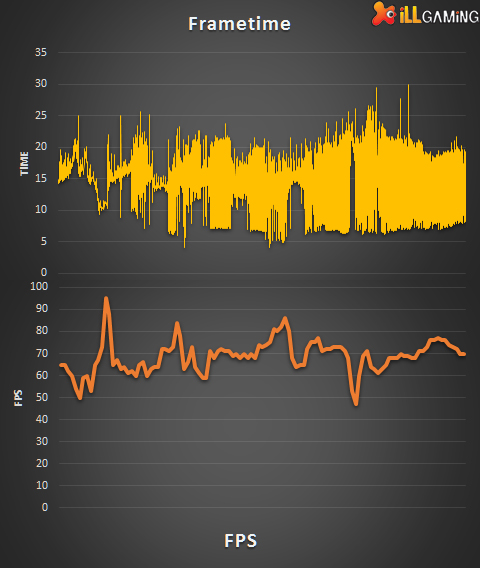 Acoustics
Our acoustics testing consisted of trying to determine how noticeable the noise output from the card was, when kept in a case at 1m distance with the side panel closed, as it might be in a real world scenario. Noise is a very relative characteristic that depends not only on the person hearing, but also on the background noise of their surroundings. During the course of our testing, we found that the card barely went over 50% fan speed even at full load, which was silent to our ears. The fans are very silent and inaudible over the rest of the case's fans even at 100%, which is just amazing.
Temperatures

At idle the card hovered in the 41°-43°C range with an ambient temperature of 30°C, which is quite warm, though one must note that this is under passive cooling with the fans stopped. The card barely breached 70°C and went to 71°C only when overclocked.
Power
The card comes with a single 6pin power connector and is rated at 90W TDP. The card requires a good PSU for overclocking. From a power efficiency perspective, NVIDIA's Maxwell design still remains unbeatable though the second generation does need a bit more power than just what is available from the PCIE slot.
Overclocking the MSI GTX 950 Gaming 2G

Using MSI Afterburner, we were able to push the core clock to 1287MHz with boost clock at 1477MHz and the Samsung VRAM chips to 1863MHz (7452MHz effective). This is a total overclock of about 14.2% over stock (25.7% over reference) for the core clock and about 12% for the VRAM (12.9% over reference). These are impressive figures for overclocking which were stabilised by increasing Power limit to 118%. All our tests however, were conducted in the stock configuration.

We tried to run 3DMark to verify if the overclock was showing any improvements but thanks to the previously mentioned bug, it would not run the card at the overclocked values.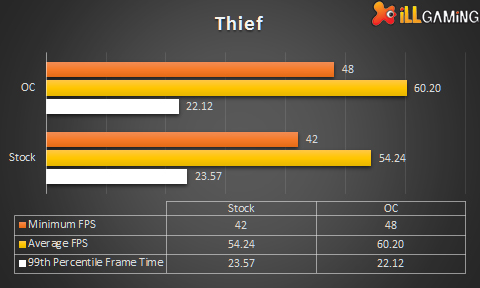 We also ran the benchmark offered by the game Thief to get a real world idea of the performance gains. We used the Very High settings for our runs that concluded in less time than our standard 120 second runs. One must note that Thief is slightly unreliable as a benchmark due to inconsistency in results across various runs. That said we got an improvement of about 5-6 fps on average with a lower 99th percentile frametime, which is quite excellent in this GPU segment.
Feature Set
MSI's Afterburner is a very useful overclocking and ingame performance monitoring utility. With NVIDIA's GeForce Experience, the card can support features like Shadowplay and game streaming. NVIDIA has also purposed this application for keeping its drivers up to date and ships only the installer for it with the GPU, expecting the consumer to download the latest driver.
Conclusion
With the GTX 950, NVIDIA have filled the missing niche in the market between the GTX 750 Ti and the GTX 960. In terms of performance this card sits between the two and easily beats offerings from rival AMD. The MSI GTX 950 Gaming 2G seems to be the better variant of this card as compared to the Asus Strix that we tested it against despite having a lower core clock.
The MSI GTX 950 Gaming 2G's Twin Frozr cooler might just be overkill for the chip given how well it restricted the temperatures to just 70°C under load. The fan design is really brilliant in its silence and cooling efficiency though it's a little hard to clean.
When it comes to power consumption, the Strix GTX 950 OC seems to need a tad more juice than the GTX 750 Ti and can't draw all its power from just the PCIE slot. However, it's price point is so close to the vastly superior GTX 960 that in makes more sense to go for the latter card by adding a couple of thousand rupees more. This means the Value for Money for this GPU takes quite a dive.
In terms of overclocking, the card proved quite willing to have its core clock boosted by 14% or 25% over the reference clock and the VRAM by 12%. These are excellent figures and the gains are substantial in this segment. Considering all its flaws and successes, we would like to award his with the iLLGaming Silver award.
We are extremely grateful to NVIDIA and MSI for providing us with a test sample for reviewing.
What's iLL
+Excellent cooling design
+Stellar Overclocking

The NVIDIA GTX 750Ti and the GTX 750 was our first introduction to the new Maxwell architecture, despite being a midrange offering. NVIDIA then introduced all of the top end Maxwell card and has [...]