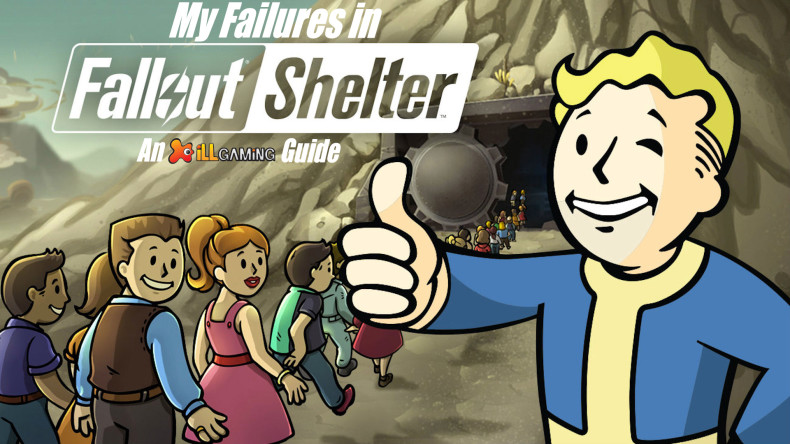 Fallout Shelter is perhaps one of the best video games to ever grace the mobile platform and at its core, it is a test of your management and planning skills. It is also a game of your failures simply because the only way to end the game is with the failure of your vault, or getting tired of managing it constantly and deleting the game. Fallout Shelter is free to play though you can pay for added conveniences. Of course, no amount of ingame caps or real world money can let you buy your way out of a disaster. Every vault you fail at will teach you something new, until you finally build something lasting.
I have been overseer for 4 vaults now and each has evolved to be planned better than the last. These are the stories of my failures and the lessons I learnt from them in the quest for the perfect Fallout Shelter Vault design.
The First Vault
This vault was quite short lived. It began with me blindly following the instructions of Fallout Shelter's tutorial. It didn't fail due to starvation or death of my dwellers but rather due to some poor planning decisions. I deleted it in a bid to start over. I had built single rooms next to each other and then deleted them to merge into bigger entities. I had also upgraded some rooms before merging them so some rooms didn't merge due to level difference. It could have been made to work, but I was unhappy with the wasteful expenditure and decided to start over.
Total time to Failure: 6hrs
Dweller count: 14
Lessons Learnt:
Planning your vault layout is important to save Caps in Fallout Shelter.
Merge rooms first, then upgrade them for minimal expenditure.
Each level has 2 lift slots and 8 single room slots that let you make 2 three-slot rooms and 1 two-slot room.
The Second Vault
This vault was running quite well for four days until it got its first Deathclaw attack. Having driven off many Raider attacks earlier in the vault door room itself, I was quite overconfident that the Deathclaws wouldn't be that much difficult to combat. It was this that led to my downfall. All it took was three Deathclaw attacks and my vault had lost enough dwellers to make it hard to get it functional again. This was the first true failure and it exposed some vulnerabilities in my planning in Fallout Shelter.
Early days in this vault had brought their own share of problems too. Foolishly, I had all 7 of my female dwellers become pregnant when my population was just 12. It was only after the babies were born that I realised that they were a burden on my vault's resources until they finally grew up to be functional adults, especially when I had so few adult dwellers to provide for them. While I had improved my vault layout from the previous one with properly merged 2 and 3 slot rooms, I had only opted for one central elevator system. I had also built rooms much earlier than I needed them and found that Energy was the most critical resource in a vault. I had also built a radio room to try to grow my dweller count to 100 when the final room unlocked, and to augment the population increase from breeding the dwellers. However, I had neglected to overprovision the resources and to maintain an emergency stockpile. I had also understood methods to maintain dweller happiness at 100% as well as one of the main drawbacks of investing in a radio room in the process.
I was able to fight back and recover from the first Deathclaw attack, though this left my resources critical. I had just begun to seriously train dwellers to improve their SPECIAL stats when it happened. I only had one dweller roaming the wasteland, though my radio room had attracted about 6 dwellers by then. I had also been trading tips and tricks with friends about Fallout Shelter and was seemingly doing much better than they were. I had also developed a system of keeping two of my best weapons unequipped so I could use them in whichever room had a Radroach or Molerat infestation, or for the Raider Attacks. The Deathclaw attack showed me that it wasn't enough. Just as I had got my vault back in shape with all resource bars filled, a second Deathclaw attack took place. I fought this off better than the first, but it left my resources critically near the requirement. It also drained my caps trying to revive fallen dwellers and then trying to get the vault 100% happy again. I decided to let the vault cooldown before I rushed rooms again and neglected to fill up my resource bars until the next time I played. This was to be fatal as the next time resulted in an immediate Deathclaw attack, which was defeated, but at too great a cost. Many dwellers lay dead and all the resources were in the red. There weren't enough caps to revive everyone, and not all room rushes were successful, causing even more misery. The situation was really unbearable to recover from and sadly, I decided to delete this vault and start afresh.
Total time to failure: ~5 days
Dweller Count: 77
Lessons Learnt:
Fear the Deathclaw attacks in Fallout Shelter. Plan your vault to counter them from the outset.
You need to have two elevator lines so that Deathclaws only visit a room once. Your touchscreen should also be very responsive for quick reaction during an attack.
Arm every dweller in your vault with weapons getting weaker the further you go from the vault entrance. Also, equip them in outfits suitable to their role.
Your strongest weapons should be given to your dwellers whom you send out to roam the wasteland. Keep two of your second best weapons unassigned to any dweller for fighting off incidents inside the vault and assign them as needed.
Training your dwellers is important to increase efficiency of your vault. Start training as early as possible and focus on resource room requirements first.
Maintain an abundant stock of resources and do not let the required resources exceed 50% of the length of the bar. Always fill up the resource bar completely before exiting Fallout Shelter.
Having 100% happy dwellers provides a production boost, so try to achieve this. You cannot affect happiness of dwellers in the Wasteland so send them out after they reach 100% happiness. Dwellers start at 50% happiness by default and it automatically rises to 75% once they start working in a resource production room.
A successful Room Rush adds 10% happiness to all dwellers assigned to it, while a failed rush deducts 10%. You can swap in dwellers into a room that has completed a successful rush so they benefit from the happiness boost or swap out dwellers from a room with a failed rush to preserve their happiness.
A couple that has mated will also have their happiness increase to 100%.
Dead dwellers in a room will quickly cause happiness to plummet to the low of 10% as will having dwellers low on health.
It's best to only have three pregnant female dwellers at a time since they do not help you in fighting incidents and three children dwellers wont strain the resources of your vault. Balancing new pregnancies with baby births is a good tactic to quickly grow the vault population as each pregnancy takes 3hrs to deliver a baby and each child takes another 3hrs to grow to adulthood.
You can minimise resources consumed by children by checking on the vault progress according to this 3hr time limit. This is also useful for checking on training progress of dwellers in Fallout Shelter.
Dwellers recognise their family and do not indulge in incest, so it's a good idea to keep track of which dwellers are related as father-daughter, mother-son and brother-sister to avoid wasting time trying to get them to mate.
Dwellers gain no experience in training rooms and won't level up, so it's best to balance levelling and training. Dwellers in the Radio Room also seem to suffer from this so it's best to assign high-level dwellers there. Removing a dweller from the radio room can decrease happiness of the entire vault by 1%, so take care when assigning a dweller to this room.
You'll eventually want to turn off the music, sounds, notifications and screenshot features.
The Third Vault
After the depression of failing a vault I was quite proud of in Fallout Shelter, I decided to start a third vault and follow my friend's advice in not having a radio room and going slow with expansion, while training my dwellers to face both the Deathclaws and the dangers of the wastelands. This vault was going quite well though I did identify quite a few flaws in design that would be costly to rectify.
The failure of this vault was entirely my own fault. It had been running perfectly fine having withstood 9 Deathclaw attacks and was poised to finally unlock all the rooms. And all it took was a few hours of ignoring the running game to kill off everyone within. Fallout Shelter was left running while the device was charging and resources were left uncollected, so they were allowed to dwindle down to nothing. Lack of enough food caused my dwellers to lose health to starvation, lack of enough water caused them to get massive amounts of radiation sickness and lack of enough power crippled the ability of my production rooms to function and produce more resources. Also, I had a lot more sick dwellers than I had RadAways and Stimpaks to heal with and overall happiness had dropped to a lowly 19%. I tried rushing a few rooms but even luck was not on my side and so I deleted another vault.
A friend had suggested that dwellers roaming the wastelands worked great when they had their Strength, Endurance and Luck maxed out. I had trained my dwellers in this fashion and found this to be true, since they were able to last longer and defeat more enemies with inferior guns, while collecting a handsome amount of Caps. I wanted to try what I would get with dwellers that had all their SPECIAL stats maxed out but the vault failed before I could do that. This would take weeks of training with a normal dweller given the training time to raise each stat to 10 from 1, even with a three slot fully upgraded training room filled to capacity in Fallout Shelter.
For the sake of efficiency, I had decided to replace my basic production rooms with the advanced versions unlocked later. While this worked well for the power rooms since the advanced room increases both production and storage capacity, it failed spectacularly for the food and water rooms. These rooms had the same storage capacity as their basic counterparts despite the increased production. They were costly to upgrade to the highest level as well and had caused a minor food and water crisis when I had replaced the rooms.
The multiple Deathclaw attacks, of which I had faced consecutive ones on two occasions, gave me a better insight into repulsing them. Deathclaws will drain your food as they move through your vault from left to right and back, so having two elevator lines will force them to only visit each room once. Since they move from room to room, it's a good idea to have multiple small rooms on your first level so that your vault door defenders armed with your second best guns and with Maximum Strength and Endurance stats as well as high level can keep dishing out damage throughout the level, moving with the Deathclaws. Defenders will also need healing so having a large supply of Stimpaks is essential. The lack of a Radio room proved that Deathclaw attacks were dependent on opening the Vault Door rather than any particular room.
Molerats are the other menace besides Raiders who drain your resources. It's best to minimise the time these attacks remain active. Molerats will quickly drain power wile Raiders drain all resources and Caps. Molerats will only attack a room that is connected to the dirt, though they may also appear in a power room that has failed a rush. Since no incidents happen in the elevators, having them at the ends of every level will force Molerats to only attack in the bottom-most rooms in Fallout Shelter.
Total time to failure: ~12 days
Dweller Count: 89
Lessons Learnt:
Incidents do no take place in elevators. So position them at the ends of your vault level to prevent Molerat attacks in rooms that would otherwise be connected to the soil. This will limit your room placement options though and require you to add three extra elevators on the second level of your vault.
Molerats drain power and power is the most critical resource, so it's beneficial to deal with Molerat attacks quickly.
While it is a good idea to replace basic power rooms with their advanced version for efficiency and storage capacity, this will not work with the food and water rooms or the Nuka Cola factory. Also, it's a good idea to gather enough funds to fully replace a 3-slot room as well as fully upgrade it, before attempting replacement.
Playing Fallout Shelter in small 5-10 minute sessions with a gap of an hour in between is a good balance of levelling progress and resource consumption.
Rushing a room can prevent Fallout Shelter from triggering its own incidents, so it's advisable to rush a room while performing critical activities like sending dwellers out to explore or collecting the loot from a returning dweller. Rushing a room also gives bonus experience, and the chance of the rush failing is dependent on both the primary stat of the room and the minimum Luck of all the dwellers working in it. Luck can be adjusted by changing attire and training.
The bigger the room and the higher its upgrade level, the more the severity of an incident within it. It will take longer to stop an incident in a fully upgraded three-slot room than it will in a single slot room without upgrades.
Higher-level dwellers will better survive an attack than lower level dwellers even if their SPECIAL stats are the same as are their weapons and outfit.
Deathclaw attacks depend on how often and how long your vault door stays open. Deathclaws drain food so overstocking on it is recommended.
Building one type of training room into a three slot room and then fully upgrading it and then training all the necessary dwellers in it is a better approach than having multiple low level training rooms. That way you don't waste resources and idle dwellers occupying multiple rooms that may not have the stats that are useful to your vault. The most important Stats that you should max out on each dweller are Strength, Endurance and Luck.
It's useful to have a basic single room to forcefully fail by multiple rushes if some objective needs it or to increase the happiness of a new dweller. Each rush increases the chances of failure of the next one by 10% up to a maximum of 90%.
The middle rooms of your vault should ideally be having low population for easy scrolling and to prevent accidentally reassigning dwellers in Fallout Shelter.
Your vault gets harder to manage as dweller count increases.
For maximising the loot collected from the wasteland, send out a dweller with Strength, Endurance and Luck maximised and levelled up to 50. Such a dweller will need a large amount of Stimpaks and RadAways to survive for long periods.
Keep a large stockpile of caps in case you need to replace or quickly upgrade rooms or revive a large number of dwellers.
Dwellers only get Radiation Damage if the water resource is in the red. Since that won't happen in a properly managed vault, there is no need to build too many RadAway production rooms
RadAway and Stimpak rooms do not increase in storage capacity with upgrades, so to increase capacity one must build more rooms. Try to have at least one Stimpak per dweller.
An outfit can increase the Special stats of a dweller even if they are already maxed out. This will be seen when you drag this dweller to suitable room that's already full. Do not stop training a dweller when their stats max out only in combination with the outfit specific bonus.
The Fourth Vault
With that, we come to my final vault in Fallout Shelter. Well it's technically the seventh vault since I had made and deleted three other test vaults. This is my current vault and it's been going well for 8 days now. It's the culmination of all the lessons from my previous vaults and the only reason it's likely to fail is when I eventually lose interest in Fallout Shelter and pause it until they release something new. This vault was planned from the outset to resist Deathclaws and to limit the number of rooms Molerats can attack. Stopping Raider assaults while also keeping all my dwellers busy was also an aim, which meant I needed a basic production room next to the vault door to house my two guards. I kept them unarmed too since I needed the second most powerful weapons in the inventory for incidents.
The dwelling rooms make the best unoccupied rooms and I alternated these with production rooms on the first level. On the second level, I had to adjust the position of the elevator by constructing three more. I decided to have three slot rooms next to the elevators and two slot rooms in the middle. Since I needed the rooms in the middle to be unoccupied these would likely be Storage rooms, Dwellings, RadAway and Stimpak rooms and the occasional production room. I also added a 3-slot power room every couple of levels on alternate sides. Rooms were expanded or upgraded only when the need arose.
I went slow with the expansion and focused on training dwellers as soon as the rooms unlocked first. This left me with a hefty cash reserve. I was also quite lucky to get three rare dwellers in the early lunchboxes the game drops. I always sent out two of the luckiest dwellers to the wasteland usually timing their exit and return to be together. I decided initially to only try fulfilling the objectives set by Fallout Shelter rather than building up the vault since the first few objectives are quite easy and usually reward Lunchboxes. This is perhaps the most fun phase of the vault since the rewards come quick.
Total time to failure: Unknown (Vault in progress)
Dweller Count: 47+
Lessons Learnt:
On starting a vault in Fallout Shelter, you will get at least two legendary weapons from either the wasteland or through lunchboxes. You will also get 12 dwellers immediately and get two more within the first 24 hours. You will also get one dweller each with a Strength, Agility or Perception stat of 5.
Molerats will start attacking after reaching 30 dwellers. Deathclaws after 60.
It's a good idea to skip objectives that do not fit in your current plan for your vault unless the reward is a lunchbox. You can skip one objective a day. Only attempt an objective if you can complete it within 48 hrs as they sometimes reset progress on the objective. Fallout Shelter also throws up some silly objectives like having bald dwellers in your vault.
A lunchbox will always have a rare or legendary drop on the fourth card, so if you get one before then, that was lucky.
Dwellers with low endurance receive more radiation damage in the Wasteland. Those with higher luck get more Caps and loot.
You can get away with building rooms just to expand storage capacity without having them actively producing resources.
It's a good idea to keep at least one dweller in every room or in a room neighbouring it to quickly fight incidents.
Since Fallout Shelter keeps running for a few minutes after you exit, rooms that take longer to complete production may not be ready to collect the next time you play Fallout Shelter.
If a bigger room is surrounded by a smaller room, move dwellers to that room after a failed rush to easily fight an incident without losing too much happiness.
Having someone with a high room stat and a high luck stats modified by an outfit rush a room successfully and then moving other dwellers into it is an effective tactic to increase vault happiness at minimal risk.
Outfit dwellers according to their intended role with priority to those working in production rooms before those in training.
That's about it for now. The Story of my fourth vault in Fallout Shelter shall continue as I play. The Second part can be found here.
Do you have any learning of your own from Fallout Shelter? Share them with us in the comments.
Both the Google Play Store and Apple's App Store are now home to literally billions of apps. Most of the times, and I'm sure many of us can relate to this, we get lost in the [...]

It is possible to play all games you desire on your smartphone and you needn't be worried about going deep into your pockets to a top-end phone. There are bunch of phones in the market that [...]

Time to test your IPL knowledge with Freehit Cricket Quiz – IPL. Reliance Games had a few many games to celebrate the ICC 2015 Cricket World Cup, including their tie-up with QuizTix to [...]