It is that time of the year. The compulsive patterns of Nvidia's GPU releasing schedule have struck again, with unfathomable precision. Don't take that as a bad thing. Our planet earth itself is nothing but a manifestation of compulsive patterns in the way it rotates around the sun, with unfathomable precision. Same goes for the entire universe.
Just like Nvidia did with the GTX 700 and GTX 900 series, first launching the GTX 760/960, 770/970 and 780/980 graphics cards (around July), and in roughly three months, launching the GTX 750/750 Ti and 950/950 Ti (around October) – they have done the same with the announcement of, wait for it, the GeForce GTX 1050 and the GTX 1050 Ti.
We predicted this pattern really well, we were almost waiting for that mail from Nvidia, inviting us to the Press Conference to spell out the finer details of these new launches. The time had arrived, and so did the mail. We couldn't have been more ready for it. Before we get to talking about the actual GPU, we would like to share some background and industry figures, as we absorbed from Nvidia's keynote.
The Growth of PC Gaming
Nvidia begins by talking about how PC gaming is enjoying a good spell at the moment. Their claims are supported by industry figures as shown in the charts below. Myself being majorly a PC gamer, I can vouch that this is a better time to be a PC gamer. Not saying that the past were worst times, they were great too. In comparison, the PC platform is a  more hot property for gamers and developers alike right now more than it was in the past 4-5 years.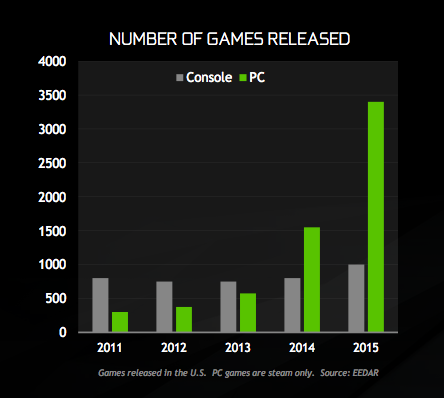 It would be unfair to say that consoles are losing relevance, but the sheer gaming proposition offered by PC is more attractive to the end user. Not to mention, with Windows 10 now kicking in full force, the Xbox One is the "one" heading into the irrelevant territory. I really can't say much about the future of Xbox, but the possibilities are super exciting. According to Nvidia, 52% of current developers are working on PC games, 28% on PS4 and 23% on Xbox One. These figures are an iteration of the eventual (?) loss of relevance of consoles. So far, to me, that seems like the bigger picture.
Esports is another segment that has grown massively, especially over the last three years. We all know how huge the Dota 2 International tournament is. In general, the Esports scene has grown a lot lately, this is also true for India.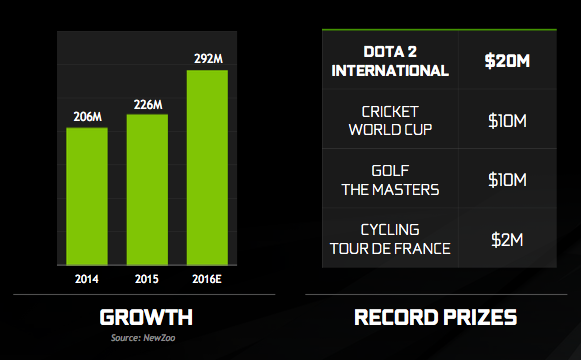 Nvidia confidently claims how GeForce GPUs are the most used graphics cards according to Steam. We verified this and this is true. More PCs use GeForce cards than other cards. According to Nvidia, GeForce GTX 1060, 1070 and 1080 are the fastest growing GPUs. Ofcourse they are, they're their latest generation.
GeForce GTX 1050 and GTX 1050 Ti
Now, let us get to the matter of the subject, i.e., the GeForce GTX 1050 and GTX 1050Ti. Here are the official specifications:
GeForce GTX 1050
GeForce GTX 1050 Ti
Graphics Processing Clusters
2
2
Streaming Multiprocessors
5
6
CUDA Cores (single precision)
640
768
Texture Units
40
48
ROP Units
32
32
Base Clock
1354 Mhz
1290 Mhz
Boost Clock
1455 Mhz
1392 Mhz
Memory Clock
3504 Mhz
3504 Mhz
Memory Data Rate
7 Gbps
7 Gbps
L2 Cache Size
1024K
1024K
Total Video Memory
2048 MB GDDR5
4096 MB GDDR5
Memory Interface
128-bit
128-bit
Total Memory Bandwidth
112 GB/s
112 GB/s
Texture Rate (Bilinear)
54.2 GigaTexels/sec
61.9 GigaTexels/sec
Fabrication Process
14 nm
14 nm
Transistor Count
3.3 Billion
3.3 Billion
Connectors
1 x DisplayPort
1 x HDMI
1 x Dual-Link DVI
1 x DisplayPort
1 x HDMI
1 x Dual-Link DVI
Form Factor
Dual Slot
Dual Slot
Power Connectors
None
None
Recommended Power Supply
300 Watts
300 Watts
Thermal Design Power (TDP)
75 Watts
75 Watts
We have compiled a comparison table of the GTX 1050 and GTX 1050 Ti against the previous generations, the graphics cards that it is replacing, and the Radeon RX 460, which the GTX 1050 directly competes against. This is going to be one hot battle.
Peak pixel fill rate
(Gpixels/s)
Peak bilinear filtering int8/fp16
(Gtexels/s)
Peak rasterization rate
(Gtris/s)
Peak shader arithmetic rate
(tflops)
Memory bandwidth
(GB/s)
GeForce GTX 1050
47
58/58
2.9
1.9
112
GeForce GTX 1050 Ti
45
67/67
2.8
2.1
112
GeForce GTX 750 Ti
17
43/43
1.1
1.4
86
GeForce GTX 950
24
57/57
2.4
1.8
106
GeForce GTX 960
38
75/75
2.4
2.4
112
Radeon RX 460
19
67/34
2.4
2.2
112
The GeForce GTX 750 Ti was one heck of a GPU when it launched. It was the de-facto go-to card for plug and play setups. It ran most games at Medium settings on 1080p, and ran the famous e-sports games at near 60 fps at playable framerates. That changed when the Polaris 11 chipset came along, in the name of the Radeon RX 460. The RX 460 offered massive performance in the sub ₹10,000 price range. Till today, Nvidia did not have an answer to AMD's Radeon RX 460, but now it does, and not just one answer, but two answers in the form of GTX 1050 and GTX 1050 Ti.
Both these new GPUs use a new Pascal chipset, the GP107. From the looks of the table above, we observe that the GP107's specs lie somewhere in between the GM107, which is used in the GTX 750 Ti and the GM206, used in the GTX 950 and GTX 960. Not only does the GP107 completely smokes away the GM206 in terms of sheer numbers, it fits in double transistors in a smaller die area. The GP107 chipset is fabricated on Samsung's 14nm process, the only Pascal chipset to do so. The other Pascal chipsets are fabricated in TSMC's 16nm FinFET process.
The GeForce GTX 1050 and GTX 1050 Ti won't require a power connector, and they have a power supply requirement of just 300 Watts. This comes as a boon to people who will want to upgrade their old readymade Dell/HP/Compaq PC. Most basic cabinets come with a 350 Watts power supply unit, and the GTX 1050 and GTX 1050 Ti will work just fine on them. One won't need to upgrade their PSU, which is a prerequisite when buying a graphics card in majority cases. The non-requirement of a power connector is as much a boon too, making these cards perfect that particular segment of buyers. We do suspect Nvidia's partners to throw in a fan or two on the chipsets, which will require a power connector nevertheless.
A noteworthy aspect of the GeForce GTX 1050 and GTX 1050 Ti is that there will be no Founders Edition. Nvidia is completely depending on its partners for this one. ASUS, Gigabyte, MSI, Galaxy, Zotac have already announced their variants. Gigabyte has announced eight variants of the GTX 1050 and GTX 1050 Ti!
Performance
Next, lets talk about the performance. This is in no way a secret. The GeForce GTX 1050 is directly aimed at the Radeon RX 460 2GB variant, and the GTX 1050 Ti wants to take a step ahead of the RX 460 4GB variant. This sub ₹10,000 card is aimed at gamers looking to play the latest games at medium to high settings at 60 frames per second. For the esports people who mainly play games like Dota 2, Overwatch, Rocket League, this segment of GPUs will enable you to play at maximum settings at 60fps.
According to Nvidia's claims, here are some performance numbers of massively played games on the GTX 1050.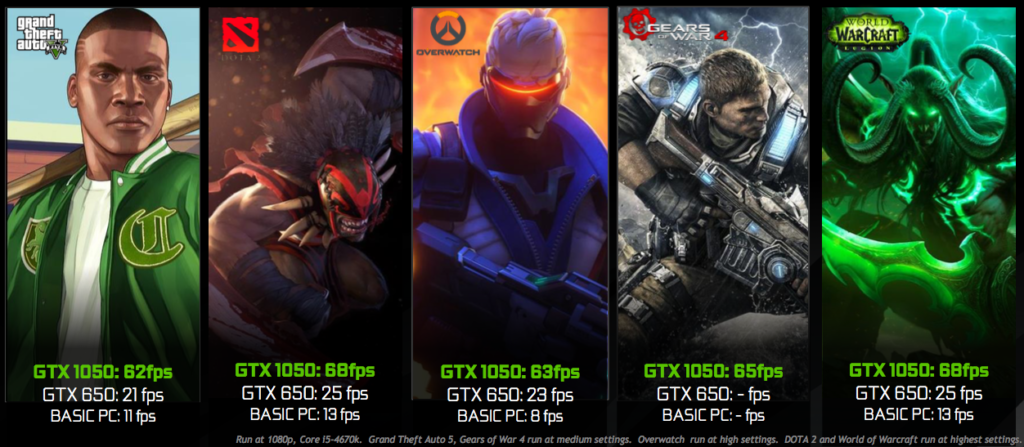 Curiously, Nvidia is comparing the GTX 1050 numbers to the GTX 650. We won't question their motives here, but a comparison with the GTX 750 would have given a better picture of the performance gain, considering the GTX 650 is an archiac three generation older card. People with GTX 650s have mostly upgraded to GTX 750 Ti or GTX 960. Anyway, having said that, 62fps on Medium Settings in GTA V isn't bad at all. We all know how demanding Gears of War 4 is, and the GTX 1050 is touted to run it at 65fps in medium settings. These claims showcase a great graphics card for the price. We can only verify these once we get the review units of various GTX 1050s.
Pricing and Availability
Now, to the factor that speaks the most in this segment of graphics cards. Price is the biggest factor for buyers of this segment no doubt. Nvidia has been quick enough to announce its India pricing along with the international pricing. In my experience, Nvidia is the only company that does this i.e. reveal Indian pricing along with international pricing.
The GeForce GTX 1050 will start at an MSRP of ₹10,000 (including taxes). The card will be available starting October 25th. The GeForce GTX 1050 Ti will start at an MSRP of ₹12,500 (including taxes). This one will start selling by mid-November.
Let us dwell deeper into the competition pricing. You can find 4GB Radeon RX 460s in the market starting at ₹8,500. This is a considerable 15% cheaper than the GTX 1050 and 30% cheaper than the GTX 1050 Ti. Well, AMD is still coming out on top with its pricing. The benefits of AMD's Polaris chipset with DirectX 12 and ASync Compute are well known among the gaming sphere too. Only testing the newly announced graphics card will allow us to dig deep in how these cards actually person. We are super curious and excited to see how the battle in the hottest segment of graphics cards will pan out. Till then, laters!

Introduction We have reached a time where running games in full settings are native 1080p and 1440p resolutions isn't a problem. The GeForce GTX 1080 and GTX 1070 are pretty well equipped [...]

Today, NVIDIA has announced the Watch_Dogs2 (Watch Dogs 2) bundle for GeForce GTX 1070 and GTX 1080 graphics cards. The offer begins on 22nd November and will last till the 19th of December. That [...]

We have another variant of the Pascal GTX 1060 now, the GALAX GeForce GTX 1060 "OC." The announcement was made today by Galax India's official arm. This isn't the [...]