The iLL Fact Sheet
Item Reviewed
Pro Evolution Soccer 2017
November 1, 2016
Platform
Playstation 3 and 4, Xbox One and 360, PC
Release Date
15th September 2016
Price
PS4/Xbox One -₹₹₹₹ ₹2999/-
PS3/Xbox 360 - ₹2499/-
PC - ₹999/-
Awards
iLLGaming Editor's Choice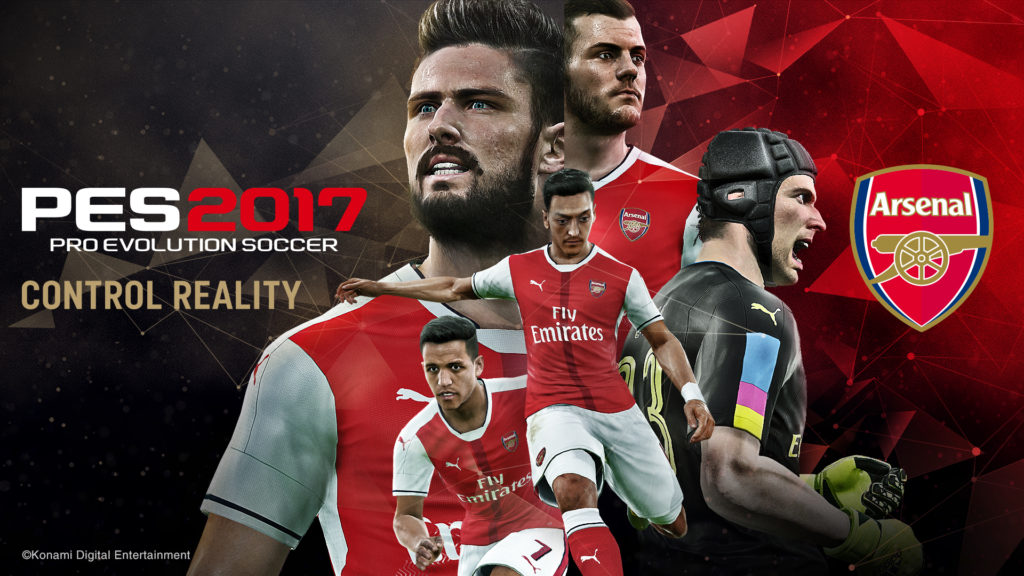 "The Sport is Ours."
The difference between FIFA and Pro Evolution Soccer is a fundamental one. While one focuses on delivering a near real football immersion, thanks to the official FIFA back pat and a myriad of associations, PES gains momentum amongst those who are only looking at realism through gameplay. That being said, this year's Pro Ev (that's how I like to say it) is notches above the one that released last year, but it comes with its own set of drawbacks as well. Let's get this kicking!
Pro Evolution Soccer 2017 is vast, vast enough for you to discover, because it barely holds your hand. A lot of big gameplay changes are evident right from the start; the attack for instance, feels more like poetic justice. Two of the most flamboyant passing teams from the Premier League – Arsenal and Liverpool gain official access to PES 2017, and there is a connection instantly. The passing feels more responsive, especially with players whose passing rate excels everything else. I am looking at Coutinho and Ozil, and a little bit of Aaron Ramsey, who plays the perfect Box-to-Box Midfielder in this edition of PES. With a couple of touches, Ozil/Coutinho can dash forward with a Giroud or Origi often acting as a decoy/target man. And in the blink of an eye you can witness a truly outstanding team goal that is scored out of sheer attacking momentum.
PES 2017 makes passing more agile and responsive, the team has even made the reflexive passes effortless at times. But a fantastic pass is a combination of three things – a natural passer's ball, the weight and direction of the pass and the receiver's ball control. If your team excels in all the three departments, and isn't a player who is in his fatigued state, 9/10 times you will complete the move set and score the goal. While jockeying is a thing that FIFA has polished and used as a piece of marketing over and over again, for PES it is the combination of these three. This gameplay difference adds an overall faster experience when you are actually playing PES 2017.
To counter such a moment, PES returns with a more robust focus on Defending. While the sudden player vs player clashes are frequent, try not to base your opinion only on those moments. The standing tackle animation is mostly the same across, unlike in FIFA, wherein even individual tackle and tacklers have unique animations. If one has to talk only about the difference in defending in the two games, FIFA can be called as the Skyrim of football games, while PES is the Dark Souls. Dumb tackles often end up as idiotic slide-ins and a straight red. That being said, PES stands out when you are absolutely sure when you need to tackle and just go for it. Again, tacklers who are master tacticians will try to slide out the ball from your feet, whereas defenders who are physically stronger will monitor you out of the lines with their shoulder pushes and blocking.
En route to harnessing the perfect football game that pits the best attackers with one of the strongest defenders, PES retouches its existing goalkeeper reflexes and makes the game all the more important while in front of the box. Previously goalkeepers like Buffon and De Gea would play god in front of the goal and despite your best attacks they would often block them away. With PES 2016, keepers fumble more in front of the goal and would also chip in that extra second reflex save to put the ball into the corner. There is also a chance of a distribution error if you are hurrying up to flick a cross on counter and score one in the dying moments of the match. As of today, I have started more games for Arsenal with Ospina leading my defense.
Where PES stands out as a commitment is its classic Master League, as it replenishes its presentation format and makes the immersion while off duty more FIFA-esque. Your players will talk about an upcoming match or a defeat more often to the media, your signings will stand out in the dailies and a glimpse of how intense the competition is will be available for you to read on the menu screen. Add an official UEFA Champions League and Europa League tournament to that roster and you have reasons enough to grind your way through the season. The budget and negotiations are even more realistic, that also stands for 'tough', as you pick and choose whom to buy instead of forming your dream team right in the second year of your FIFA 17 career. I reasons to take my Arsenal career to the next level with names such as Riyad Mahrez and Radja Nainggolan closing the gaps that resisted the team from being a great one. Nainggolan is an excellent passer of the ball, and he often sticks his feet out and gets a deadly ball out of the opponent's latches. Not to mention, Nainggolan also works like an engine, with rare injury concerns and will last you most of your first season. The FUT-esque PES Online League is more of a liability because the fraternity is so used to showcasing their teams to the other world and trading in on a real life scenario. While the mode is no different from FUT, it does have detailed search options that allows you to send out a scout to find you the perfect fix for a very decisive team loophole – for example: a tough tackler or a tireless midfielder.
Pro Evolution Soccer boasts of a central artificial intelligence in the game's engine that is adaptive and responsive to how you play as a team, and how each of your players play. No two games would have the same outcome, and if you dig your feet into the same tactics day in day out, rest assured even a Southampton will be upon your head one fine day, scrapping for 3 vital away points. This coupled with the dynamic weather system makes the game immersive beyond official logos and UI screens. The game also develops a display screen for you and your mates, that tells you how have you guys fared as per previous clashes. It also lists down what style of game do you both like to deploy against each other and who all are the star players from the last runs, and with what in-game skill percentage. It just adds up to the point wherein you and your friend would want to beat the s**t out of each other. Having said that, Football is a Beautiful Game.
Pro Evolution Soccer 2017 is a standout performance from a sport cameraman's perspective as it stimulates depth and intrigue in the way it captures the aftermath of a goal or a situation about to happen from the corner line. There are tunnel moments that stand out at the beginning of every match. There is intensity in the crowd SFX as it shuts down the otherwise mechanical commentary of Jim Beglin and the rest, who shouts more often than actually commentating about the game. The highlights reel follow the real action of the sequence, unlike FIFA. Even though the player movement with/without the ball in the game isn't that great to be called real.
The stadium licensing and the club licensing is still a bummer for PES 2017. As I had to wait out a long time before getting access to a club patch for a tad of realism. The unlisting of iconic teams like Real Madrid and Juventus adds fuel to the fire, as it became a real test for those who truly like La Liga and PES to stick by the decision. The online gameplay would suffer at times, and it totally put me off from reaching for the further accolades or grinding through modes that pit me into online matches. The confusing UI (especially on the Master League) made me question how one franchise (FIFA 17) could nail it while the other is still ignorant like an elite.
Overall, I had tons of fun in this year's Pro Evolution Soccer. Maybe not as much as an NBA 2K17 but very much close to the real tension of actually watching an Arsenal game. Because like all Premier League games from last year, especially the ones that Arsenal played, I felt like the game was controlling me more than me outwitting the game. Which in footballing terms, is a darn neat challenge.
This game was played on a ZOTAC GeForce GTX 980
What's iLL
+ Balanced Gameplay
+ Individual Analysis
+ Adaptive Engine/Dynamic Match Scenarios
+ More Pass Control
+ Player Models
+ Camera and overall DOP
+ Master League Realism
What's Not
- Online Crashes
- Licensing (Omission of Real Madrid and Juventus)
- Player vs Player Crashes
- Confusing Master League UI

For starters, I would have never envisioned playing Pokémon with Middle-earth orcs, but here I am in Middle-earth: Shadow of War, doing exactly just that. On my horizon is the fortress of [...]
Both the Google Play Store and Apple's App Store are now home to literally billions of apps. Most of the times, and I'm sure many of us can relate to this, we get lost in the [...]

"We've finally arrived." The highly touted reinterpretation of the smart city of Chicago became a marketing disaster, the ones that take anyone's attention to the rating screen. [...]