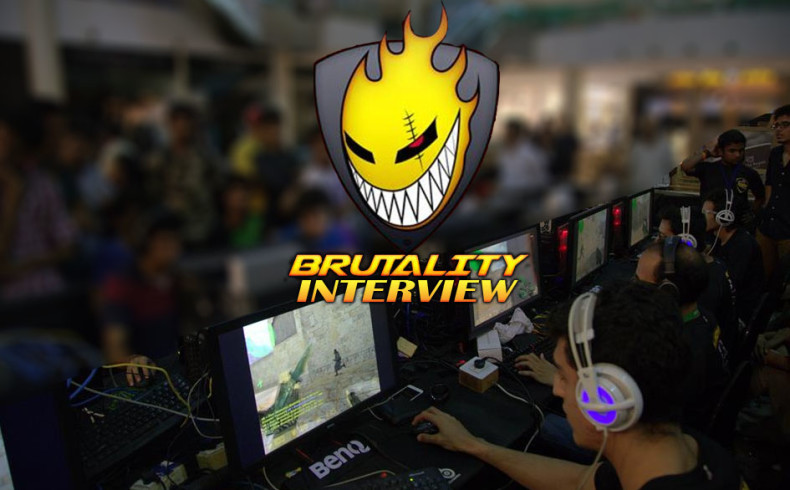 Electronic sports (commonly called E-sports) is one of the fast growing forms of entertainment. Just like any other sport, there is a huge audience who cheer as their favourite professional team takes the global stage to compete in tournaments. With broadband connectivity and local servers finally entering the roots of India, the "at-home" gaming audience is finally emerging out in various local competitions and events to showcase their gaming talents. The gaming industry is going mainstream like their physical counterparts. While for some the trend of professional gaming has just arrived, there are others who say it is already here.
We at iLLGaming took our questions about the Indian E-sports realm to someone who is right in the middle of Indian professional gaming scene, namely, "Team Brutality." Brutality is an Indian professional eSports team that is a registered team for CS:GO, Tekken and Need For Speed, Track Mania Series, Forza Mortor Sports and other games. Before we start however, introductions are in order.
The team was formed by a few aficionados of the multiplayer tactical shooter game Counter Strike: Global Offence. They gained formal recognition in 2010 as they beat the top players while at the LAN Championship in  Chitkara University (Chandigarh, India). Since then the team has grown to become a leading face in the CS:GO community in India with their reputation and stature preceding them. [pullquote]They aim to become one of the top teams in Asia and represent India and Asia both at the world stage.[/pullquote] Recently, they become the only team from India to qualify for the ESEA Season 19 Asia Pacific League where they will have to play against some top Asian giants in the next three months. You can track their matches from their profile page and on the ESEA site. Read more about the team members and list of awards on their Facebook page.
Currently the team is sponsored by five different brands: Gunnar Optiks, Antec, Zotac, Zion Ram and G2A.com. The team is in talks with a sixth International sponsor and would make a formal announcement in June.
The team members:
Administration:
Rohan 'Muse-[A]' Panth (Manager)
Sat 'Pwrfanatic' Mayekar (Marketing / Manager)
Apurva 'Thunderblade' More (Creative Head)
Anish 'Nemz' Nemlekar (Creative Team)
Shahnawaz 'KingdeviL' Sayyed (PR)
Contributors:
Siddhant 'iProphet' Mehra
Counter Strike : Global Offensive Squad:
Aakash 'RiX' More
Ankit 'V3nom' Panth (Captain)
Ayush 'astaRRR' Deora
Arun 'Kundya' Kandpal
Anand 'Petrichor' Shankar
Jay 'Foxy' Shah (Stand-in)
---
We talk with Ankit 'V3nom' Panth is the team captain for Team Brutality's CS:GO squad about the E-sports industry in India.
iLL: How did you guys start?
Ankit: Brutality was born in 2008. Me and Aakash 'RiX' More had a dream to build a team which could compete at the highest echelons of competitive gaming. We set out to do so with help from Sat 'Pwrfanatic' Mayekar, our current team manager and ex-professional racing genre champion, Shahnawaz 'KingdeviL' Sayyed, our PR rep and Apurva 'Thunderblade' More, the team's creative master. Our Counter Strike division struggled in the beginning, facing a lot of defeats. On the other hand, we had 'Pwrfanatic' who consistently topped the racing charts in India. Our Counter Strike squad started their winning streak in 2010 after they took over one of the biggest college LAN events in India named Chitkara where they took home 1,00,000 INR. Since then the team has evolved to become a leading symbol in the Indian E-sport community.
Q: What are your backgrounds?
I am a professional DJ and have my own business. Aakash 'RiX' More has his own business as well. Ayush 'astaRRRRR' Deora also has his own Import and Export firm. Arun 'Kundya' Kandpal is a freelance photographer and loves capturing nature in his 55mm Canon lenses. Anand 'Petrichor' Shankar has just returned from Dubai and works as a research and development engineer in an automotive company.
Sat 'Pwrfanatic' Mayekar works with India's leading game company, Express Interactive. Shahnawaz 'KingdeviL' Sayyed works with India's largest gym equipment manufacturer Jerai Fitness. Apurva 'Thunderblade' More has his own graphic design studio.
Q: Is E-sports a career choice for you?
Yes, and it could be for anyone who is willing to dedicate themselves to it. As with any other non-traditional option, there are risks to be taken and sacrifices to be made. Understanding how to maintain the balance is necessary to address other responsibilities.
Q: Do you think India is a suitable place to pursue E-sports as a career?
Absolutely. The E-sports scene here is just ripe to explode, as has been scene with many other industries. India, with its massive population and a large new generation of young minds keen on venturing outside the traditional boundaries trapping them, holds tremendous potential to become the largest market for most industries. Major e-sports organizations such as ESEA and ESL are just beginning to understand this.
[pullquote]We've ourselves witnessed a change in the mentality of our sponsors (Zotac, Antec , Gunnar Optiks, G2A.com and Zion Ram) who support us without any hiccups.[/pullquote] Perhaps it was our convincing skills, performance or our marketing style which was influencing gamers and they were noticing increase in their sales. It could eventually lead to a career option where Team Brutality members continue their career in such companies interested in growing E-sports in India. We certainly hope this message reaches brands invested in the gaming industry.
Q: What do your parents/peers think about your choice of career?
Our personal experiences have taught us to keep our grades at a safe level and present main stream new articles of the victorious tournaments so that your parents can brag about them. Problem solved. If you have a sibling, ask him/her to start playing to help the convincing process and have someone to practice against.
Q: Are corporates doing enough to promote Esports?
We have witnessed a fair amount of esport promotions by corporates over the years.
Last year we noticed MTS India and Nodwin gaming took a big step in the world of Esports by arranging a slot in ESL 2014 held in Cologne, Germany. Two of our team members represented India at the event and faced the world's then #1 CS: GO team, NIP GAMING.
Only a few days ago, our Tekken squad member who has represented India in several international tournaments noticed Express Interactive and the retailer Games The Shop had organized an Esport championship for Mortal Kombat X. The winner would take home 20,000 INR in cash, win a BenQ gaming monitor, and represent India at the Paris finals.
It's not just the corporates who needs to promote Esports. Gaming teams and the gaming community are just as responsible in the growth of Esports. There are many approaches to promote gaming in India and we'd love to help companies do so.
Q: What changes do you think the mentality in the country needs to make for a better Esports as a career environment?
Our society needs to understand the economic value of the gaming industry and the potential career choices that one can take after "retiring" as a professional player. Professional gaming has to be viewed as a potentially rewarding profession and that can only happen when money is poured into the industry. Viewership interest has to be developed by means of broadcasting tournaments regularly.
Q: Any last shoutouts you would like to give anyone?
We would like to thank our 5,853 BRUTALS for their love and support and all our sponsors Gunnar Optiks, Antec, Zotac, G2A and Zion Ram for investing in us. All of these guys have helped us be the brand we are today.
We would like to thank Team Brutality for talking to us and wish them all the best in their future tournaments.

The arena was prepared. The stage was set. The machines were ready. The fans were in. The casters cleared their throats. On a pleasant breezy Sunday in the IT city of Bengaluru, at the LXG [...]

In the dusky Bengaluru weather, the stage was set at The Lalit for an enticing Finale of the ASUS ROG Masters South Asia tournament, for Dota 2 and Counter Strike: GO. The teams were in, so were [...]

There's been buzz generating about something unique, something we've never seen happen before. In the gaming world at the least. Well, this is the world where all the crazy stuff happens in the [...]