India loves its superheroes, from the mighty Man of Steel to its own local specks of imagination, like Shaktimaan (The Almighty) and Doga (Dog-man). And when it comes to worshipping the legends of Marvel and DC Universe, the box office records of The Avengers and The Dark Knight will prove my point. Over the last 10 years, Hollywood movies, especially superhero franchises, found it extremely important to gain ground amongst the movie crazy audience in India. Be it in their branded content, sub-plotting (Mark Ruffalo shows up in The Avengers just a few kilometres off Calcutta, India) or musical associations. The Amazing Spiderman 1 may have failed to tempt me to book my seat for the first day show but the sequel showed sheer venom to soothe my soul. Mark Webb, the Director has added a couple of masterstrokes to this sequel, including the profound presence of Jamie Foxx as the supercharged Electro. But it was the film publisher, Sony Pictures escalated my love for The Amazing Spiderman from here on, by incorporating the sound that is setting every young Indian soul on fire – Main Hoon by SANAM.
SANAM, the band comprises of four young and extremely talented lads who appeared as 'SQS' previously. These guys are not your regular "got signed by a label and made it big" musicians. They self-promoted themselves by uploading their songs on their YouTube channel, which is extremely popular now. So the self-made band which consists of Sanam Puri (Lead Vocalist), his brother Samar Puri on the Lead Guitars and Acrobatics (in the video), Venkat 'Venky' Subramaniyam on Bass and Keshav Dhanraj on Drums. SANAM has been groundbreaking enough to cause waves in the country, taking a route never taken by any musician before, ever. Even though the band is a new entry to the whole music scene in India, Sanam Puri has already appeared on the subcontinent rage – MTV Coke Studio, and has lend his voice for two famous Bollywood film songs – Ishq Bulaava from 'Hasee toh Phasee' and Dhat Teri Ki from 'Gori Tere Pyaar Mein'.
In a special interview with iLLGaming, Sanam confessed his deep love for two gaming titles that can easily classify him as the most eligible bachelor in the country at the moment: Dark Souls and The Last Of Us. In fact, he is still rooting to play Dark Souls II as soon as his tight schedule is over. Sanam and Samar claim to have been gamers since birth, which is why iLLGaming is covering this! The icing on the cake, Sanam and Keshav just bought a PS Vita each for themselves. "We needed something to keep us hooked while we were touring, and I've heard great things about the Vita" adds Keshav while sporting a grin. (Pssst: Sanam guest-wrote on iLLGaming a while back about how Dark Souls influenced his routine life).
We all know that Spiderman, the franchise has launched many upcoming bands and artists in the past. While Tobey McGuire's Spiderman 1 launched the yet-another brothers band Swithfoot with their title Meant to Live, the Indian subcontinent edition had Strings, the Pakistani superband high flying with their track Naa Jaane Kyon for the same. It is definitely a moment of a radioactive spider biting the skin for SANAM the band, it is easily one of the grandest ways to launch a music career. Moreover, I feel immensely proud to be associated as an Indian with a solid franchise like Spiderman and the man who is known for his music taste – Mark Webb, thanks to SANAM. But like every superhero story, SANAM's story is epic too. Let's revisit their story in Samar's words: "Sanam got a call from Sony Music saying they needed a song for The Amazing Spiderman 2 urgently, like in a day or two. So, we gave them the song the very next morning. We didn't sleep, he composed it while I helped him write the chorus part."
Main Hoon's lyrics reflect what Peter Parker would murmur to himself while facing two of his greatest enemies. Imagining all this to be a night's creation drives my utmost respect for each of these musicians who are hungry to break records in no time. The video has an international zing to it and hardly feels like it's produced in India, made in the Twilight famous MUSE or the Daredevil famous The Calling music video style. Some of the riffs from the song might stop your heart for a second, and the processed beats instead of the regular drum kind of reminds me of my current favourite band- Imagine Dragons.
SANAM joins the likes of Agnee, one of the pioneer bands of India, to lead the musicality of the superhero scene in this nation. More importantly, they join the likes of U2, Alicia Keys and Kendrick Lamar to carry The Amazing Spiderman brand forward. and before I'd congratulate the team that brought my favourite Saturday flick 500 Days of Summer for the new release, I'd like to thank everyone at SANAM who made this Indian dream a reality. After all, very few bands in the world hit the bull's eye in its year of inception. The Amazing Spiderman 2 game that I was waiting for the whole summer can wait longer, as I swing from pillar to post humming to the newfound anthem.
Here's another SANAM track for those who couldn't fulfil their fix. Enjoy!

There are video games made to accompany movies and there are video games that take a movie's lore and make something new out of it. Mad Max belongs to the latter category. The game uses the lore [...]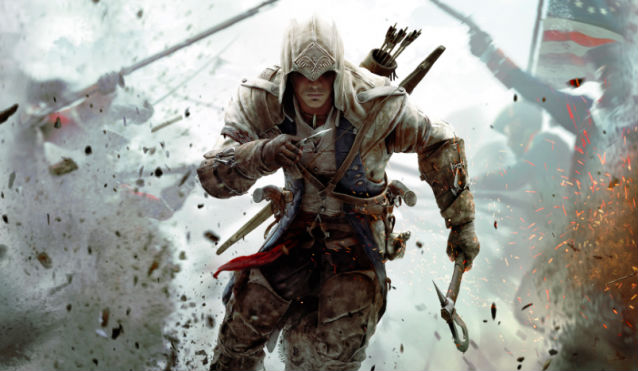 Ubisoft exists. And Ubisoft Motion Pictures exists too. Bet you didn't know that. Ubisoft Motion Pictures is making an Assassin's Creed movie, and it's release date is pinned at [...]