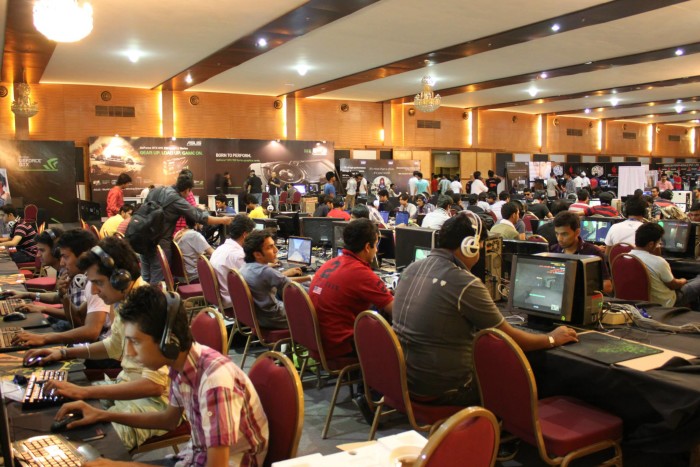 Imagine a world where after you're done with your day in school, instead of heading to the mall, you head to a gaming cafe (or famously, "cyber cafes"). And its not just you who does it, but almost everybody you know in school. This is the vision of Joomin (Chris) Lee, CEO of Funizen Solutions.
"India has a bigger potential, and we're very close to living it."
A world like that exists, in places such like South Korea, where he is natively from, is what he tells me. He supports his statement by adding that in Indian small cities like Mysore and Coimbatore, where there aren't malls and other places to "hang out" like we have in the big cities, school boys head to the local gaming cafe and play multiplayer games after they're done with school. These have made gaming cafes in such cities prominent hang out spots for the youth. And the movement is spreading.
Chris knows what he is talking about. Afterfall, its been 10 years since he's been working in the gaming industry in India. Chris, a native to Korea, came to India when he was hired at Sify in 2004 as the Head of its Online Game Business. He resigned in 2008 and started Funizen (in Korean means "citizen"), an online game publisher. The only one in the country. At Sify, he headed an 80-member team and when he resigned, he convinced a chunk of them to follow him to his own venture. Apart from publishing multiplayer online games such as Elsword, Funizen buys games digitally and sells them to gaming cafes as "e-pins" on gamemela.com. These e-pins can be bought with cash, which is a huge plus since very few people in the country have credit or debit cards. The price the end user pays is the same as the online price, without any markup. You can buy Steam Credits too. You pay $50 in INR and that is all. All of this is made easy by Funizen's iCafe payment gateway, which makes it effortless for cafe owners to make the transactions for themselves and for the gamers.
Internet cafes were a dying breed. The cost of running a gaming cafe was high. Owners had to keep up with steep hardware costs, frequent upgradation, and the returns weren't high enough to support that. Ageing hardware meant gamers had to find other means to game. Gamers who couldn't afford a gaming PC had to give up the hobby. And that meant that the only customer a gaming cafe had were the "30 Minute 30 Rupees Internet Browsing" ones. And the odd ones that came for a printout. The reduced cost of having broadband connections in homes also meant lost business for cyber cafes.
Chris saw this as a challenge to his vision, and got the cafe owners and hardware manufacturers in bed together. He convinced some brands to drop margins, and in some cases, to even absorb some loss, so that gaming cafes can equip themselves with the latest hardware to offer a better experience to the gamer.
"To ignite the spark, manufacturers need to understand that gaming cafes are places where people get exposed to the gaming subculture. The problem is, gaming related companies in this country have no clue about how gaming works. The top management of gaming companies have IIT and IIM alum, who have no clue about what a video game really is and have never even played a game. They're more focused on 'kitna bikega' (how much will sell). Gaming is a passion driven industry. You cannot treat it like just another business, you've got to change your approach."
Chris goes on to elaborate how "gaming" is seen as something negative in the country. "Parents think their kids are wasting their time playing games and want them to become software engineers. In reality, the gaming industry is much, much bigger than the software industry. Back in Korea, the top three largest companies in the country amongst the top 10 are gaming companies."
Parents think their kids are wasting their time playing games and want them to become software engineers. In reality, the gaming industry is much, much bigger than the software industry.
Funizen's gaming cafe ecosystem have proven a success among gaming cafe owners. "There is enough margin reserved for them to maintain their cafes and be of value to the gamer. This has resulted in better quality cafes, which means an increasing number of visiting gamers."
The use of e-pins by such gamers has also risen. "We targeted to reach 1 lakh gamers this year, we've already crossed that and now our target is 2 lakh. That sounds good, but for a country like India, this is still a very small number. We should be aiming for something much higher." Chris is now busy expanding the e-pin and iCafe network across more and more cyber cafes in India. "Right now, we have close to 3300 cyber cafes who have benefitted from our systems."
As fragmented and oblivious the gaming industry in our country might be, we always end up coming across people making a difference in ways unimagined, and Chris is one of them. The solutions provided by Funizen have been positively impactful to the gaming ecosystem. Will this be the defining change needed for gaming to explode in the country? We don't know yet, but what we do know is that change is not as far away as we expect it to be.

After a successful Gamer Connect in southern Indian city of Cochi, Nvidia's coveted gaming tour has trickled up to the city of Lucknow. Hosted on the 11th of October, 2017, Nvidia took [...]

The arena was prepared. The stage was set. The machines were ready. The fans were in. The casters cleared their throats. On a pleasant breezy Sunday in the IT city of Bengaluru, at the LXG [...]

In the dusky Bengaluru weather, the stage was set at The Lalit for an enticing Finale of the ASUS ROG Masters South Asia tournament, for Dota 2 and Counter Strike: GO. The teams were in, so were [...]