Contents
Introduction, Unboxing
Design and Ergonimics
Gaming test, browsing test and software
Conclusion
Introduction
Thermaltake is a well known name when it comes to CPU coolers, Power Supply Units and cabinets. The company has recently ventured into the lucarative gaming peripherals segment, like gaming mice and keyboards, under the brand name TT eSports, and boasts a robust lineup with high quality products. Thermaltake's presence in India has been subdued until now, as the company is taking major initiatives to tap into India's market. One of those initiatives is directly linked to the eSports community in India, where they sponsor professional gamers from India at international gaming competitions. Thermaltake has had close ties with worldwide gaming communities since long, and that has allowed them to fabricate quality products fulfilling the requirements of professionals.
Having said that, to coincide with Thermaltake's entry into India, we receive a review sample of the Tt eSports Theron wired laser gaming mouse (Model: TRN006DTJ) in our mailbox. eSports is on the rise in the country, especially amid the successful BYOC 2013. We've definitely got more people opting for professional gaming gear, like the ones Thermaltake manufactures. Other products in their lineup include gaming gloves, headsets and LAN bags – all built for the dedicated gamer in mind.
Specifications
The choice of a mouse is a crucial one for a gamer. It can make or break your game. Gamers look to finding a mouse that is 'just perfect' in all of their aspects: the size, the weight, macros, sensitivity etc. The Tt eSports Theron packs a big punch, with a plethora of features, and looks to give the gamer a complete package, with enough customization options to tailor-set your mouse. Here are the features of the Theron:
T.P.G. (Tt Pro Grade) Gaming Laser Sensor 5600 DPI Engine.
100 – 5600 DPI Adjustable: Fully Functional on Most Surfaces.
1.8 meters Braided USB Cable with Gold-Plated Connector.
40 Fully Customizable Macro Keys for RTS/FPS Game Genres.
Customizable Graphical UI for Macro Keys, Advanced Performance, and Lighting-Effect Options.
7 Colors of Pause-Break Lighting Effect on the Dragon logo.
Side-light colour changes by clicking frequency during Battle mode.
Industrial Grade Rubber-Coating Finish for better Hand Grip.
Polling rate switch button (125/500/1000 Hz cycle), and Function-Lock Button provided to disable side button functions.On-Board 128kb Memory Storage for 40 Macro Keys within 5 Game Profiles.
Weight-In Design for Perfect Handling Mouse Movement
5 x 4.5g, up to 22.5g max
Body Dimension (LxWxH): 123.65 X 73.8 X 40.2 (mm)
In the package
Unboxing the Theron gives you the manual, driver CD, warranty leaflet, two Dragon logo stickers and a carry-on pouch. The addition of the zipped-pouch is a welcome addition, makes it convenient when traveling around. This is useful for professional gamers who travel around to take part in tournaments.

Ever since taking over professional gaming brand Zowie, BenQ is on full throttle mode, releasing a sleuth of professional and competitive gaming products. Zowie, a well known brand, especially [...]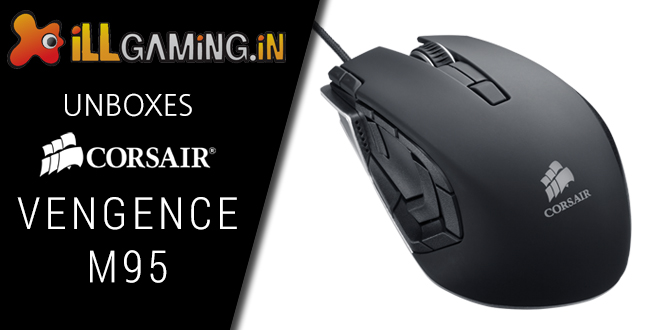 Price Rs. 7000 approx (as dec 2014) . . Brand Corsair Name Vengeance M95 Model CH-9000025-NA . . Specifications Type Wired Tracking Method Laser Maximum dpi 8200 dpi Buttons 15 Scrolling [...]

Introduction There are many foreign gaming brands available, who offer a wide range of features in gaming mice. So how does an Indian product compare to them with only a fraction of the price, we [...]