Remember the successful midnight launch of the original Watch Dogs? The micro midnight launch events across the country witnessed long queues across Games The Shop stores, of enthusiastic gamers, waiting to get their hands on Ubisoft's biggest project ever.
The popularity of the game in country is evident. It is so well known that even Bollywood couldn't ignore the craze, with a handful of movies choosing to erm, be inspired (read: copy) the Watch Dogs style. It is rare for a country like India to accept a video game amongst its own culture, but Watch Dogs broke those barriers. That itself a big achievement.
WATCH_DOGS2 Midnight Launch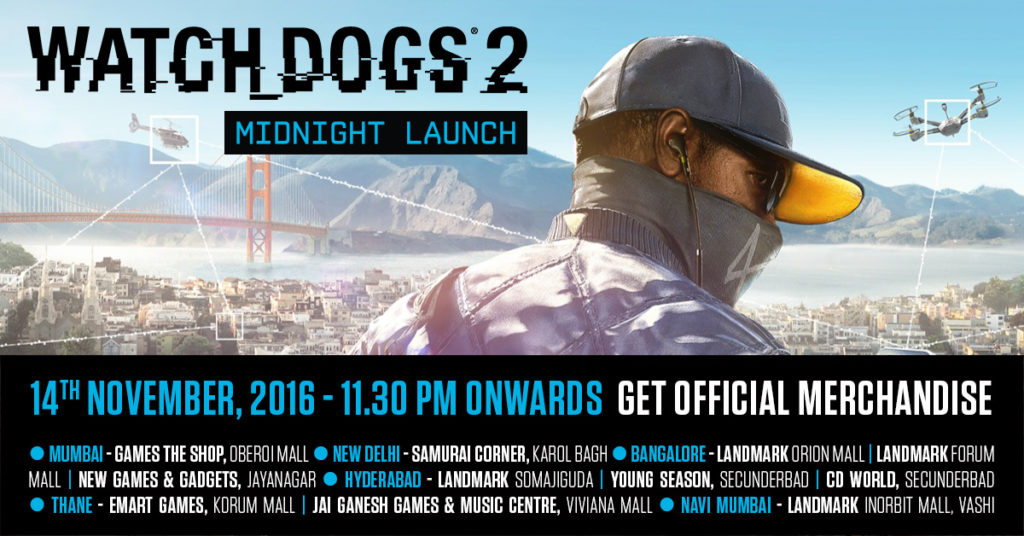 Upcoming Ubisoft's open world action-adventure video game Watch Dogs 2 (stylised as WATCH_DOGS2), is set to get an even bigger midnight launch party across India. Various Games The Shop retail stores across the country will be counting down as we approach the official launch date of Watch Dogs 2, which is the 15th of November. I would like to add that it is again, a pleasure to see a game being launched in India, parallel to its international launch date. Face it, gaming is growing here!
Fans and newcomers likewise will be able to pick up a PS4 / Xbox One copy of the game 11:30 PM onwards, on the midnight launch day. Here are the eleven Game The Shop stores (across Delhi, Mumbai, Hyderabad, Bangalore, Secunderabad) where the launch will be taking place.
| | |
| --- | --- |
| GAMES THE SHOP –  OBEROI MALL | F- 04, 1st Floor, Oberoi Mall, Off. Western Express, Goregaon (E), Mumbai – 400063 |
| LANDMARK – ORION MALL | Brigade Gateway 26/1 Dr. Rajkumar Road, Malleshwaram West, Bangalore- 560055 |
| LANDMARK – FORUM  MALL | Hosur Rd, 7th Block, Koramangala, Bengaluru, Karnataka 560030 |
| LANDMARK – INORBIT MALL VASHI | 1st Floor, Inorbit Mall, Near Vashi Railway Station, Vashi, Navi Mumbai, Maharashtra 400703 |
| LANDMARK – KMC RETAIL MALL | Next to Kirtilal Jewellers, Somajiguda Circle, Begumpet, Hyderabad, Telangana 500082 |
| SAMURAI CORNER- NEW DELHI | Shop No.146, Ghaffar Market, Karol Bagh, New Delhi, Delhi 110005 |
| YOUNG SEASON – HYDERABD | Plot no. 11, Sikh Village, Opp Diamond Hotel, Transport Road, Secunderabad, Telangana 500009 |
| CD WORLD – HYDERABD | Ground Floor, Chenoy Trade Center – CTC, Secunderabad, Telangana 500009 |
| EMART GAMES | Emart Games, Korum Mall, Thane |
| JAI GANESH GAMES & MUSIC CENTRE | Viviana Mall, Thane |
| NEW GAMES & GADGETS | 34, 1st floor, 36th Cross, 10th main, 5th Block, Jayanagar, Bangalore-560041 |
Fans visiting the midnight launch will get free official Watch Dogs 2 merchandise.
You can also pre-order the game here.
Stay tuned for our complete Watch Dogs 2 review. If you can't wait for your Dedsec dosage, here's a small WATCH_DOGS2 video.
We enjoyed the first part of the Watch Dogs series. Here is the review of the original Watch Dogs.

Cities have a vital role in our society. This extends to video games too, where they act as an epicentre for any adventuring party. Not all cities are built equal though. Sometimes they act as [...]