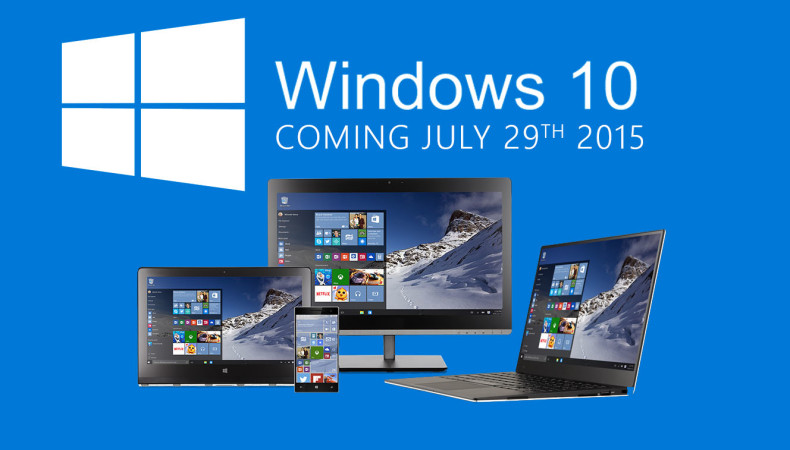 Microsoft on their blog announced the launch date of Windows 10, which will be July 29th 2015. Also reiterating that the switch/upgrade to Windows 10 would be free for all indows users.
Here are the minimum specifications that a computer should meet to be able to upgrade to Windows 10
Make sure you are running the latest version either Windows 7 SP1 or Windows 8.1 Update.
Processor: 1 gigahertz (GHz) or faster processor or SoC
RAM: 1 gigabyte (GB) for 32-bit or 2 GB for 64-bit
Hard disk space: 16 GB for 32-bit OS 20 GB for 64-bit OS
Graphics card: DirectX 9 or later with WDDM 1.0 driver
Minimum Display Resolution: 1024×600
A list of features that users can expect after the upgrade.
Microsoft Edge: The all-new browser
Office: Word, Excel, PowerPoint, OneNote and Outlook. All available separately as universal Windows applications. Note: The paid Office 2016 full featured desktop suite will be available separately with added functionality.
New Photos, Videos, Music, Maps, People, Mail & Calendar apps: These app will be able to run in the desktop environment, unlike the Windoes 8 native apps that could only run on the start screen.
Windows Store: Windows 10 may not feature any in-built games and those upgrading from Windows 7 will also find their existing Solitaire and Hearts game deleted. However using a Microsoft account users will be able to download additional apps and games on their device.
Xbox integrated Apps: Xbox SmartGlass and Xbox Games will be available for India.
Start Menu: Windows 10 brings back the popular Start menu. It features quick startup and resume optimizations. It includes Windows Defender for free anti-malware protection and Microsoft have detailed their plans to commit to the OS providing free ongoing security updates for the supported lifetime of the device.
Features that India will miss out on
Cortana: A star highlighted feature of the OS will not make it to India at launch, as it is only available for United States, United Kingdom, China, France, Italy, Germany, and Spain currently.
Windows Hello: The auto user detect feature in Windows 10 can only be used with a specialised illuminated infrared camera for facial recognition or iris detection or a finger print reader which supports the Window Biometric Framework.
Xbox Music and Video: Streaming through the Xbox Music or Xbox Video apps will not be available in India.
---
You can watch the Introduction video from Official Microsoft YouTube channel which discusses the changes coming with Windows 10.

After a successful Gamer Connect in southern Indian city of Cochi, Nvidia's coveted gaming tour has trickled up to the city of Lucknow. Hosted on the 11th of October, 2017, Nvidia took [...]

The arena was prepared. The stage was set. The machines were ready. The fans were in. The casters cleared their throats. On a pleasant breezy Sunday in the IT city of Bengaluru, at the LXG [...]

In the dusky Bengaluru weather, the stage was set at The Lalit for an enticing Finale of the ASUS ROG Masters South Asia tournament, for Dota 2 and Counter Strike: GO. The teams were in, so were [...]