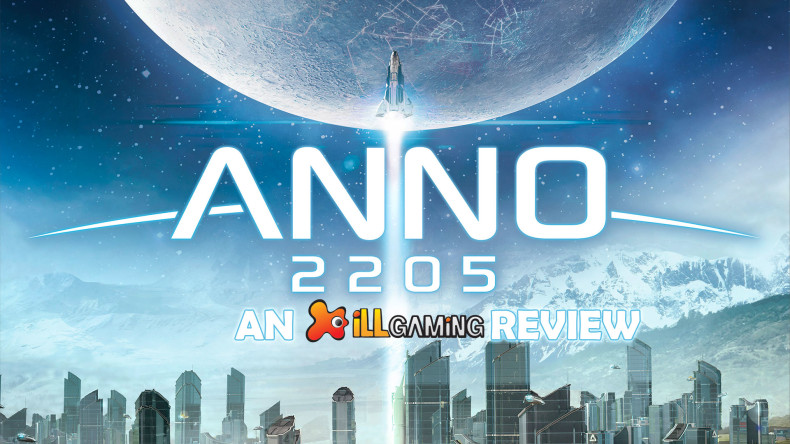 The iLL Fact Sheet
November 6, 2015
Genre
City Building Strategy
Release Date
November 3, 2015
Blockily iLL
With Anno 2070, Blue Byte creatively used Global Warming to extend the island colonisation gameplay of Anno into the future. With Anno 2205, they have gone one step ahead and taken the same gameplay to space. This is one game that literally promises the moon and delivers it too.
Anno 2205 begins on the premise that the earth is facing an energy crisis and the colonies on the moon can provide the solution. You control a corporation that is tasked with achieving this goal for the Global Union. This forms the main quest line of any game in Anno 2205. You begin by choosing one of three territories in the temperate zone and setting up the usual production chains and residences.
The core Anno gameplay of balancing population growth, population upgrades, demand and supply through production chains and finding the best layout for all the different structures on the buildable grid of the islands remains as addictive as ever. Unlike its predecessor, Anno 2205 opts for a more simplified and streamlined tech tree. No need to mix structures of different factions on the same island as in Anno 2070. Perhaps, the most convenient addition to the gameplay is the Move button. This lets you move around structures anywhere on your claimed islands without any cost and they also retain their upgraded status.
The other gamechanging addition is the Module system that lets you increase the production capacity of existing buildings as well as improving their operating efficiency by building additional modules. Adding a module is usually cheaper in both construction and operation costs as compared to a new structure. This means that one must now plan buildings taking into consideration the shape of their modules as well. Building Modules is trickier than building a new structure as they also require some Rare resources such as Iridium, Graphene, Petrochemicals and Magnetite. These materials cannot be obtained from mining, but rather through playing the combat maps or by completing quests or through the companion game on mobile.
The biggest shakeup to the gameplay in Anno 2205 is the separation of the colonisation and combat maps. Combat has been turned into a fleet management minigame where you control a small fleet of up to 8 ships and slowly go about eliminating all threats on the map. This is an interesting change from the resource juggling gameplay of the colonisation aspect. However, the combat is not as deep as it could have been, since you can't choose your fleet composition nor can you set any formations or unit behaviours. Micromanagement is also a pain, as long pressing the right click button lets you drag the map and this can hinder your quick movement commands. The other drawback is that there are fewer combat maps and they tend to become repetitive rather quickly. This is because the same map with the same units is loaded the next time you load the mission and changing difficulty mere changes the values of damage dealt and received. Also, the quest givers for these combat missions tend to nag a lot if you ignore them.
While previous Anno games had fixed mountain building sites and an island exploration element to find resources, Anno 2205 also restricts the coastal building sites to specific locations, like the mountain sites, instead of allowing free building along a coastline. Exploration has been cut and you start with a revealed map with no resource production restrictions. There also aren't any area of influence structures to limit your building in the temperate zone and all need-fulfilling structures such as information centres, transport hubs, etc. can be built in one location to supply the entire colony, though this may not be as resource efficient as distributing them around the colony.
The Arctic and Lunar Sectors change your gameplay approach while planning the colony layout. In the Arctic zone all residences need heat which is given out by production facilities. Thus you need to build within their area of influence, which is rather small. In the Lunar sector too you must build special shield generators to be able to build any structure and keep it operational. The shield generator is another area of influence structure. If you're wondering how Anno's concept of colonising islands is adapted to the moon, one must say the team at Blue Byte have been very clever at using Craters for the same purpose.
Anno 2205 claims rightly to be the biggest Anno yet, as you are now forced to simultaneously control colonies across three different regions. Each region has three sectors of which you can choose one to colonise for free per region. The others can be purchased from one of the five rival mega corporations, but only if your corporation's level is higher than theirs. Each sector has its own unique project whose questline you can follow to get specific benefits in that sector. Each region has its own unique tech tree and produces unique resources. Progression in each region is tied to certain resources from other regions so one must also invest in the resource transfer system, which is quite simple and easy to set up. To sustain growth in one region, one must balance it in all the other regions too. Note that the Temperate Region will likely be your most profitable region while the Arctic and Lunar Sectors will drain a lot of your resources. Curiously, the underwater colonisation gameplay from Anno 2070 is missing, despite the game being set in its timeline.
There's also a Trading post to be found in each sector in Anno2205, where quest givers will usually be found. These quests are mostly fetch quests, but provide a nice distraction from the core Anno colonisation gameplay and are a good source of obtaining some rare materials. There are also nods to the events of Anno 2070 in some of the sector quests. They also serve as the only source of combat on the colony map, as some quests will require you to tow an attacker drone with your command vehicle to eliminate a certain threat. This combat is mere eyewash though as the target unit rarely retaliates.
The nine maps available for colonisation each have a different number of fixed building sites. After playing Anno 2205 for a while, you will find that production chains in some regions are slightly imbalanced and make it tough to succeed in them. You will also realise that choosing a sector with a balanced mix of building sites is preferable than just choosing something with the largest size or the most desirable project. Arctic production chains are especially in need of more balancing simply because some resources form part of multiple production chains while others have severely limited production despite having high demand. Also, most resource production structures are built on the fixed building sites, which compounds the problem even more. The Lunar sector, on the other hand, suffers from really high upkeep costs and can prove to be a huge drain on your corporation's finances until you reach the endgame and transmit power from the moon.
Curiously, Anno 2205 is devoid of any multiplayer component, but still seems to require an internet connection to take part in certain activities. This, along with the limited map selection greatly reduces the replayability of a game that otherwise has some rather fun core gameplay to offer. The endgame after completing the main questline simply boils down to a sidequest fulfilment drive where you try to repeat your initial sector colonisation to the remaining ones and try to grow your corporation to be the biggest in the world.
In terms of story, Anno 2205 leaves you wanting for more. The main questline is about your corporation building up the capability to produce large amounts of energy in a fusion reactor on the moon that is then transmitted back to Earth. While there is a main antagonist, you never really feel challenged by him in your endeavours. The only real face off with him occurs on the combat maps and even there, you are the aggressor.
Graphically speaking, Anno 2205 looks quite beautiful even on the lowest setting. The camera has a mode to let you see your colony in a cinematic view and this is an absolute visual treat. The UI design is quite neat and clean, providing you information as you need it. The music score is rather limited in its selection and can get repetitive pretty soon, since this is a game you will end up playing for hours at a stretch. Sound effects are well done and it can be a delight to hear the ambient sounds when zoomed in on the map. Voice acting is decent though it can seem a little off at times.
When it comes to bugs, Anno 2205 does suffer from some minor glitches. As mentioned earlier, the long press right click keybinding screws up ship micromanagement. The game does not remember the minimap display settings, so when you load a new sector, you have to select all the options again. The Tracker drones might sometimes mistake the coast for the tracked object and this can lead you to guide your command ship in the wrong direction. Pathfinding can appear to be broken at times. A game breaking bug we found was that if you are doing multiple quests that require you to load your command ship with goods from the spaceport to deliver to a certain location and if you either fail the quest or load up goods for multiple quests, you will be unable to finish the other quests that require delivery of the goods. If this happens to be a minor quest from the trading port, you can abort it, but if it happens to be a sector project quest, you will have to start a new game to try again, as progress is blocked.
The companion game, Anno 2205 Asteroid Miner is a simple game of match three that is marred by being designed in a freemium standalone model rather than as an enhancement to the main game. Simply put, it's a match 3 game with an Anno sticker slapped on and all the UI changed to reflect the theme of the game. It has nothing to do with Anno's gameplay and is only useful if you want to farm rare resources on the go, though you will have more fun if you play a combat mission. Makes you wonder what Ubisoft were thinking coming up with this.
In conclusion, Anno 2205 is one of those games that takes two steps forwards, yet ends up going two steps back. The simplification of the gameplay is good, but removing some key features of the series such as exploration as well as separating the combat into a minigame may not appeal to series veterans. The visuals are quite gorgeous, but the limited content means one is better off getting the game along with all its DLCs at a later date. The lack of multiplayer is a major drawback. There is fun to be had in this game and the relaxed pace may appeal to some. All in all, I feel this game falls short of it's true potential but the addictiveness of the core gameplay will make you forget that in the 4 hours it takes you to reach the moon.
What's iLL
+Ability to painlessly move buildings around
+Fresh Gameplay approach in Arctic and Lunar sectors
+Beautiful Graphics
What's Not
-Reduced replayability due to fixed maps
-Poor Micromanagement in combat due to flawed keymapping
-No multiplayer

The next entry in the Anno series launches on November 3 this year and it continues with the futuristic setting of the previous game in the franchise, Anno 2070. While a beta was promised to [...]