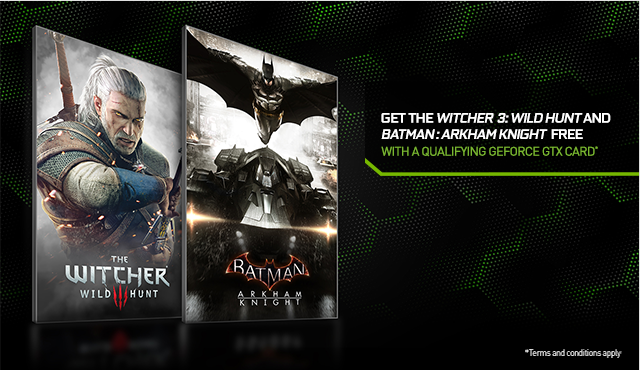 Anyone preparing for the launch of the biggest games of the year? NVIDIA sure is as it brings the 'Two Times the Adventure' bundle.
If you are planning to upgrade your graphics card with a new purchase of GeForce GTX 970 or GTX 980, NVIDIA has a sweet deal for you. Announcing an upgrade to their original bundle. Purchasing these cards between 5th May and 1st June from NVIDIA's retail network in India will now get you free copies of both Batman: Arkham Knight and The Witcher 3: Wild Hunt.
Nvidia has worked closely with developers Rocksteady to integrate NVIDIA GameWorks effects into the latest Batman: Arkham Knight. This technology has been used in previous titles of the series for creating immersive fog and ice effects, realistic destructible scenery, and game-enhancing cloth effects that add to the atmosphere and spectacle.
Batman Arkham Knight is available for GeForce GTX 970 and 980 only. While The Witcher 3: Wild Hunt is available for GeForce GTX 960, 970, or 980 graphics cards and for notebooks 970M-powered (or above). Thus only the GeForce GTX 970 and 980 would allow you to get both the games as these offers can be combines. Do check the product description of the graphics card or notebook you are purchasing to confirm that the games are included.
Batman: Arkham Knight will be launched on 23rd June. The Witcher 3: Wild Hunt will launch on May 19, 2015.

BLACKEST KNIGHT. Like every great franchise, Batman: Arkham comes to a closure. The series has given us near perfect manifestations of our favourite DC heroes and anti-heroes; the perfect twists [...]

Batman: Arkham Knight is all set to launch on June 23 for PC, PS4 and Xbox One. The official YouTube channel for the game has just released a new trailer that shows of the Harley Quinn pre-order [...]

How do you please a fan of the Batman Arkham Series on PC? Well, you could remove Games for Windows Live (GFWL) and Securom from the game. You could add Steam Achievements and Trading Cards and [...]