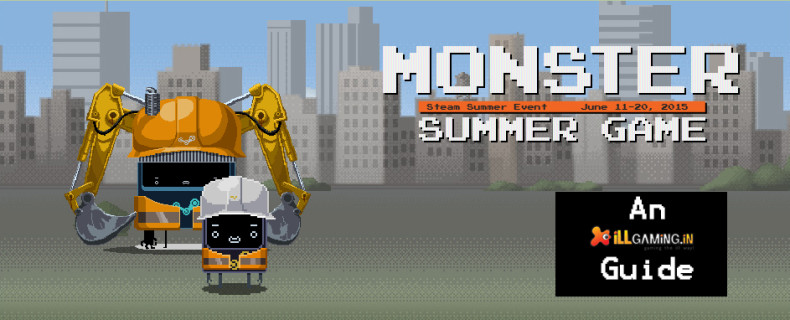 The Steam Summer Sale started on June 11 at 2230 IST (10 am PDT) and as with every major sale, Valve has made a new activity to engage in this time.
While the Monster Summer game is a clicker game at its very core, with inspiration form games like Cookie Clicker, AdVenture Capitalist and Clicker Heroes. It's also an homage to old pixel artwork and promotes some great Steam games using emoticons from them. Why would you want to engage in this clickfest? Because this is one of the ways to get the Summer Sale Trading Cards, called Monster Cards. Unlike previous sales where you got a card for voting three times a day, these Monster cads drop randomly as with card drops in any Steam game. The other pull to play this clicker game is to unlock new deals for the next day.
How the Monster Summer Game works
There are multiple games running consecutively all lasting until 9am PDT the next day. You can access the game from the link: http://steamcommunity.com/minigame/ using your browser or the Steam client. You can start your own new game at any time of the day or join a friend's game that is in progress. It's better to join a friend's game especially if it's at a higher level than yours is, simply because there is a separate Monster game badge in addition to the Summer Sale Badge that tracks how many levels of the game your team has beaten. A new game starts every day at 10am PDT and you can get special badge points to spend on abilities based on the maximum boss level you reached from the previous day plus the level of the Summer Sale Badge. The Monster Summer Game will end on June 20, 2015 at 10am PDT.
The game continues even if you close Steam. You will take damage in the game and die, though you can manually respawn in five seconds or wait to automatically respawn in five minutes. You simply click on monsters to damage them and can use the gold they drop when killed to purchase upgrades and special powers. There are three lanes that usually contain a single boss monster and its three minions. Some levels have the boss in one lane and minions in the other two. The monsters can belong to one of four elemental types that you can upgrade to improve your raw damage against that type.
The various upgrades include shields, an auto-firing gun, armour piercing rounds, and so on, while power ups include health, treasure boost, nukes among others. Each power up can only be applied to a single lane. You also get random power up drops upon killing monsters.
The Monster Summer Game has daily targets or milestones that will unlock special deals for the next day. There are nine such deals and hints about the genre of the game are dropped while the game is locked. The unlocked discount will be active for 48 hours. While this is a replacement for the voting system from previous sales, it seems to be offering the same discount levels for every game.
How to play the Monster Summer Game
Always start or join a friend's game as soon as it starts at 10am PDT (10:30pm IST) for maximising your chance at reaching the highest boss level and getting the maximum 3 card drops of the day. You need to have finished within 10 levels of the highest game to join it. If you can't you must start a new game. Steam can bug out and refuse to let you join a game, but keep trying.
Try and get all your friends to join one game so you can specialise in elemental damage cooperatively
When playing a game always target the bosses in a lane first. Bosses can respawn any minions that you kill and as the levels go higher you can't kill bosses fast enough to prevent them respawning minions. Your objective is to reach the highest boss level, not to hoard the maximum gold by just farming minions.
Try to get the auto-fire upgrade as soon as possible and invest towards upgrading its power. Level it up often as well as the armour piercing upgrade since you won't be clicking on the bosses for all of the 23hrs.
Check back every few hours and upgrade your damage output.
Play any power ups as soon as you get them.
Choose the lane with the least number of gamers and attack the boss there.
In case a level has just one boss in a lane, attack that boss first. It will respawn the minions in the other lanes if you do not kill it.
It's better to invest in upgrades than to blow away the gold on power ups.
If you want to be a part of the clickfest, get a cheap mouse for the purpose. Auto clicking software may be detected by Steam as a cheat and get you VAC banned.
It seems you get a card drop for joining a new game, so you might want to join and leave a couple of games before committing to one for the rest of the day to maximise the day's 3 card drops.
It may say you need to be Steam level 5 to get the card drops, but what Valve means is you should be Steam Level 8. (8-5=3, Half-life 3 confirmed)
That's all the tips we have for you. Enjoy the sale and share with us the damage it did to your wallet in the comments below.

Fallout Shelter is perhaps one of the best video games to ever grace the mobile platform and at its core, it is a test of your management and planning skills. It is also a game of your failures [...]

The Witcher 3: Wild Hunt launches on May 19th, 2015. If you are looking to play the game on PC, here are the minimum and recommended system requirements. Some things to keep a note of: a 64-bit [...]
GTA V on PC will launch on 17th April in India for the Retail version and 14th April for the digital version. Starting April 7, those who have pre-purchased the game from Rockstar or Steam will [...]