The iLL Fact Sheet
Item Reviewed
Zion Blaze DDR4 2400Mhz RAM
January 12, 2017
Manufacturer
Abacus Peripherals
Price
₹4,300 for 8GB module
₹9,700 for 16GB module
Introduction
Zion is an unlikely brand in the memory industry. Umbrella'd under the company Abacus, contrary to popular belief, the brand has been around since longer than what the average consumer can expect (1997). What makes Zion different from other known RAM brands is, that these RAM modules are produced right here, in India. Hard to believe ain't it? Well, its true. India has its own RAM module manufacturer! And that is the reason why we at iLL have taken a special interest in this brand.
Zion has its manufacturing facility based in Daman, and has been primarily supplying memory modules on OEM machines from HCL, Wipdo, Zenith, HP, LG, Sony etc. Only because Zion has a major presence in OEM PCs rather than consumer RAM modules, it is not known as well as other brands like Corsair, Kingston, G.Skill etc. That is about to change, as Zion is shifting gears towards consumer grade memory modules.
Zion Blaze DDR4 Memory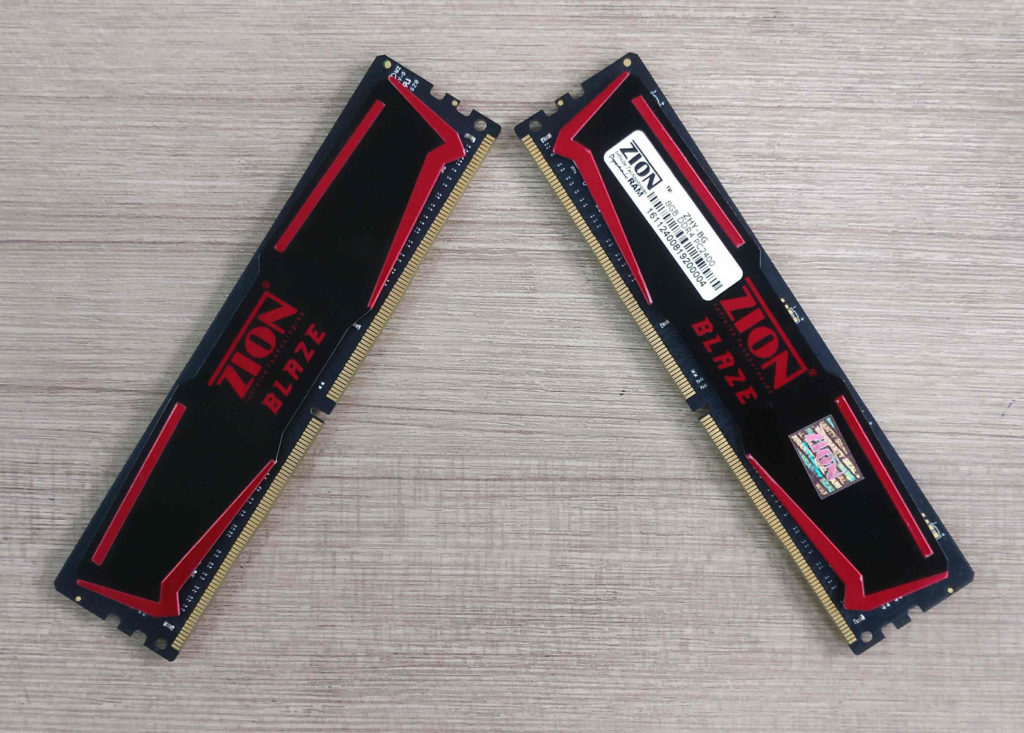 "Blaze" is Zion's latest DDR4 line of memory modules. Targeted towards gamers, overclockers and PC enthusiasts, Zion Blaze aims to take on the other well known consumer RAM brands. Vipul Modi, Vice President Marketing at Abacus Peripherals, adds:
We're delighted to bring the all new Zion BLAZE DDR4. With the new product, we have made sure that all the wonderful innovation and technology that has gone into this RAM, comes out as ultra-efficient and powerful speeding solution. Our marketing plans are all set in places to launch the product, and with the early reviews of BLAZE DDR4 we are very confident that this will product would surely provide best gaming experience possible.
Zion Blaze DDR4 RAMs will be available in 8GB and 16GB modules. There will be no 8GBx2 or 16GBx2 kits, like the ones offered by Corsair and G.Skill. So far, only 2400Mhz modules have been announced, in Black and Red colours.
Specifications
| | |
| --- | --- |
| Memory Type | DDR4 |
| Capacity | 8GB / 16GB |
| Tested Speed | 2400 MHz |
| Latency | 17-17-17 |
| Tested Voltage | 1.35V |
| Registed / Unbuffered | Unbuffered |
| Error Checking | Non  – ECC |
| SPD Speed | 2133 Mhz |
| SPD Voltage | 1.2V |
| Heatsink | Aluminium Alloy |
| Warranty | 3years + 2 Years Extension |
Build Quality
We received the memory sticks well before their official launch, and in no retail packaging, so we cannot comment on the unboxing experience.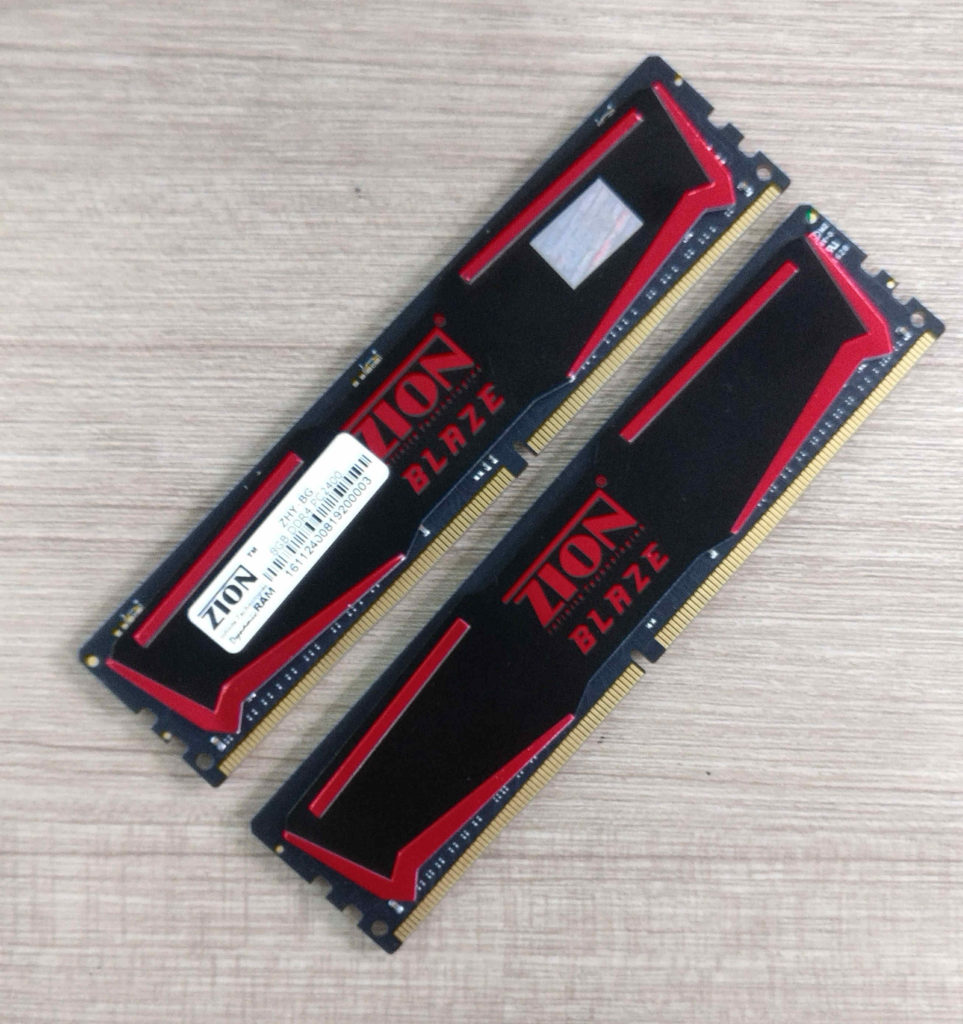 The Zion Blaze modules have a bare bones look. Their appearance is definitely not one to stand out, and it is kind of reminiscent to the Corsair LPX DDR4 Red RAMs. The RAM follows a dual-tone black and red colour scheme, and will go well with current motherboards which are majorly coming with black colour schemes. The aluminium alloy heat spreaders do not cover the entire RAM PCB, only a part of it. This is similar to most 2400Mhz memory modules. The ones from Crucial and G.Skill feature similarly sized heat spreaders. The top of the PCB is clearly exposed. They are glued well though, as we could not find any protrusions.
Overall, we are not sure how many PC builders will really dig this bare bones approach. Unless, if the Zion Blaze performs the part, the looks shouldn't be an issue. Let's find out.
Performance
Lets take the Zion Blaze DDDR4 2400Mhz Memory to our Test Bench. Here is the system we're using:
Test System:
CPU: Intel Core i5 6600K @ 3.90Ghz
Motherboard: Gigabyte GA-Z170X Gaming 3
Cooling: Antec Kuhler H100 Pro
SSD: SanDisk ExtremePro 240GB
PSU: Seasonic X850
Monitor: ASUS ROG Swift PG278Q 2560×1400
OS: Windows 10 64-bit
Cabinet: CoolerMaster MasterCase Pro
First things first, here is the CPU-Z screenshot: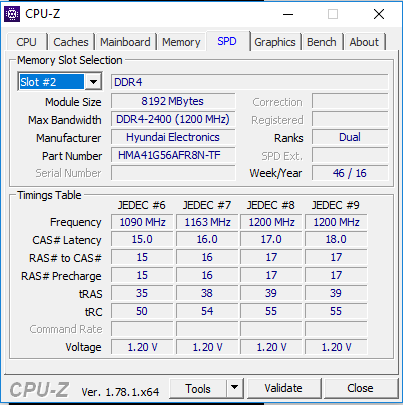 As per the CPU-Z screenshot, Zion Blaze uses a Hynix Hyundai chip. There is no XMP profile, which basically means that we have to overclock the RAM manually.
Next, lets see the memory's performance in synthetic benchmarks.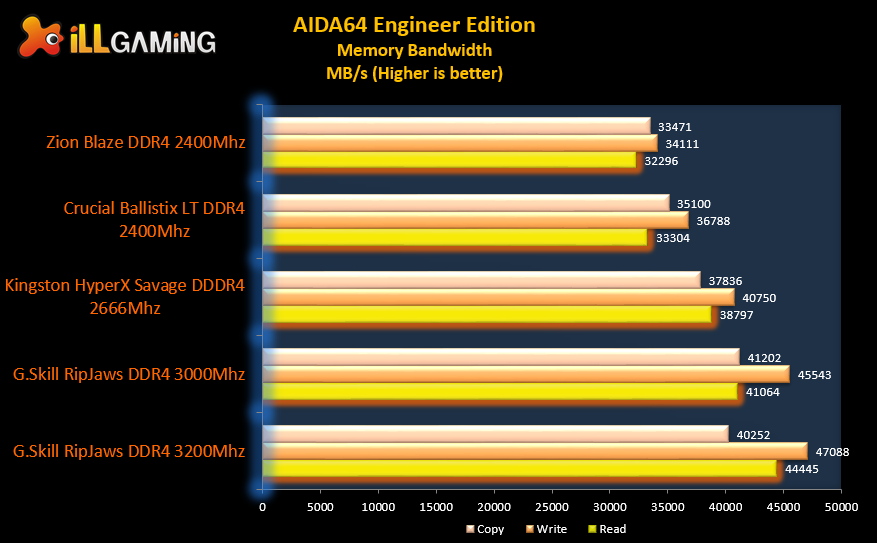 AIDA64 Engineer Edition is a great tool for synthetic benchmarks. It has generic RAM tests, and its numbers are trusted in the industry. In the above Memory Bandwidth chart, the Zion Blaze unfortunately is struggling against same frequency modules from Crucial. Compared to 3000Mhz modules, the Zion Blaze is behind by a good margin. How this translates to gaming performance is minimal though. You will see the real world difference when performing tasks like compressing and uncompressing files.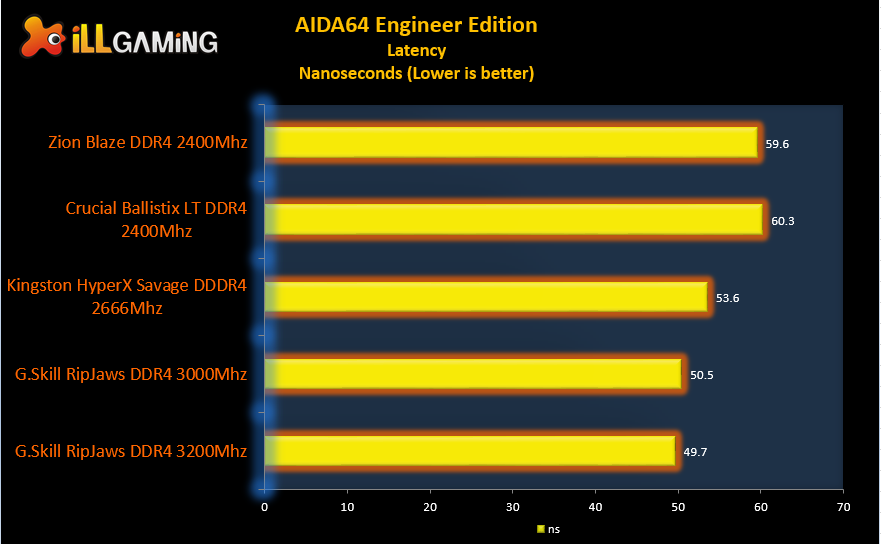 Above the latency of our test RAMs. Here, the Zion Blaze does marginally better than how it performed in the Bandwidth tests. While it is definitely out of competition against the faster G.Skills and Kingstons, it is faster than the Crucial Ballistix LT, which, like the Zion Blaze itself, has a frequency of 2400Mhz.
We did a number of tests in SiSoftware Sandra. Here are the results.
Conclusion
Before concluding our review, we would like to say that it surely feels good testing a computer component that is manufactured in India. Well, not exactly fabricated in India, but atleast, it is assembled in India, which is a feat in itself. We wish Abacus all the success in its endeavours and we hope to see Zion as a homestay name in memory modules.
Now, lets talk about the Zion Blaze DDR4 2400Mhz RAM. It is built in a minimalist fashion, it won't raise eyebrows, and it has an understated quality about it. This should suffice for an entry level DDR4 build, but not for something more than that. Performance of the modules is not up there too. If you're looking for speed, you have other, faster and more economical options.
What if 2400Mhz was your target RAM speed, would we recommend the Zion Blaze then? We would say yes, but we won't do it wholeheartedly. The Zion Blaze 8GB module costs ₹4,300 and 16GB module costs ₹9,700. There are no 2x8GB or 2x16GB kits being offered, yet. When we look at the competition, Crucial Ballistix LT 8GB, which has the same frequency, costs ₹3970 and performs slightly faster than the Zion Blaze. Even the 16GB Cuicial LT costs a whopping ₹1,700 cheaper than the Zion Blaze. This is funny and is something out of our understanding. The Zion Blaze is manufactured in India, so it should be cheaper, but it isn't. Very curious indeed.
Comparing to its G.Skill and Kingston cousins, the Zion Blaze is a tad cheaper, but the difference isn't much. The performance boost you will be getting with the G.Skill and Kingston will more than make up for the price difference. On another note, we recommend DDR4 gaming PC builders to not consider anything below 3000Mhz when buying memory. The price difference against lower frequency RAM isn't that significant, and RAM is always a long term, one time investment. One noteworthy prop we would like to give Zion Blaze is its initial two year warranty, and an additional three year "paperless" warranty. Not many RAM brands offer that.
What's iLL
+Long Term paperless warranty
+Slightly better latency than competition
What's Not
-More expensive that similarly spec'd memory
-2400Mhz isn't an attractive option for DDR4 builds anymore

For most PC gamers, our machines is a constantly evolving beast, devouring games and media applications as it grows in power, and size in order to meet the continuously growing computing and [...]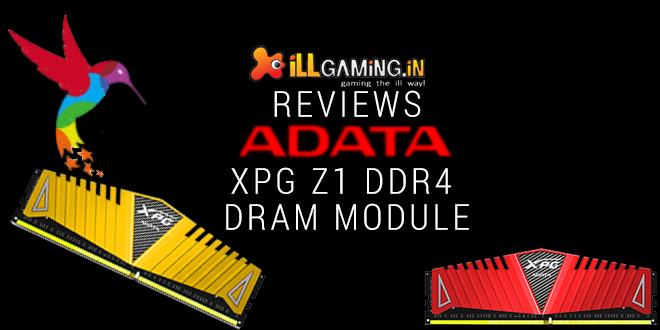 DDR4 is the next step for RAM and with the launch of Intel's X99 platforms, it's finally making its way to the mainstream consumer markets after being confined to the enterprise space for long. [...]