Item Reviewed
GeForce GTX 1050 Review
Introduction – Low Cost Pascal Goodness
When NVIDIA announced the Pascal, its latest GPU architecture, it was lauded as the company's biggest feat in the past ten years. First came the GeForce GTX 1080, and a few months later, the Titan X. These flagship Pascal GPUs took graphics performance to the next level, coupled with improved power efficiency and temperatures. These flagships start at a pricing of ₹55,000 though, clearing putting them in the upmarket enthusiast segment.
Along with the GTX 1080, Nvidia launched the GeForce GTX 1060 and GTX 1070. The GeForce GTX 1060 was Nvidia's new mainstream card replacing the GTX 960, and costs a reachable ₹20,000. The GTX 1060 offers performance close the Nvidia's Maxwell flagship, the GeForce GTX 980. For its price, the GTX 1060 was a winner. The generation leap paid off. The GTX 1060 was also Nvidia's rival to AMD's RX 480, another great graphics card offering good price/performance ratio, and support for DirectX 12 and Vulkan. Both the GTX 1060 and RX 480 cost roughly the same and offer vaguely the same level of performance.
Nvidia was riding high on the success of its Pascal graphics cards, but it still didn't have a card to compete with AMD Radeon RX 460, a sub ₹10,000 card (around ₹8,500 to be precise). The RX 460 offered DirectX 12 support, and respectable 1080p performance for it's aggressive price. It was the undeniable go-to graphics card for the ₹10,000 price bracket, an incredibly sought after price range in India. NVIDIA's Pascal was completely missing from this segment.
Till…
Behold the GeForce GTX 1050 and GTX 1050 Ti.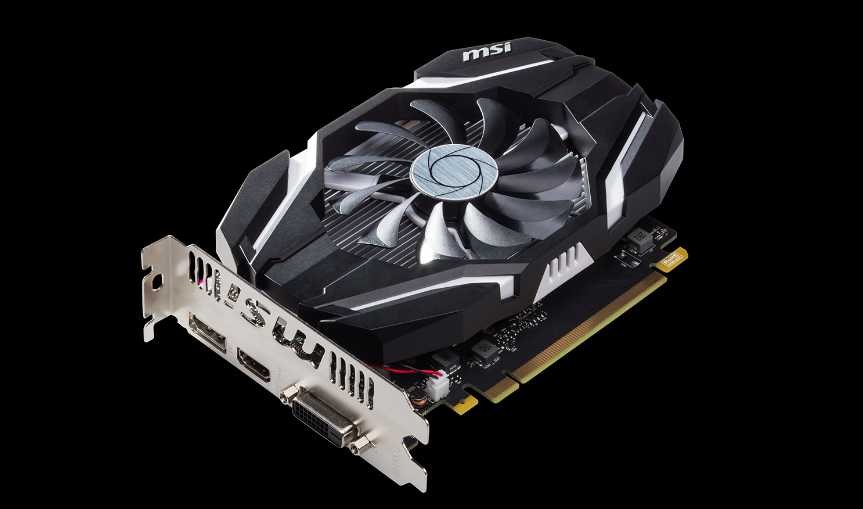 Nvidia announced the GTX 1050 and GTX 1050 Ti in mid-October. Both cards are built on Nvidia's new GP107 chipset. Built on Samsung's 14nm FinFET node, the GTX 1050 differs from the 1050 Ti by disabling one of the six SM clusters. The 1050 Ti also has 20% more CUDA cores than the 1050. The GTX 1050 Ti will ship with GDDR5 RAM of 2GB and 4GB. The GTX 1050 will be available in 2GB models only. For in depth detailing on the GP107 and the specifications of GTX 1050 and 1050 Ti, read here. Both the graphics cards will not be launched with a Founders Edition, like Nvidia did for the GTX 1060, 1070 and 1080. Instead, they will rely on partners such as ASUS, Gigabyte, MSI, Zotac etc. for launching cards for these chipsets. Expect the partners to add multiple overclocked cards, with a variety of fan configurations.
The official MSRP for the GTX 1050 and GTX 1050 Ti is ₹10,000 and ₹12,500 including taxes. Prices will slightly vary for overclocked chipsets, chipsets with single and dual fan configurations etc.
MSI NVIDIA GeForce GTX 1050
As there is no Founders Edition for the GTX 1050, Nvidia sent us a base MSI GTX 1050 chipset. This MSI GTX 1050 is a slightly overclocked model. The GPU Clock has been given a slight boost from 1354 Mhz to 1405 Mhz. This card is uncannily small in size, with the PCB base counting 150mm only. The fan shroud extends to 177mm, making the card appear longer than it should be.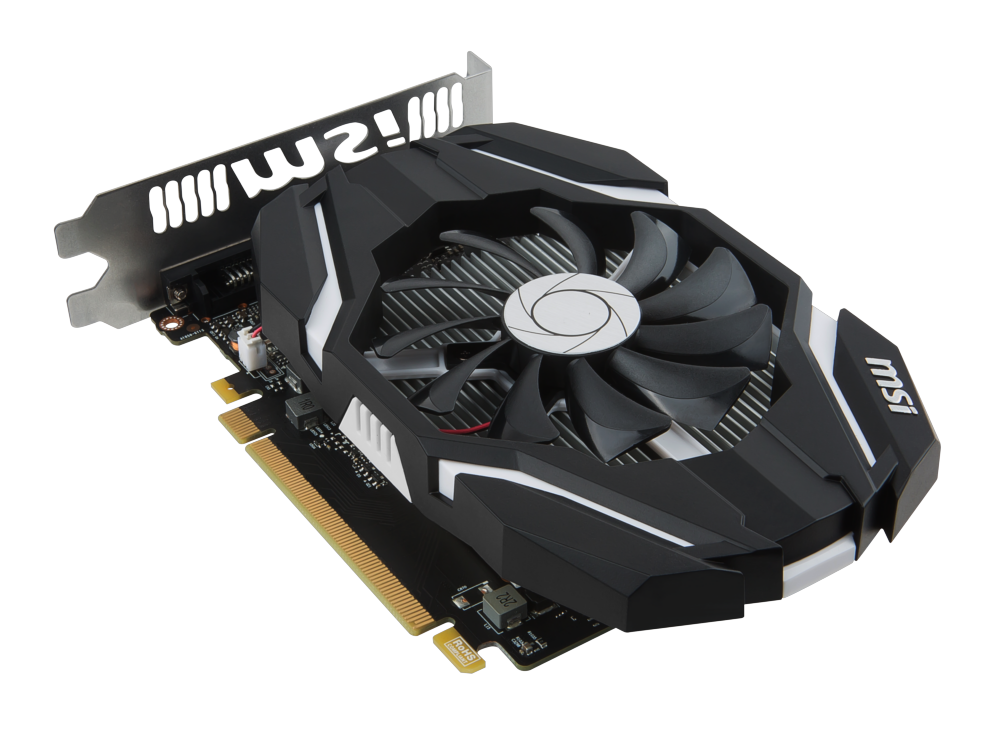 The cooler is a single 80mm fan placed on an aluminium heatsink. It is designed to exhaust air from the heat dissipated from the processor to the heatsink. There are no copper pipes either. This suggest the energy requirements of this nifty little GTX 1050 graphics card. Speaking of energy, the cards has a TDP of <em>just</em> 75 Watts, and it doesn't even require a PCIe connector. This will be a boon to PC builders with low end configurations and stock power supply units, especially to those with old PCs. You can just plug in the graphics card and you're good to go, no extra cables and connections required.
The output ports you get with the card are DisplayPort 1.4 (the one we used), HDMI 2.0 and Dual-Link DVI. These output ports should be able to cover the needs of just about everyone. If you're still on a VGA port, there is a VGA-DVI convertor included in the package.
Here is the GPUZ screenshot.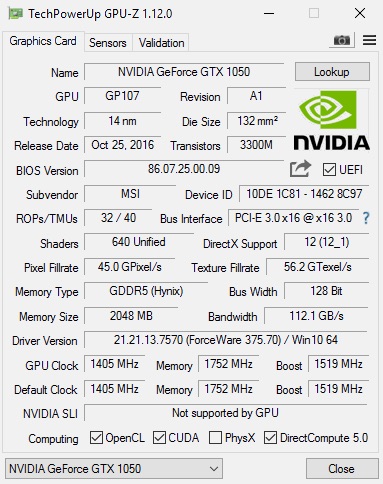 Test Setup and Methodology
| CPU | Intel Core i5 6600K @ 3.90Ghz |
| --- | --- |
| Motherboard | Gigabyte GA-Z170X Gaming 3 |
| RAM | G.Skill RipJaws DDR4 8GB x 2 @ 3000Mhz |
| Cooling | Antec Kuhler H100 Pro |
| SSD | SanDisk ExtremePro 240GB |
| Power Supply Unit | Seasonic X850 |
| Monitor | ASUS ROG Swift PG278Q 2560x1400 |
| OS | Windows 10 64-bit |
| Cabinet | CoolerMaster MasterCase Pro |
Drivers: NVIDIA Forceware 375.70
All games tested have been patched to their latest version
The OS version is latest, with all latest hotfixes and updates installed
All scores you see are an average of 3 benchmark runs
For games without  prefixed "Benchmark" mode, a run from a manual save point was done for 1 minute.
We do three runs of the same benchmark of the game/benchmarking software, and mention the average scores.
For Temperatures and Power Consumption, we thoroughly record and analyse both the parameters during our benchmark and gaming stress runs. For idle testing, we stay on the desktop with the monitor switched on for five minutes, and then record our values. We have no significant background processes running during idle testing.
Benchmarks
UNIGINE Valley
UNIGINE Valley is a GPU stress-testing tool that puts the PC under heavy stress by running a graphical rendered sequence. The graphics sequence comes with advanced visual technologies, dynamic sky, volumetric clouds, sun shafts, depth-of-field and ambient occlusion.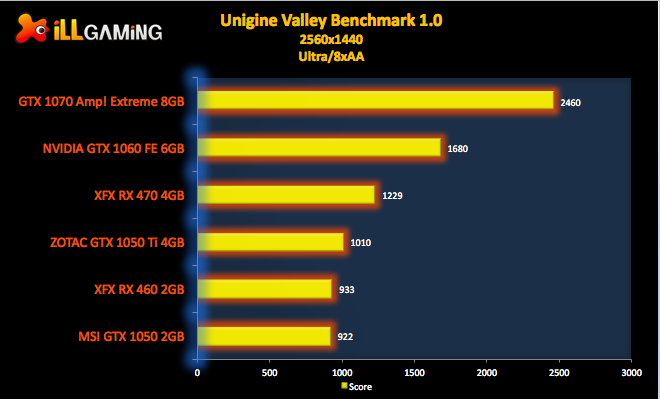 The GTX 1050 here lags behind the RX 460 by a slight margin of about 1%.
UNIGINE Heaven
Heaven, just like Valley, renders a sequence set in the heavens to put the GPU under stress. It supports DirectX 9, DirectX 11 and OpenGL 4.0. The benchmark comprehensively uses hardware tessellation, and features dynamic sky with volumetric clouds.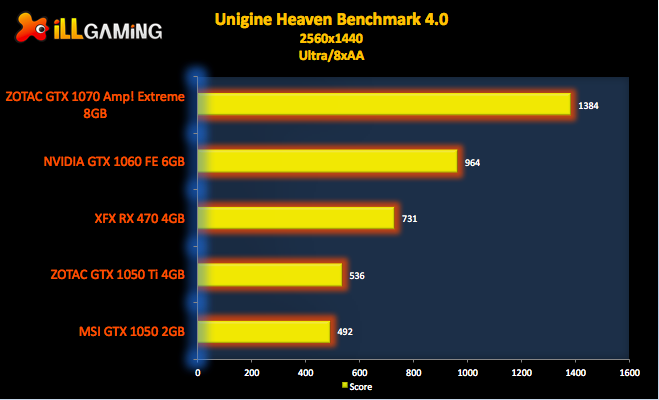 The GTX 1050 manages a score of 492 on the Heaven 4.0 benchmark, which is rather respectable considering the high resolution of 2560×1440.
3DMark Time Spy
Extremely popular benchmark tool 3DMark has a new DirectX12 benchmark run called Time Spy. Time Spy uses DirectX as its main driver, and is considered a good tool to test out a graphic card's DirectX12 abilities. Below is the detailed Test Report of the MSI GeForce GTX 1050 Time Spy Benchmark.
Let's compare the scores against various current-gen graphics cards.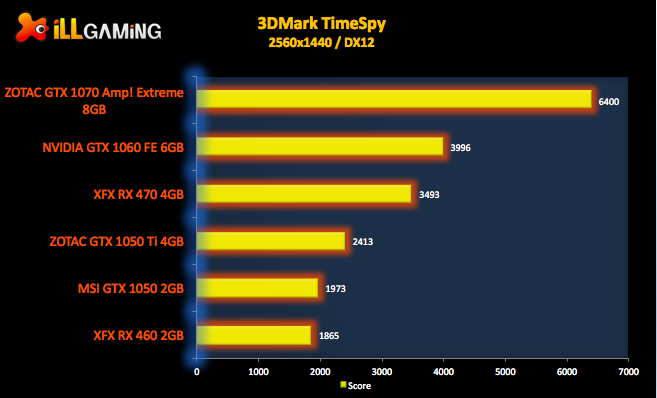 The numbers get a little more interesting here. The GeForce GTX 1050 edges slightly past the RX 460 by about 7%. The GTX 1050 Ti does better, performing almost 20% faster.
Rise of Tomb Raider
Rise of Tomb Raider (iLLReview) is Lara Croft's latest adventure. This game is one of the most graphically advanced games out there at the moment, and it is sure to put even the most powerful systems to a test.
We maxed out the game settings to their highest possible preset. We also set PureHair to Very High. For Anti-aliasing we are using SMAA. We used the in-game Benchmark tool, which takes us through various game sequences and records the min/max and average frames per second.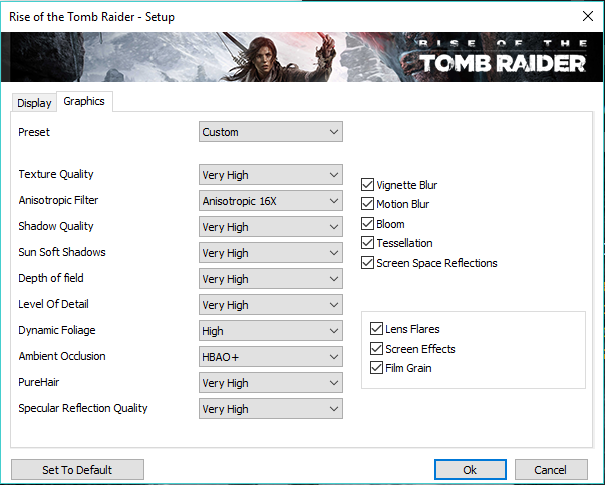 Here are the numbers.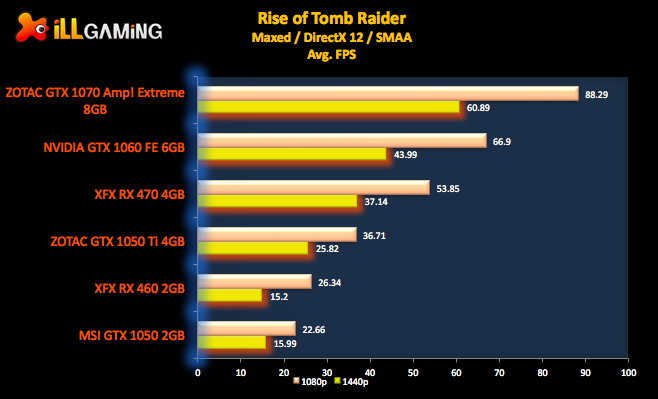 Here, the RX 460 beats the GTX 1050 again, probably because Rise of Tomb Raider is optimised for AMD. This is the third test where the RX 460 has beaten the GTX 1050, and it costs about 5% lower than the later. We can't help but think that Nvidia GTX 1050 Ti is Nvidia's answer to the RX 460, as it performs considerably faster, by about 40% than the RX 460 in RoTR.
Deus Ex: Mankind Divided
The latest iteration of acclaimed Deus Ex series, a series iLLStaff loves, Mankind Divided, frustrated PC enthusiasts and builders because of how difficult it was to achieve 60 frames per seconds in the game. This game has beefy requirements, its not unfair though, as it has the graphics to show for it. I reviewed the game a while back. It fully supports DirectX12 and has all the graphical bells and whistles you can expect from a mid-2016 game.
We used the Very High preset for this game, in DirectX12. There is a higher "Ultra" preset, but that is way too high even for current flagship graphics cards like the GTX 1080 and RX480 to handle. Here are the game settings we are using for this benchmark.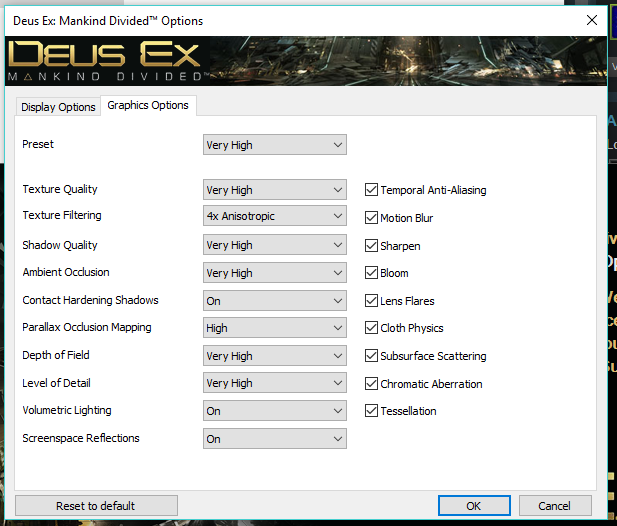 We used the in-game benchmark tool to test the game. We tested the game at both 1440p and 1080p, since we figured the GTX 1050 to be more relevant for 1080p gaming. Here are the results.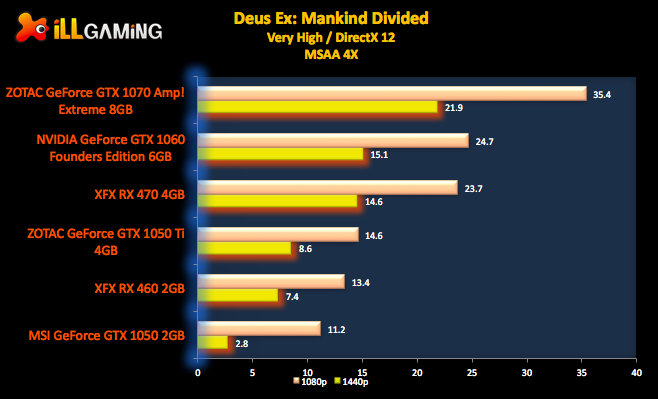 Deus Ex: Mankind Divided is an AMD optimised game, and the results show that. The RX 470 is almost up there with the GTX 1060. The RX 460 once again is slightly ahead of the GTX 1050. Both cards struggle to achieve a playable frame rate. It is recommended that you play Mankind Divided in Medium settings if you plan on getting the GTX 1050. The GTX 1050 Ti in contrast, is about 25% faster than the GTX 1050, and very close to the RX 460. The Radeons clearly have an advantage here.
The Witcher 3: Wild Hunt
Ah, The Witcher 3, an iLLStaff favourite. The game might be more than an year old, it still has the most beautiful graphics on the PC platform. What's commendable is how beautiful the game looks, and yet, how well it is scalable and optimised for the PC. this is one of CD Projekt's most clinically executed projects. The game does not come with a benchmark tool, so we have a manual save point, from where we start our benchmark. Geralt rides on his horse, following Vesemir, while we record the minimum, maximum and average frames per second for one minute.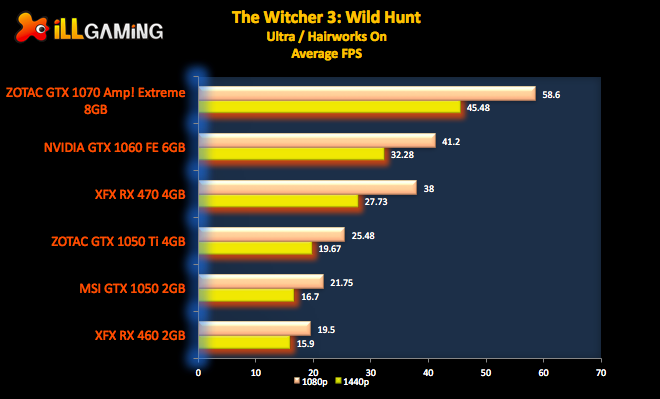 The Witcher 3 isn't an AMD optimised game, and here we see the GTX 1050 ahead by 7% of the Radeon RX 460. At 1080p, the GTX 1050 manages about 21 fps in Ultra Settings with Hairworks turned on. That is a lot. If we lower the settings to Very High and High, we can easily manage a playable framerate at 1080p on the GTX 1050. Just an year back, playing The Witcher 3 on these settings would have burnt a deep hole in your pockets.
Gears of War 4
Gears of War 4 is an interesting game. It features cross play between the Xbox One and PC, and runs native from the Windows Store and Xbox app on Windows 10 Anniversary Edition. We ran into many problems downloading the massive 70GB game. We had to restart our download thrice, which also ate up all our download quota. For this reason, we could test the game with limited graphic cards. Gears of War 4 has an in game benchmark tool. The game is surprisingly well optimised, and very scalable. Here are the settings we used.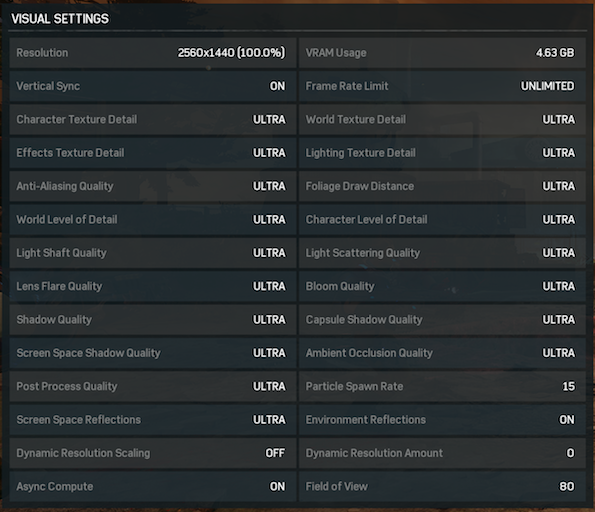 As you can see above, we maxed out settings to their highest possible presets. Gears of War 4 offers a variety of aspects you can tinker with. The game responds well to the changes. Here are the benchmarks.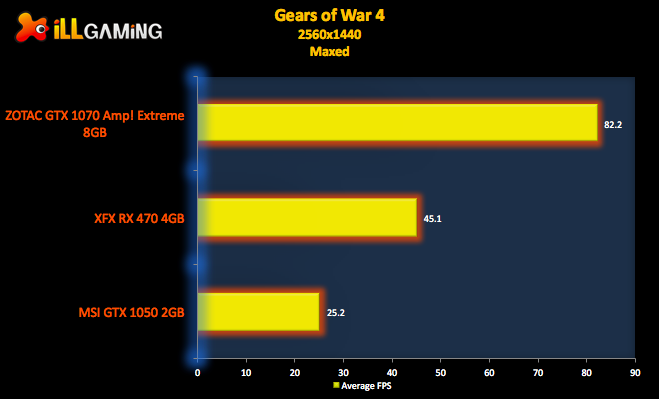 The GeForce GTX 1050 is capable enough to run Gears of War 4 in Ultra Settings, at 1440p in a very playable 25 frames per seconds. Knocking down Shadow Quality from Ultra to Very High gives a boost of about 2 frames per second. The numbers speak highly of Gears of War 4 as a very scalable product, capable of running in the lowest end GPUs.
Temperatures
The Pascal architecture is highly touted for its efficiency and cool temperatures. Let us put it to the test. We used MSI Afterburner to record temperatures at various points of our benchmarking and idle runs.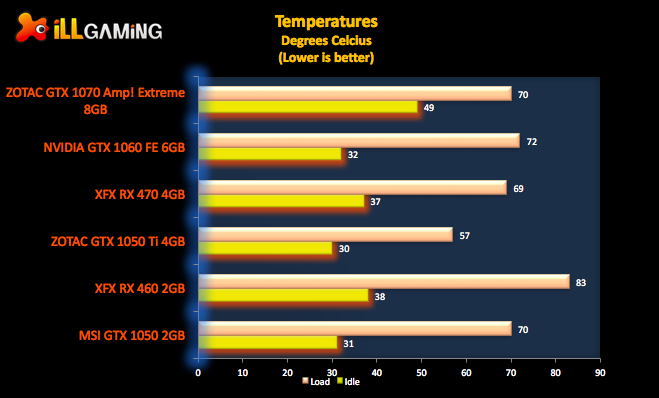 The GTX 1050 idles at 31 degrees celsius, which is more than what we can ask for. A running silicon chip at 31 degress is a technological feat. The Radeons, both the RX 460 and RX 470, idle around 37 degrees, which is considerably higher than the GTX 1050. On load, we get 70 degrees, which is in line with how the GP107 chipset should be performing. We have no complaints here.
Power Consumption
The GeForce GTX 1050 and 1050 Ti samples we received did not require any power connector whatsoever. They have a TDP of 75W. You can get them running with a power supply unit of just 300 Watts. Even the power supply unit that came packaged with your cabinet is more than enough to drive the GP107 chipset the GTX 1050 and 1050 Ti use. We have seen the Pascal go a step ahead of the previous generations in power efficiency.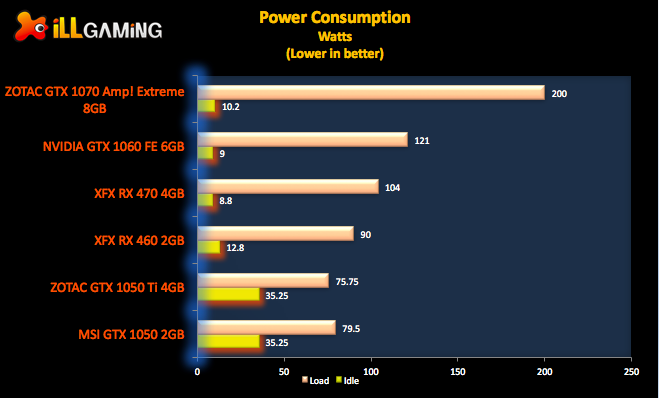 Here is where the plot thickens. While it is out of our understanding to see so much variance in idle power consumption figures, we see here that the low end graphic cards consume more power than the RX 470 and GTX 1060. This is not a good thing particularly. An ideal system idles more than it is stressed, and the GTX 1050 consumes about 35 Watts on idle. This actually proves that we cannot rely on software readings. If these numbers speak the true story, be assured that using a GTX 1050 will knock up your electricity bill if you are a fan of idling. Under load, the GTX 1050 and GTX 1050 Ti perform considerably better than the Radeon RX 460 and RX 470, while offering almost the same level of performance. Nvidia historically has always edged ahead of AMD/ATI in terms of power efficiency, and much hasn't changed this time around.
Conclusion – How low is too low?
NVIDIA launched the GeForce GTX 1050 and GTX 1050 Ti to much speculation and anticipation. Do both the cards make sense? While it is certain that the GTX 1050 Ti makes good sense (more about it in the full review), what about the GTX 1050? What I mean is, how suitable is it to go this low, with performance and price? Is it beneficial to the end user? Does it offer long term value?
Let's talk about the performance first. We see here that the GTX 1050 2GB and RX 460 2GB perform roughly the same, give or take. The RX 460 did perform better than the GTX 1050 in some benchmarks, especially with games that support ASync Compute and Vulkan. In our benchmarks we compare the 2GB variants of both the cards. We could only wonder how better a 4GB Radeon RX 460 will perform. The GTX 1050 comes only in 2GB. One will certainly get a boost in the 4GB RX 460 card.
Both the cards are the bare minimum required specification for the latest games. Let us not forget, in an years time, the minimum requirements of games will go up and the GTX 1050 will be replaced with a newer card, like how the GTX 1050 dethroned GTX 950. This won't be the case with the GTX 1050 Ti. So here we are left wondering whether the GTX 1050 is a good enough proposition, since it is bound to me made redundant by the time the next product cycle arrives.
In terms of cooling and efficiency, the GTX 1050 is certainly better than the AMD Radeon RX 460. NVIDIA has had the upper hand in this segment, and it continues to do so. The GTX 1050 will guarantee you a low energy bill and a lower footprint, if that matters to you. NVIDIA's drivers are also much more robust than AMD's.
Lets us discuss the price now.  The GeForce GTX 1050 2GB retails at around ₹10,000 give or take. In comparison, an RX 460 2GB is available in the market for ₹7,700. That is about 23% cheaper than the GTX 1050 for the same level of performance. If you go by sheer performance and ignore the efficiency, the RX 460 is of better value than the GTX 1050. The RX 460 even trumps the GTX 1050 in performance of AMD optimised games like Rise of Tomb Raider and Deus Ex: Mankind Divided, so that's a bonus. Watch_Dogs2 is an NVIDIA optimised game and we will find out how both the cards compare in this particular game. The Radeon RX 460 is also available in 4GB variants, costing the same, and in some cases even lower than GeForce GTX 1050 2GB. The 4GB card is bound to trump the GTX 1050 in most cases. I am now wondering whether even NVIDIA is confident about the GTX 1050. NVIDIA India's GTX 1050 page redirects its "Buy Now" links to GTX 1050 Ti.
Having said that, analysing the GTX 1050 on its own feet, this is a decent enough card that will enable to play all modern games at 1080p, with settings cranked down noticeably. For esports games like Dota 2 and Counter Strike: GO, the GTX 1050 will run them at a smooth 60 fps on 1080p with no problems whatsoever. Even higher frames can be achieved if you have the monitor to support it. This graphics card doesn't require a power connector, it is very small in size (depending on what variant you're getting) and it runs efficiently. This card is a boon for builders with old PCs and old Power Supply Units and small cabinets and I would recommend the GTX 1050 to those people only. It is a great card for adolescents looking to step into the world of PC Gaming too. Other than that, there are much, much better options.
What's iLL
+Respectable 1080p performance
+Will play all the latest games
+Runs cool
+Efficient power usage
+Small Size
+Doesn't require a PCIe power connector
What's Not
-Costs more than the RX460 for roughly the same performance
-Available only in 2GB
-SLI is not supported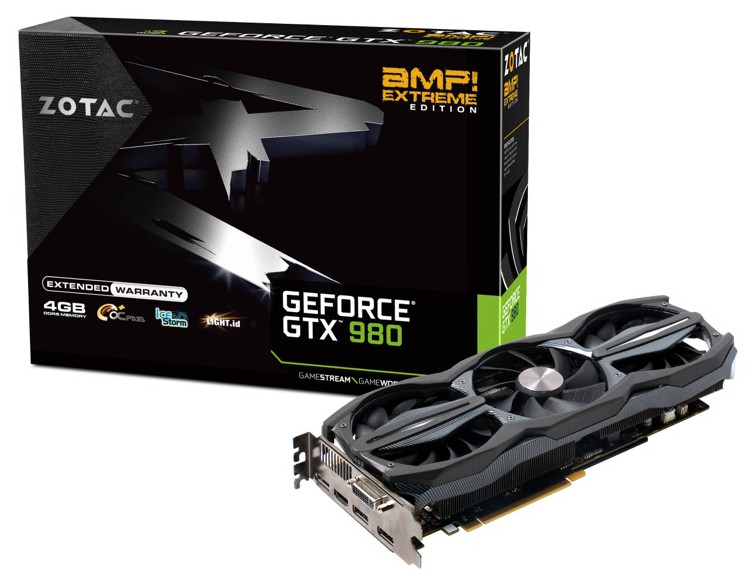 Introduction NVIDIA launched the GTX 980 mid-September this year, a GPU that is a considerable upgrade from the Kepler based GTX 780. We reviewed the reference GTX 980 and since then, we've [...]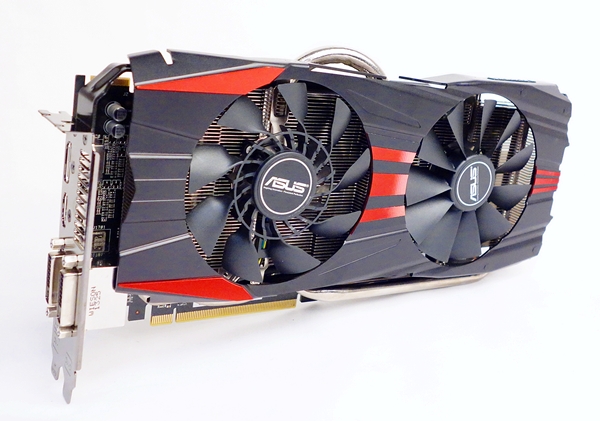 The AMD R9 290 launched with a rather poorly designed stock cooling solution that let the card hit temperatures of 95°C under load! It seemed as if AMD was now targeting the 'Room Heater' market. [...]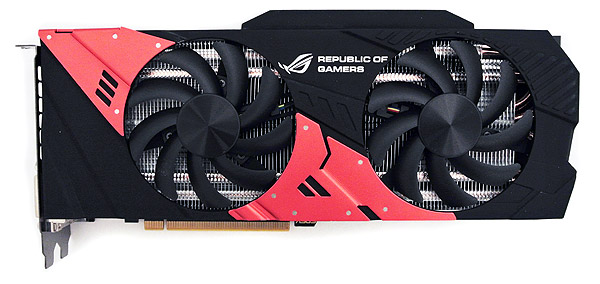 Two GPUs are better than one seems to be the driving philosophy behind the unique series called Mars by Asus, and iLLGaming got the chance to test if that was true. Could two GK104 cores as seen [...]