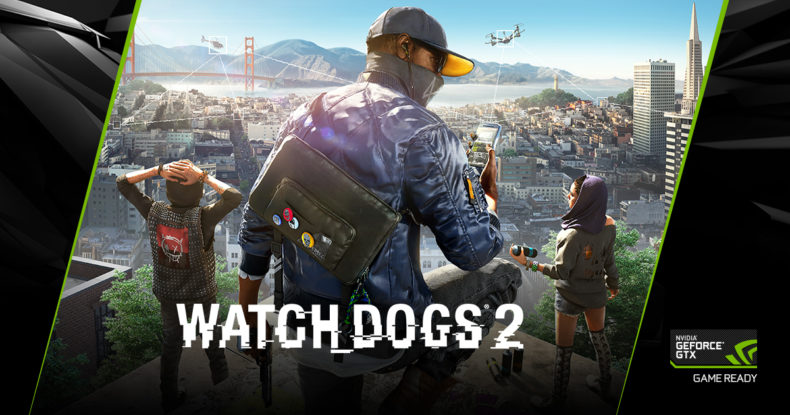 Today, NVIDIA has announced the Watch_Dogs2 (Watch Dogs 2) bundle for GeForce GTX 1070 and GTX 1080 graphics cards. The offer begins on 22nd November and will last till the 19th of December.
That means, if you're buying a GeForce GTX 1070 or a GTX 1080 graphics card between 22nd November to the 19th of December, you will receive a copy of Watch_Dogs2, Ubisoft's sequel to the Watch_Dogs.
Optimised for Nvidia
Watch Dogs 2 contains key NVIDIA technology. You get support for HBAO+, which allows more rich, detailed and realistic shadows. There's also support for Nvidia's TXAA anti-aliasing filter. Nvidia claims support for HFTS and PCSS, which it says gives accurate soft shadows. And ofcourse, Watch_Dogs2 gets support for Nvidia's ANSEL technology, which captures in-game 360 degree screenshots.
Here is a video detailing the NVIDIA features in Watch_Dogs2.
About Watch_Dogs2
Watch_Dogs2 is an open-world action adventure hacking game based in the city of San Francisco. In the game, you take the role of Marcus Holloway a hacker who works with the hacking group DedSec to take down the city's advanced surveillance system.
The bundle is also valid for notebooks that come with GTX 1070 and GTX 1080.
If you buy these graphics cards between the offer period, you will get a code, which you will have to redeem on www.nvidia.in/getcode, which in turn will give you the code of Watch_Dogs2.
Watch_Dogs2 witnessed a massive midnight launch across India, click here for more details on that.
Watch_Dogs2 popularity in India is evident, many Bollywood and Tollywood movies sprung up, copying the Watch Dogs style.
We are working on the review of Watch_Dogs2. Stay tuned. In the meantime, check out our Watch Dogs review.

Introduction We have reached a time where running games in full settings are native 1080p and 1440p resolutions isn't a problem. The GeForce GTX 1080 and GTX 1070 are pretty well equipped [...]

It is that time of the year. The compulsive patterns of Nvidia's GPU releasing schedule have struck again, with unfathomable precision. Don't take that as a bad thing. Our planet [...]

We have another variant of the Pascal GTX 1060 now, the GALAX GeForce GTX 1060 "OC." The announcement was made today by Galax India's official arm. This isn't the [...]