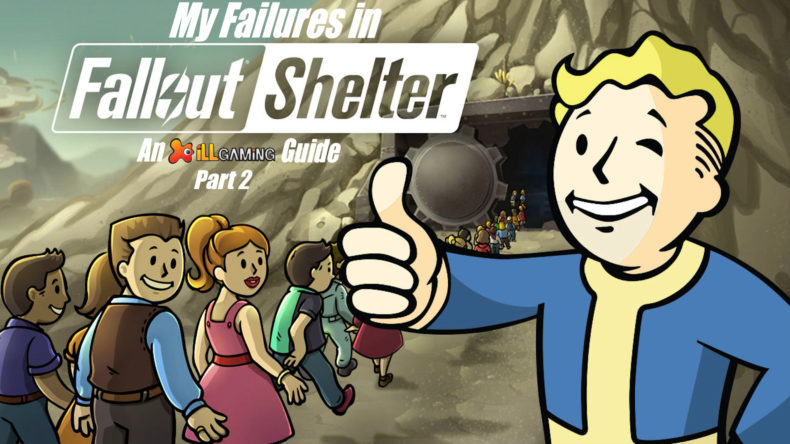 Fallout Shelter ended up being my most played game of 2016 in terms of playtime. As per the game's stats, I have clocked 154 hours over the course of a year. The game recently received its biggest update for its Anniversary. Update 1.6 changes a lot of things to keep the game fresh. It also opens up the opportunity for new failures and lessons from where we last left off.
The Vault Design
The Fourth Vault has remained functional to date and thus, can't quite be termed a failure. This also means that the Vault design has proven successful enough to meet the challenges of the game when it was started with update 1.2. The core principles behind the design were to build a vault that can withstand Deathclaw attacks and can limit the impact of Molerat attacks. The basics of the design are as follows:
The top level consists of single slot rooms since it's easier to try and heal 2 dwellers instead of four or six. It also guards against the bunching up of dwellers, which makes them hard to heal in Fallout Shelter. The preferred layout is Vault Door, Elevator, Barracks, Power, Food, Water, Barracks, Elevator. When you have Level 50 Dwellers with 20+ damage Weapons manning the Vault Door, Raiders rarely get through to the second room, and by keeping it a residential room, the production of the other rooms is not halted. When all the rooms are manned with such guards, even Deathclaws barely make it past the first five rooms. For greater dweller efficiency, I prefer to keep just 1 guard in each room and have the two manning the door chase the Deathclaws from room to room.
In the second level, I shift the left elevator to the leftmost part of the level. For faster dweller movement, I like to keep the left side elevator functional, rather than forcing everyone to access the top level only through the right elevator on the second level. This requires me to waste a room slot and build two more elevators to shift the left side elevator line to the periphery and fit a two slot room in between. This leaves space for another two slot and a three slot room on the level, which are production rooms. Having two elevator lines on the periphery means Molerats will be forced to only invade the bottom level rooms and Deathclaws will only visit a room once, preventing dweller casualties in an attack.
The third level is my typical layout format in the pattern Elevator, 3 slot room, 2 slot non-production room, 3 slot room, Elevator. There is at least one production room on each level so that there are always dwellers on hand to respond to any incident in an unmanned room at that level. Some vault designs go for a staggered room approach so that incidents can die out in the room where they started, but that just leads to a wastage of space in my opinion. By having a non-production room in the middle, I can use that area to navigate my vault levels without accidentally assigning dwellers to other rooms, though this provision is more suitable for touchscreens rather than the PC. I also make sure to build a 3 slot power room every three levels so as to keep the power requirements within check. Rooms are destroyed to make way for their improved variants as the population count unlocks them. I find that it is enough to have two level 50 dwellers with 15+ damage weapons in a room to maintain a credible production speed and to repel any incidents without dying.
The lowest level of the vault always has rooms that are not levelled up so as to make any Molerat incidents easier to subjugate. All the rooms are manned by two dwellers each armed with 17+ damage weapons. When new rooms are required, I always build an entire level, shift the guards there and then upgrade the rooms of the former lowest level.
Besides the Vault design, there are some other practices I followed to keep the vault running smoothly. After unlocking all the training rooms with 50 population I halted all growth and focused on training all my Dwellers to 10 SPECIAL. I also stockpiled the rare +5E outfits and the highest damage weapons that my 5 wasteland explorers found. The game will increase a dweller's Health each time they level up based on their Endurance Stat. The highest Endurance stat possible is 10+7 from the legendary outfit in Fallout Shelter. Since the previous articles until the release of update 1.6, some new gameplay tricks were discovered. They are as follows.
The Fourth Vault
Total time to failure: Unknown (Vault in progress)
Dweller Count: 140
Lessons Learnt:
Fires and Radroaches can happen from the outset. Raiders get triggered after population surpasses 20, Molerats are triggered at 30 and Deathclaws at 60. So it's a good idea to pause growth at 60 and train all your dwellers to 10 SPECIAL before the Deathclaw attacks start. These limits seem to be halved in Survival mode, so it's even harder to train dwellers. Once you go past 60, try to reach 100 as soon as possible so that all rooms are unlocked.
The fastest you can train any dweller is in a fully upgraded 3 slot training room filled with six dwellers, so even if you have extra dwellers who have reached the maximum limit for the stat, it is useful to have them occupy the room for faster training of other dwellers. It is also useful to have empty rooms that training dwellers can retreat to in case of an incident so that higher level dwellers can be brought in to fight it.
While your best weapons and outfits should be used to guard the first level against Deathclaws, the second best stuff should be used to guard the lowest level and for your Wasteland explorers in Fallout Shelter.
The Barber Shop lets you achieve that bald dweller objective more easily. Just note that the artstyle wasn't created with bald females in mind.
If you are patient with your growth and train your dwellers before sending them out to explore, you will easily hit the 999999 Caps limit and rarely be in need of funds.
With the crafting update, your Level 50 Wasteland explorers will hit the 100 item limit before they run out of their 25 Stimpaks.
Use the barber shop to colour code your dwellers for specific roles.
The child of a Level 50 10 SPECIAL couple has a greater chance of being a Rare or Legendary child with a higher stat distribution at level 1, requiring lower training time.
Use the Eviction option to get dweller count beyond 60 to unlock rooms and then drop it below 60 to avoid the Deathclaws.
Level up dwellers in the wasteland with E+5 or +7 outfits to maximise their health and use these dwellers as guards and explorers.
Dwellers with at least 10+1 Endurance will not suffer radiation damage making RadAways redundant. The ideal rare outfits for explorers are Noble and Engineer and the legendary ones are Piper's outfit and Abraham's Relaxedwear.
You are capped to 25Wasteland Explorers and 200 Vault Dwellers. While the 25 Cap limit can hinder your late game experience, you don't really need to hit the 200 cap since you can have an efficient vault with much fewer dwellers.
As soon as possible craft at least 6 outfits that provide the +7 of each SPECIAL stat so that the other outfits and weapons can be crafted speedily.
You can only have one pet per room slot so be careful when switching dwellers with pets between rooms.
Pets will retreat to one of the residential rooms during an incident, so dwellers with pets can be assigned to the room exceeding the pet limit.
The Mysterious Stranger is hard to spot, so turn on the Vibration option as well as Sounds to get a clue when he shows up. The nearer to the screen he is, the louder the sound.
You will eventually get to a stage where you will just skip objectives that don't reward either a Lunchbox, a Mr. Handy or a Pet Carrier.
You will want to replace all your food and water rooms with just Nuka Cola Factories and build lots of storage rooms for storing crafting materials.
The Sell common items option is very useful and doesn't sell the common crafting items.
Organising your inventory by manually assigning items to dwellers or selling them off is a good idea since there aren't any sorting options in Fallout Shelter yet.
The difficulty of Deathclaw and Raider attacks depends on your average vault level, while severity of incidents depends on the Room's upgrade level and slot size.
Maximum and Minimum chance of failing a Rush have been capped at 90% and 10% respectively though 10 SPECIAL Level 50 dwellers wearing an outfit suitable to a room may see the maximum capped at 50%. This means there are no guaranteed success rushes to boost happiness.
The loot dropped by killed raiders may not necessarily match with the weapons they carry, nor does it seem to be affected by the Luck of the dwellers killing them.
You can't open Lunchboxes or redeem a new dweller called by the Radio room if you have more than 9 dwellers queued outside your vault door.
Since certain Incidents tend to deduct a percentage of your Vault's resources instead of a fixed value, you will find it harder to refill the resource bars when your storage capacity has increased beyond 2000 for a resource.
Trying to kill Deathclaws only armed with fists for the objective is just not worth it. Better to skip this. Molerats and Radroaches are more feasible if in a single slot non-upgraded and isolated room.
Fallout Shelter Update 1.6
Fallout Shelter post update 1.6 has become a much different game. While the core management aspect is untouched, the update allows you to explore locations in the wasteland. It also offers a change to the way the start of a Vault plays out. Fallout Shelter also comes to PC with this update, though it is only available through Bethesda's own Bethesda.net application. Unfortunately, Saves do not carry over, so you must start a new vault on PC from scratch. The update also adds a new currency called Nuka Cola Quantum that is used to speed up things in Fallout Shelter.
New locations can be accessed either with Quests or randomly by having a dweller stumble across them in the Wasteland. These Locations are built like Rooms in a Vault and you can command your dweller or dwellers to move from room to room, fighting the enemies within and grabbing the loot. These locations use a new combat system that lets you target a particular foe as well as builds up a critical hit counter as dwellers engage in combat. When the Critical Hit is triggered, a circle with moving crosshairs pops up and tapping on it determines how much extra damage will be inflicted from 1.25x to 5x.
The update also adds new enemies in the form of Ghouls and Radscorpions which are found in the wasteland locations and have their own incidents. Radscorpions can drain up to 50% of the vault's power reserves and are hard to kill. Usually only a single Radscorpion will attack though it will inflict both physical and Radiation damage. Ghouls will also inflict Radiation and Physical Damage. In Wasteland locations, sometimes you will encounter enemies coloured Green or having a Skull on their health bar. The Green Ones usually cause high Radiation Damage while the ones with skulls tend to have more hitpoints than the regular enemies and may even call reinforcements.
Update 1.6 refreshes the Fallout Shelter gameplay quite a bit. Since the game is also on PC I started a new vault there. Let's call it the PC Vault.
The PC Vault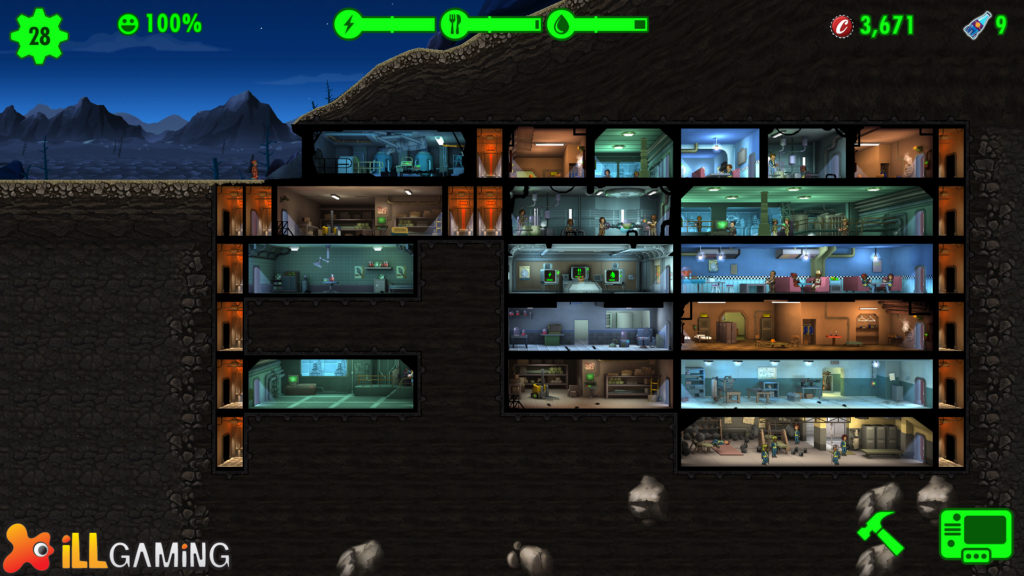 Total time to failure: Unknown (Vault in progress)
Total time to failure: Unknown (Vault in progress)
Dweller Count: 28+
Lessons Learnt:
Aside from your 25 specially trained and equipped Wasteland Explorers, you will need 9 dwellers for Questing purposes. Make provisions accordingly.
Exploring Wasteland locations with single explorers can be harder than with a quest team of 3. Even if you have 10+1E dwellers, they will take Radiation damage in these locations so send them out with a few RadAways.
It's better to use the targeting system to focus on enemies rather than leave the dwellers to fire at will in Quest Locations. Prioritise the green and Skull marked enemies.
You cannot retreat from a fight in a Wasteland location, so retreat if your dweller is low on health and you don't have the means to heal them.
Melee Weapons have a much greater range of damage variation than guns, which makes them riskier to use.
Some Quests require specific weapons and outfits, so check quest requirements before selling off excess items collected from the Wasteland.
Do not build more rooms than necessary in your vault. This only makes it harder to spot the Mysterious Stranger when he shows up.
The Mysterious Stranger can show up in Elevators, so look for a green light if your vault doesn't have any kids or dwellers on a coffee break.
You do not need the +7E outfit after your dwellers have levelled up to 50, you will still need a +1E outfit to avoid radiation damage.
Be frugal with your use of Nuka Cola Quantum. It's better to use it for reaching the Daily quest locations only and it is wasted on other quests that aren't time bound.
Radscorpions are more harmful than Deathclaws, so commit maximum dwellers to fight them with haste
The game now prompts you to heal a dweller when their health is low which seems to be triggered at 25%, but when Radiation damage is also suffered, it is better to only use Stimpaks such that maximum healing will be achieved.
It's better to use the +7E outfit method to train level 1 10 SPECIAL dwellers than to train Rare and Legendary Dwellers who start out on higher levels.
Some outfits can only be obtained from lunchboxes.
Daily Quests scale with average dweller level. Scripted Quests do not.
Loot in rooms tends to glitter and bodies of enemies with loot will glow after combat ends. However, some bodies might fall outside the room, especially on the right side doorway. Loot can only be collected after combat ends.
A Dweller will collect more Caps than a Mr. Handy in the Wasteland for the same time duration.
Despite the attack animations, Pets do not cause damage in combat in Wasteland locations.
Higher Agility means faster rate of fire in Wasteland location combat in Fallout Shelter.
That's about it for now. The Story will continue after the next game changing update launches. Do you have any learning of your own from Fallout Shelter? Share them with us in the comments.

(This article may contain spoilers. You have been warned.) I left off Part 1 with "And then you find Shaun. It's one of the finest moments in gaming, or indeed, all of fiction." [...]

(This article may contain spoilers. You have been warned.)

Fallout Shelter is perhaps one of the best video games to ever grace the mobile platform and at its core, it is a test of your management and planning skills. It is also a game of your failures [...]