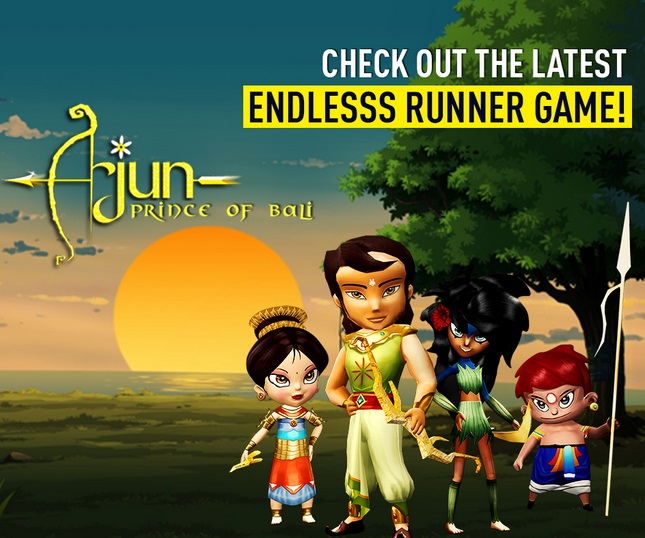 Mobile and tablet games have made games very accessible, this also means good news to the television/movie industry as tie-in mobile games are cheaper to make and promote than independent titles. Disney India has announced to extend its popular Arjun: Prince of Bali television series to a new mobile game and branded merchandise.
Arjun: The Prince of Bali is a local made animation series that was launched by the Disney channel in May 2014. The TV animation is developed by Green Gold Animation. Along with the television series, kids can now engage with the characters through a level based endless runner game set in the kingdom of Bali. The game was developed by Disney India's Interactive division and is available on the Google Play Store under Indiagames (A subsidiary of Disney). Do note however that the game does contain in-app purchases, so do be careful when handing over unlocked phones without supervision.
Arjun Merchandise
Disney India's Consumer Products team, in collaboration with Green Gold, will extend Arjun across an exciting range of products. Themed apparel, stationary, toys including figurines, bow and arrow set and more are planned. In addition to this, the team will also look at developing school supplies such as school bags, lunch boxes, water bottles, note-books and home decor with bed sheet sets, cushions and mugs.
"Kids today adore local animation and want to own a piece of their favourite character on their everyday products. The popularity of the Arjun series and the appeal of its characters amongst kids have inspired an entire range of interesting consumer products. Each character possesses a unique characteristic which can be leveraged very well across categories", said Abhishek Maheshwari, Vice President and Head, Consumer Products, Disney India.

Indiagames, the Interactive Business arm of Disney India, announced the impending launch of the official ICC Cricket World Cup 2015 game at an event held in their Mumbai Office that iLL was [...]